Loss, and a new journey for Philip. (Going Home, Sweet Home). Juana, Part II
JUANA LA LOCA

PART II (Part I, previous blog)






PART II

Yes, Philip and Juana meet again but it is not lust at first sight, it is now revenge at first sight.

After a two year separation and without any contact with her husband, Juana decided to return to Flanders and perhaps resume her married life and be a mother to the three children she had left behind two years earlier. Juana's father, King Fernando, insisted that infant Fernandito be left in Spain to be educated and prepared to eventually assume the kingdom of Castile and Aragon. Sadly Juana acquiesced to the demands of her father and left her son behind.

When she arrived in Flanders and entered her home she found that she was a stranger to the place. All of her personal belongings, clothes, and jewels that she had left behind, had disappeared, they had been taken by Philip's mistress, a French woman. Philip was literally sleeping with the 'enemy'!

Disappointed and totally hurt she waited for her husband to come and see her. When he finally came he was drunk, in an accusatory mode, and uncivil. His mind had been poisoned against Spain by France, according to Juana's thinking. Philip demanded that Juana return to Spain and promised to follow when Queen Isabel died to claim HIS throne. Of course Juana reminded him that it was HER throne. What followed was a vicious rape of Juana by her husband. The rape was to teach her a lesson and to remind her that Castile was HIS. He promised to rape her every night until she formally gave him Castile.

Feeling insulted by her refusals, Philip started to parade his mistress around the court, clad in Juana's clothes and jewels. Juana might have forgiven his infidelities and rapes, but she would not forgive the humiliation of having his French mistress personally confront her. One day when the wife was taunted by her husband and the mistress, assailed by jealousy,Juana decided to tear off the necklace that the mistress was wearing. Of course the necklace belonged to Juana. Philip's response was to have his guards lock her in her room because she was 'insane'. The publicly pronounced insane accusations continued to pile up.



Queen Isabel of Castile

Two weeks after the necklace incident, word came that Queen Isabel of Castile had died. Juana now was the ruler of Castile. A letter from her father made it clear that it was imperative that she return to Spain so she could be invested with the crown. In the meantime Philip's emissaries had traveled to Spain to inform King Fernando about his daughter's madness and therefore she would be unable to rule, Charles should be declared king! Charles was Juana and Philip's young son. (Because Charles was just a child the real ruler would be Philip) Of course the only way that anyone could take away Juana's right to the throne was for Juana to abdicate. What was Juana's response? Never while I live!

Juana knew that her husband hungered for her crown, for power. Nothing mattered to him, not if it got in the way of his ambitions. Yes, Philip was the mad one, mad with power and his overwhelming self-importance.



Juana and her sons.

Juana needed to return to Spain but Philip saw to it that she became pregnant once again, it was a means to control her. While waiting for the birth of her fifth child, she decided to send her children to Naples where Philip's sister resided, Margaret would be a good mother to the children. The fifth child, Mary, was born in September of 1505 and she too was sent to Naples to be with the rest of her siblings.

With the birth of the child, it was time to return to Spain. She would finally go home. Yes, home at last.

GOING HOME AT LAST, BUT WHAT WAS WAITING FOR HER?

..........JUANA'S LOSS, AND A NEW JOURNEY FOR PHILIP.......

They embarked for Spain just as winter was beginning. As expected the storms hit and the galleon they were on started to keel and to break apart. Several of the ships traveling with the Queen and her husband, were lost at sea, the decision was made to sail to the nearest port which was in England. Juana actually looked forward to going to England as it would give her a chance to see her younger sister Catherine, widow of Prince Arthur (brother of her future husband Henry).

Once Juana met her sister, to her dismay she discovered that her husband Philip had been up to his usual perfidious machinations, and had been dealing with the rulers of England to forge a deal against Juana and to bolster Philip's chances to be the King of Castile. Philip also had been intercepting and destroying letters from Catherine and Queen Isabel sent to Juana.

Juana did not let on that she knew of his treachery and when back at sea, one night he came to her cabin, she allowed to him to deliberately impregnate her once more. He wanted her to be pregnant to better control her once they arrived in Spain, she did not protest as she did not want to enter Spain all battered.

Finally they arrived in Spain to a glorious reception of the new Queen. As the retinue set out for Castile, Juana discovered that her husband had brought a huge army of mercenaries (even larger than the one Fernando and Isabel had used in the battles against the Moors), quite an intimidating show of intent. Intimidated but determined, Juana had one constant thought, that she would soon be reunited with her father in Castile. He would defend her!

Once they arrived in Castile Juana was placed in one house while Philip stayed at another. After several days he came to Juana's room with a document that he and a co-conspirator had written. In essence the document stated that Juana had no interest in participating in the running of the kingdom because of her 'malady'. Therefore to avert an upheaval of the nation, Juana and Philip were asking King Fernando to renounce his regency and leave Castile at once. Philip would assume 'his' throne. The document was signed by "His Highness Philip, archduke of Flanders and king of Castile", June 27, 1506. Of course Philip would need Juana and King Fernando's signature, but he stated that his father in law 'knew better than to defy him".

Juana decided that she needed to escape from Philip and reach her father to warn him. She actually did escape and rode all night and the next day. When she felt out of danger, she took refuge in a hut where an old lady lived. The woman recognized Juana and gave whatever assistance she could manage to give. Juana was planning to continue her travels the next day.

The next day, just as she was leaving the hut, her husband's men and Philip himself appeared and confronted Juana with the news that they had killed the old lady and were ready to kill her unless she returned with them. He also announced that her father was not in Segovia where she thought he was but that he had gone to Naples. It was later discovered that Philip had indeed forced the King to leave Spain.

They continued their travels and when they entered the town of Valladolid, Juana was veiled and dressed in black, as if mourning. For the next six days Juana was shut in a chamber of a palace with the windows boarded up. She was denied the services of her attending women. Each day Philip entered her room demanding that she sign the document making him King of Castile. Each day she refused. In the meantime the 'news' was being spread that Juana was indeed mad and could not rule. In her heart Juana knew that her refusal would mean a cruel fate, the same fate that befell her grandmother who was locked away by her own son the King Fernando. Yes, Fernando had 'imprisoned' his own mother because she was 'mad' and therefore he became the ruling King! But Juana was not mad! And no matter what the consequences might be, she was not going to give in and sign the papers.

In the meantime Philip had turned the Spanish Lords against Juana. The Lords had the power to decide who the ruler for Castile would be. He avowed that Juana did not want the throne. On the day that the question was put to Juana if she wanted to be Queen, she replied YES! Because of Philip's lies, the Lords had expected a negative response but were glad of her decision. Philip swore that he 'would not have his rights stolen away by a madwoman'.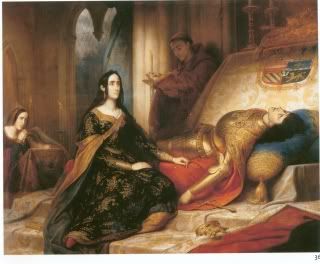 Whatever plans Philip might have had to usurp the throne, they never came to fruition. Suddenly Philip fell gravely ill! Dutifully Juana rushed to her husband and did not leave his side. She tended to him and stayed with him until his death, she did not allow him to die alone like a beast.

At the time of Philip's death, Juana was pregnant with their sixth child. She would have preferred to stay put until the birth of the child but it was imperative that she go to Toledo. The Lords were already plotting on how to make Fernandito king as they preferred the son who had been born in Spain and not the older brother Carlos, who had been born in Flanders. Obviously they did not want to be ruled by Juana either as she was a woman.



-Pregnant Juana, dressed in black, accompanying Philip's catafalque to his resting place.-

Juana sent for her children to be brought to Spain, and made plans to proceed to Toledo where she would bury her husband. Yes, she would accompany the archduke's catafalque because it was her duty.

As they rode toward Toledo, the pains came and Juana was ready to give birth to her child. She was brought to a stranger's house where she waited two days for the birth. It was a daughter and gave her the name of Catalina (Catalina was the real name of Catherine of Aragon, Henry the VIII's first wife). Eventually, with the baby in her arms, she continued her journey to Toledo.

While traveling to her destination, she received a letter from her father who told her not to go to Valencia where he was, but to travel to Tortoles where he would join her. He also told her that the reason that he had gone to Naples was because of the threats by Philip to harm his kingdom and his life. Jubilant, Juana did as asked.

At last, Juana would have her father's protection and support.

BUT, WOULD SHE?

To be continued


... Warmed By The Sunset.
Reader Comments
Comments will take a few seconds to appear.
Post Your Comments
Please sign in to post comments.
Not only will you be able to leave comments on this blog, but you'll also have the ability to upload and share your photos in our Wunder Photos section.
Proserpina's WunderBlog
Local Weather
74 °F

Clear
Previous Entries for 2016
Recommended Links