"Whole Neighborhood's Demolished"
By: Portlight, 2:29 PM GMT on November 19, 2013



www.portlight.org



Washington, Illinois Tornado Damage

Several Midwestern states were hit hard Sunday by deadly tornadoes and straight line winds. In Washington,Illinois, the death toll stands at 6, and the mayor states that as many as 500 homes were destroyed by the EF4 tornado that touched down there on Sunday afternoon. The need for assistance is great, and will continue for quite some time.

Portlight will be working with shelter operators and disability stakeholder organizations in Illinois and surrounding states, to serve the needs of people with disabilities. We will focus on shelter and transportation accessibility issues, and the provision of durable medical equipment as needed.

As always, your support makes our efforts possible, and we are so very grateful for it.


Thank you for your support and we will keep you updated on our progress






Portlight/FaceBook
Updated: 2:31 PM GMT on November 19, 2013
"Whole Neighborhood's Demolished"
By: Portlight, 1:56 AM GMT on November 13, 2013



www.portlight.org



Washington, Illinois Tornado Damage


We are monitoring the devastating situation in the Mid-west with Multiple towns and rural areas impacted by this Terrible Severe Tornado Outbreak.

We will be reaching out with our partners to see where best we can make a difference.

Our thoughts and prayers go out to those suffering this evening.

Thank you for your support and we will keep you updated on our progress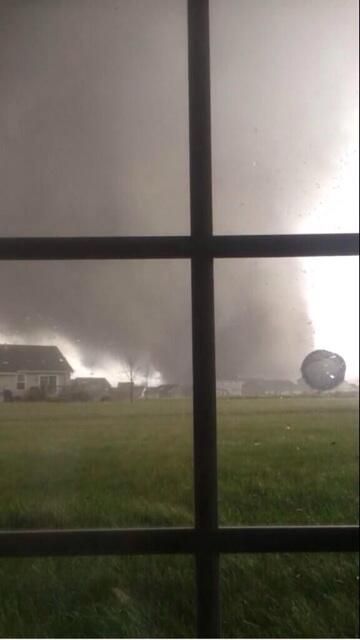 Picture of Tornado in Washington, Illinois (Posted on 11/17/13 at 12:58 pm)


************************************************* *********


Haiyan has proven to be one of the most destructive and deadly natural disaster to hit the Philippines. The estimated death toll is close to 12,000. The total economic damages is estimated at $14 billion. The situation is still chaotic but Portlight has already begun communicating with disability stakeholder organizations to identify needs.

"In all the frenzy, there is no mention about the fate of persons with disabilities who are undoubtedly the most vulnerable of the affected populations. My contacts in the National Council on Disability Affairs (NCDA) attached to the Department of Social Welfare and Development, lead agency in the ongoing rescue and relief operations, cannot provide any disability-specific information. I am not at all surprised. The Philippines has a long way to go in the effort to really include persons with disabilities in disaster preparedness, response and similar activities. I tried to reach out by sending text messages to my colleagues with disabilities in the affected areas. No response. I hope it is just that they can't reply because of communications infrastructure is down. My worst fear is to no longer be able to hear from some or many of them."

Venus ILAGAN, Secretary General, Rehabilitation International

Portlight will be putting together a shipment of durable medical equipment to be sent to the affected areas





Google Person Finder: Typhoon Yolanda - Google.org




Helicopters fly over the Typhoon Devastated City of Taclobon in the Philippines


Super Typhoon Hiayan has ripped through the Pacific Ocean with devastating force equivalent to a category 5 hurricane. Friday the super typhoon made landfall thru the Philippine island Provence of Samar with sustained winds of 195 mph and gusts of 235 mph.

The City of Tacloban and other have see complete devastation and are in critical need of life sustaining relief.



Survivors walk near their damaged house after super Typhoon Haiyan battered Tacloban city, central Philippines November 9, 2013. Typhoon Haiyan, the strongest typhoon in the world this year and possibly the most powerful ever to hit land battered the central Philippines on Friday, forcing millions of people to flee to safer ground, cutting power lines and blowing apart houses. Haiyan, a category-5 super typhoon, bore down on the northern tip of Cebu Province, a popular tourist destination with the country's second-largest city, after lashing the islands of Leyte and Samar with 275 kph (170 mph) wind gusts and 5-6 meter (15-19 ft) waves. REUTERS/Romeo Ranoco

"Haiyan had winds of 190 - 195 mph at landfall, making it the strongest tropical cyclone on record to make landfall in world history." – Dr. Jeff Masters, The Weather Underground


Portlight has begun to reach out to disability organizations to provide durable medical equipment. International relief work is very expensive because of shipping costs. This storm has the potential to be one of the most expensive and disastrous typhoons ever.

We need your help to provide this aid to those affected by this super typhoon.




Philippines
Humanitarian
Situation Report







Thank you for your support and we will keep you updated on our progress



Portlight/FaceBook
Updated: 12:42 AM GMT on November 18, 2013
Portlight Haiyan Relief Status
By: Portlight, 3:29 PM GMT on November 06, 2013


www.portlight.org





Google Person Finder: Typhoon Yolanda - Google.org




Helicopters fly over the Typhoon Devastated City of Taclobon in the Philippines


Super Typhoon Hiayan has ripped through the Pacific Ocean with devastating force equivalent to a category 5 hurricane. Friday the super typhoon made landfall thru the Philippine island Provence of Samar with sustained winds of 195 mph and gusts of 235 mph.

In addition to the strong winds, the super typhoon is dropping massive amounts of rain. To give you some perception of this storm, Super Storm Sandy's highest sustained winds were 115 mph making Hiayan almost twice as powerful.



"Haiyan had winds of 190 - 195 mph at landfall, making it the strongest tropical cyclone on record to make landfall in world history." – Dr. Jeff Masters, The Weather Underground



Hiayan is expected be a category 2 storm when it makes landfall in Vietnam and Laos with wind speeds 100+ mph. It is estimated to drop 12+ inches of rain when it makes landfall. The combination of extremely high winds and excessive rain fall could make this storm the most expensive natural disaster in their history.



Portlight has begun to reach out to disability organizations to provide durable medical equipment. International relief work is very expensive because of shipping costs. This storm has the potential to be one of the most expensive and disastrous typhoons ever.

We need your help to provide this aid to those affected by this super typhoon.



Thank you for your support and we will keep you updated on our progress



Portlight/FaceBook
Updated: 3:00 AM GMT on November 10, 2013
Portlight Disaster Relief
Recent Posts
Local Weather
59 °F

Clear
Previous Entries for 2016
Recommended Links