Remembering Mr. Davis
By: Patrap , 8:31 PM GMT on November 16, 2010

When I was a Little boy in a Galaxy far,far away decades ago..,4 or more to be close..I used to go to Greenwood Cemetery at the foot of Canal Street here in New Orleans with my Mother and sister to clean the Grave of my Grandparents.




Moms Dad passed soon after my Birth in Jan 1960 and her mother a few years earlier and I didnt have the pleasure of knowing them here on Earth.
But as a child I loved our visits to Greenwood as New Orleans Bury their dead above ground here,and it was more a city and playground to a 8 yr old .

I remember going there in Spring with Mom carefully sweeping the grave and dutifully placing the flowers as we galloped along the rows and crossed over the aisles of Tombs, some hundreds of years old.






But their are 2 Markers on that grave in Greenwood, one for my Grandparents who were born in the Late 1800's,,and we often wondered how old Grandma Kane was as she only had her Death date on the Marker and not her Birth date.

I always found that so Irish Lady like in my later years.
Keep um guessing Grandma Id say to myself with a grin.

And my Grandpa was well known for his 40 plus years working for The IC railroad here,and for head butting others on a dare bet in a Bar occasionally too.

That also makes me grin to this day.





But there was that other marker that intrigued me.

It was for a Mr. Davis, who fought in a Army Mortar Battalion in WW-1 that used to make me wonder a lot.

Who was he?

.."Why is he Buried here with Grandma and Grandpa".. ?, I used to ask Mom.


One day..she told me.


Mr. Davis was a close friend of my Grandparents for a long time.

He fell ill and passed away in the early 40's.

His Lungs were bad from exposure to the Germans use of "Mustard Gas",was the story I remember her telling us.


And when he died he had no family,,no savings,,so my Grandparents used the Grave plot in Greenwood and had Mr. Davis Buried here with full Army Services, with all the pomp and ceremony a soldier deserves.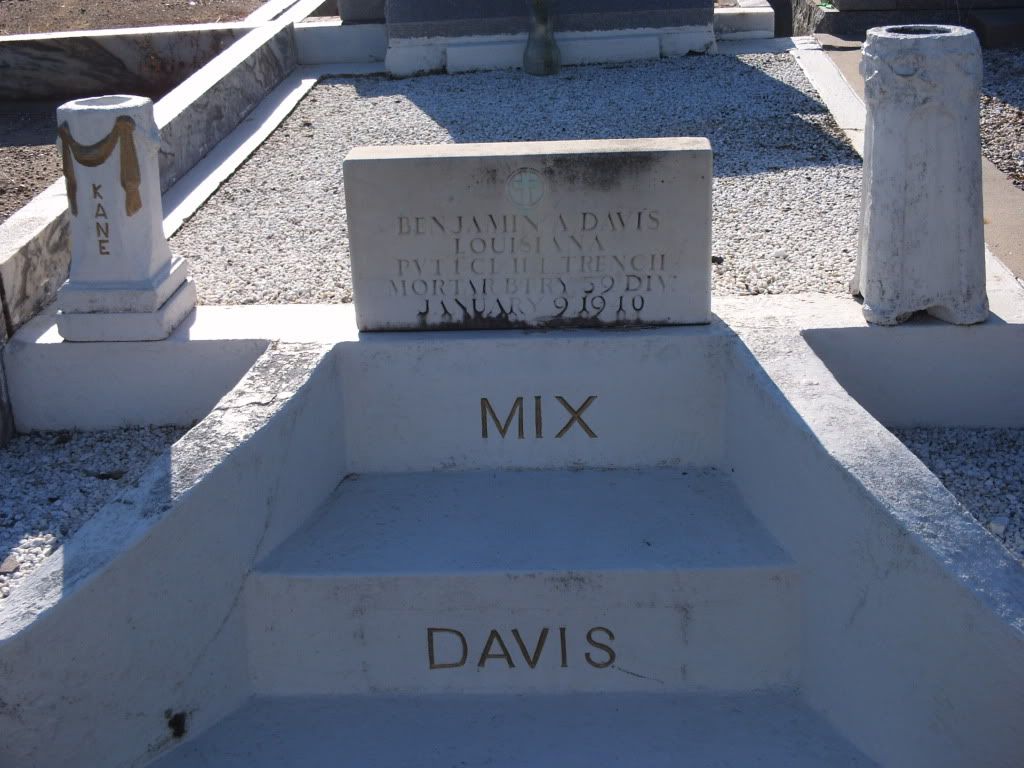 Now when I go to Greenwood,,I visit my Parents tomb in the Mausoleum there, where they are Buried together,up High in the 4th Tier,..

Dad was no fool,he Bought High,,and Katrina's floodwater's didnt reach them fortunately.





And I also go by the Grave of my Grandparents and Mr. Davis,,recently to clean and place the flowers and the Flag for Mr Davis for Veterans day.


Its there where I realize most often,,that we are products of our Past, and that brings me peace and clarity.

My parents and Grandparents,...


I pause and remember them,,and Mr. Davis as well.


And its truly there that I feel America,her past and future,,all in one Quiet place.



Create your own visitor map



Reader Comments
Comments will take a few seconds to appear.
Post Your Comments
Please sign in to post comments.
Not only will you be able to leave comments on this blog, but you'll also have the ability to upload and share your photos in our Wunder Photos section.
Patrap's WunderBlog
Recent Posts
Local Weather
75 °F

Clear
Previous Entries for 2016
Recommended Links
Personal Weather Stations