Weathermen & D-Day June 6 1944
By: Patrap , 4:39 PM GMT on November 12, 2009
D-Day and Group Captain J.M. Stagg




Surface Map,D-Day June 6,1944





D-Day Operation Overlord Weather


Group Captain John Stagg was appointed chief meteorologist to SHAEF in November 1943 to co-ordinate 'the meteorological arrangements for disseminating weather information and advice to the naval, army, and air forces, US and British under the Supreme Allied Commander's control. Each of the forces already had its own forecasters, but Stagg's job was to analyse their predictions and present the overall picture in a succinct form. His deputy was Colonel Donald N. Yates of the USAAF. Stagg travelled to Portsmouth from 'Widewing' on Sunday, May 28, where he and Yates shared office space with Admiral Ramsey's chief weather officer, Instructor Commander John Fleming in a Nissen hut behind Southwick House.

Group Captain John Stagg


Meteorological requirements for the assault
Navy. Surface winds- not exceeding Force 3 (8-12mph) on shore, Force 4 (13-18mph) off shore during D-Day to D+2 (Force 5 bearable in open sea but for limited periods only.)
No prolonged periods of high winds in the Atlantic causing substantial swell in the Channel.
Visibility- not less than 3 miles.
Air Force. Air Transport. Cloud ceiling at least 2,500ft to and over target. Visibility 3 miles at least.
Heavy Bombers. Not more than 5/10ths cloud below 5,000ft, cloud ceiling not below 11,000ft over target.
Medium and Light Bombers. Cloud ceiling not less than 4,500ft over target, visibility at least 3 miles.
Fighters and Fighter Bombers. Cloud base not less than 1,000ft.
Bases. Cloud not below 1,000ft.
Army. Airborne Landings. Surface wind over target area not to exceed 20mph and not gusty. Half moonlight at least.
Ground Forces. Ground dry enough to take heavy vehicles off the main roads.
Procedure. January 1944: Directors of Meteorological Service for Air Ministry: Royal Navy, United States Forces and Chief Meteorological Officer at SHAEF began joint consultations. They devised a routine procedure each week for issuing a forecast for a period of five days. i.e. for five days ahead.
First conference February 1944 (from mid-April conferences everyday). They found after the first conferences that it was extremely difficult to predict more than 2 or 3 days ahead. During May (when the weather was mainly settled) the experts forecast 18 days on which the weather was suitable for Invasion.
Final Conferences
Sunday, May 28th. Meteorological report to Supreme Commander that the 'mainly quiet wind conditions would continue during the coming week'. (Risk of a gale seemed rather small.)
Monday, May 29th. Meeting with Supreme Commander etc. At Portsmouth. 1000hrs. Forecast for the five days up to June 2nd. Mainly quiet wind conditions- not more than Force 4- except for wind of Force 5 in western Channel on last two days of the period. Variable cloud conditions average 5/10-7/10 but increasing. Risk of deterioration.
Wednesday, May 31st, 0830hrs. ACS/G3 SHAEF (General Bull) was advised that prospects were not favourable for weather after Sunday, June 4th. 'There were indications that the Azores high pressure area was beginning to show signs of weakness; but no evidence yet that the wind would exceed Force 4.'
Friday, June 2nd, 1000hrs. (With Supreme Commander etc.) ' There is now indication that the present that the relatively quiet weather may end Tuesday.' Winds will be westerly mainly not above Force 4 but Force 5 at times especially in western Channel on Monday 5th, and Tuesday 6th. Cloud conditions-variable-7/10-10/10 early morning. Visibility-moderate to good but risk of fog patches.
Friday, June 2nd, 2130hrs. No substantial change. Eisenhower enquired whether improvement likely for the 6th or 7th. Reply-No: in fact danger of Force 5 winds on the 6th. Cloud conditions poor with periods of 10/10 at 1,000ft.
Saturday, June 3rd, 0830hrs. Bull was advised: no improvement-risk of Force 5 winds now forecast for Monday and even late Sunday. Cloud forecast uncertain-most likely 7/10-10/10 base 1,000ft.
Saturday, June 3rd, 2130hrs. (Supreme Commander etc.) 'The high pressure area over the Azores is rapidly giving way and a series of depressions across the Atlantic is moving rapidly eastward; these depressions will produce disturbed conditions in the Channel and assault area. Winds will be W-SW, Force 5 on the English coast, Force 3-4 on the French coast from early Sunday until a cold front trough passes. That passage is timed to be sometime on Wednesday, June 7th. From Sunday morning onwards, cloud will be mainly 10/10 with base 500-1,000ft in the morning hours. Visibility will be mainly 3-4 miles but there is a risk of fog spreading from the West up the Channel. After Monday, this risk of fog will decrease. During Wednesday, a front associated with a depression now off Nova Scotia and New England will probably pass through the assault area. Conditions over enemy buses on Monday will, on the whole, be better than over bases in England which were likely to be blanketed with 10/10 cloud at 500-1,000ft.'
Nevertheless, Eisenhower commented that the situation seemed slightly better since the previous night but the experts replied that 'the balance has now swung too far to the unfavourable side for it to be counteracted.'


Following the presentation of this information the assault was provisionally postponed for 24 hours.


Sunday, June 4th, 1415hrs. (Supreme Commander Etc) No new evidence- the only small change is that the front which was expected to clear the Channel areas of low clouds "during Wednesday" is now expected in the first part of Wednesday. Winds will be Force five in the channel from Monday morning onwards: cloud 10/10 at 500-1000ft from Sunday –Tuesday. Postponement confirmed.
Sunday, June 4th, 1745hrs. Bull was advised that 'there has been a substantial change in the situation since the early morning. It is now likely that there will be a fair interval starting about midday today and lasting till about dawn on Tuesday. During this fair interval, and particularly from Monday evening to Tuesday morning, cloud amounts will probably be substantially smaller than given in the forecast this morning: winds will also moderate temporarily, particularly on Monday night and at first on Tuesday. A deterioration will probably set in again during Tuesday; weather on subsequent days will continue unsettled and disturbed.'
Sunday, June 4th, 2100hrs. "Since the statement made before the meeting on Saturday evening, there have been some rapid and unexpected developments in the weather situation over the Atlantic. A front from one of the deep depression in the NW Atlantic has moved much further south than was expected and is now traversing the channel areas. It is almost over Portsmouth now and will clear the eastern Channel, at least on the English side, overnight. When that front has passed there will be an interval of fair conditions which, from evidence we now have, should last at least until dawn on Tuesday".
Wind Speeds by Monday evening should decrease to Force 3-4 on the French coast and cloud will become mainly less than 5/10 with base 2,000-3,000ft. After the interval, lasting until Tuesday morning, cloud will probably increase to 8/10-10/10 from the West during Tuesday afternoon and will continue so over Tuesday night'
'Wind will be mainly Force 4 on the English Channel coasts and Force 3-4 on French Channel coasts; in sheltered stretches of the French Channel coast, period of Force 2-3 could be expected. Wind direction throughout will be westerly.'
In reply to Eisenhower, the experts said: 'Considering the time of the year and the evidence we now have, there is reasonable prospect of the weather slowly improving after Friday if the present trend continues.'
In reply to Leigh-Mallory, they said that 'good though not uninterrupted conditions for visual bombing for heavy and medium bombers could be expected from Monday evening till early forenoon Tuesday.'

Provisional instruction given for assault on Tuesday, June 6th.

Monday, June 5th, 0415hrs. No substantial changes in information given at previous evening's meeting.
'The fair interval had now begun in Portsmouth and will probably last into the forenoon of Tuesday. During this interval, cloud will be mainly less than 5/10 with base 2,500-3,000 ft. Wind on the beaches in the invasion area will not exceed Force 3 in this interval and will be westerly. Visibility will be good.'
'During Tuesday, clouds will very probably increase again, from the West, giving a period of overcast sky with cloud base at about 1,000 ft in the assault area later in the day. These cloud conditions will continue overnight Tuesday-Wednesday. Winds will be westerly Force 4 on the English coast and mainly Force 3 on the French coast'

'Conditions will probably continue unsettled after Tuesday and it is difficult to time the changes... The situation even after Wednesday must continue to be regarded as disturbed: a quiet settled spell cannot be expected to start immediately after such an intensely disturbed situation. But the time of year suggests that changes after Wednesday may be expected to be in the direction of improvement rather than renewed and further deterioration to the present intensity.'


Following this presentation, the final and irrevocable decision was made to launch the assault on Tuesday, June 6th.


*************************************************************************************************** ******************************************
The D-Day invasion of World War II, codenamed Operation Overlord, began on June 6, 1944. The assault was originally planned for June 5th. However, due to poor weather General Dwight Eisenhower decided to move the date of the invasion to the 6th. It was among the largest amphibious assaults ever attempted. Following are some quotes from that historic day.

"We want to get the hell over there. The quicker we clean up this Goddamned mess, the quicker we can take a little jaunt against the purple pissing Japs and clean out their nest, too. Before the Goddamned Marines get all of the credit." ~ General George S. Patton, Jr (This politically incorrect speech was given to Patton's troops on June 5, 1944.)

"There is one great thing that you men will all be able to say after this war is over and you are home once again. You may be thankful that twenty years from now when you are sitting by the fireplace with your grandson on your knee and he asks you what you did in the great World War II, you WON'T have to cough, shift him to the other knee and say, Well, your Granddaddy shoveled shit in Louisiana. No, Sir, you can look him straight in the eye and say, Son, your Granddaddy rode with the Great Third Army and a Son-of-a-Goddamned-Bitch named Georgie Patton!" ~ General George S. Patton, Jr (This speech was delivered to Patton's troops on June 5, 1944)

"Rangers, Lead The Way!" ~ Colonel Francis W. Dawson on the occasion of the Normandy Invasion, 1944

You will bring about the destruction of the German war machine, the elimination of Nazi tyranny over the oppressed peoples of Europe, and security for ourselves in a free world. Your task will not be an easy one. Your enemy is well trained, well equipped, and battle-hardened. He will fight savagely....The free men of the world are marching together to victory. I have full confidence in your courage, devotion to duty, and skill in battle. We will accept nothing less than full victory. Good luck, and let us all beseech the blessings of Almighty God upon this great and noble undertaking." ~General Dwight D. Eisenhower giving the D-Day order on June 6, 1944.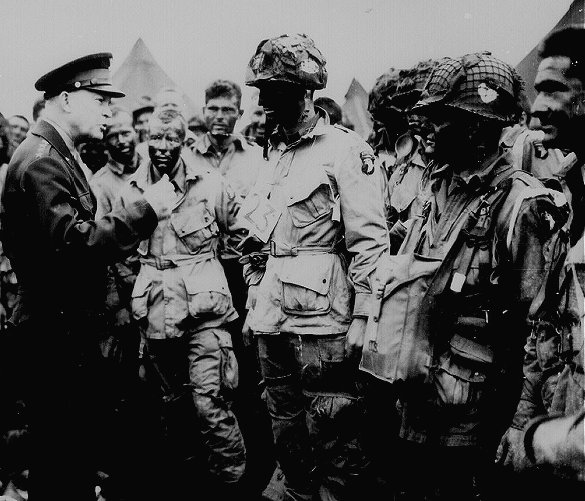 As a 21-year-old infantryman, Charles Durning, one America's premier character actors, was among the first wave of men to land on Omaha Beach during World War II. In this exclusive video clip introduced by Tom Hanks, Durning talks about his war experiences for which he was awarded three Purple Hearts and a Silver Star. From 2007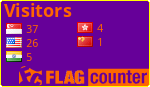 Create your own visitor map
The views of the author are his/her own and do not necessarily represent the position of The Weather Company or its parent, IBM.
Reader Comments
Patrap's WunderBlog
Previous Entries for 2017
Recommended Links