2014 Atlantic Hurricane Season Birdseye Discussion #34
...MONDAY JULY 14 2014 1:00 PM EDT...
The tropical wave southwest of the Cape Verde Islands mentioned in previous discussion #33 has diminished while ingesting dry Saharan air to the north. Further development of this system is not expected.

A surface trough of low pressure has formed south of Bermuda with the support of split flow upper divergence between the north side of a nearby upper vortex and west side of a deep-layered ridge forming east of Bermuda. Over the next 48 hours...most of the upper vorticity is expected to shift north in advance of the deep-layered 993 mb cyclone over eastern Canada...followed by a northward track of the surface trough around the west side of the aforementioned deep-layered ridge. With the upper vorticity expected to be replaced by a favorable low shear environment around the deep-layered ridge...some tropical development of this system is possible and therefore Bermuda should monitor this system. Currently the showers and thunderstorms associated with the surface trough are poorly organized and the CMC computer model is currently the only model that hints at some development while showing the trough evolving into a circulation.

...ATMOSPHERIC FEATURES BIRDSEYE CHART...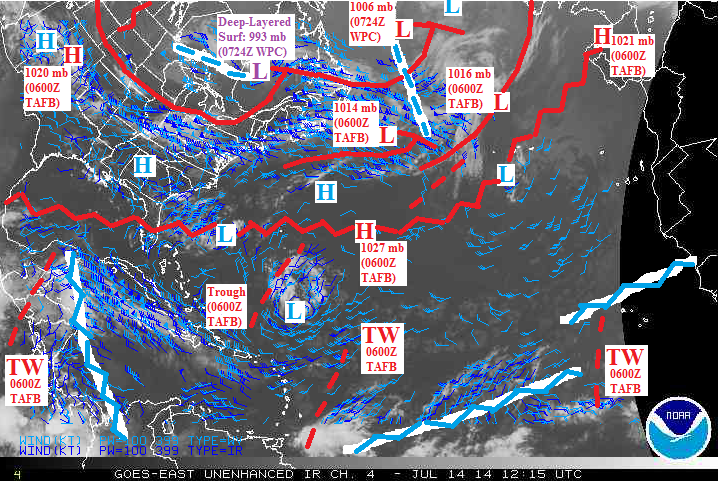 This chart is generated based on surface analysis from the National Hurricane Center TAFB at 0600Z and 0724Z-released WPC analysis.

Features boxed in green...if any...are mentioned in the National Hurricane Center (NHC) traditional 48-hour outlook and or are considered an "Invest" on the Naval Research Laboratory site of the US Navy at the time the chart was generated. I do not box features in green if they are only included in the NHC's longer term 5-day outlook.

In light blue is upper air analysis, with 200 mb wind barbs calculated by GOES satellite imagery showing the upper-level wind direction. Based on the 200 mb wind barbs, blue-dashed lines are locations of upper troughs, blue-zig-zag lines are locations of upper ridges. Blue Ls are locations of upper lows, blue Hs are locations of upper ridges.

In red is surface analysis, with solid lines indicating locations of surface fronts, dashed lines indicating locations of surface troughs, and zig-zag lines indicating surface ridge axes. Ls indicate surface lows, Hs indicate surface highs.

...THERMODYNAMICS BIRDSEYE CHART...


This chart is generated using GOES water vapor satellite imagery. Brown indicates dry air. White, blue, and purple indicates moist air. An increase in moisture indicates slower air parcel lapse rates with elevation and hence an increase toward instability.

Sea-surface temperatures are overlaid with light blue isotherms. The 26 deg C isotherm is highlighted in red. Waters at and south of the 26 deg C isotherm indicate low-level warmth and hence faster environmental lapse rates with elevation (more instability). Waters north of the 26 deg C isotherm indicate slower environmental lapse rates with elevation (less instability).
The views of the author are his/her own and do not necessarily represent the position of The Weather Company or its parent, IBM.
Reader Comments
Comments will take a few seconds to appear.
Post Your Comments
Please sign in to post comments.
Not only will you be able to leave comments on this blog, but you'll also have the ability to upload and share your photos in our Wunder Photos section.
Previous Entries for 2017