2014 Atlantic Hurricane Season Birdseye Discussion #30
...THURSDAY JULY 3 2014 2:36 PM EDT...
Arthur has strengthened into a hurricane since my previous blog update...and remains on track to make a severe strike the North Carolina Outer Banks tonight and into tomorrow morning. During the later part of this upcoming weekend...Arthur is expected to strike Nova Scotia and parts of Newfoundland as a strong non-tropical gale. Visit www.nhc.noaa.gov for the latest government forecasts and information on tropical storm and hurricane watches/warnings with this system. See special feature section below for my updated assessment of Arthur.

This blog update was done using internet access from JFK airport in NYC. For Vacation...I am flying to Spain later this afternoon and staying in Spain thru July 6...followed by a stay in Egypt from July 7 thru the 12th. As such my internet access to make blog updates will be limited. The hotel in Spain may allow me to do blog updates thru July 6. Internet access in Egypt from the 7th thru 12th will be more limited...and it is likely that I will not be able to do blog updates during that time.

...ATMOSPHERIC FEATURES BIRDSEYE CHART...


This chart is generated based on surface analysis from the National Hurricane Center TAFB at 1200Z and 1330Z-released WPC analysis.

Features boxed in green...if any...are mentioned in the National Hurricane Center (NHC) traditional 48-hour outlook and or are considered an "Invest" on the Naval Research Laboratory site of the US Navy at the time the chart was generated. I do not box features in green if they are only included in the NHC's longer term 5-day outlook.

In light blue is upper air analysis, with 200 mb wind barbs calculated by GOES satellite imagery showing the upper-level wind direction. Based on the 200 mb wind barbs, blue-dashed lines are locations of upper troughs, blue-zig-zag lines are locations of upper ridges. Blue Ls are locations of upper lows, blue Hs are locations of upper ridges.

In red is surface analysis, with solid lines indicating locations of surface fronts, dashed lines indicating locations of surface troughs, and zig-zag lines indicating surface ridge axes. Ls indicate surface lows, Hs indicate surface highs.

...THERMODYNAMICS BIRDSEYE CHART...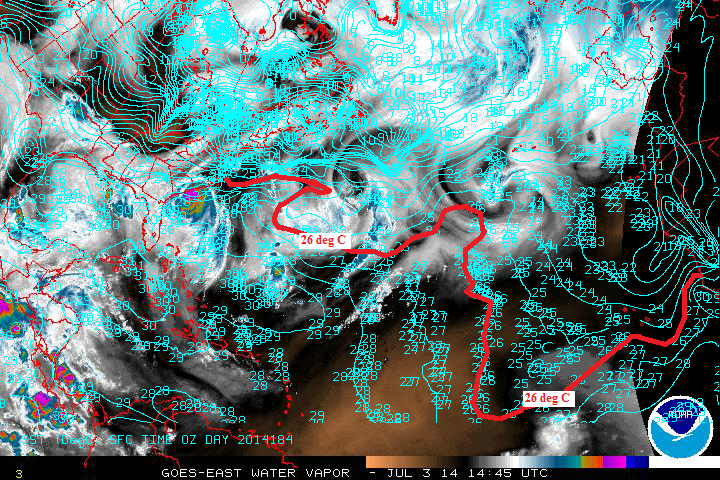 This chart is generated using GOES water vapor satellite imagery. Brown indicates dry air. White, blue, and purple indicates moist air. An increase in moisture indicates slower air parcel lapse rates with elevation and hence an increase toward instability.

Sea-surface temperatures are overlaid with light blue isotherms. The 26 deg C isotherm is highlighted in red. Waters at and south of the 26 deg C isotherm indicate low-level warmth and hence faster environmental lapse rates with elevation (more instability). Waters north of the 26 deg C isotherm indicate slower environmental lapse rates with elevation (less instability).

...SPECIAL FEATURE...HURRICANE ARTHUR...
Current prognosis...As of the 2 PM EDT National Hurricane Center (NHC) advisory...the hurricane was centered at 32.9N-78.3W while curving on a northeastward track on schedule. Some additional strengthening to a category 2 is forecast before the eye crosses the Outer Banks of North Carolina late this evening thru tomorrow morning. If Arthur indeed achieves category 2...this will be the first greater-than-category 1 hurricane in the Atlantic basin since Sandy in October 2012.

Atmospheric Outlook for the Forecast Period...Arthur is curving northeastward while rounding the west side of the 1035 mb Atlantic subtropical ridge and out ahead of incoming NE US/SE Canada upper trough/surface 993 mb frontal cyclone. Because the frontal cyclone is far north in relation to the hurricane...the hurricane will soon get caught into a narrowing low-level ridge weakness as the frontal cyclone passes by. However the hurricane is plenty strong/tall enough to be accelerated northeastward through the narrowing low-level weakness by upper-level troughing lingering from the NE US/SE Canada weather system. Arthur has another 12 hours under the safeguard of an upper ridge that is helping his upper outflow and keeping wind shear low...after which time interaction with the aforementioned upper troughing will increase westerly shear and aid in transition of Arthur into a non-tropical gale.

Thermodynamic Outlook for the Forecast Period...Sea surface temps early in the forecast period will be in the 28 to 30 deg C range...very supportive for additional tropical development. However by late Friday and this weekend...the tropical cyclone will have crossed the 26 deg C isotherm into cooler northwestern Atlantic waters...which will help in the transition of this system to non-tropical. The above thermo chart suggests that the patch of dry continental air that was northwest of Arthur has since been squeezed out between Arthur's storm canopy and a band of moisture associated with the cold front coming in from the west. It appears the dissipation of this dry air has finally allowed Arthur to intensify into a hurricane.




Track Forecast...Arthur has done very well in following the previous track forecasts...and therefore both my track forecast and NHC track forecast have not changed since the previous blog update.

Intensity Forecast...Arthur has strengthened a little bit faster than I previously predicted in discussion #29. Therefore I have slightly increased my intensity forecast and now predict Arthur to become a category 2 hurricane with 100 mph max sustained winds later today. My updated intensity forecast is in general agreement with the NHC's intensity forecast released at 11 AM EDT. The intensity forecast shows weakening by Friday and Saturday as I expect the increasing westerly shear (mentioned at the end of the above atmo outlook section) to begin affecting Arthur. The weakening rate however will not be rapid as Arthur transitions into a vigorous non-tropical remnant low supported by divergence on the east side of upper troughing mentioned at the end of the above atmo outlook.

Impact Forecast...Impact swath is initialized based on the tropical storm wind field depicted in NHC's 11 AM EDT advisory...which is then extrapolated along the forecast track. The impact swath predicts tropical storm winds reaching all of the North Carolina coast later today (Thursday) thru early Friday...with crippling hurricane conditions expected over the Outer Banks with the center forecast to cross over the Banks. All storm force winds are still predicted to pass offshore of New England. By late Saturday...the impact swath shows gale force winds affecting a large section of Nova Scotia. Western Newfoundland is expected to see gale force winds on Sunday.
The views of the author are his/her own and do not necessarily represent the position of The Weather Company or its parent, IBM.
Reader Comments
Comments will take a few seconds to appear.
Post Your Comments
Please sign in to post comments.
Not only will you be able to leave comments on this blog, but you'll also have the ability to upload and share your photos in our Wunder Photos section.
Previous Entries for 2017