2013 Atlantic Hurricane Season Birdseye Discussion #85
...FRIDAY SEPTEMBER 6 2013 6:53 AM EDT...
Gabrielle unexpectedly weakens to remnant low but still dumping heavy rains over Puerto Rico and Virgin Islands. See Gabrielle special feature section for additional details.

Elsewhere...still monitoring tropical wave Invest 98-L...see Invest 98-L special feature section for more details. Although a disturbance flared up in the southwestern Gulf of Mexico and became classified as Invest 99-L within the last 24 hours (paragraph P7)....it is making landfall in east-central Mexico this morning and therefore will not become a tropical cyclone. And finally...a tropical wave emerging from Africa (paragraph P10) has the potential for development in the days ahead.

...ATMOSPHERIC FEATURES BIRDSEYE CHART...


This chart is generated based on surface analysis from the National Hurricane Center TAFB at 0000Z, and the 0131Z-released WPC analysis.

Any features boxed in green were mentioned in the National Hurricane Center (NHC) traditional 48-hour outlook and or are considered an "Invest" on the Naval Research Laboratory site of the US Navy at the time the chart was generated. I do not box features in green if they are only included in the NHC's newer longer term 5-day outlook. Systems that I consider special features have less to do with whether they are boxed in green and more to do with whether I think their is a high risk of eventual tropical cyclone formation from that system.

In light blue is upper air analysis, with 200 mb wind barbs calculated by GOES satellite imagery showing the upper-level wind direction. Based on the 200 mb wind barbs, blue-dashed lines are locations of upper troughs, blue-zig-zag lines are locations of upper ridges. Blue Ls are locations of upper lows, blue Hs are locations of upper ridges.

In red is surface analysis, with solid lines indicating locations of surface fronts, dashed lines indicating locations of surface troughs, and zig-zag lines indicating surface ridge axes. Ls indicate surface lows, Hs indicate surface highs.

...THERMODYNAMICS BIRDSEYE CHART...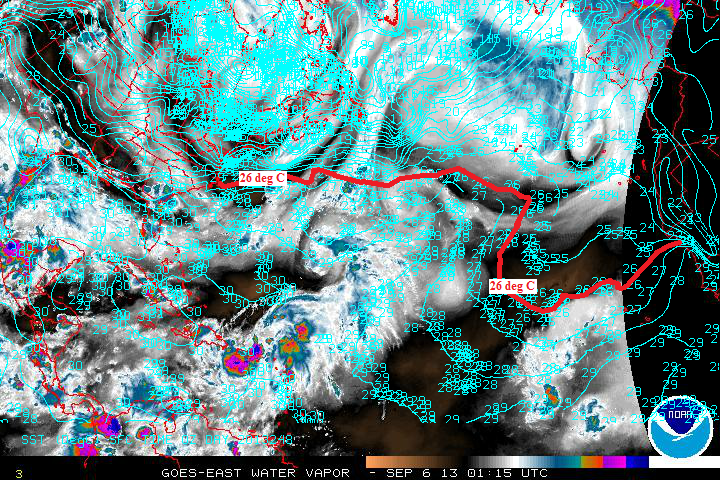 This chart is generated using GOES water vapor satellite imagery. Brown indicates dry air. White, blue, and purple indicates moist air. An increase in moisture indicates slower air parcel lapse rates with elevation and hence an increase toward instability.

Sea-surface temperatures are overlaid with light blue isotherms. The 26 deg C isotherm is highlighted in red. Waters at and south of the 26 deg C isotherm indicate low-level warmth and hence faster environmental lapse rates with elevation (more instability). Waters north of the 26 deg C isotherm indicate slower environmental lapse rates with elevation (less instability).

...SPECIAL FEATURE...REMNANTS OF GABRIELLE...
Yesterday late morning for reasons not fully explainable...the surface center of Gabrielle took a westward deviation into the eastern tip of the Dominican Repbulic while the well-organized mid-level center and circular thunderstorm area persist to the east over Puerto Rico and the Virgin Islands where rainfall and mudslide threat continues. As the surface center encountered the rough terrain of the Dominican Republic...it has weakened and opened up such that Gabrielle was no longer a tropical cyclone as of late last night. One scenario is that Gabrielle re-generates a surface center further east below the mid-level center. Another scenario is that the remnants of Gabrielle linger for a few more days in the waters south of Bermuda while supported by eastern divergence of mid-latitude upper troughing soon to dive into the western Atlantic right behind paragraph P1 upper trough. Because of re-generation potential...I have still kept Gabrielle as a special feature on this blog for now.

...SPECIAL FEATURE...TROPICAL WAVE INVEST 98-L...
Tropical wave currently southwest of the Cape Verde Islands has been re-classified as Invest 98-L due to improved organization observed for part of yesterday. This tropical wave is likely to stay within favorable enivronment of low shear and good upper outflow beneath paragraph P6 low-latitude upper ridge in the next 24 hours. Beyond that time...relatively lower pressures east of the upper anticyclone associated with Gabrielle will concentrate the paragraph P6 axis of upper vorticity into one large mid-ocean upper vortex likely to disrupt the development potential. Therefore the chance of tropical cylcogenesis from this system would be in the next 24 hours...followed by a collapse in the system as it approaches the Lesser Antilles after that time.

...MID-LATITUDES DISCUSSION...
P1...Large upper trough persists over eastern Canada and western Atlantic. Associated surface frontal cyclone centered over the east coast of Canada has deepened further to 981 mb in supportive eastern divergence of upper trough. Western convergence of upper trough supports 1026 mb ridge currently centered over the Great Lakes region. This upper trough continues to confine US upper ridge to the southwestern US.

P2...Longwave upper trough over the high seas is now located just west of Europe. Western convergence of the upper trough supports 1031 mb ridge due north of the Azores. Cut-off upper vortex west left behind by upper trough is currently southeast of Newfoundland while anticylonically orbiting about the paragraph P4 mid-latitude upper ridge. Eastern divergence of this upper vortex supports a weak surface low embedded in the paragraph P5 surface ridge.

P3...Cut-off east-west upper trough has moved into northern Mexico from the western Gulf of Mexico

P4...Mid-latitude upper ridging has amplified in the north-central Atlantic associated with warm air advection ahead of paragraph P1 981 mb frontal cyclone.

P5...Surface ridge dominating much of the open Atlantic is becoming anchored by 1031 mb center north of the Azores in paragraph P2. The south side of this surface ridge is advecting pockets of dry Saharan air from Africa as observed by low-latitude brown shading in the above thermo chart. However as also observed by the white shading in the lower-right of the above thermo chart...the stream of dry Saharan air appears mitigated due to the tropical wave thunderstorm activity from the southeast.

...TROPICAL BELT DISCUSSION...
P6...Low-latitude upper ridge covers much of the Atlantic tropical latitudes. What is left of adjacent axis of upper vorticity...sandwiched between the low-latitude upper ridge and paragraph P4 mid-latitude ridging...is east of Bermuda and well northeast of Gabrielle.

P7...While taking advantage of low shear/good upper outflow of paragraph P6 upper ridging...Bay of Campeche/southwestern Gulf disturbance flared up shortly after the previous discussion was written...prompting an upgrade to Invest 99-L and a recon aicraft investigation yesterday afternoon. Reconnaissance did not find a closed circulation to upgrade to a tropical cyclone...and moreover this system is making landfall in east-central Mexico this morning while steered by paragraph P1 1026 mb ridge.

P8...Western tropical wave formerly associated with disturbance Invest 97-L (which is now Gabrielle) is in the western Caribbean and is inactive while in an unfavorable environment of upper-level convergence/sinking air between upper anticyclone over Gabrielle and upper ridge over paragraph P7 disturbance. What's left of eastern tropical wave formerly associated with Invest 97-L (now Gabrielle) is a surface trough north of Puerto Rico and the Virgin Islands that is merging with the northeast side of the remnant low of Gabrielle.

P9...Tropical wave formerly classified as Invest 96-L is making an approach to the Lesser Antilles and the remnants of Gabrielle. It remains inactive in environment of dry Saharan air mentioned in paragraph P5 and southeastern convergence of upper anticyclone associated with Gabrielle.

P10...Satellite imagery suggests the next tropical wave is currenty inland over west Africa about to emerge into the tropical belt of the Atlantic as marked in the lower-right of the above atmo chart. If this tropical wave becomes better organized as it emerges off the coast...I may upgrade it to a special feature on this blog considering it is entering the same favorable upper winds that adjacent special feature Invest 98-L is under.
The views of the author are his/her own and do not necessarily represent the position of The Weather Company or its parent, IBM.
Reader Comments
NCHurricane2009 doesn't have a bio yet.
Previous Entries for 2017