2013 Atlantic Hurricane Season Birdseye Discussion #83
...WEDNESDAY SEPTEMBER 4 2013 12:47 AM EDT...
Tropical disturbance Invest 97-L currently in the eastern Caribbean Sea remains the most primed area for tropical development in the Atlantic at this time. See special feature section below for details. Elsewhere...tropical wave Invest 98-L off the coast of Africa (paragraph P10) and western Caribbean disturbed weather which has recently moved into the Yucatan (paragraph P8)...both mentioned in special update #82A...are not showing signs of development.

...ATMOSPHERIC FEATURES BIRDSEYE CHART...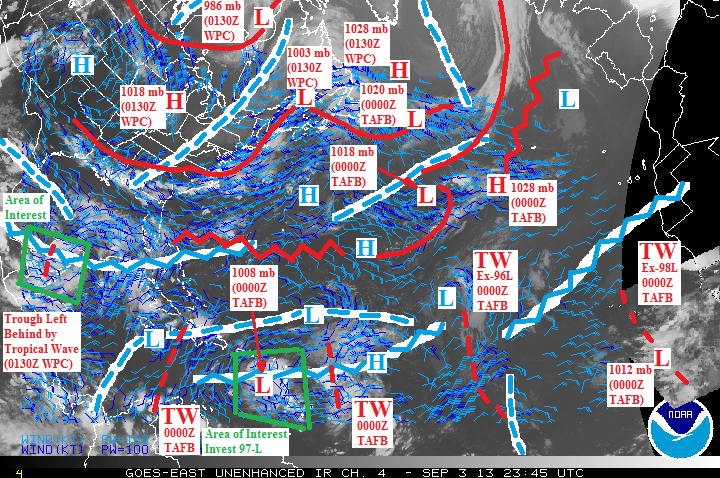 This chart is generated based on surface analysis from the National Hurricane Center TAFB at 0000Z, and the 0130Z-released WPC analysis.

Any features boxed in green were mentioned in the National Hurricane Center (NHC) traditional 48-hour outlook and or are considered an "Invest" on the Naval Research Laboratory site of the US Navy at the time the chart was generated. I do not box features in green if they are only included in the NHC's newer longer term 5-day outlook. Systems that I consider special features have less to do with whether they are boxed in green and more to do with whether I think their is a high risk of eventual tropical cyclone formation from that system.

In light blue is upper air analysis, with 200 mb wind barbs calculated by GOES satellite imagery showing the upper-level wind direction. Based on the 200 mb wind barbs, blue-dashed lines are locations of upper troughs, blue-zig-zag lines are locations of upper ridges. Blue Ls are locations of upper lows, blue Hs are locations of upper ridges.

In red is surface analysis, with solid lines indicating locations of surface fronts, dashed lines indicating locations of surface troughs, and zig-zag lines indicating surface ridge axes. Ls indicate surface lows, Hs indicate surface highs.

...THERMODYNAMICS BIRDSEYE CHART...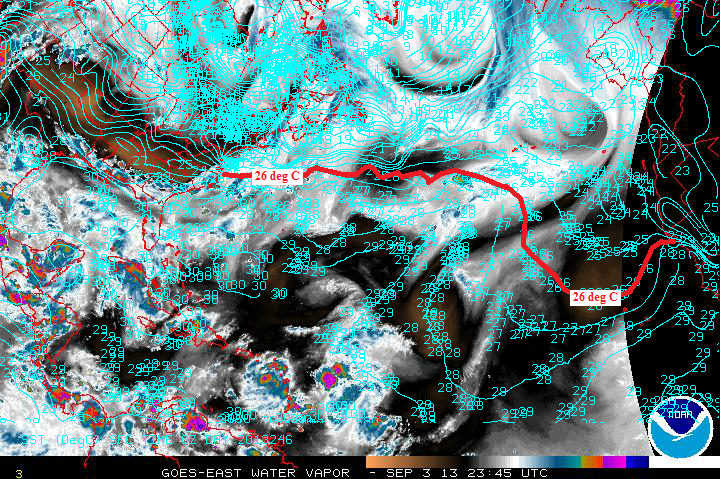 This chart is generated using GOES water vapor satellite imagery. Brown indicates dry air. White, blue, and purple indicates moist air. An increase in moisture indicates slower air parcel lapse rates with elevation and hence an increase toward instability.

Sea-surface temperatures are overlaid with light blue isotherms. The 26 deg C isotherm is highlighted in red. Waters at and south of the 26 deg C isotherm indicate low-level warmth and hence faster environmental lapse rates with elevation (more instability). Waters north of the 26 deg C isotherm indicate slower environmental lapse rates with elevation (less instability).

...SPECIAL FEATURE...TROPICAL DISTURBANCE INVEST 97-L...
The western of the two tropical waves associated with 97-L has moved into the central Caribbean but has left behind 1008 mb low pressure spin and thunderstorms that has moved across the Lesser Antilles into the northeastern Caribbean. The eastern of the two tropical waves remains east of the Lesser Antilles and is producing its own cluster of thunderstorms. Assuming that the eastern of the two tropical waves does not disrupt or steal surface inflow of the 1008 mb surface low...we can expect a high probability of tropical cyclone formation from the surface low based on its increasing organization and consolidating nature on satellite animation...especially due to the favorable evolution of the upper winds taking place. This evolution consists of the unfavorable axis of upper vorticity to the west and north of the system (paragraph P7) breaking up...allowing for an upper anticyclone to build over the system. This upper anticyclone will compose of a merger between a fragment of the low-latitude upper ridge axis overhead (paragraph P7) and mid-latitude upper ridging in the vicinity of the Bahamas (paragraph P5).

Based on the track of the 1008 mb surface low currently seen in satellite animation...it appars the surface low will pass west-northwestward over Puerto Rico and Dominican Republic in the next day or so while drawn toward low-level ridge weakness developing in the western Atlantic associated with paragraph P1 and P2 frontal cyclones. Although some surface ridging will re-build in the wake of the cyclones...computer model runs such as CMC...GFS...and NAVGEM suggest a tropical cyclone strong and vertically coupled enough to turn northward into the open western Atlantic under the influence of additional upper trouhging expected to dive in immediately behind the paragraph P1 and P2 upper troughs. Interests in the Bahamas should still monitor this system in case such a northward turn takes longer than expected to materialize.

In the shorter term...expect squally weather to move across Puerto Rico and the Dominican Repbulic in the next 24 hours in association with the 1008 mb low...then expect potentially another round of squally weather in these areas after that due to the thunderstorm cluster of the eastern tropial wave follwoing behind. The Lesser Antilles which have already journeyed through the 1008 mb low can expect squally weather from the eastern tropical wave in the next 24 hours.

...MID-LATITUDES DISCUSSION...
P1...Next shortwave upper trough is entering the upper-left of the above charts from central Canada. Its eastern divergence supports 986 mb frontal cyclone currently centered over eastern Hudson Bay.

P2...Upper trough previously over the central US and south-central Canada is now over the eastern US and southeastern Canada. Its eastern divergence supports 1003 mb frontal cyclone currently moving through Atlantic Canada. Western convergence of the upper trough supports 1018 mb ridge over the central US. This upper trough continues to confine US upper ridge to the southwestern US.

P3...Longwave upper trough over the high seas is now east and southeast of Greenland. Western convergence of the upper trough supports 1028 mb ridge due south of Greenland. 1020 mb frontal depression east of Newfoundland continues to be associated with this upper trough system. South fragment of this upper trough has merged with portion of paragraph P7 axis of upper vorticity to produce a SW-NE upper trough southeast of Newfoundland. Eastern divergence of this upper trough supports 1018 mb frontal depression in the open central Atlantic which is a consolidation of the 1014 and 1015 mb depressions in the area mentioned in paragraph P2 of discussion #82.

P4...Cut-off upper vortex in the Gulf of Mexico has weakened into an east-west upper trough extending into northeastern Mexico.

P5...Mid-latitude upper ridging spans the vicinity of the Bahamas and western Atlantic associated with relatively warmer air ahead of the paragraph P2 1003 mb frontal cyclone.

P6...Surface ridge dominating much of the open Atlantic is anchored by 1028 mb center due south of the Azores supported by western convergence of upper vortex west of Portugal mentioned in paragraph P7. Remainder of this surface ridge is generally supported by southeastern convergence of mid-latitude upper ridging mentioned in paragraph P5. The south side of this surface ridge is advecting pockets of dry Saharan air from Africa as observed by low-latitude brown shading in the above thermo chart. However as also observed by the white shading in the lower-right of the above thermo chart...the stream of dry Saharan air appears mitigated due to the tropical wave thunderstorm activity from the southeast.

...TROPICAL BELT DISCUSSION...
P7...Low-latitude upper ridge covers much of the Atlantic tropical latitudes. Adjacent axis of upper vorticity...sandwiched between the low-latitude upper ridge and paragraph P5 mid-latitude ridging...stretches from the waters north of the Lesser Antilles all the way to an upper vortex west of Portugal in the northeastern Atlantic. A fragment of this upper vorticity has retrograded southwestward into Jamaica while orbiting around paragraph P5 mid-latitude upper ridging. This upper vortex over Jamaica currenlty splits the aformentioned low-latitude upper ridge into two.

P8...Tropical wave previously moving across southeastern Mexico has exited the picture while moving into the eastern Pacific...but has gained attention in the NHC tropical weather outlook as noted in special update #82A due to disturbed weather it initialized over the western Caribbean supported by outflow of paragraph P7 low-latitude upper ridge. This disturbed weather has since moved into the Yucatan and developed a surface trough that can now sneak in behind the dissipating unfavorable Gulf upper vortex mentioned in paragraph P4...providing me a more favorable outlook on this system. Despite this...I am still not upgrading this system to a special feature as the thunderstorms are not organized enough and as their is still a lack of computer model support. However if anything emerges from this disturbance...expect a general track west to west-northwest into the Bay of Campeche/southwestern Gulf/eastern Mexico region while steered by surface ridge to build behind paragraph P1 weather system and or southwestern US upper ridge mentioned in paragraph P2.

P9...Tropical wave formerly classified as Invest 96-L has moved into the waters midway between the Cape Verde Islands and Lesser Antilles and remains inactive in a hostile environment of southerly shear associated with upper vortex embedded in paragraph P7 axis of upper vorticity and dry Saharan air mentioned in paragraph P6.

P10...Tropical wave previously exiting the west coast of Africa was recently classified as disturbance Invest 98-L as mentioned in special update #82A. It is no longer mentioned in the NHC tropical weather outlook nor is getting an upgrade to a special feature on this blog as the thunderstorm activity has become less organized. However...based on animation of upper wind forecasts from computer models...this tropical wave is likely to stay within favorable enivronment of low shear and good upper outflow beneath paragraph P7 low-latitude upper ridge and bears a little watching in case it re-organizes within the next 4 days. In the long range beyond 4 days...relatively lower pressures east of the upper anticyclone associated with disturbance 97-L will concentrate the paragraph P7 axis of upper vorticity into one large mid-ocean upper vortex likely to disrupt the longer-term opportunties for this tropical wave.
Reader Comments
Comments will take a few seconds to appear.
Post Your Comments
Please sign in to post comments.
Not only will you be able to leave comments on this blog, but you'll also have the ability to upload and share your photos in our Wunder Photos section.
Previous Entries for 2016