2013 Atlantic Hurricane Season Birdseye Discussion #82A (Special Update)
...MONDAY SEPTEMBER 2 2013 3:30 PM EDT...
In addition to disturbance Invest 97-L...the National Hurricane Center has highlighted two new areas of disturbed weather in their traditional 48-hour tropical weather outlook while full discussion #82 was being composed.

The first is an area of western Caribbean thunderstorms north of Honduras and east of Belize mentioned in paragraph P7 of discussion #82. However the surface tropical wave generating these thunderstorms is over southeastern Mexico and moving westward and away. Their appears to be no surface low over the western Caribbean left behind by the tropical wave. The thunderstorm intensity in the region is not strong. Latest check with computer models shows no forecast development. And finally...the unfavorable Gulf of Mexico upper vortex mentioned in paragraph P3 of discussion #82 is expected to persist for a few more days. With all this reasoning...I do not expect tropical cyclone development from this area and therefore am not upgrading it to a special feature.

The second is the organized tropical wave emerging from the west coast of Africa mentioned in paragraph P9 of discussion #82 which was being upgraded to Invest 98-L while I was composing discussion #82. Based on animation of upper wind forecasts from computer models...this tropical wave is likely to stay within favorable enivronment of low shear and good upper outflow beneath low-latitude upper ridge mentioned in paragraph P6 of discussion #82. Therefore I will be likely upgrading this tropical wave to a special feature in my next full discussion if the current organization persists...and may even upgrade it to a special feature in another special update if this system organizes quickly before my next full discussion. In the long range...if special feature Invest 97-L evolves into a strong tropical cyclone with a large upper anticyclone...relatively lower pressures east of the upper anticyclone will concentrate the axis of upper vorticity (paragraph P6 of discussion #82) into one large mid-ocean upper vortex capable of disrupting this tropical wave's chances by 5 days and beyond.

I have updated the atmospheric features chart from discussion #82 as shown below to reflect the recent additions into the NHC traditional 48-hour outlook. Return to full discussion #82 for an assessment on the rest of the Atlantic tropics including a statement on special feature Invest 97-L centered just east of the Lesser Antilles.

...UPDATED ATMOSPHERIC FEATURES BIRDSEYE CHART...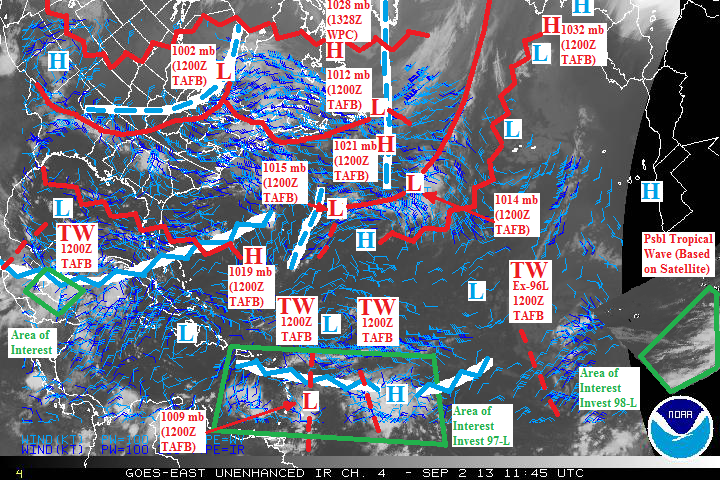 This chart is generated based on surface analysis from the National Hurricane Center TAFB at 1200Z, and the 1328Z-released WPC analysis.

Any features boxed in green were mentioned in the National Hurricane Center (NHC) traditional 48-hour outlook and or are considered an "Invest" on the Naval Research Laboratory site of the US Navy at the time the chart was generated. I do not box features in green if they are only included in the NHC's newer longer term 5-day outlook. Systems that I consider special features have less to do with whether they are boxed in green and more to do with whether I think their is a high risk of eventual tropical cyclone formation from that system.

In light blue is upper air analysis, with 200 mb wind barbs calculated by GOES satellite imagery showing the upper-level wind direction. Based on the 200 mb wind barbs, blue-dashed lines are locations of upper troughs, blue-zig-zag lines are locations of upper ridges. Blue Ls are locations of upper lows, blue Hs are locations of upper ridges.

In red is surface analysis, with solid lines indicating locations of surface fronts, dashed lines indicating locations of surface troughs, and zig-zag lines indicating surface ridge axes. Ls indicate surface lows, Hs indicate surface highs.
The views of the author are his/her own and do not necessarily represent the position of The Weather Company or its parent, IBM.
Reader Comments
Comments will take a few seconds to appear.
Previous Entries for 2017