2013 Atlantic Hurricane Season Birdseye Discussion #77
...TUESDAY AUGUST 27 2013 7:15 AM EDT...
Tropical Storm Fernand has dissipated over inland central Mexico as of yesterday afternoon and is no longer a special feature on this blog. However additional rains from the remnants continue the flash flood and mudslide potential.

Small tropical low in the central Atlantic mentioned in special update #76B has lost its identity in the Intertropical Convergence Zone (ITCZ) and therefore is no longer a special feature on this blog.

Still monitoring the potential for eastern Atlantic tropical wave to develop into a tropical cyclone. See special feature section below for additional details.

...ATMOSPHERIC FEATURES BIRDSEYE CHART...


This chart is generated based on surface analysis from the National Hurricane Center TAFB at 0000Z, and the 0116Z-released WPC analysis.

In light blue is upper air analysis, with 200 mb wind barbs calculated by GOES satellite imagery showing the upper-level wind direction. Based on the 200 mb wind barbs, blue-dashed lines are locations of upper troughs, blue-zig-zag lines are locations of upper ridges. Blue Ls are locations of upper lows, blue Hs are locations of upper ridges.

In red is surface analysis, with solid lines indicating locations of surface fronts, dashed lines indicating locations of surface troughs, and zig-zag lines indicating surface ridge axes. Ls indicate surface lows, Hs indicate surface highs.

...THERMODYNAMICS BIRDSEYE CHART...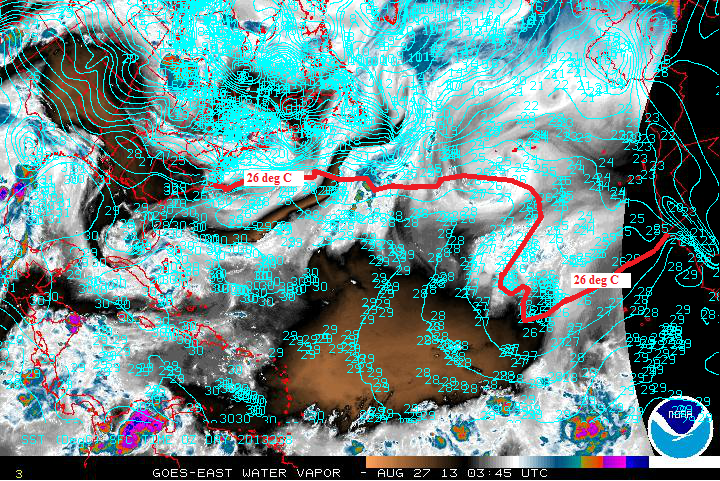 This chart is generated using GOES water vapor satellite imagery. Brown indicates dry air. White, blue, and purple indicates moist air. An increase in moisture indicates slower air parcel lapse rates with elevation and hence an increase toward instability.

Sea-surface temperatures are overlaid with light blue isotherms. The 26 deg C isotherm is highlighted in red. Waters at and south of the 26 deg C isotherm indicate low-level warmth and hence faster environmental lapse rates with elevation (more instability). Waters north of the 26 deg C isotherm indicate slower environmental lapse rates with elevation (less instability).

...SPECIAL FEATURE...EASTERN ATLANTIC TROPICAL WAVE..
Tropical wave previously emerging from Africa has passed south of the Cape Verde Islands and is now producing a respectable thunderstorm cluster southwest of the islands this morning. Computer models suggest that the southwest end of axis of upper vorticity embedded in eastern Atlantic upper ridge (paragraph P5) will break off and retrograde westward and away. This will allow the tropical wave to potentially develop in favorable environment of enhanced outflow and low shear beneath the east Atlantic upper ridge as some computer model runs continue to suggest. Therefore I am maintaining this tropical wave as a special feature on this blog while considering it a high risk of eventual tropical cyclone formation. Marine interests in the open tropical Atlantic east of the Lesser Antilles and west of the Cape Verde Islands should continue to stay tuned over the next few days...

...MID-LATITUDES DISCUSSION...
P1...Upper ridge has built across the central US. To the north of the upper ridge...shortwave upper trough impulse and associated 1005 mb frontal depression has moved from eastern Manitoba and into Atlantic Canada. Another such impulse with 1006 mb frontal depression is currently over NE Manitoba crossing into Hudson Bay.

P2...Upper trough previously over the eastern US and eastern Canada is now in the western Atlantic. Its south end appears to be cutting off into an upper vortex over south Florida to the southeast of the paragraph P1 central US upper ridge. The developing cut-off upper vortex has produced some disturbed weather over the western Bahamas region with its eastern divergence. Lengthy cold front supported by eastern divergence of upper trough extends across the north and western Atlantic. Previous 1014 mb frontal depression south of Newfoundland has deepened to 1002 mb and is currently located east of Newfoundland. A new frontal depression of 1012 mb has developed ENE of Bermuda. Western convergence of the upper trough supports 1022 mb surface ridge over the eastern US.

P3...Shortwave upper trough in the north-central Atlantic has cut-off into an upper vortex over the Azores while becoming trapped due south of amplifying NE Atlantic upper ridge pumped up by warm air advection ahead of 1002 mb cyclone mentioned in paragraph P2 above.

P4...Surface ridge dominating much of the open Atlantic is anchored by 1029 mb center north of the Azores supported by southeastern convergence of paragraph P3 NE Atlnatic upper ridge. The south side of this surface ridge previously advected dry Saharan air from Africa as observed by low-latitude brown shading in the above thermo chart. However as also observed by the white shading in the lower-right of the above thermo chart...the stream of dry Saharan air appears to be diminishing due to the tropical wave thunderstorm activity from the southeast.

...TROPICAL BELT DISCUSSION...
P5...Upper anticyclone associated with the latent heat release and upper outflow of Fernand and its remnants is currently centered over central Mexico. Relatively lower pressures east of the upper anticyclone supports upper vortex currently located over Panama. To the east of the upper vortex...large eastern Atlantic and eastern Caribbean low-latitude upper ridge persists. This eastern Atlantic upper ridge remains split by embedded axis of upper vorticity stretching from the waters west of the Cape Verde Islands and into the Canary Islands and Europe's Iberia peninsula.

P6...Tropical wave formerly classified as disturbance Invest 94-L several days ago when it was impressive earlier is currently moving across the central Caribbean Sea while producing pockets of thunderstorms supported by split flow upper divergence between paragraph P5 upper vortex over Panama and paragraph P5 eastern Caribbean/eastern Atlatnic upper ridge.

P7...Tropical wave previously west of the Cape Verde Islands is now midway between the Cape Verdes and Lesser Antilles while suppressed by westerly vertical shear along south side of axis of upper vorticity mentioned in paragraph P5 and unfavorable dry Saharan air mentioned in paragraph P4. However its south end is embedded in the ITCZ where it is producing a broad region of thunderstorms enhanced by poleward upper outflow into the aformentioned upper vorticity.
The views of the author are his/her own and do not necessarily represent the position of The Weather Company or its parent, IBM.
Reader Comments
Comments will take a few seconds to appear.
NCHurricane2009 doesn't have a bio yet.
Previous Entries for 2017