2013 Atlantic Hurricane Season Birdseye Discussion #72
...SUNDAY AUGUST 18 2013 1:18 PM EDT...
Erin appears to be dissipating into a remnant low away from land in an environment of dry air and southerly vertical shear. See Erin special feature section for details.

Vigorous tropical wave emerging from western Africa into the tropical waters sotheast of the Cape Verde Islands has been upgraded to Invest 94-L on the Naval Research Laboratory site of the US Navy and has been introduced into the National Hurricane Center Tropical Weather Outlook. See Invest 94-L special feature section below for additional details.

Lastly...the NAVGEM computer model suggests that a 1012 mb tropical low currently located midway between the Cape Verde Islands and Lesser Antilles could develop within the next three days while approaching the eastern Caribbean Sea. Overall model support has actually reduced with the CMC model dropping this solution. In addition this system has not become better organized. Therefore I am not considering this a special feature at this time.

...ATMOSPHERIC FEATURES BIRDSEYE CHART...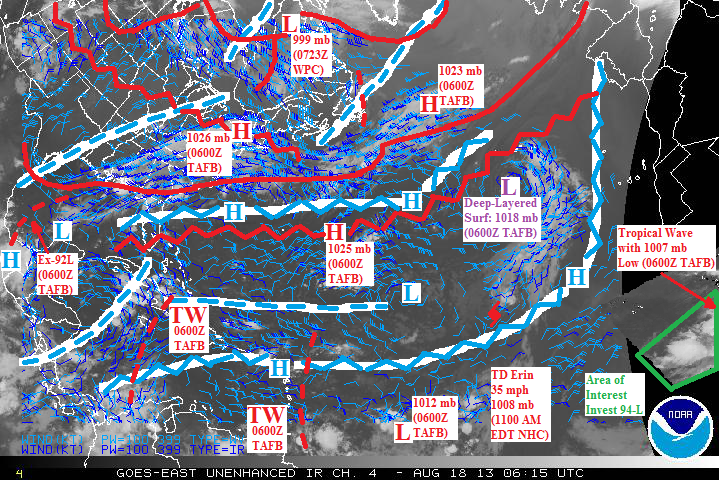 This chart is generated based on surface analysis from the National Hurricane Center TAFB at 0600Z, and the 0723Z-released WPC analysis.

In light blue is upper air analysis, with 200 mb wind barbs calculated by GOES satellite imagery showing the upper-level wind direction. Based on the 200 mb wind barbs, blue-dashed lines are locations of upper troughs, blue-zig-zag lines are locations of upper ridges. Blue Ls are locations of upper lows, blue Hs are locations of upper ridges.

In red is surface analysis, with solid lines indicating locations of surface fronts, dashed lines indicating locations of surface troughs, and zig-zag lines indicating surface ridge axes. Ls indicate surface lows, Hs indicate surface highs.

...THERMODYNAMICS BIRDSEYE CHART...


This chart is generated using GOES water vapor satellite imagery. Brown indicates dry air. White, blue, and purple indicates moist air. An increase in moisture indicates slower air parcel lapse rates with elevation and hence an increase toward instability.

Sea-surface temperatures are overlaid with light blue isotherms. The 26 deg C isotherm is highlighted in red. Waters at and south of the 26 deg C isotherm indicate low-level warmth and hence faster environmental lapse rates with elevation (more instability). Waters north of the 26 deg C isotherm indicate slower environmental lapse rates with elevation (less instability).

...SPECIAL FEATURE...TROPICAL DEPRESSION ERIN...
While under southerly vertical shear between upper vortex to the west (mentioned in paragraph P5) and upper anticyclone to the east associated with a portion of paragraph P6 eastern Atlantic upper ridge...Erin made a northward excursion yesterday afternoon. I speculate that this excursion was due to the surface circulation getting pulled to the right by the mid-level circulation getting blasted off to the north by the southerly shear. Now that the surface circulation has decoupled from the mid-level...we are now left with a shallow tropical depression Erin which is tracking straight west this afternoon under the influence of paragraph P4 surface ridge. The shear and immersion in dry Saharan air (also mentioned in paragraph P4) have taken a toll on Erin such that we are left with a swirl of low-level clouds void of thunderstorm activity. As such...I was suprised that the NHC maintained Erin as a tropical depression during the recent 11 AM EDT advisory...but I suspect the NHC will be declaring Erin a remnant low by 5 PM EDT this afternoon. My forecast 5 PM position in Figure 1 was based on extrapolating the current westward speed of Erin easily observable on visible satellite animation. My previous discussion suggested that Erin's forward pace will slow as the steering surface ridge to the north weakens under the influence of two shortwave upper-level troughs and their associated surface lows (details on the forecast pair of shortwave upper troughs can be found in paragraph P2). Computer models in the last 24 hours have joined the Euro (ECMWF) on the second of the shortwaves being less amplifed and more progressive in forward pace such that its surface low will be incapable of pulling Erin northward. This means if Erin's remnant low lives long enough to interact with the shortwaves...we can now simply expect the current westward track to slow instead of buckling appreciably to the north.



Figure 1: My forecast versus the NHC for Tropical Depression Erin

...SPECIAL FEATURE...EASTERN ATLANTIC TROPICAL WAVE INVEST 94-L...
Strong tropical wave with a broad area of cyclonic turning and thunderstorms is emerging into the waters southeast of the Cape Verde Islands. Based on where satellite shows the center of cyclonic gyration...expect this system to pass south of the Cape Verde Islands and into the open tropical Atlantic over the next few days. Models generally show a favorable environment of low shear and enhanced upper outflow below eastern Atlantic upper ridge (paragraph P6) which is why I maintain this system as a special feature. Moreover...Erin also appears to have moistened the environment ahead of this tropical wave such that it is not as likely it will interact with dry Saharan air (paragraph P4). As this tropical wave reaches the middle of the tropical Atlantic...its track could slow and potentially slow depending on how it interacts with forecast weakness in paragraph P4 surface ridge associated with Erin and pair of forecast shortwave upper trough impulses mentioned in paragraph P2.

...MID-LATITUDES DISCUSSION...
P1...Shortwave upper trough and associated 999 mb surface frontal cyclone has entered the upper-left of the above charts from Canada's Hudson Bay.

P2...Longwave upper trough persists across the eastern US and has been streched into the Atlantic high seas by cool air advection behind surface frontal cyclone that has rapidly moved ENE from the waters SE of Greenland and into western Europe...and another frontal cyclone that is diving SE into the Atlantic high seas from Greenland. Eastern divergence of the upper trough regime supports frontal cyclone that is departing from Atlantic Canada and into the high seas...but the center of this cyclone has weakened to a surface trough just east of Newfoundland in the last 24 hrs. This cyclone in the next 24 hrs is expected to re-develop a center further south whose cool air advection will cause the high seas portion of this longwave upper trough regime to split off into a first shortwave upper trough system that begins to weaken paragraph P4 surface ridge to the south. In the next 48 hrs...another surface frontal cyclone will develop offshore of the NE US whose cool air advection will split off a second shortwave upper trough following behind that will re-enforce the weakening of the surface ridge to the south. Western convergence of the upper trough regime supports northern US surface ridge. Low-level warmer air ahead of the upper trough regime continues to support upper ridging across the north-central Atlantic. As the base of the upper trough has amplified further south into the NW Gulf of Mexico...low-level warmer air has been washed out further south such that the associated Gulf of Mexico upper ridge has shifted into SE Mexico to the southwest of the southern Gulf upper vortex interacting with disturbance Invest 92-L. 92-L currently located in the southwest Gulf has stopped moving west under the influence of aforementioned northern US surface ridge while transitioning into a surface trough suppported by split flow upper divergence between northerlies flowing into southern Gulf upper vortex and southwesterlies ahead of the upper trough.

P3...Cut-off upper vortex persists south of the Azores. In the last 24 hrs its eastern divergence has developed a surface reflection which has become stacked below the upper vortex as a 1018 mb low.

P4...Surface ridge dominating much of the open Atlantic is anchored by 1025 mb center supported by southern upper convergence of north-central Atlantic upper ridge mentioned in paragraph P2. In conjunction with south side of this upper ridge...the south side of this surface ridge was advecting dry Saharan air from Africa as seen by low-latitude brown shading in the above thermo chart. However as the above thermo chart also shows...it appears this stream of dry air has been cut-off from Africa from the southeast in association with the moisture surge from Erin and tropical wave Invest 94-L.

...TROPICAL BELT DISCUSSION...
P5...Long upper trough in the central Caribbean has retrograded into the western Caribbean while influenced by SW quad of paragraph P2 north-central Atlantic upper ridge. The Atlantic portion of this upper trough between Bermuda and Puerto Rico has merged with cut-off upper vortex west of Tropical Depression Erin mentioned in paragraph P5 of the previous discussion.

P6...To the southeast of the upper vorticity mentioned in paragraph P5 above...large eastern Atlantic low-latitude upper ridge persists. This upper ridge has expanded into the eastern Caribbean in the wake of the weakening upper vorticity.

P7...Tropical wave previously in the eastern Caribbean is moving into the central Caribbean. While the infrared imagery in the above atmo chart and water vapor imagery in the above thermo chart indicate the tropical wave is in a moistening environment supported by enhanced poleward upper outflow into paragraph P5 upper vorticity...expect the tropical wave to later become suppressed while sliding into a region of zero upper divergence directly beneath the upper vorticity.

P8...Tropical wave previously approaching the Lesser Antilles will be crossing the islands and into the eastern Caribbean later today. The wave remains inactive while embedded in Saharan dry air mentioned in paragraph P4. About 48 hrs ago...this tropical wave appears to have left behind 1012 mb low further east embedded in the ITCZ...and the thunderstorms of this surface low at times have been enhanced by poleward upper outflow into upper vorticity mentioned in paragraph P5 above. Models generally agree that this upper vorticity will weaken such that a favorable upper anticyclone builds over the 1012 mb low as it moves into the eastern Caribbean region in about 3 days time. The CMC model has ceased showing development of this 1012 mb low while the NAVGEM model continues to show development. With no signs of increasing organization and with model support declining in the last day...I am not upgrading this system to a special feature at this time.
The views of the author are his/her own and do not necessarily represent the position of The Weather Company or its parent, IBM.
Reader Comments
Comments will take a few seconds to appear.
NCHurricane2009 doesn't have a bio yet.
Previous Entries for 2017