2013 Atlantic Hurricane Season Birdseye Discussion #38A (Special Update)
...WEDNESDAY JULY 10 2013 2:38 PM EDT...
Chantal refuses to open into a tropical wave...and has maintained a more westerly course and is likely to strike Jamaica instead of Haiti tonight as a result. My updated forecast versus the NHC's 11 AM EDT forecast is shown in Figure 2 below...and visit www.nhc.noaa.gov for latest NHC forecasts. Tropical storm watches and warnings are in effect for the Dominican Repbulic...Haiti...some of the Bahamian islands...and now Jamaica. The latest status of these advisories can also be found at www.nhc.noaa.gov.

Previous forecasts had indicated Chantal would make an initial northward bend in track toward Haiti while feeling the low to mid-levels of a western Bahamas upper vortex. The surface trough of the upper vortex has recenty been cancelled in NHC TAFB maps...and as Figure 1 shows the GFS (and perhaps other models) have actually been predicting the low to mid-levels of the upper vortex to weaken all along...so in hindsight I should have predicted a more westerly track toward Jamaica as we are currenlty seeing. My updated forecast track in Figure 2 is on the basis of Chantal continuing to be a shallow/weak feature steered around the low-level Atlantic ridge. I extrapolated the current and fast forward motion of Chantal for another 12 hours on the basis of the storm still being influenced by the firm western Atlantic portion of the ridge. Meanwhile the Gulf portion of the ridge (currently supported by SE convergence of western US upper ridge) is shown in models to continuously erode thru the forecast period thanks to eastern divergence of south fracture of US upper trough. So after Chantal passes by Jamaica...I predict a slowing track that curves northward toward the western Cayman Islands while the storm reaches the weakening Gulf portion of the ridge.

Intensity-wise...after weakening to 45 mph winds as I previosuly predicted...Chantal has had an upheavel in t-storms since last night which I assess to be from southeastern divergence of the western Bahamas upper vortex. Based on my forecast 12 hr position and 12 hr upper wind forecast of this afternoon's 12Z GFS model run...Chantal will still be below this upper divergence...and so I maintain her current strength for my 12 hour forecast. By 24 hrs...Chantal should be due south of the upper vortex...a region of hostile westerly shear and zero upper divergence that should rip off her current t-storms while simultaneously not supporting the flare up of new storms. This is when I forecast Chantal will have definetly opened into a remnant tropical wave with winds dying down further as the forecast loss in t-storms should reduce the mixing down of flight-level winds.



Figure 1: GFS 850 mb model run from yesterday July 9 1800Z. Black arrow in each frame shows steering tendency...with a northward bend toward Haiti possible as of 18Z yesterday due to mid-levels of Bahamas vortex. With the mid-level vorticity weakening as of 12Z today...the steering tendency is now more westward to Jamaica.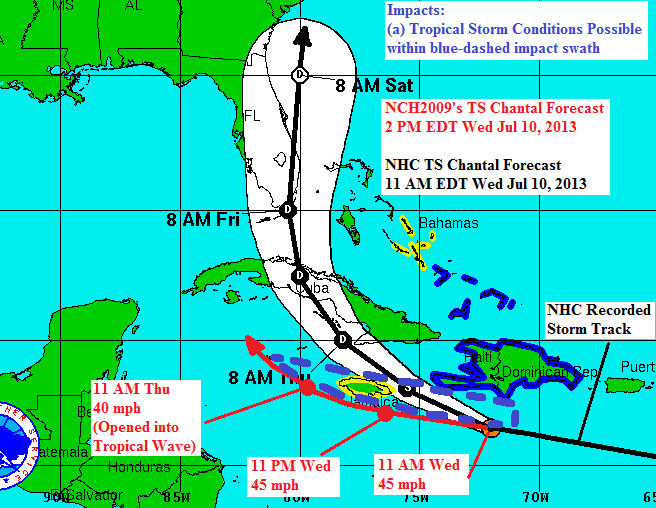 Figure 2: Updated Forecast for Tropical Storm Chantal

Impact swath in Figure 2 is extrapolation of NHC's current tropical storm wind radius along my forecast track while slowly diminishing it thru the next 24 hrs when I think the system will have lost t-storms such that the mixing down of flight-level winds stops. Cannot rule out heavy rain with possible flash flooding over Haiti...the Dominican Republic...or Jamaica...that could occur outside the impact swath and within Chantal's current t-storm mass.
The views of the author are his/her own and do not necessarily represent the position of The Weather Company or its parent, IBM.
Reader Comments
Comments will take a few seconds to appear.
NCHurricane2009 doesn't have a bio yet.
Previous Entries for 2017