2013 Atlantic Hurricane Season Birdseye Discussion #23
...SUNDAY JUNE 23 2013 11:25 AM EDT...
Pair of tropical waves moving toward the southern Lesser Antilles are currently suppressed by Saharan dry air and increasing westerly vertical shear. However these tropical waves may reach favorable upper winds in the western Caribbean Sea by 5 to 7 days. See paragraph P8 for details on current prognosis and future outlook on these tropical waves.

As promised in my final 2012 hurricane season birdseye discussion...I have begun to release post-storm reports for the 2012 Atlantic Hurricane Season which includes evaluations of how my storm forecasts (issued on these birdseye discussions) compared with that of the official forecasts from the National Hurricane Center. As these post-storm reports come out...they can be viewed on my other blog thread at www.wunderground.com/blog/MIHurricane2009.

...ATMOSPHERIC FEATURES BIRDSEYE CHART...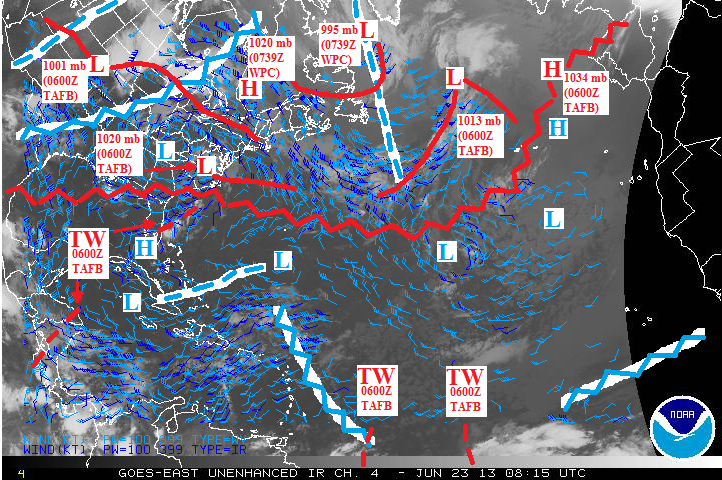 This chart is generated based on surface analysis from the National Hurricane Center TAFB at 0600Z, and the 0739Z-released WPC analysis.

In light blue is upper air analysis, with 200 mb wind barbs calculated by GOES satellite imagery showing the upper-level wind direction. Based on the 200 mb wind barbs, blue-dashed lines are locations of upper troughs, blue-zig-zag lines are locations of upper ridges. Blue Ls are locations of upper lows, blue Hs are locations of upper ridges.

In red is surface analysis, with solid lines indicating locations of surface fronts, dashed lines indicating locations of surface troughs, and zig-zag lines indicating surface ridge axes. Ls indicate surface lows, Hs indicate surface highs.

...THERMODYNAMICS BIRDSEYE CHART...


This chart is generated using GOES water vapor satellite imagery. Brown indicates dry air. White, blue, and purple indicates moist air. An increase in moisture indicates slower air parcel lapse rates with elevation and hence an increase toward instability.

Sea-surface temperatures are overlaid with light blue isotherms. The 26 deg C isotherm is highlighted in red. Waters at and south of the 26 deg C isotherm indicate low-level warmth and hence faster environmental lapse rates with elevation (more instability). Waters north of the 26 deg C isotherm indicate slower environmental lapse rates with elevation (less instability).

...MID-LATITUDES DISCUSSION...
P1...Upper trough persists near the east Canada coast and NW Atlantic...with its eastern divergence supporting a 995 mb frontal cyclone between Canada and Greenland...and with its western convergence supporting a 1020 mb surface ridge just SE of Hudson Bay. Elsewhere over North America...western US upper trough persists while its eastern divergence supports a 1001 mb frontal depression currently over the Colorado/Kansas border. A fragment of this western US upper trough tracked into the south-central US as a shortwave during the previous discussion...and has merged with the SE US upper vortex...thus re-enforcing that upper vortex. Warm air advection ahead of the 1001 mb frontal depression supports a central US upper ridge.

P2...Upper trough and associated surface frontal cyclone moving across the NE Atlantic during the previous discussion has exited the picture from the upper-right corner of the above charts...but the front extending from that cyclone still leaves behind features several-hundred miles to the southwest that are still in the picture. For instance a frontal depression east of Newfoundland has intensified from 1022 mb to 1013 mb in the last 24 hrs while moving NE in the supportive divergent SW flow ahead of the east Canada coast/NW Atlantic upper trough mentioned in paragraph P1. There is also leftover frontal activity along the SE US coast detailed more in paragraph P7 below.

P3...Cut-off upper vortex N of the Cape Verde Islands persists.

P4...Cut-off upper vortex persists in the open central Atlantic.

P5...Surface ridge dominates much of the open Atlantic basin. Its main center...currently 1034 mb...has moved NE from the Azores but remains generally deep-layered in nature. The NE migration appears to be the surface center re-building below upper convergence NE of its upper-level center and SW of the exiting NE Atlantic upper trough mentioned in paragraph P2. This surface ridge continues to have a westward extension currently located across the W Atlantic...SE United States...Gulf of Mexico..and into east-central Mexico. This western extension is supported by upper convergence from a variety of upper features mentioned in paragraph P1...including west side of the SE US upper vortex...east side of the central US upper ridge...and west side of upper trough along east coast of Canada/NW Atlantic.

...TROPICAL BELT DISCUSSION...
P6...Upper-level anticyclonic ridge over parts of Mexico...Central America...and Bay of Campeche has made a westward migration into the eastern Pacific (due to westward retrograding of upper vorticity mentioned in paragraph P7)...where it supports the recent upheaval in eastern Pacific tropical cyclone activity (see www.nhc.noaa.gov for info on eastern Pacific activity as this is not the scope of this blog). Northerly flow east of this upper ridge splits with westerly flow on the south side of the paragraph P7 upper vorticity...producing upper-level divergence supporting cloudiness and t-storms across Central America and south-central Caribbean (this Central America t-storm activity may also be enhanced by the south fragment of the tropical wave mentioned in paragraph P7).

P7...Cut-off upper vorticity over the eastern Bahamas has split into one vortex south of Bermuda and another vortex retrograding SW across the Caribbean around the Florida-area upper ridge. Surface tropical wave in the area remains split into two fragments...the south fragment moving into central America (as mentioned at the end of paragraph P6 above)...and a north fragment moving toward east Florida coast as an inverted surface trough steered westward by the south side of the western extension of the paragraph P5 surface ridge. Surface frontal zone over the SE US coast...leftover from paragraph P2 weather system...has become concentrated around a 1018 mb depression which has weakend to 1020 mb in the last 24 hrs. Despite being on the south side of the W extent of the paragraph P5 surface ridge (where it would get steered westward)...this depression has instead tracked northward thru eastern North Carolina (thru the paragaraph P5 ridge)...and it now resides on the NC/VA border. Perhaps the northward track was because the surface depression got attracted to surface pressure drops associated with the split flow upper divergence maximum between the north side of the Florida-area upper ridge and east side of the paragraph P1 SE US upper vortex.

P8...Low-latitude upper ridge persist in the central and eastern tropical Atlantic. Pair of troipcal waves continue westward toward the southern Lesser Antilles...with the eastern of the two continuing to have a t-storm cluster in its south half...while its north half has recently choked on a well-defined westward expansion of dry Saharan air seen in the above thermo chart. This dry air appears to be advected westward from Africa by the easterly flow on the south side of the deep-layered 1034 mb ridge center mentioned in paragraph P5. Central US upper ridge in paragraph P1 will soon move into the NW Atlantic...and tremendous upper ridging will be developing over much of the US behind that (due to warm air advection of ahead of a frontal cyclone stalling offsore of the western US). All this upper ridging is already beginning to push the paragraph P3 upper vortex...paragraph P4 upper vortex...and paragraph P7 upper vorticity southward such that the low-latitude upper ridging mentioned in this paragraph is de-amplifying. With the de-amplifying upper ridge overhead of the tropical waves increasing the westerly shear and with the Saharan dry air...no development is expected in the near term. However by the end of the week...computer models suggest that the paragraph P7 Florida-area upper ridge will have expanded into the W Caribbean in between the two paragraph P7 upper vortices...and so by late in the week we may have to watch the western Caribbean as these two tropical waves reach this area. At this time...no computer models (other than CMC) show development from either tropical wave. The CMC solution is interesting...showing the north end of the eastern tropical wave spinning up a tropical cyclone in the Hispaniola/Bahamas area around 120 hrs in the northeast extent of the forecast favorable W Caribbean upper ridging. The CMC (like all the other models) then shows a shortwave upper trough ejecting from a frontal cyclone parked offshore of the western US that supports another frontal cyclone over east Canada strong enough to break the paragraph P5 surface ridge and pull the CMC's forecast tropical cyclone northward and parallel to the SE US coast after 120 hrs. Taking CMC superficially at this time with no other models showing any development.
The views of the author are his/her own and do not necessarily represent the position of The Weather Company or its parent, IBM.
Reader Comments
Comments will take a few seconds to appear.
Post Your Comments
Please sign in to post comments.
Not only will you be able to leave comments on this blog, but you'll also have the ability to upload and share your photos in our Wunder Photos section.
Previous Entries for 2017