2012 Atlantic Hurricane Season Birdseye Discussion #159
...WEDNESDAY NOVEMBER 14 2012..4:34 AM EDT...
As forecast...a surface low has developed in the western Atlantic. However as expected...the dynamics are not favorable for subtropical cyclone development as highlighted towards the end of paragraph P1.

New surface trough in association with former eastern Atlantic upper vortex has track westward into hostile upper winds. Therefore no development is expected here either. See paragraph P5 for update statement on this system.

...ATMOSPHERIC FEATURES BIRDSEYE CHART...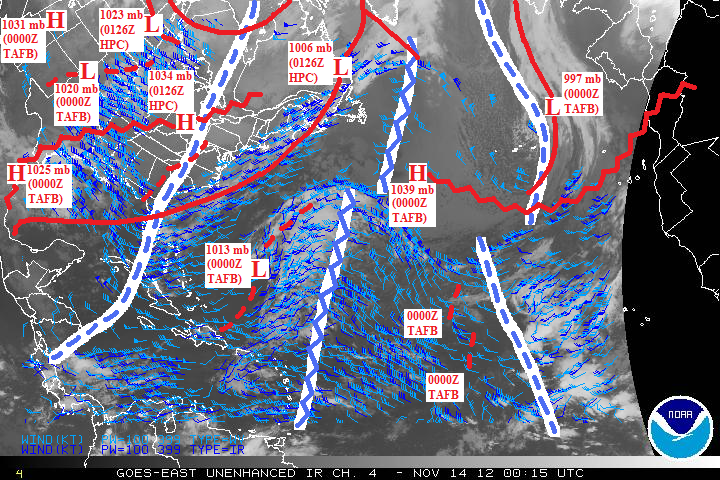 This chart is generated based on surface analysis from the National Hurricane Center TAFB at 0000Z, and the 0126Z-released HPC analysis.

In light blue is upper air analysis, with 200 mb wind barbs calculated by GOES satellite imagery showing the upper-level wind direction. Based on the 200 mb wind barbs, blue-dashed lines are locations of upper troughs, blue-zig-zag lines are locations of upper ridges. Blue Ls are locations of upper lows, blue Hs are locations of upper ridges.

In red is surface analysis, with solid lines indicating locations of surface fronts, dashed lines indicating locations of surface troughs, and zig-zag lines indicating surface ridge axes. Ls indicate surface lows, Hs indicate surface highs.

...THERMODYNAMICS BIRDSEYE CHART...


This chart is generated using GOES water vapor satellite imagery. Brown indicates dry air. White, blue, and purple indicates moist air. An increase in moisture indicates slower air parcel lapse rates with elevation and hence an increase toward instability.

Sea-surface temperatures are overlaid with light blue isotherms. The 26 deg C isotherm is highlighted in red. Waters at and south of the 26 deg C isotherm indicate low-level warmth and hence faster environmental lapse rates with elevation (more instability). Waters north of the 26 deg C isotherm indicate slower environmental lapse rates with elevation (less instability).

...MID-LATITUDES DISCUSSION...
P1...The surface frontal gale centered over Canada's southern Hudson Bay in the previous discussion has moved rapidly NE into Greenland and exited the scope of the above charts from the top-center. Low-level warm air advection ahead of the exiting gale supports NW Atlantic upper ridge whose eastern convergence supports a surface ridge that is now 1039 mb in the north Atlantic. A very lengthy surface cold front extends from the exiting gale...stretched across the east coast of North America and Gulf of Mexico. Large western US upper trough in the previous discussion supporting the exiting gale is now a major upper trough covering North America and the western Caribbean Sea. This major upper trough is being re-enforced by cool air advection behind cold front/surface low pushing SE into the picture from Canada's Hudson Bay. Western convergence of the major upper trough meanwhile supports a strong surface ridge across the US. The major upper trough has also absorbed the W Atlantic southern cut-off upper trough mentioned in paragraph P2 of previous discussion #158. Prior to absorption...the eastern divergence of the cut-off upper trough supported the formation of a 1013 mb W Atlantic surface low located just SSW of Bermuda. This W Atlantic surface low is currently exposed to high SW vertical shear ahead of the above-mentioned major upper trough...and expect it to track northward quickly into cooler waters below 26 deg C. Therefore expect no subtropical cyclone development from this surface low.

P2...Northern upper trough moving across the Atlantic high seas in the previous discussion is now in the NE Atlantic. The associated intense 968 mb gale in the previous discussion has weakened considerably and exited the picture while the gale continued to be trapped beneath the non-divergent axis of the upper trough. Cold front attached to the gale remains in the picture...currently extending to waters in the vicinity of the Azores. A new 997 mb frontal depression is located along this cold front and just NE of the Azores while supported by the eastern divergence of the upper trough.

P3...What is left of the deep-layered ridge centered near the Azores has been assimilated into the 1039 mb north Atlantic surface ridge mentioned in paragraph P1.

...TROPICAL BELT DISCUSSION...
P4...Upper ridge axis over the central tropical Atlantic persists. Upper divergence west of this upper ridge and east of the cut-off southern upper trough in paragraph P1 formerly supported an eastern Caribbean surface trough that is now absorbed into the 1013 mb west Atlantic surface low mentioned in paragraph P1.

P5...Cut-off upper vortex NW of the Cape Verde Islands has opened into an upper trough due to the passage of the paragraph P2 NE Atlantic upper trough just to the north. Expansive upper divergence east of this cut-off upper trough supports a wide area of scattered t-storm clouds. Relatively new surface trough that developed in the same upper divergence has tracked westward while steered by the 1039 mb north Atlantic surface ridge in paragraph P1. On this track...this new surface trough has entered the unfavorable western convergence on the back side of the cut-off upper trough. The previous and older surface trough midway between the Cape Verde Islands and Lesser Antilles has finally dissipated in this same upper convergence in the last 24 hrs.
The views of the author are his/her own and do not necessarily represent the position of The Weather Company or its parent, IBM.
Reader Comments
Comments will take a few seconds to appear.
Post Your Comments
Please sign in to post comments.
Not only will you be able to leave comments on this blog, but you'll also have the ability to upload and share your photos in our Wunder Photos section.
Previous Entries for 2017