2012 Atlantic Hurricane Season Birdseye Discussion #142
...THURSDAY OCTOBER 25 2012...8:27 AM EDT...
As predicted in special update #141A last afternoon...Sandy rapidly intensified into a strong category 2 hurricane just before landfall across eastern Cuba in the overnight hours...resulting in the strongest landfall of the 2012 Atlantic hurricane season so far. Looking ahead...portions of the Bahamas can expect significant to intense weather conditions throughout today and part of Friday. Long-range fate of Sandy remains uncertain...with a slight chance of a historic "perfect storm" scenario for the northeastern United States or Atlantic Canada as Sandy becomes non-tropical early next week. See the Sandy special feature section below for additional details on this escalated situation.

Tropical Storm Tony continues east-northeast across the open Atlantic...soon to transition into a non-tropical system. See the Tony special feature section for additional details.

Tropical wave activity west-southwest of the Cape Verde Islands...associated with a pair of tropical waves in paragraph P4 of the tropical belt discussion...has become less organized while sliding into less favorable upper winds.

...ATMOSPHERIC FEATURES BIRDSEYE CHART...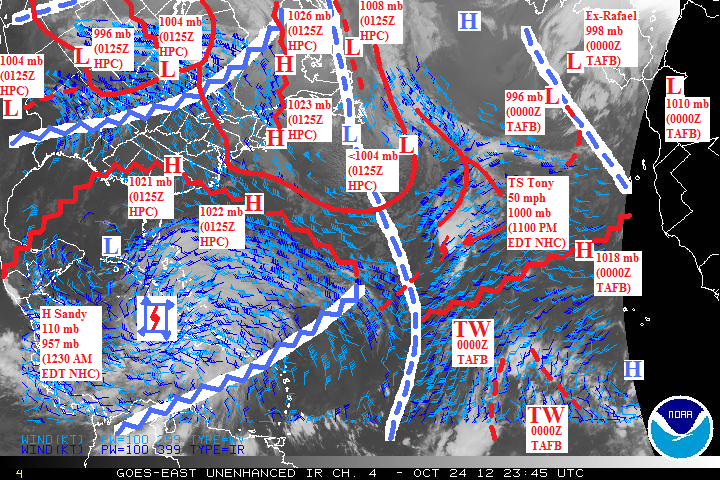 This chart is generated based on surface analysis from the National Hurricane Center TAFB at 0000Z, and the 0125Z-released HPC analysis.

In light blue is upper air analysis, with 200 mb wind barbs calculated by GOES satellite imagery showing the upper-level wind direction. Based on the 200 mb wind barbs, blue-dashed lines are locations of upper troughs, blue-zig-zag lines are locations of upper ridges. Blue Ls are locations of upper lows, blue Hs are locations of upper ridges.

In red is surface analysis, with solid lines indicating locations of surface fronts, dashed lines indicating locations of surface troughs, and zig-zag lines indicating surface ridge axes. Ls indicate surface lows, Hs indicate surface highs.

...THERMODYNAMICS BIRDSEYE CHART...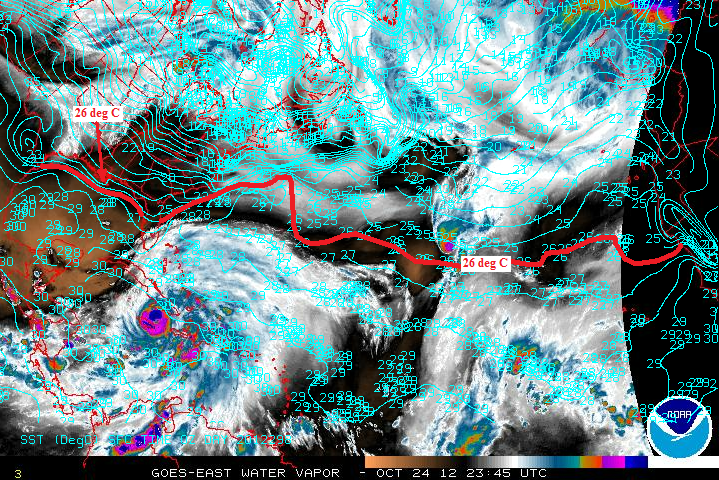 This chart is generated using GOES water vapor satellite imagery. Brown indicates dry air. White, blue, and purple indicates moist air. An increase in moisture indicates slower air parcel lapse rates with elevation and hence an increase toward instability.

Sea-surface temperatures are overlaid with light blue isotherms. The 26 deg C isotherm is highlighted in red. Waters at and south of the 26 deg C isotherm indicate low-level warmth and hence faster environmental lapse rates with elevation (more instability). Waters north of the 26 deg C isotherm indicate slower environmental lapse rates with elevation (less instability).

...SPECIAL FEATURE...HURRICANE SANDY...
Where warnings are in effect...preparations for Sandy in the Bahamas should have been completed by now with the storm expected to affect the warned areas thru the rest of today and Friday. Under the guise of impact statement (b) in Figure 1...Haiti and the Dominican Republic can expect continued heavy rains with potential flash floods and mudslides...with all of Haiti getting some gusty winds for the remainder of today as the impact swath in Figure 1 shows.

Concerning the east coast of North America and Bermuda...tropical storm watches have been issued for the east coast of Florida...but the impact info in Figure 1 suggests that SE Florida should at most see increased sea swells and rip currents on the coast. However...residents of east Florida should be aware in case the storm hooks more leftward than expected in track. Their remains debate about the long-term solution of Sandy beyond the scope of the forecast track in Figure 1. Forecasts such as the one I present in Figure 1 are less threatening to the NE United States and Atlantic Canada...but moreso to Bermuda. The GFS...GFDL...and Euro models show a system hooking leftward as an intensifying non-tropical gale...with the GFDL and Euro showing a strike to the NE United States...and the 00Z GFS showing a strike to Atlantic Canada.

Latest watches and warnings are found under the public advisory for Sandy at www.nhc.noaa.gov.

Track-wise for Sandy...while steered around the upper vortex near west Cuba...she continues tracking a bit to the right of the NHC solution as seen in Figure 1 above...and therefore my short-term track forecast reflects this. I do not show the short-term hook back to the left the NHC and computer models show. This hook I believe is Sandy getting attracted to some surface pressure falls in split flow upper divergence between the upper vortex near west Cuba and her own upper anticyclone. I believe with her tendency to track to the right of the NHC and further away from the spit flow upper divergence region...I am expecting a low chance that such an interaction will take place. 11 PM Thu continues to be coincident with when the GFS model shows the paragraph P2 E North America surface ridge N of Sandy at peak strength...so I agree with the slower NHC forecast track between 11 PM Thu and 11 PM Fri...but I am a hair faster than the NHC during this timeframe because this is also when that ridge weakens. Beyond 11 PM Fri...I have adjusted my track northward to give more respect to the NHC forecast and computer model runs...but I still have a rightward and more offshore bias with respect to NHC's solution. I still agree with my more offshore solution because the GFS still creates a strong North America surface ridge on the convergent back side of the paragraph P1 upper troughing...and such a ridge would block progression toward North America. Instead...the system would get attracted toward the paragraph P2 deep-layered cyclone (which should be east of Sandy by the end of the 5-day forecast in Figure 1)...much like how during discussion #107 when Nadine got pulled ENE toward the ex-Isaac deep-layered cyclone. Because we had previously under-predicted Nadine's ENE acceleration in such a scenario...another reason I prefer to show my more offshore track in Figure 1.

Whether the non-tropical remnant of Sandy continues NE out to sea...or whether she hooks leftward toward the NE US or Atlantic Canada depends on how much the North America surface ridge hugs the storm to the north...and depends on how interaction she has with the paragraph P1 upper trough. Such an interaction requires that Sandy is close enough or aligns with the paragraph P1 upper trough such that she takes maximum advantage of the eastern divergence of the upper trough and intensifies non-tropically. Cool air advection on her back side in turn amplifies the upper trough into an upper vortex that would whirl her NW. The Euro model and GFDL model shows a "perfect storm" scenario with a non-tropical Sandy slamming into the NE US at an awesome central pressure between 920 to 940 mb...but such a perfect scenario requires such perfect alignment with the paragraph P1 upper trough. Statistics are usual against perfect storm scenarios...so I am not buying into this solution at this time. However...residents on the coasts of the NE US and Atlantic Canada should be aware of this scenario in case the situation does escalate to "perfect storm" status.

Intensity-wise for Sandy...since she lost her well-defined eye while crossing east Cuba in the overnight...I show no re-strengthening. Rather...I maintain the current strength...then weaken Sandy coincident with when the 00Z GFS shows SW vertical shear increasing ahead of the paragraph P1 upper trough. I continue to show transition to non-tropical by 11 PM Sunday...when she should be well-buried in the eastern divergence of the paragraph P1 upper trough when comparing my forecast position to the 00Z GFS model run.



Figure 1: Hurricane Sandy Forecast

My impact swath initialization in Figure 1 is larger in the east quadrants than my previous. This swath size continues to be based on Sandy's central-dense overcast...and also the adjacent spiral band to the east. It is the growth of the spiral band on satellite that forces me to expand my impact swath size to the east. This swath is still larger than the tropical storm wind radius shown in the 5 AM EDT NHC advisory...but nonetheless their can easily be heavy flooding rains within the swath even if the winds on the outer edge of the swath are not that strong. Satellite imagery shows that the eastern divergence of the cut-off upper vortex near west Cuba has expanded the moisture field hundreds of miles to the north and east of Sandy itself...which is why impact statement (b) in Figure 1 is written. Such far-reaching rain bands are less likely on the west side of Sandy due to the suppression by the cut-off upper trough near the Isle of Youth...followed by suppression from the incoming paragraph P1 upper trough. These suppressive effects are also why I maintain an east bias with my impact swath when compared to my forecast track.

...SPECIAL FEATURE...TROPICAL STORM TONY...
Tony is interacting with the eastern divergence of the upper trough in paragraph P2...and his rapid ENE track has taken him across the 26 deg C isotherm into increasingly cooler waters. Therefore...he will continue a gradual transition into a non-tropical feature...which I continue to forecast will occurr by late this morning as I showed previously. Tony has tracked faster than thought...and will be near 35W longitude by later this morning as opposed to 40W longitude as previously thought. Because his fast ENE track shows a slight rightward angle compared to the NHC 5 AM forecast...my forecast track in Figure 2 is a little south of that forecast.



Figure 2: Forecast for Tropical Storm Tony

Impact swath in Figure 2 is based on the size of the tropical storm wind radius shown in the NHC 5 AM advisory package...and extrapolating that along the forecast track.

...MID-LATITUDES DISCUSSION...
P1...Surface frontal system in the mid-latitudes continues entering from SW Canada and the western US in the upper-left corner of the above atmo chart. In the upper-levels...the system previously has two impulses...with the first upper trough moving from the Great Lakes/Ohio Valley and into the paragraph P2 upper trough where it is no longer distinct. Vast divergence east of the second upper trough continues driving a few frontal depressions across the western and central US. Low-level warm air advection ahead of the frontal depressions supports an upper ridge persisting over the central US. Upper westerlies across the upper ridge are in directional shear with low-level southerlies ahead of the frontal depressions. Therefore with enough instability from daytime heating of land later today...their is a risk of severe t-storms and tornadoes across portions of the north-central US and Great Lakes region. Visit www.nws.noaa.gov for up to the minute info on severe weather potential...including any active watches or warnings.

P2...993 mb deep-layered cyclone/upper trough centered over SE Canada is still shifting eastward into the western Atlantic. In the last 24 hrs...the surface center has weakened from 993 to 1008 mb while becoming stuck under the less-divergent axis of the upper trough...and the upper trough's eastern divergence is spinning up a new less-than-1004 mb depression east of Newfoundland that will likely. Meanwhile...1023 mb surface ridge over eastern North America remains supported by western upper convergence of the upper trough. Warm air advection ahead of the aforementioned 1008 mb and 1004 mb cyclones has amplfied the NE Atlantic upper rige into a full-fledged upper anticyclone.

P3...Upper vortex in the NE Atlantic has de-amplified into an upper trough. Upper convergence on the west side of the upper trough supports 1018 mb surface ridge transferring in the eastern Atlantic. After heading eastward toward Portugal in the previous discussion...the remnant surface gale of Rafael has turned on a more NE track in advance of a newer gale center (currently 996 mb) just to his west. The new gale appears to have spun up while taking advantage of split flow upper divergence between the upper trough and paragraph P2 NE Alantic upper anticyclone...and has a chance to become the dominant while absorbing ex-Rafael.

...TROPICAL BELT DISCUSSION...
P4...Upper ridge in the eastern tropical Atlantic persists. Pair of tropical waves WSW of the Cape Verde Islands continue to produce enhanced showers and t-storms under the favorable upper outflow of the upper ridge. However...this activity has become less organized since yesterday morning as the tropical waves slide into southerly vertical shear on the west side of the upper ridge.
The views of the author are his/her own and do not necessarily represent the position of The Weather Company or its parent, IBM.
Reader Comments
Comments will take a few seconds to appear.
Post Your Comments
Please sign in to post comments.
Not only will you be able to leave comments on this blog, but you'll also have the ability to upload and share your photos in our Wunder Photos section.
Previous Entries for 2017