2012 Atlantic Hurricane Season Birdseye Discussion #118
...SEPTEMBER 27 2012...5:58 AM EDT...
An outage persists with GOES-E satellite imagery in the last 72 hours. GOES-W has been extended to cover much of the view in the two birdseye charts below. However...the east edge of the temporary GOES-W scan has a bias for showing cold cloud tops that are not actually present. Therefore...I have patched the east side of the atmospheric birdseye chart with Meteosat-9 grafts. The east side of the thermodynamics birdseye chart is left unrepaired...so be mindful that the moisture content on the east side of this chart has a positive bias due to the false illusion of cold cloud tops.

Tropical Storm Nadine expected to track erratically in the Atlantic subtropics for the next five days. See Nadine special feature section below for details.

Beginning in 72 hours...next upper trough in the mid-latitude westerlies (not yet in the scope of this discussion) is expected to produce high upper divergence with respect to SW US upper ridge in paragraph P1. This will drive the formation of a NE tracking surface low from the Gulf of Mexico...which could become quiet vigorous similar to Invest 93-L in discussion #110. Similar to 93-L...I expect this system to be non-tropical...but could still be capable of signficant weather across the US Gulf coast...SE US...and along the east US coast. See details of 93-L in discussion #110 for the kinds of impacts a system like this could deliver.

A disturbance has developed from persistent surface troughing east-northeast of the Lesser Antilles interacting with split flow upper divergence. This disturbance was introduced into the NHC Tropical Weather Outlook in the last 24 hours. No sign of tropical development is occuring in this area. See paragraph P8 for updated statement on this area.

...ATMOSPHERIC FEATURES BIRDSEYE CHART...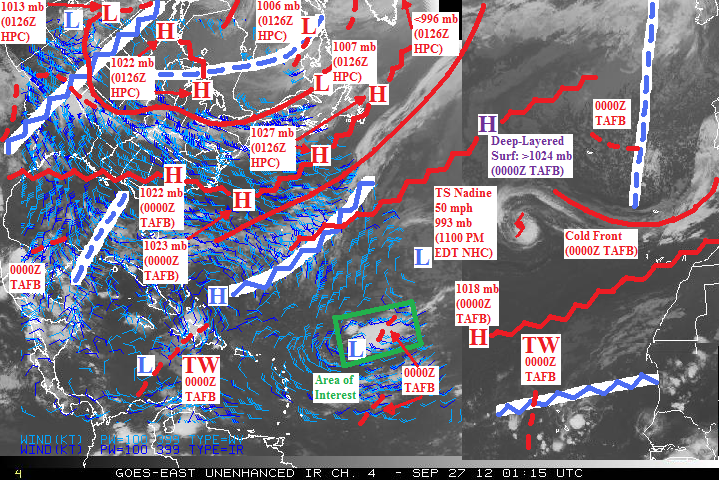 This chart is generated based on surface analysis from the National Hurricane Center TAFB at 0000Z, and the 0126Z-released HPC analysis.

In light blue is upper air analysis, with 200 mb wind barbs calculated by GOES satellite imagery showing the upper-level wind direction. Based on the 200 mb wind barbs, blue-dashed lines are locations of upper troughs, blue-zig-zag lines are locations of upper ridges. Blue Ls are locations of upper lows, blue Hs are locations of upper ridges.

In red is surface analysis, with solid lines indicating locations of surface fronts, dashed lines indicating locations of surface troughs, and zig-zag lines indicating surface ridge axes. Ls indicate surface lows, Hs indicate surface highs.

...THERMODYNAMICS BIRDSEYE CHART...


This chart is generated using GOES water vapor satellite imagery. Brown indicates dry air. White, blue, and purple indicates moist air. An increase in moisture indicates slower air parcel lapse rates with elevation and hence an increase toward instability.

Sea-surface temperatures are overlaid with light blue isotherms. The 26 deg C isotherm is highlighted in red. Waters at and south of the 26 deg C isotherm indicate low-level warmth and hence faster environmental lapse rates with elevation (more instability). Waters north of the 26 deg C isotherm indicate slower environmental lapse rates with elevation (less instability).

...SPECIAL FEATURE...TROPICAL STORM NADINE...
In the last 48 hrs...Nadine has perfectly followed my previous two intensity forecasts. These forecasts show gradual re-strengthening of Nadine while she is developing favorable upper anticyclonic outflow...becoming enhanced to the SW by retrograding paragraph P5 E Atlc upper vortex...and becoming enhanced to the NE by departing paragraph P4 upper trough. These two forecasts then show weakening at the end of the forecast...as Nadine turns northward over even cooler waters...and as the paragraph P5 E Atlc upper vortex merges with mid-latitude westerlies...hence turning eastward toward Nadine and imparting vertical shear across Nadine with its east side. Despite my previous two intensity forecasts verifying well so far...my updated intensity forecast in Figure 1 below is slightly less than my previous two...because of the westward adjustment in the track forecasts in the last 24 hrs. This westward adjustment means Nadine will feel the vertical shear from the incoming paragraph P5 upper vortex a little sooner. I dissipate Nadine by 96 and 120 hrs as I think the cool waters and high vertical shear will be the final straw that finally kills this long-lasting tropical cyclone.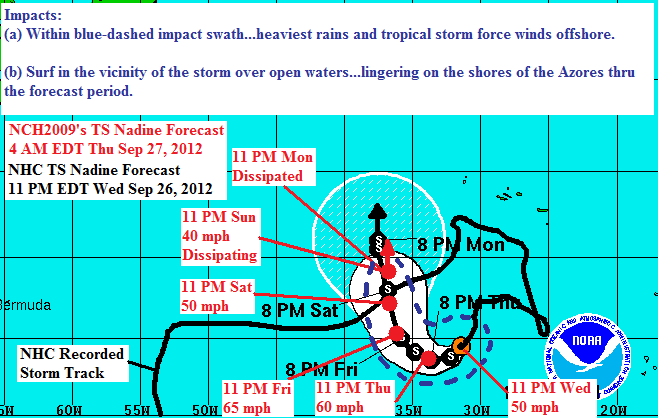 Figure 1: My forecast for Tropical Storm Nadine generated this early morning.

Nadine is currently located west of the Canary Islands and south of the Azores...but is currently a tad further west than the previous NHC forecasts showed. Therefore the NHC forecast track is a bit further west than the previous...and also a bit faster than the previous. For the short-term...I agree with the NHC's westward adjustment. I also agree with the slightly quickened westward pace as the 00Z GFS shows a gradually dissolving paragraph P9 low-level ridge to the south for the next 72 hours...only leaving the paragraph P2 ridge to the north to push Nadine a little faster to the west.

Northward hook by the end of the forecast is related to evolution of current E Canada 1007 mb frontal cyclone and 1022 mb low-level ridge over the Great Lakes (both mentioned in paragraph P1). I have a more leftward lean in my hook between 11 PM Fri & 11 PM Sat compared to my previous forecast displays...because a closer look at 00Z GFS shows me that the eastward-moving paragraph P2 ridge is still too close to Nadine in my opinion to show a straight north track for that time. The straight north track eventually happens as Nadine gets pulled into the 1007 mb frontal cyclone's narrow ridge weakness...located between paragraph P2 ridge by then located to the NE and what is now the Great Lakes ridge coming in from the NW. My straight north track is slower than the NHC's current...and slower than the even faster 00Z GFS. These faster north-track solutions do not make sense to me as the two ridges are shown to be of equal strength and opposing influence. I think the GFS sees Nadine becoming a non-tropical cyclone supported by the eastern divergence of incoming paragraph P5 E Altc upper vortex...in which case Nadine indeed would move faster to the north (and then eventually east into the Azores) while being coupled to and traveling with this upper vortex. My vote for now is to dissipate Nadine in intense shear generated by this upper vortex while she becomes trapped between the two low-level ridges.

Impact swath in Figure 1 is based on extrapolating the 11 PM EDT tropical storm wind radius along my forecast track...then shrinking the swath away assuming Nadine follows my forecast for dissipation by 120 hrs. Impact statement (b) highlights that surf will linger on the shores of the Azores..due to the large wind radius of Nadine capable of stirring a large amount of water. However..the Azores surf this week will be less intense compared to last week...as Nadine should be further away from the islands this time around.

...MID-LATITUDES DISCUSSION...
P1...Weather system remains anchored by upper trough over eastern North America. Hudson Bay surface cyclone once supported by this upper trough has weakened from 990 to 1006 mb in the last 24 hrs while losing touch with the eastern divergence of the upper trough...and has now shifted onto the east coast of Canada. The upper trough's eastern divergence now drives SW US frontal depression which has zoomed rapidly ENE across the Great Lakes and into E Canada at 1007 mb...while the upper trough's western convergence is driving the a new 1022 mb ridge over the Great Lakes. Along the W Atlantic cold front...NW Atlantic frontal depression has intensified (also with supportive eastern divergence of the upper trough) from 1000 mb to below 996 mb in the last 24 hrs while shooting NNE to the east of Greenland (and hence exiting the above atmo chart). There is probably a shortwave upper trough carved by local cool air advection of this exiting feature...with western upper convergence of shortwave supporting the eastern US and NW Atlantic low-level ridge (which is now 1022 to 1027 mb). Cut-off upper trough over the W Gulf of Mexico has shifted into the central Gulf. Upper ridge wave over the SW US remains built behind this cut-off upper trough. Utah upper vortex (formtion of which discussed in paragraph P1 of discussion #117) persists. Split flow upper divergence between this upper vortex and SW US upper ridge supports broad area of low surface pressures over the SW US...and supports 1013 mb surface low at the Wyoming-Montana border.

P2...Deep-layered ridge across the central Atlantic...featuring a greater-than-1028 mb center...persists.

P3...Upper vortex SE of Bermuda in the previous discussion has been pushed SE by amplifying paragraph P5 upper ridge cell from Cuba/Bahamas. This upper vortex is now just NE of the Lesser Antilles.

P4...Amplified upper trough remains just offshore of Europe. Study of extended Meteosat-9 infrared imagery suggests that repeated cool air advection from surface frontal cyclones/depressions diving into the upper trough re-enforces the upper trough...similar to what is happening with eastern North America upper trough in paragraph P1.

...TROPICAL BELT DISCUSSION...
P5...Large-scale upper vorticity persists across the SE half of the Caribbean Sea. Upper ridge cell remains amplified across Cuba...the Bahamas...and W Atlantic due to low-level warm air advection ahead of the paragraph P1 weather system. Easterly flow across north side of SE Caribbean upper vorticity is converging with northerly flow from this upper ridge cell to produce a patch of dry air across the central Caribbean. In the eastern tropical Atlantic...upper vortex just SW of Nadine persists. In relatively higher pressures southeast of this upper vortex...upper ridge has built from the W coast of Africa as evidenced by upper-level cloud motions around paragraph P10 tropical wave.

P6...Surface troughing persists in Bay of Campeche...now supported by split flow upper divergence between paragraph P1 central Gulf cut-off upper trough and paragraph P1 SW US upper ridge. Scattered t-storms across northern Central America and SE Mexico are supported by this same upper divergence mechanism.

P7...Tropical wave crossing the eastern Caribbean Sea in the previous discussion is now moving into the central Caribbean. It is producing a t-storm cluster over Haiti and vicinity of SE Bahamas supported by split flow upper divergence between paragraph P5 W Atlantic upper ridge and paragraph P5 SE Caribbean upper vortex.

P8...Surface troughing persists ENE of the Lesser Antilles...which has become quiet enhanced by split flow upper divergence between paragraph P3 upper vortex and E tropical Atlc upper vortex mentioned in paragraph P5.

P9...Eastern Atlantic surface ridge with a 1018 mb center persists NW of the Cape Verde Islands. I currently speculate that this surface ridge is now supported by upper convergence between northerlies from W Africa upper ridge (paragraph P5) and westerlies from paragraph P5 E Atlc upper vortex and paragraph P3 upper vortex.

P10...Suspect tropical wave E of the Cape Verde Islands I have been analyzing for the last days has finally been added to NHC TAFB surface maps...at a location just W of the islands as of 0000Z. It is producing scattered t-storms in the area while supported by enhanced upper outflow of upper ridge building from W Africa mentioned in paragraph P5.
The views of the author are his/her own and do not necessarily represent the position of The Weather Company or its parent, IBM.
Reader Comments
NCHurricane2009 doesn't have a bio yet.
Previous Entries for 2017