2012 Atlantic Hurricane Season Birdseye Discussion #115
...SEPTEMBER 23 2012...5:05 PM EDT...
Nadine regains tropical storm status..and is expected to turn westward across the Atlantic subtropics from its current eastern Atlantic location. As it does so...it is likely to regain hurricane status. See Nadine special feature section below for details.

Tropical wave moving into the Lesser Antilles mentioned in paragraph P8 will bring squalls of t-storms while it remains under favorable upper winds through the next 24 hours. Upper winds will become less favorable by 48 and 72 hours...so no tropical cyclone formation is currently expected here.

...ATMOSPHERIC FEATURES BIRDSEYE CHART...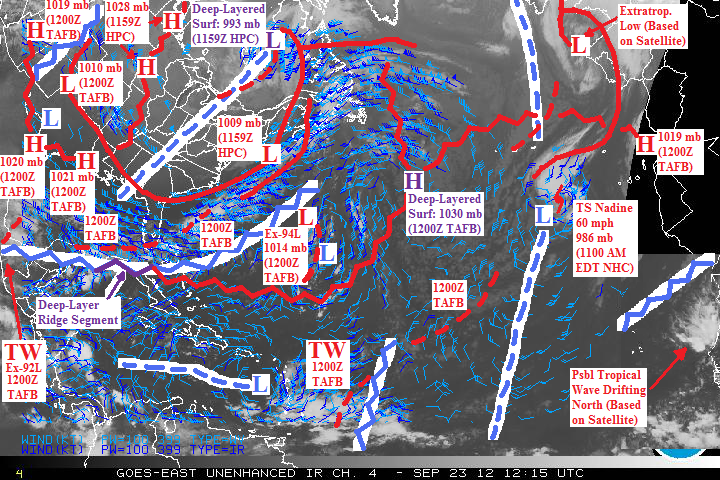 This chart is generated based on surface analysis from the National Hurricane Center TAFB at 1200Z, and the 1159Z-released HPC analysis.

In light blue is upper air analysis, with 200 mb wind barbs calculated by GOES satellite imagery showing the upper-level wind direction. Based on the 200 mb wind barbs, blue-dashed lines are locations of upper troughs, blue-zig-zag lines are locations of upper ridges. Blue Ls are locations of upper lows, blue Hs are locations of upper ridges.

In red is surface analysis, with solid lines indicating locations of surface fronts, dashed lines indicating locations of surface troughs, and zig-zag lines indicating surface ridge axes. Ls indicate surface lows, Hs indicate surface highs.

...THERMODYNAMICS BIRDSEYE CHART...


This chart is generated using GOES water vapor satellite imagery. Brown indicates dry air. White, blue, and purple indicates moist air. An increase in moisture indicates slower air parcel lapse rates with elevation and hence an increase toward instability.

Sea-surface temperatures are overlaid with light blue isotherms. The 26 deg C isotherm is highlighted in red. Waters at and south of the 26 deg C isotherm indicate low-level warmth and hence faster environmental lapse rates with elevation (more instability). Waters north of the 26 deg C isotherm indicate slower environmental lapse rates with elevation (less instability).

...SPECIAL FEATURE...TROPICAL STORM NADINE...
In the last 24 hrs...upper troughing over Nadine has amplified with a small upper vortex over the storm thanks to paragraph P2 deep-layered ridge moving in from the west. This left Nadine under heavy split flow upper divergence between the NE quad of the upper vortex and westerlies streaming into the paragraph P5 upper trough. The upper divergence dramatically increased the t-storm intensity within Nadine's circulation...the latent heat release from which appears to have re-established a warm core upper anticyclone at least over the NE half of the storm. The warm core upper outflow is evident by some cirrus outflow clouds along the north edge of the storm. Therefore...Nadine is once again a tropical storm as of 11 AM EDT.

This afternoon's 12Z GFS shows the favorable anticyclonic outflow becoming symmetrical about the storm thru the forecast period...becoming enhanced to the SW by retrograding paragraph P6 E Atlc upper trough...and becoming enhanced to the NE by departing paragraph P5 upper trough. Moreover...her upper outflow is likely to merge with the tremendous upper anticyclonic flow of paragraph P2 deep-layered ridge. These very favorable upper winds suggest the need to show aggressive strengthening. But one has to remember that Nadine will be above waters cooler than 26 deg C if she follows the forecast track in Figure 1...and also there is plenty of paragraph P2 dry air lurking to the south that could be ingested by Nadine's low-level circulation at any time. Therefore I prefer to agree with the more modest intensification rate to a category 1 hurricane of 80 mph max winds as shown by NHC at 11 AM EDT. This sort of intensity forecast assumes the waters are not warm enough to support anything stronger. Thru the forecast period...Nadine will be below warm core upper outflow as opposed to a cold core upper vortex...so their will be no cold upper temps to destabilize things and help Nadine get stronger than usual over these mild water temps.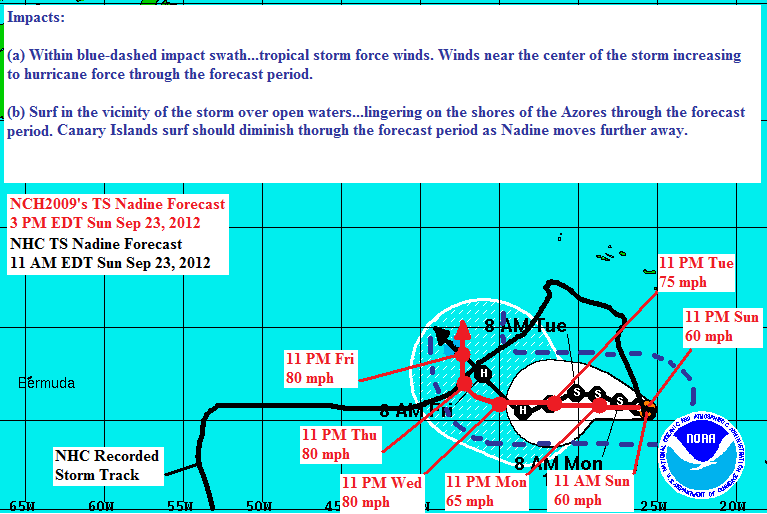 Figure 1: My forecast for Tropical Storm Nadine generated this afternoon

Nadine is currently located west of the Canary Islands and south of the Azores. What prevented the storm from going east into the Canary Islands is a new 1019 mb low-level ridge that built over the islands. I speculate this ridge formed due to upper convergence between southerlies from paragraph P6 upper cell over the W coast of Africa...and westerlies on south side of paragraph P5 upper trough. Although the NHC stated that Nadine is drifting west as of 11 AM EDT...this afternoon's visible satellite suggests to me a stalled motion with Nadine trapped between the 1019 mb low-level ridge to the NE and paragraph P2 1030 mb low-level ridge to the NW. The 00Z GFS shows the 1019 mb ridge persisting for another 12 hours...so I keep Nadine stalled during this time. After 12 hours...I agree with the NHC on a westward track as the 12Z GFS shows the 1030 mb ridge passing to the north. Initially I am slower than the NHC forecast to account for the initial stalled motion...then I become faster than the NHC forecast due to the strength of the 1030 mb ridge. The NHC shows a sinusoidal west track where Nadine first goes NW then goes SW. I see no reason to show a NW bend in the short-term due to the strength of the 1030 mb ridge...nor do I want to show a SW bend as the 12Z GFS does not show this.

In the longer-term...I show a hook to the north and Nadine becoming nearly stalled once again. This is related to how the paragraph P1 upper trough evolves late in the forecast. By 108 and 132 hrs (my last two forecast points in Figure 1)...the upper trough has split into two impulses...with the eastern divergence of the eastern impulse driving a frontal cyclone over Atlantic Canada...and the western convergence of the eastern impulse driving another low-level ridge. The frontal cyclone's low-level ridge weakness is not particularly wide...so I show Nadine drifting northward toward the weakness (between the 1030 mb low-level ridge to the east and other low-level ridge to the NW). I currently expect this weakness to leave behind Nadine...so we will have to wait for another frontal cyclone in the very long range that will ultimately accelerate Nadine northward to her demise.

Impact swath in Figure 1 is based on extrapolating the 11 AM EDT tropical storm wind radius along my forecast track. Impact statement (b) highlights that surf will linger on the shores of the Azores..due to the large wind radius of Nadine capable of stirring a large amount of water. However..the Azores surf this week will be less intense compared to last week...as Nadine should be further away from the islands this time around.

...MID-LATITUDES DISCUSSION...
P1...Weather system (surface frontal cyclone supported by upper trough) is moving from central North America to eastern North America. The Hudson Bay surface cyclone strengthened from 1004 to 993 mb in the last 24 hours while sliding into favorable eastern divergence of the upper trough. Now that the surface cyclone is tucked below the less-divergent upper trough axis...further strengthening should be halted. Both fronts projecting from the cyclone have consolidated into a single cold front extending across the NE US...NW edge of the Atlantic...and then across the southern US. Western convergence of the upper trough supports dry air across the southern edge of the US and a 1028 mb surface ridge that has moved from the western US to the central US.

P2...Deep-layered ridge across the central Atlantic...featuring an impressive 1030 mb center...persists. Formation of this deep-layered ridge is discussed in paragraph P1 of previous discussion #114. South side of this deep-layered ridge is wafting dry air from Africa's desert westward across the eastern Atlantic tropics.

P3...Decaying surface front in the NW Atlantic (paragraph P2 of previous discussion #114) is becoming absorbed by cold front mentioned in paragraph P1.

P4...Deep-layered subtropical low east of Bermuda...formerly Invest 94-L...is becoming vertically decoupled. The surface vortex (marked by 1014 mb low in above atmo birdseye chart) is moving northward at a location NE of Bermuda while steered about west side of paragraph P2 deep-layered ridge...and will eventually become absorbed or overrun by paragraph P1 cold front as it moves into Atlantic Canada. The upper vortex meanwhile is being held back by amplifying paragraph P6 upper ridge cell from Cuba/Bahamas...but will eventually become absorbed by the paragraph P1 upper trough.

P5...Amplified upper trough approaching Europe persists. Eastern divergence of the upper trough supports frontal cyclone moving NE into NW France.

...TROPICAL BELT DISCUSSION...
P6...Large-scale upper vorticity persists across the SE half of the Caribbean Sea. Upper ridge cell is building across SE Mexico as paragraph P1 upper trough to the north loses a bit of ground...and remains amplified across Cuba...the Bahamas...and W Atlantic due to low-level warm air advection ahead of the paragraph P1 weather system. Easterly flow across north side of SE Caribbean upper vorticity is converging with northerly flow from this upper ridge cell to produce sinking dry air across much of the Caribbean. In the eastern tropical Atlantic...upper troughing over Nadine has consolidated and is about to begin a SW retrograding track about the paragraph P2 ridge. As this upper trough retrogrades SW...the central tropical Atlantic upper ridge cell has shifted SW over the tropical wave in paragraph P8. In relatively higher pressures east of this upper trough...a new upper ridge is building over the W coast of Africa.

P7...Tropical wave ex-92L continues moving westward across SE Mexico...and this will be the final statement on this tropical wave on this blog as it will likely be in the eastern Pacific by the release time of the next full discussion. Extending NE from the tropical wave...surface troughing reaching W Bahamas and waters offshore of the SE US persists. This surface troughing persists in favorable split flow upper divergence between the SE Mexico paragraph P6 upper ridge cell and incoming paragraph P1 upper trough...but is in unfavorable hostile SW vertical shear delivered by the upper trough.

P8...Tropical wave midway between the Cape Verdes and Lesser Antilles in the previous discussion is now nearing the Lesser Antilles. Its t-storm activity has continued to increase due to favorable shear-reducing outflow-enhancing paragraph P6 upper ridge cell shifting overhead. This afternoon's 12Z GFS model run suggests this favorable upper wind configuration should last for another 24 hrs...so expect t-storm squalls to spread across the Lesser Antilles. By 48 and 72 hrs...the tropical wave will be nearing the less favorable environment of the SE Caribbean upper vorticity (paragraph P6)...and the eastern Atlantic upper trough (also in paragraph P6) should have retrograded SW to the degree it de-amplifies the favorable upper ridge cell over the tropical wave such that unfavorable westerly shear across the tropical wave increases.

P9...A new eastern Atlantic surface trough between the tropical wave in paragraph P8 and Tropical Storm Nadine is marked as of 1200Z TAFB. Based on above atmo birdseye chart 200 mb wind barbs...it appears to be supported by split flow upper divergence between paragraph P2 deep-layered ridge to the NW and paragraph P6 eastern tropical Atlantic upper trough to the SE.

P10...Satellite imagery suggests a potent tropical wave with a low pressure spin remains stalled out along the W coast of Africa. The stalled motion is due to absence of low-level steering easterlies thanks to ridge weakness from paragraph P5 weather system and Tropical Storm Nadine. In fact...satellite imagery suggests the tropical wave drifting northward along the coast while becoming pulled into the ridge weakness.
The views of the author are his/her own and do not necessarily represent the position of The Weather Company or its parent, IBM.
Reader Comments
Comments will take a few seconds to appear.
NCHurricane2009 doesn't have a bio yet.
Previous Entries for 2017