2012 Atlantic Hurricane Season Birdseye Discussion #111
...SEPTEMBER 19 2012...4:00 AM EDT...
Tropical Storm Nadine still heading northeastward toward the Azores. In the last 24 hours...a tropical storm warning has been issued for various islands across the Azores...so interests in the Azores should be prepared. See the Nadine special feature section below for additional details. Visit www.nhc.noaa.gov and click on the latest public advisory under the "Nadine" section for the latest watches and warnings for the Azores.

Tropical wave that has moved into the Caribbean Sea...formerly Invest 92-L...could encounter more favorable upper winds in the next days...and so I maintain it as a special feature on this blog. See the second special feature section below for details.

As paragraph P3 of the mid-latitudes discussion highlights...a 1015 mb frontal low has formed east of Bermuda. This is the beginning of the cut-off deep-layered vortex forming west of Nadine (as highlighted in the Nadine special feature section). This location features water temps in the 27 to 28 deg C range...and coupled with what should be a vigorous cold upper vortex aloft...the atmosphere could become unstable enough for subtropical cyclone development. I may upgrade this to a special feature during my next full discussion.

...ATMOSPHERIC FEATURES BIRDSEYE CHART...


This chart is generated based on surface analysis from the National Hurricane Center TAFB at 1800Z, and the 1925Z-released HPC analysis.

In light blue is upper air analysis, with 200 mb wind barbs calculated by GOES satellite imagery showing the upper-level wind direction. Based on the 200 mb wind barbs, blue-dashed lines are locations of upper troughs, blue-zig-zag lines are locations of upper ridges. Blue Ls are locations of upper lows, blue Hs are locations of upper ridges.

In red is surface analysis, with solid lines indicating locations of surface fronts, dashed lines indicating locations of surface troughs, and zig-zag lines indicating surface ridge axes. Ls indicate surface lows, Hs indicate surface highs.

...THERMODYNAMICS BIRDSEYE CHART...


This chart is generated using GOES water vapor satellite imagery. Brown indicates dry air. White, blue, and purple indicates moist air. An increase in moisture indicates slower air parcel lapse rates with elevation and hence an increase toward instability.

Sea-surface temperatures are overlaid with light blue isotherms. The 26 deg C isotherm is highlighted in red. Waters at and south of the 26 deg C isotherm indicate low-level warmth and hence faster environmental lapse rates with elevation (more instability). Waters north of the 26 deg C isotherm indicate slower environmental lapse rates with elevation (less instability).

...SPECIAL FEATURE...TROPICAL STORM NADINE...
Nadine has tracked more eastward than northward in the last 24 hours than previously thought...which requires me to adjust my forecast track in Figure 1 more southward than the previous. With that said...I am still more north (or left) of the NHC forecast. One reason is that the latest infrared loop shows the swirl center of Nadine tracking faster to the north than the current NHC forecast. Second...I think Nadine will wiggle NW in the next 12 hrs toward a low-level ridge weakness associated with what is now the 1005 mb low in paragraph P3. As the weakness passes by to the north between 12 and 24 hrs...I believe Nadine will then wiggle back NE while trying to link with that weakness.

The aforementioned 1005 mb system and its upper trough approach Nadine while decomposing into two upper vortices...thanks to strong and deep-layered ridge developing in warm air advection ahead of the paragraph P2 weather system. The first is a cut-off deep-layered vortex west of Nadine (which could become a subtropical cyclone as mentioned in the intro of this full discussion). The second is a gradually developing upper vortex to the north. Tonight's 00Z GFS shows this developing upper vortex sliding SE in a way that puts Nadine in its SW side as opposed to its south side...and therefore I show a more SE track for the longer-term as opposed to a straight east track like I showed earlier. The 00Z GFS still shows the developing upper vortex supporting a new surface non-tropical cyclone to the NE of Nadine that could ultimately absorb what is left of Nadine later on.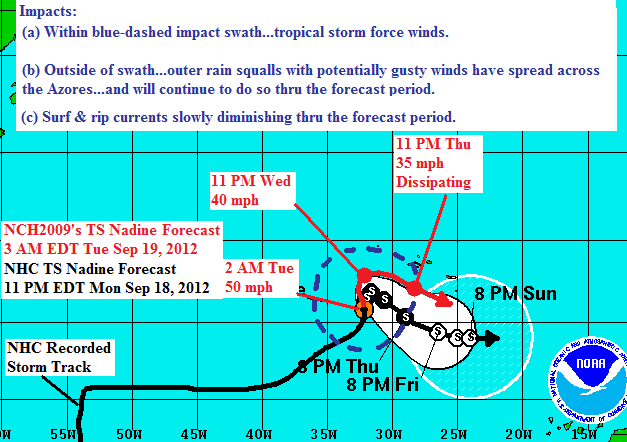 Figure 1: My forecast for Tropical Storm Nadine created this morning.

Intensity-wise...Nadine in the last 24 hrs has weakened as I have forecasted previously...so I maintain the weakening rate shown in my previous forecast. Pesky shortwave upper trough just west of Nadine...mentioned in the Nadine special feature of previous discussion #110...persists I believe due to relatively lower pressures just southwest of Nadine's warm core upper outflow structure. This shortwave upper trough continues imparting southerly shear...and its western convergence is producing dry air...all of which currently prevent Nadine from developing t-storms in her south half. Another factor contributing to weakening is Nadine being over waters below 26 deg C. In the next 24 hours...an increase in SW vertical shear should develop...delivered by the two upper vortices mentioned in the above track forecast discussion. Tonight's 00Z GFS shows the developing northern upper vortex parking its SW side over Nadine by 48 hours. Although this would reduce vertical shear...I do not think it will deliver enough cold upper air to destabilize things (considering the cool waters Nadine is over)...therefore acting as a cap that suppresses Nadine's upper outflow. I think this is the final straw that will dissipate Nadine into a remnant low by 48 hours.

The impact swath in Figure 1 is initialized based on the 11 PM EDT NHC tropical storm wind radius...which I evolve to represent a system that loses its tropical storm force winds in the next 48 hours (on the presumption Nadine follows my track and intensity forecast). My dissipating swath barely covers the western and central Azores...but all of the Azores should continue to experience outer rain squalls from Nadine's north side...these squalls containing wind gusts that could reach tropical storm force (my impact swath represent tropical storm sustained winds as opposed to gusts).

...SPECIAL FEATURE...TROPICAL WAVE EX-92L...
The tropical wave crossing the Lesser Antilles last evening is now in the eastern Caribbean Sea. The easterly vertical shear delivered by south side of paragraph P5 upper ridging appears to be diminishing as the wave axis catches up to the more concentrated storm activity in the NE Caribbean. Relaxation in shear is thanks to upper ridge cell developing over this tropical wave as mentioned in paragraph P5. Moreover...there is potential for the favorable upper ridge to get enhanced by warm air advection ahead of what is now the vigorous paragraph P2 weather system as this tropical wave crosses the Caribbean Sea. Therefore...despite the current feebleness of this tropical wave...interests in the Caribbean should continue monitoring this tropical wave. However...development could be obstructed by one of three things:

(1) If the tropical wave becomes better organized about the NE Caribbean t-storm activity...in which case it would be disrupted by land interaction while traveling across the northern Caribbean Islands.

(2) If the tropical wave gets too close to the less favorable Caribbean upper trough mentioned in paragraph P5...

(3) If the tropical wave later on gets too close to the highly-amplified upper trough associated with the paragraph P2 weather system.

...MID-LATITUDES DISCUSSION...
P1...The next weather system (surface frontal cyclone supported by upper trough) in the mid-latitudes has barely entered the upper-left corner of the above birdseye charts. The system is sweeping southeast while attracted to the low pressure field of the immense weather system in paragraph P2 below. The warm front of the frontal cyclone has reached the Dakotas and northern Nebraska...as it pushes out cold air recently advected in by the back side of the paragraph P2 weather system.

P2...Vigorous system in the mid-latitude westerlies is anchored by "super" upper trough across the eastern US and eastern Canada...the formation of which was mentioned in paragraph P1 of previous discussion #110. The associated surface cold front is also streteched across this region. Along the front is a 1006 mb surface low centered over Georgia as of 1800Z...which is the remnant of former tropical disturbance 93-L. While ex-93L continues to be supported by immense eastern divergence of the "super" upper trough...the more impressive feature along the cold front is the rapid genesis of a 991 mb low taking advantage of this upper divergence maximum...which has pulled a lot of ex-93L's moisture and activity into the NE US and eastern Canada in the last 24 hours. Southerly flow ahead of ex-93L and the 991 mb low is supporting a building W Atlantic upper ridge via warm air advection. This upper ridge will soon stack with 1026 mb W Atlantic surface ridge in paragraph P3 to produce a deep-layered ridge. Finally...western convergence of the "super" upper trough supports plenty of dry air and a 1025 mb low-level ridge across the western US.

P3...Upper vortex over eastern Canada has de-amplified into an upper trough as it moves across the NW Atlantic...and the 994 mb surface cyclone below its axis has weakened to 1005 mb in the last 24 hours. Further weakening of this surface cyclone is possible as long as it remains below the non-divergent axis of the upper trough. Eastern divergence of the upper trough has supported the formation of a new 1015 mb low east of Bermuda and along the cyclone's cold front in the last 24 hours. Western convergence of the upper trough supports dry air and a 1026 mb low-level ridge over the W Atlantic. Warm air advection ahead of the 1005 mb cyclone continues supporting a north Atlantic upper ridge wave which has overspread Tropical Storm Nadine. Elsewhere...upper trough is still sliding eastward toward Europe while driving weakening surface vortex (marked by two red Ls in upper-right of above atmo birdseye chart) into Portugal and Spain. Western convergence of this upper trough supports NE Atlantic surface ridge...which has become tucked under the upper ridge wave over Nadine to create a deep-layered ridge center NE of Nadine.

P4...Eastern Atlantic surface ridge...currently with a 1018 and 1019 mb center...persists. As noted in the last 48 hrs...increased dry air in the eastern tropical Atlantic is still noted with this surface ridge...perhaps as it south side wafts Africa desert dry air westward.

...TROPICAL BELT DISCUSSION...
P5...Central America and SE Mexico upper ridge cell persists...with central Caribbean upper trough and associated dry air persisting to the east of that. Yesterday's upper trough retrograding about central Atlantic upper ridge cell (mentioned in paragraph P6 of discussion #110) is midway between the Cape Verdes and Lesser Antilles with associated dry air...and this feature has now split the central Atlantic upper ridge cell into two cells...one of which is over tropical wave ex-92L. Upper vortex over the Cape Verde Islands has weakened into an inverted upper trough that looks to soon retrograde westward. Upper ridge cell toward Africa persists in relatively higher pressures east of this inverted upper trough.

P6...The tropical wave midway between the Cape Verdes and Lesser Antilles is producing a batch of moisture in between the paragraph P4 dry air to the east and dry air of nearby paragraph P5 retrograding upper trough to the west. This moisture is helped by split flow upper divergence at the boundary between this retrograding upper trough and one of the upper ridge cells in paragraph P5.

P7...Satellite imagery suggests the next tropical wave is about to emerge from Africa (lower-right corner of above atmo birdseye chart). While it is entering the favorable low shear and enhanced upper outflow environment beneath the upper ridge cell toward Africa (paragraph P5)...it may soon have to combat the unfavorable paragraph P4 dry air.
The views of the author are his/her own and do not necessarily represent the position of The Weather Company or its parent, IBM.
Reader Comments
Comments will take a few seconds to appear.
Post Your Comments
Please sign in to post comments.
Not only will you be able to leave comments on this blog, but you'll also have the ability to upload and share your photos in our Wunder Photos section.
Previous Entries for 2017