2012 Atlantic Hurricane Season Birdseye Discussion #110
...SEPTEMBER 18 2012...2:30 AM EDT...
Tropical Storm Nadine persisting while heading northeastward toward the Azores. The cyclone will be in the vicinity of the Azores within the next 5 days...so interests in the Azores should continue to monitor the progress of this system and be ready to make preparations in case the storm makes a direct impact. See the Nadine special feature section below for additional details.

Tropical wave approaching the Caribbean Sea...Invest 92-L...is crossing the Lesser Antilles tonight while earlier this afternoon producing a more concentrated storm cluster sheared westward into the NE Caribbean. Due to potential for more favorable upper winds in the next days...I maintain this as a special feature on this blog at this time. See the second special feature section below for details.

Tropical disturbance Invest 93-L already becomes non-tropical while moving NE into the southeastern United States from Louisiana. It is merging with the frontal system in paragraph P1 of the mid-latitudes discussion...becoming quiet energized and producing widespread impacts as it does so. See paragraph P1 in the mid-latitudes discussion for details on this situation.

As the Nadine special feature section highlights...a cut-off deep-layered vortex is forecast to form west of the storm and east of Bermuda by 48 hours. This location features water temps in the 28 deg C range...and coupled with what should be a vigorous cold upper vortex...the atmosphere could become unstable enough for subtropical cyclone development beneath the cold core upper vortex beginning by that time.

...ATMOSPHERIC FEATURES BIRDSEYE CHART...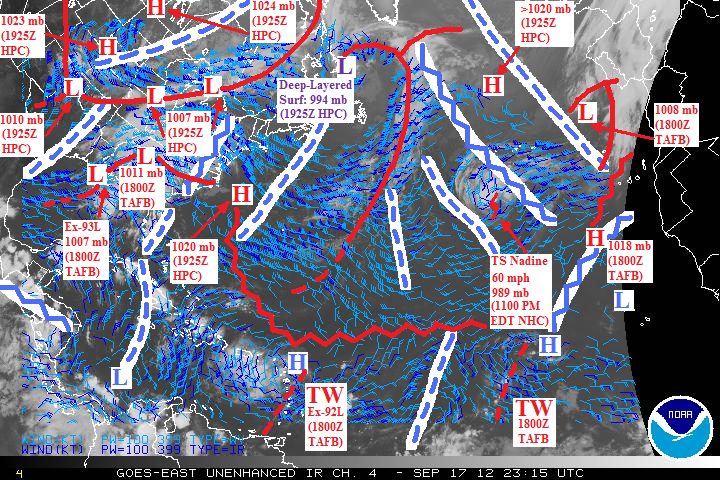 This chart is generated based on surface analysis from the National Hurricane Center TAFB at 1800Z, and the 1925Z-released HPC analysis.

In light blue is upper air analysis, with 200 mb wind barbs calculated by GOES satellite imagery showing the upper-level wind direction. Based on the 200 mb wind barbs, blue-dashed lines are locations of upper troughs, blue-zig-zag lines are locations of upper ridges. Blue Ls are locations of upper lows, blue Hs are locations of upper ridges.

In red is surface analysis, with solid lines indicating locations of surface fronts, dashed lines indicating locations of surface troughs, and zig-zag lines indicating surface ridge axes. Ls indicate surface lows, Hs indicate surface highs.

...THERMODYNAMICS BIRDSEYE CHART...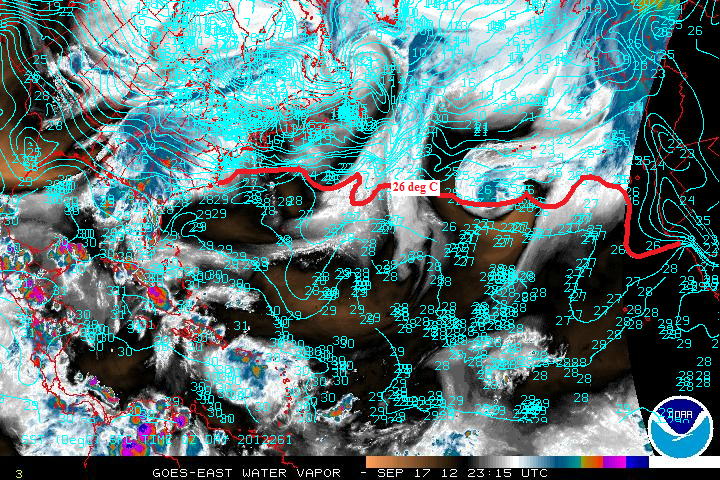 This chart is generated using GOES water vapor satellite imagery. Brown indicates dry air. White, blue, and purple indicates moist air. An increase in moisture indicates slower air parcel lapse rates with elevation and hence an increase toward instability.

Sea-surface temperatures are overlaid with light blue isotherms. The 26 deg C isotherm is highlighted in red. Waters at and south of the 26 deg C isotherm indicate low-level warmth and hence faster environmental lapse rates with elevation (more instability). Waters north of the 26 deg C isotherm indicate slower environmental lapse rates with elevation (less instability).

...SPECIAL FEATURE...TROPICAL STORM NADINE...
Nadine's northward deflection in the last 24 hours has been a bit more north than thought by the previous NHC forecasts. Therefore I am adjusting my updated forecast points in Figure 1 with a northward shift from the previous.

The northward deflection in the track is the result of the paragraph P5 low-level ridge bridging with the NE Atlantic low-level ridge in paragraph P2...the bridge forming at a location east of Nadine. I begin disagreeing with the NHC track forecast in between 24 and 36 hours....when I think Nadine will wiggle NW toward a low-level ridge weakness associated with what is now the 994 mb low in paragraph P2. As the weakness passes by to the north between 36 and 48 hrs...I believe Nadine will then wiggle back NE while trying to link with that weakness.

The aforementioned 994 mb system and its upper trough approach Nadine while decomposing into into two upper vortices...thanks to strong and deep-layered ridge developing in warm air advection ahead of the paragraph P1 weather system. The first is a cut-off deep-layered vortex west of Nadine (which could become a subtropical cyclone as mentioned in the intro of this full discussion). The second is a gradually developing upper vortex to the north which still appears to have the potential to drag Nadine eastward between 48 and 72 hrs. Tonight's 00Z GFS handles this northern upper vortex differently than the previous night's...which shot the upper vortex southward across Nadine due to the strength of the deep-layer ridge. Now the 00Z GFS shows the upper vortex moving more east than south...and creating a new surface non-tropical cyclone NE of Nadine. I now prefer to continue dragging Nadine eastward beyond 72 hours while it gets sucked into this non-tropical cyclone. In what is a highly uncertain situation where the model consensus looks like a messy spiderweb...this is putting a lot of faith in the GFS model fields...but the NHC stated at 11 PM EDT that the GFS has done well with Nadine so far.



Figure 1: My forecast for Tropical Storm Nadine created this morning.

Intensity-wise...Nadine in the last 24 hrs has weakened more than I expected...now down to 60 mph max sustained winds as of the earlier 11 PM EDT NHC advisory. I was thinking that the less shearing (more favorable) north Atlantic upper ridge wave (propped up by warm air advection ahead of the paragraph P2 994 mb low) would prevent Nadine from weakening in the previous 24 hrs. I believe the unexpected weakening is due to a pesky shortwave upper trough just west of Nadine...mentioned in paragraph P4 of previous discussion #109. I was expecting the aforementioned warm air advection to de-amplify this shortwave...but instead it persists I believe due to relatively lower pressures just southwest of Nadine's warm core upper outflow structure. This shortwave upper trough is imparting southerly shear...and its western convergence is producing dry air...all of which currently prevent Nadine from developing t-storms in her south half.

Her more northward than expected current position has already caused her center to cross the 26 deg C isotherm into cooler waters. I generally adopt my weakening rate from my previous forecast...which also accounts for an increase in SW vertical shear after 24 hours delivered by the two upper vortices mentioned in the above track forecast discussion. This is very different from the much more bullish NHC forecast (which shows no weakening for the next 5 days). I suppose the NHC sees a gradual transition into a non-tropical low supported by divergence from the shearing SW jet...but alternatively I see Nadine in unfavorable upper convergence on the SW and south sides of the northern upper vortex. Tonight's 00Z GFS shows the developing northern upper vortex dropping off a weak and mini upper vortex over Nadine by 72 hours. Although this mini upper vortex will reduce vertical shear...it will be nowhere near strong (i.e. cold) enough for destabilizing the atmosphere over the cool waters Nadine will be over...therefore acting as a cap that suppresses Nadine's upper outflow. I think this is the final straw that will dissipate Nadine into a remnant low by 72 hours.

The impact swath in Figure 1 is initialized based on the 11 PM EDT NHC tropical storm wind radius...which I lean rightward with respect to the storm track after 24 hrs to account for a forecasted increase in SW vertical shear for that timeframe. The swath is also progressively shrunken to represent the weakening Nadine I show. My dissipating swath barely covers the western and central Azores...but all of the Azores should be vigilant in case Nadine follows the more bullish NHC intensity guidance while simultaneously following my forecast track. I also rolled back the time of arrival of direct impacts to the Azores in impact statement (a) of Figure 1...to account for the more northward than expected initial position of the storm.

...SPECIAL FEATURE...TROPICAL WAVE INVEST 92-L...
The tropical wave approaching the Caribbean Sea is crossing the Lesser Antilles tonight while earlier this afternoon producing a more concentrated storm cluster sheared westward into the NE Caribbean. The shear is driven by upper easterlies on the SW quad of the paragraph P6 central Atlantic upper ridge cell...but this quadrant of the upper ridge cell remains generally supportive with split flow upper divergence.

The Caribbean upper trough (paragraph P6) continues to retrograde westward as to allow the SW quad of the central Atlantic upper ridge cell to split off into a favorable shear-reducing and outflow-enhancing upper anticyclone directly over this tropical wave. Moreover...there is potential for the favorable upper anticyclone to get enhanced by warm air advection ahead of what is now the vigorous paragraph P1 weather system as this tropical wave crosses the Caribbean Sea. Therefore...despite the current feebleness of this tropical wave...interests in the Caribbean should continue monitoring this tropical wave over the next days. However...development could be obstructed if the tropical wave gets too close to the less favorable retrograding Caribbean upper trough...or later on gets too close to what is forecast by models to be a highly-amplified upper trough associated with the paragraph P1 weather system.

...MID-LATITUDES DISCUSSION...
P1...Next system in the mid-latitude westerlies continues entering from the upper-left corner of the above birdseye charts...with the upper trough pushing into central Canada and the central US...and the associated surface frontal zone across the central US and eastern Canada. This upper trough is amplifying due to cool air advection from the surface cyclone it supports at the north end of the front. Simultaneously...the SW US upper trough is amplifying due to cool air advection behind disturbance Invest 93-L moving NE from the Gulf of Mexico and into the SE US. As the two amplifying upper troughs merge...a "super" upper trough is forming with vast eastern upper divergence that is causing Invest 93-L to bomb out as it moves across the SE US. 93-L is already producing heavy flooding rain...and severe weather is possible as its east half drives warm air advection and an amplifying upper ridge wave. Upper westerlies across this upper ridge wave are in directional shear with respect to low-level southerlies in 93-L's east half...providing helicity for possible tornadoes...especially in areas with instability triggered by last afternoon's or tomorrow afternoon's low-level daytime heating (tornado warnings were issued in east-central Tennessee last afternoon...and a tornado watch is in effect for parts of Georgia...upstate SC...SW NC...and SE Tennessee as of this writing). There are strong upper-level SW winds across the east side of the "super" upper trough (and above 93-L)...so even in areas with low helicity but high instability...a severe t-storm could mix down these upper winds into surface-level damaging straight line winds. Residents across the southeastern United States...and along the east US coast...should visit www.nws.noaa.gov and search for their local city for up to the minute forecasts and information on what 93-L might deliver.

P2...Cut-off upper trough over the SW US and associated surface disturbance Invest 93-L have merged with the paragraph P1 system (see paragraph P1 above for details on this system). Elsewhere...upper vortex over eastern Canada persists...and the surface cyclone it supports with its eastern divergence has intensified further to 994 mb but has also whirled beneath the center of the upper vortex. While now beneath the non-divergent upper vortex center...this surface 994 mb cyclone will now begin gradual decay. The western convergence of the upper vortex supports a 1020 mb low-level ridge that has moved offshore from the eastern US and into the W Atlantic. Warm air advection ahead of the 994 mb cyclone supports a north Atlantic upper ridge wave. Shortwave upper trough is still sliding eastward toward Europe and has absorbed long-lasting paragraph P4 deep-layer vortex south of the Azores. What's left is a 1008 mb surface vortex moving quickly ENE toward Portugal and Spain while steered and supported by this upper trough. Western convergence of this upper trough supports a low-level ridge moving into the NE Atlantic.

P3...Cut-off upper trough in the Gulf of Mexico continues de-amplifying thanks to warm air advection southeast and ahead of the paragraph P1 frontal system. This upper trough has moved onto the east coast of Florida and is merging with north end of retrograding Caribbean upper trough mentioned in paragraph P6.

P4...Deep-layered vortex south of the Azores has been absorbed by upper trough system heading toward Europe mentioned towards the end of paragraph P2 above. What's left of this system is mentioned in that paragraph.

P5...Eastern Atlantic surface ridge...currently with a 1018 mb center... persists. As noted 24 hrs ago...increased dry air in the eastern tropical Atlantic is still noted with this surface ridge.

...TROPICAL BELT DISCUSSION...
P6...Upper ridging across the tropical Atlantic persists. A Central America and SE Mexico upper ridge cell is split from the central Atlantic upper ridge cell via central Caribbean upper trough retrograding still slowly retrograding west. Dry air persists below this retrograding upper trough. Embedded upper vortex NW of the Cape Verde Islands has split into two entities...an upper trough retrograding westward about the central Atlantic upper ridge cell...and an upper vortex over the Cape Verde Islands themselves. Upper ridge cell toward Africa persists in relatively higher pressures east and south of these upper vorticity features.

P7...The tropical wave SW of the Cape Verde Islands in the previous discussion is moving into the waters midway between the Cape Verdes and Lesser Antilles. Despite being below low shear and favorable upper outflow beneath the paragraph P6 upper ridge cell toward Africa...it appears suppressed by adjacent dry air mentioned in paragraph P5.
The views of the author are his/her own and do not necessarily represent the position of The Weather Company or its parent, IBM.
Reader Comments
NCHurricane2009 doesn't have a bio yet.
Previous Entries for 2017