2012 Atlantic Hurricane Season Birdseye Discussion #107
...SEPTEMBER 15 2012...5:15 AM EDT...
Nadine has strengthened into a hurricane in the last 24 hours. The tropical cyclone could threaten the Azores just beyond 5 days out...so interests in the Azores should monitor the progress of this system. See Nadine special feature section below for further details.

The tropical wave in paragraph P7 of the tropical belt discussion (approaching the Lesser Antilles) has been introduced into the National Hurricane Center Tropical Weather Outlook during the last 24 hours...but is currently in unfavorable upper winds. See paragraph P7 of the tropical belt discussion for details.

...ATMOSPHERIC FEATURES BIRDSEYE CHART...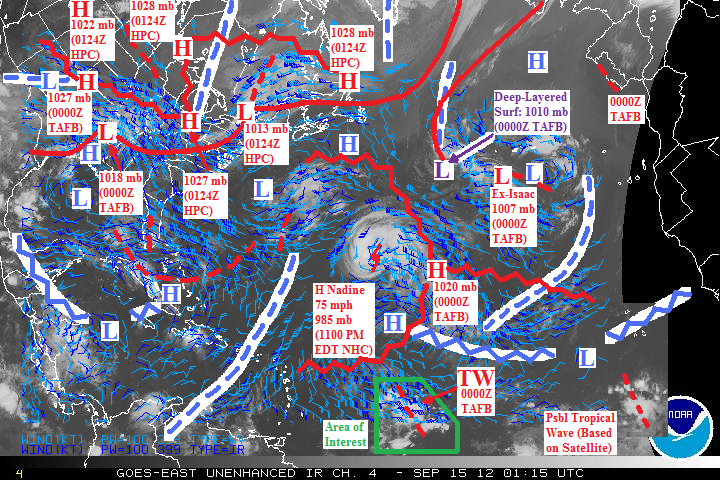 This chart is generated based on surface analysis from the National Hurricane Center TAFB at 0000Z, and the 0124Z-released HPC analysis.

In light blue is upper air analysis, with 200 mb wind barbs calculated by GOES satellite imagery showing the upper-level wind direction. Based on the 200 mb wind barbs, blue-dashed lines are locations of upper troughs, blue-zig-zag lines are locations of upper ridges. Blue Ls are locations of upper lows, blue Hs are locations of upper ridges.

In red is surface analysis, with solid lines indicating locations of surface fronts, dashed lines indicating locations of surface troughs, and zig-zag lines indicating surface ridge axes. Ls indicate surface lows, Hs indicate surface highs.

...THERMODYNAMICS BIRDSEYE CHART...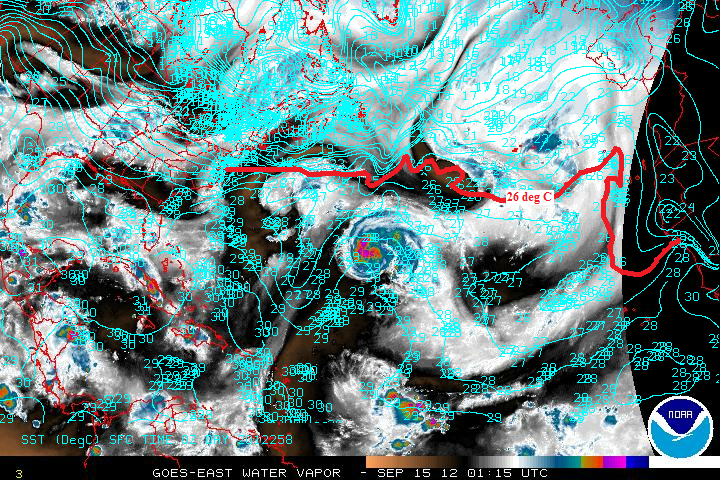 This chart is generated using GOES water vapor satellite imagery. Brown indicates dry air. White, blue, and purple indicates moist air. An increase in moisture indicates slower air parcel lapse rates with elevation and hence an increase toward instability.

Sea-surface temperatures are overlaid with light blue isotherms. The 26 deg C isotherm is highlighted in red. Waters at and south of the 26 deg C isotherm indicate low-level warmth and hence faster environmental lapse rates with elevation (more instability). Waters north of the 26 deg C isotherm indicate slower environmental lapse rates with elevation (less instability).

...SPECIAL FEATURE...HURRICANE NADINE...
Nadine turned northward in the last 24 hrs as expected...but then has begun accelerating eastward ahead of schedule when looking at previous forecasts. In fact...the current eastward pace of Nadine on satellite imagery appears ahead of the more recent 11 PM EDT NHC forecast...but at least Nadine is turning eastward along the suggested latitude of that forecast. Therefore my forecast in Figure 1 shows an eastward motion along the 11 PM EDT NHC track for the shorter-term...but I suggest a faster forward speed than the 11 PM EDT forecast. I believe Nadine strengthened into a hurricane as her more eastward than expected current position has distanced herself from the unfavorable western upper outflow blockage that the paragraph P3 upper vorticity previously applied.

My track forecast for the next 24 hours in Figure 1 is a big rightward shift from my previous philosophies for this timeframe. I was thinking that Nadine would begin stalling or slowing under conflicting steering influences during this timeframe...with the paragraph P4 deep-layered vortex grabbing her and pulling her eastward later on. However...the statements in the previous paragraph make it apparent that her attraction toward this vortex is occuring ahead of schedule. I support an increasingly slower eastward progression after 48 hours due to resistance from a NE Atlantic low-level ridge...which is currently the 1028 mb Atlantic Canada ridge in paragraph P1 expected to zoom eastward to that location. This slow down allows the paragraph P4 deep-layered vortex to slip away from Nadine...leaving Nadine trapped in a narrowing gap between the paragraph P5 low-level ridge to the south and NE Atlantic low-level ridge. As the two low-level ridges bridge to the east of Nadine...I support a northward turn between 72 and 96 hrs. In between 96 and 108 hrs...I believe Nadine will wiggle left toward a low-level ridge weakness associated with what is now the 1013 mb low in paragraph P1. As the weakness passes by to the north between 108 and 120 hrs...I believe Nadine will then wiggle back rightward toward the western Azores as it tries to move toward that weakness.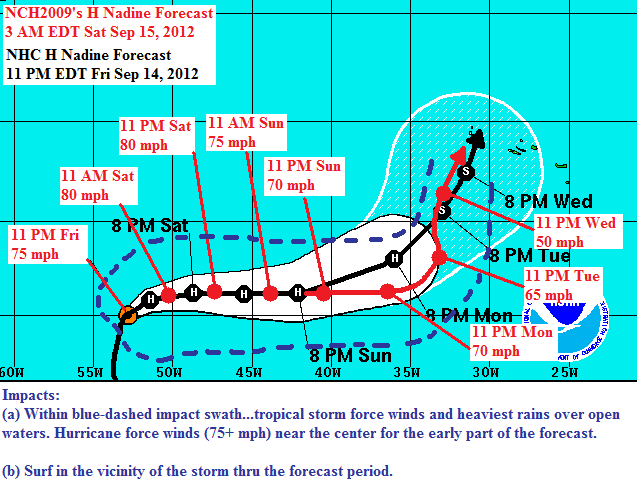 Figure 1: My forecast for Hurricane Nadine created this morning.

Intensity-wise...I agree with the NHC on the potential for Nadine to strengthen further to 80 mph max winds. I then weaken Nadine sooner than the NHC forecast suggests...as my more easterly position of Nadine by 48 hours (with repsect to NHC's track forecast) places her in unfavorable upper convergence and zonal shearing upper westerly flow on the SW quad of the paragraph P4 deep-layer vortex. The slow down in track between 48 and 72 hours should allow the less shearing (more favorable) upper ridge wave ahead of what is now the paragraph P1 1013 mb low to catch up to and overspread Nadine...so I flatten the weakening rate during this time. I accelerate the weakening rate by 96 and 120 hrs as Nadine crosses the 26 deg C isotherm into cooler waters...and experiences unfavorable SW vertical shear delivered by shortwave upper trough associated with the aforementioned 1013 mb low.

The impact swath in Figure 1 is initialized based on the 11 PM EDT NHC tropical storm wind radius...which I lean rightward with respect to the storm track by 96 and 120 hrs to account for a forecasted increase in SW vertical shear for that timeframe. The swath is also shrunken to represent a weakening Nadine in the latter part of the forecast.

...MID-LATITUDES DISCUSSION...
P1...Upper trough and surface frontal system in mid-latitude westerlies has broken into a few features strung SW-NE in the last 24 hours. A cut-off upper vortex persists over the SW US which supports a 1018 mb frontal low over the TX/AK/OK/LA area. A shortwave upper trough is over central Canada and the Great Lakes whose eastern divergence supports a 1013 mb frontal low over the NY/Canada border and whose western convergence supports a 1027 to 1028 mb low-level ridge across central Canada and the central US. A shortwave upper trough and surface frontal cyclone continue ejecting NE across Greenland and will soon be exiting the scope of the above atmo birdseye chart...but the western convergence of this exiting upper trough supports a 1028 mb low-level ridge over Atlantic Canada.

P2...North Atlantic upper trough associated with ex-Leslie has exited the picture while heading toward north Europe...but has left behind several features strung SW-NE. A shortwave fragment of this upper trough is merging with the west half of the paragraph P4 deep-layered vortex (see paragraph P4 for details). Cut-off upper vortex over the W Atlantic persists...supporting a broad area of low surface pressures with its eastern peripherial divergence. Cut-off upper vortex persists in the Gulf of Mexico.

P3...Cut-off upper vorticity remains in the open Atlantic and eastern Caribbean...established as a south-north upper trough squeezed between the Caribbean-to-C Atlc upper ridge cell and upper ridge cell over Nadine and toward Africa (both cells mentioned in paragraph P7).

P4...Deep-layered vortex associated with the long-lasting remnants of Isaac persists south of the Azores...and is receiving additional support as a shortwave upper trough from the paragraph P2 system digs into the west half of this system. Eastern divergence from the intruding shortwave supports a new 1010 mb surface low. Models have been suggesting this 1010 mb surface low will grow into the dominant surface feature in place of ex-Isaac....but will watch to see which of the two surface lows actually dominates.

P5...Eastern Atlantic surface ridge...currently with a 1020 mb center... persists with support from eastern convergence of paragraph P6 upper ridge cell located over Nadine.

...TROPICAL BELT DISCUSSION...
P6...Upper ridging across the tropical Atlantic persists. Previously...warm air advection ahead of the paragraph P2 system extended the Caribbean to Central Atlantic upper ridge cell into the NE Atlantic toward Europe...but now this NE extension has split off. There is a new northward extension of this upper ridge cell into the NW Atlantic supported by warm air advection ahead of the paragraph P1 system. Remainder of the upper ridging is located toward the west coast of Africa and above Hurricane Nadine.

P7...The tropical wave midway between the Lesser Antilles and Cape Verde Islands in the previous discussion is pushing toward the Lesser Antilles. Its elevated but still somewhat meager t-storm activity has persisted in the last 24 hrs...but so far is embedded in straight and shearing upper easterly flow on the south side of paragraph P6 upper ridging. Until the t-storm latent heat release increases to support an embedded warm core upper outflow structure in the upper ridge...not considering this an area for tropical development.

P8...Animation of satellite imagery suggests a tropical wave has emerged from the west coast of Africa and into the waters south of the Cape Verde Islands in the last 48 hours. The t-storm activity remains unimpressive at this hour....and so far this wave has not been added to NHC TAFB maps.
The views of the author are his/her own and do not necessarily represent the position of The Weather Company or its parent, IBM.
Reader Comments
Comments will take a few seconds to appear.
NCHurricane2009 doesn't have a bio yet.
Previous Entries for 2017