2012 Atlantic Hurricane Season Birdseye Discussion #97
...SEPTEMBER 5 2012...4:35 AM EDT...
This is one of the most important birdseye discussions I have released all season...due to the ominous threat that Leslie brings to Bermuda. Tropical Storm Leslie is still lurking north of the Lesser Antilles and south of Bermuda...forecast to gradually accelerate northwestward than northward across the west Atlantic and pass very close or over Bermuda over the next days. She could intensify into a strong hurricane...and hurricane watches may go up for Bermuda around Friday morning (based on the possible arrival time of hurricane force conditions and the standard practice for issuing watches 48 hours in advance of those conditions). Tropical storm conditions could reach Bermuda as early as Saturday evening. In addition...Leslie is bringing surf and rip currents to all northern Caribbean Islands...Bahamas...Bermuda...the east US shore...expected to eventually spread into Atlantic Canada. See Leslie special feature section for further details.

In the last 24 hours...tropical depression thirteen has become Tropical Storm Michael at a location well to the east of Leslie. This is the third earliest thirteenth tropical storm in the Atlantic on record...behind Maria of 2005 and Maria of 2011. Despite the hyperactive pace of this season...no storms yet have become a major hurricane (115 mph+ max sustained winds). See Michael special feature section for details on this storm.

A tropical disturbance southeast of Tropical Storm Michael (in the eastern tropical Atlantic) is currently disorganized but still in favorable upper winds...and therefore I still have a special feature section for this system. See third special feature section below for details on this tropical wave.

A new tropical disturbance could emerge in the northern Gulf of Mexico as it sags southward from the Mississippi-Alabama area. This system has already been introduced into this morning's NHC tropical weather outlook...but I am waiting for this system to emerge over the northern Gulf before making it yet another special feature section on this blog. This system is currently mentioned in paragraph P3 in the mid-latitudes discussion below.

...ATMOSPHERIC FEATURES BIRDSEYE CHART...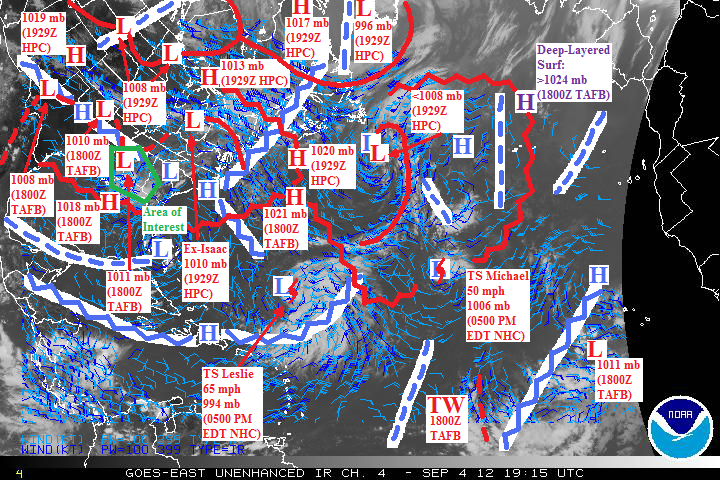 This chart is generated based on surface analysis from the National Hurricane Center TAFB at 1800Z, and the 1929Z-released HPC analysis.

In light blue is upper air analysis, with 200 mb wind barbs calculated by GOES satellite imagery showing the upper-level wind direction. Based on the 200 mb wind barbs, blue-dashed lines are locations of upper troughs, blue-zig-zag lines are locations of upper ridges. Blue Ls are locations of upper lows, blue Hs are locations of upper ridges.

In red is surface analysis, with solid lines indicating locations of surface fronts, dashed lines indicating locations of surface troughs, and zig-zag lines indicating surface ridge axes. Ls indicate surface lows, Hs indicate surface highs.

...THERMODYNAMICS BIRDSEYE CHART...


This chart is generated using GOES water vapor satellite imagery. Brown indicates dry air. White, blue, and purple indicates moist air. An increase in moisture indicates slower air parcel lapse rates with elevation and hence an increase toward instability.

Sea-surface temperatures are overlaid with light blue isotherms. The 26 deg C isotherm is highlighted in red. Waters at and south of the 26 deg C isotherm indicate low-level warmth and hence faster environmental lapse rates with elevation (more instability). Waters north of the 26 deg C isotherm indicate slower environmental lapse rates with elevation (less instability).

...SPECIAL FEATURE...TROPICAL STORM LESLIE...
Leslie remains quasi-stationary over the western tropical Atlantic...with the storm trapped between the Atlantic Canada low-level ridge to her north (paragraph P2)...Gulf of Mexico low-level ridge to her west (paragraph P1)...and Atlantic low-level ridge to her east (paragraph P4). In its trapped state...the tropical storm has advanced northward in the last 24 hours. Based on her northward progression in last 24 hours and the blocking low-level ridge pattern persisting thru 48 hrs (thru 11 PM Thu) in this morning's 00Z GFS...I agree with the NHC track thru that time.

Longer-term...models show the next frontal system in the mid-latitude westerlies (paragraph P1) knocking out the blocking Atlantic Canada low-level ridge to the north (paragraph P2)....which will cause Leslie to generally accelerate faster to the north. I also agree with the longer-term forecast shown by NHC this morning based on how the 00Z GFS animates the low-level winds. This means I am showing a westward shift from my previous philosophy...as I return a wiggle to the left. My previous forecast had cancelled the wiggle to the left as I thought Leslie would be too far south to feel the initial break in the blocking low-level ridging from the incoming frontal system. With Leslie advancing northward in the last 24 hours (and the expectation that she continues to do so)...I now think she has re-earned her potential to feel this initial break. Details that were not previously their about the next frontal system are emerging in the models that also support this westward wiggle. For instance...00Z GFS shows a small frontal cyclone and shortwave upper trough ejecting eastward well in advance of the main bulk of this frontal system. Upper convergence on the west side of this passing shortwave begins building a short-lived surface ridge to the north of Leslie beginning in 72 hrs (11 PM Fri)...the surface ridge helping her westward wiggle. The forecast track in Figure 1 is more threatening to Bermuda than ever...with tropical storm conditions expected to reach the island by late Saturday...and severe hurricane force conditions reaching the island by Sunday morning...if the current forecast verifies.

Beyond 120 hrs (not shown in Figure 1)...Leslie looks more threatening to Atlantic Canada (Nova Scotia and Newfoundland) than previously thought with the westward wiggle in track expected. Keep in mind she will be accelerating very rapidly northeastward ahead of the frontal system...and could be closing in on the Atlantic Canada area as early as 144 hrs.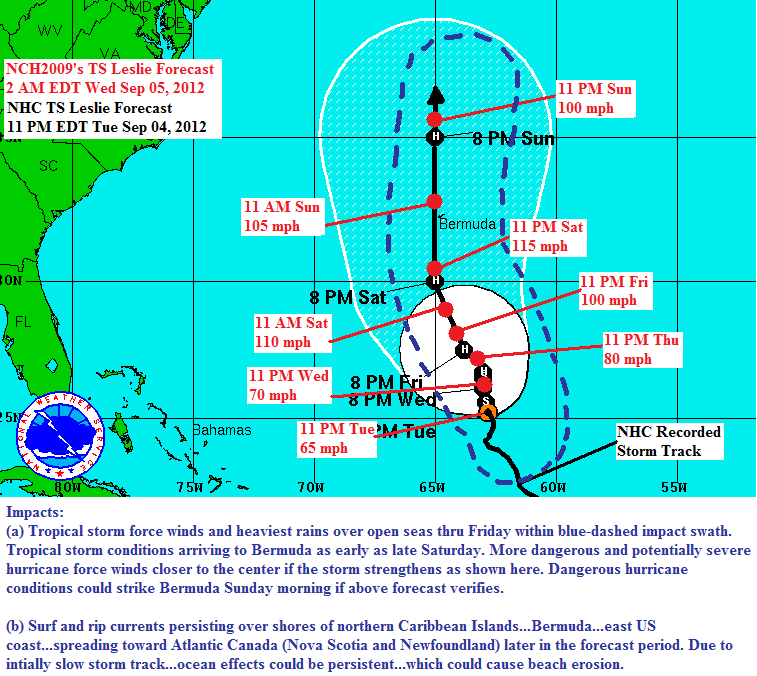 Figure 1: My forecast for Tropical Storm Leslie this morning

Leslie has not strengthened in the last 24 hrs. It looks as though her circulation has advected in cooler upper air at the base of the paragraph P2 upper trough into her west half...resulting in an upper vortex above her west half. This convergent upper vortex is a source of sinking dry air. This is why the west half of Leslie has no t-storms this morning. Her quasi-stationary motion so far has not upwelled cooler waters...with healthy 30 deg C waters still in her area when looking at the above thermo birdseye chart. I expect her t-storm latent heat release to punch out the upper vortex...and we expect her to accelerate northward away from any cooler waters she may soon upwell. Therefore...gradual strengthening still appears likely. With the 00Z GFS developing grand anticyclonic outflow over Leslie...coupled outflow enhancement into the south Florida upper vortex to her west (paragraph P5) and outflow enhancement into an upper vortex dropped off by paragraph P2 upper trough to her east...I see a recipe for a major hurricane (115 mph+ max winds) by day 4...a little more bullish than the 11 PM EDT NHC forecast. Note that I adopted my strengthening rate from my previous forecast. By days 4 and 5...00Z GFS shows a strong southwesterly upper jet developing in advance of the frontal system's upper trough at a location just north of Bermuda. Therefore I show Leslie weakening to a category 2 hurricane (from southwesterly shear) as she approaches and passes Bermuda's latitude on day 5. Increasingly cooler waters along the storm track by day 5 also support weakening Leslie by that time.

Impact swath in Figure 1 is initialized on the 11 PM EDT NHC tropical storm wind radius...which I ever-so-slightly inflate in size based on the anticipated strengthening. I lean the impact swath towards the right of the storm track by day 5 to represent possible southwesterly shear Leslie is expected to encounter by that time.

...SPECIAL FEATURE...TROPICAL STORM MICHAEL...
Tropical depression thirteen has been upgraded to Tropical Storm Michael in last 24 hrs. Despite being below a cold core upper vortex...it has continued to develop...so I imagine this is a system whose entire vertical warm core circulation (surface spin and upper outflow) is tucked below the 200 mb upper wind layer. Most recent analogues of this are tropical cyclone Chris in June this year...and Gordon in the latter part of his life in August this year. My forecast versus the NHC's is shown in Figure 2 below.



Figure 2: My forecast for Tropical Storm Michael this morning

Track-wise...it is apparent that 24 hrs ago I had mis-judged TD 13 (now Michael's) track...probably due to its poor definition of the center on nighttime infrared. I had suggested it was bending more west in track when in fact it has been moving NW since birth. It did hook northward as expected...as it got pulled up by cold front of NW Atlantic frontal cyclone mentioned in paragraph P2. However...Michael has stalled earlier than expected...which underscores how narrow the front's ridge weakness is. Even now...infrared satellite animation suggests Michael is pinwheeling stationary. Therefore...I assess Michael is already wedged between paragraph P4 low-level ridge to the east and the Atlantic Canada low-level ridge (paragraph P2) coming in from the NW. 00Z GFS seems still melds together the two low-level ridges to the north of Michael...which should cause Michael to turn more westward. I prefer to have a southwest biased track as shown in Figure 2...as I believe Micheal's earlier than expected stall suggests less influence from the paragraph P2 frontal cyclone passing to the north. I believe this makes him more susceptible to a westward acceleration toward Leslie's low-level circulation later in the forecast period...which is why I move Michael faster than the NHC does by day 5. Beyond day 5 (not shown in Figure 2)...Michael should turn more northward and accelerate in southerly flow to the east of Leslie's circulation and to the west of the low-level ridging. It is possible for the small circulation of Michael to lose his identity in the east side of Leslie's large circulation at some point past day 5.

I agree with the NHC in strengthening Michael to 60 mph winds in 24 hrs. I argue that this is a shallower tropical cyclone than normal tucked below the 200 mb upper wind layer...so this system could end up being less sensitive to vertical shear than normal (the analogues of Chris and Gordon actually strengthened under what should have been a shearing environment). By 24 hrs...00Z GFS shoves off the upper vortex currently over Michael...and replaces it with a 200 mb divergent westerly jet between the paragraph P2 upper trough and paragraph P5 C Atlc upper ridge...so I surmise Michael strengthening while taking advantage of the divergent upper westerly jet as a shallow tropical cyclone (rather than getting ripped apart by the jet as a tall tropical cyclone would). After 24 hrs...the paragraph P2 upper trough drops off a new cut-off upper vortex over Michael. Like the current upper vortex...I think this new one won't be cold enough to de-stabilize things to Michael's advantage. So like the current upper vortex...I view this one as a source of upper-convergence (i.e. a cap) that prevents Micheal from strengthening further. This new upper vortex is pushed south of Michael (thanks to Leslie's outflow) by 72 to 96 hrs (11 PM Fri to 11 PM Sat)...so that is when I strengthen Michael into an 80 mph max wind category 1 hurricane...a little more aggressive than the NHC's 11 PM EDT suggestion given that Michael is a small system (and small systems strengthen more quickly than large ones). I think some northerly shear from Leslie's outflow will overtake Michael by 120 hrs...so I weaken him a bit to 75 mph by that time. I don't think the northerly shear will destroy Michael...again because he maybe a shallower-type tropical cyclone less sensitive to vertical shear. Therefore...I think what will ultimately destroy Michael beyond day 5 is absoprtion into Leslie's east side...or acceleration northward over cooler waters.

Impact swath in Figure 2 is initialized based on the small tropical storm wind radius shown by NHC at 11 PM EDT...which I maintain on the presumption Michael remains a compact tropical cyclone. I have a southward bias in the swath (with respect to storm track) by day 5 to reflect possible northerly shear by that time.

...SPECIAL FEATURE...EASTERN ATLANTIC TROPICAL DISTURBANCE...
Tropical wave SW of the Cape Verde Islands in previous discussion is now midway between the Cape Verdes and Lesser Antilles. On its westward track...it is exiting the favorable outflow beneath the upper ridge portion toward Africa (mentioned in paragraph P5). However...plenty of t-storms persist east of this tropical wave and beneath this upper outflow. Wihtin these t-storms...a surface 1011 mb low was added by NHC TAFB SW of the Cape Verde Islands this evening. It has been a while since a tropical wave emerged from Africa...so this new surface low could be the next tropical wave that has emerged from Africa...a feature left behind by the above-mentioned tropical wave...or a surface low that has spun up along the ITCZ due to pressure falls generated by the upper outflow. Because of the favorable upper outflow environment and presence of this new surface low...I still am considering this a special feature on this blog.

...MID-LATITUDES DISCUSSION...
P1...Next upper trough in mid-latitude westerlies is entering the upper-left corner of above charts...with its surface frontal zone across south-central Canada and north-central US. Warm air advection ahead of this front now supports all of the southern US upper ridge. Upper convergence on the SE half of this upper ridge supports a 1018 mb Gulf of Mexico surface ridge.

P2...Cut-off upper vortex in the NW Atlantic persists...whose eastern divergence continues to support a surface frontal cyclone now located SE of Newfoundland and still evaluated at less-than-1008 mb. To the north of that frontal cyclone...a shortwave upper trough and associated second surface frontal cyclone has moved across north Canada and entered the top-center of the above atmo chart...hence moving into southern Greenland. Upper convergence behind the shortwave upper trough and NW Atlantic upper vortex supports a 1020 mb to 1021 mb low-level ridge just south of Atlantic Canada.

P3...Remnant surface low of Isaac is centered over the SE Michigan/NW Ohio border as of 1929Z HPC analysis. Due to blocking effect of Atlantic Canada low-level ridge (paragraph P2)...its slow eastward speed has caused it decouple from the nearby shortwave upper trough...which is now a cut-off upper vortex over the western Carolinas. Meanwhile...split flow divergence between the west side of this upper vortex and the southern US upper ridge (paragraph P1) has caused a new 1011 mb low and associated t-storms to form over the Mississippi-Alabama area. This surface low could drift southward into the northern Gulf of Mexico...where tropical cyclone development is possible. Waiting to see how much exposure this surface low actually gets before considering it a special feature on this blog.

P4...Atlantic surface ridge has been eroded out of the western Atlantic thanks to NW Atlantic surface cyclone mentioned in paragraph P2. Easterly flow on the south side of this surface ridge (in conjunction with easterly flow on south side of paragraph P5 upper ridge) is helping to waft pockets of Africa desert dry air westward across the Atlantic tropics. This surface ridge is supported by convergence ahead of the central Atlantic-to-Caribbean upper anticyclonic cell mentioned in paragraph P5.

...TROPICAL BELT DISCUSSION...
P5...Upper ridging across the tropical Atlantic persists. Southern US upper ridge persists...now supported by warm air advection ahead of cold front in paragraph P1. Embedded upper vortex in relatively lower pressures south of this upper ridge persists...located near south Florida. Anticyclonic upper ridge in the Caribbean to central Atlantic (partially pumped up by the outflow of Leslie) has been stretched into the NE Atlantic by low-level warm air advection ahead of the paragraph P2 mid-latitude system. The NE lobe has aligned with 1024 mb surface center of paragraph P4 ridge to make a deep-layered ridge center north of the Azores. Large and elongated upper vortex above Tropical Storm Michael persists in relatively lower pressures east of this central Atlantic upper anticyclone...while the remainder of the upper ridging is located toward the west coast of Africa in relatively higher pressures SE of that upper vortex.
The views of the author are his/her own and do not necessarily represent the position of The Weather Company or its parent, IBM.
Reader Comments
Comments will take a few seconds to appear.
Post Your Comments
Please sign in to post comments.
Not only will you be able to leave comments on this blog, but you'll also have the ability to upload and share your photos in our Wunder Photos section.
Previous Entries for 2017