2012 Atlantic Hurricane Season Birdseye Discussion #95
...SEPTEMBER 3 2012...2:59 AM EDT...
See paragraph P3 of mid-latitudes discussion for updated assessment of Isaac remnant on this blog.

Kirk quickly becomes non-tropical along a frontal boundary in the north Atlantic...soon to be an indistinct feature. See paragraph P2 in mid-latitudes discussion for details.

Tropical Storm Leslie passing NE of the Lesser Antilles and forecast to stall over open western Atlantic waters for next few days. As she does so...she could creep toward Bermuda...so interests in Bermuda should monitor the progress of Leslie over the next days. In addition...Leslie could bring surf and rip currents to all northern Caribbean Islands...Bahamas...Bermuda...and the east US shore. See Leslie special feature section for further details.

Relatively new subtropical disturbance Invest 99-L persists northeast of Tropical Storm Leslie...but I do not expect subtropical or tropical cyclone formation from this system. Origin of 99-L is discussed in special update #94A. See paragraph P5 in mid-latitudes discussion for details on 99-L.

...ATMOSPHERIC FEATURES BIRDSEYE CHART...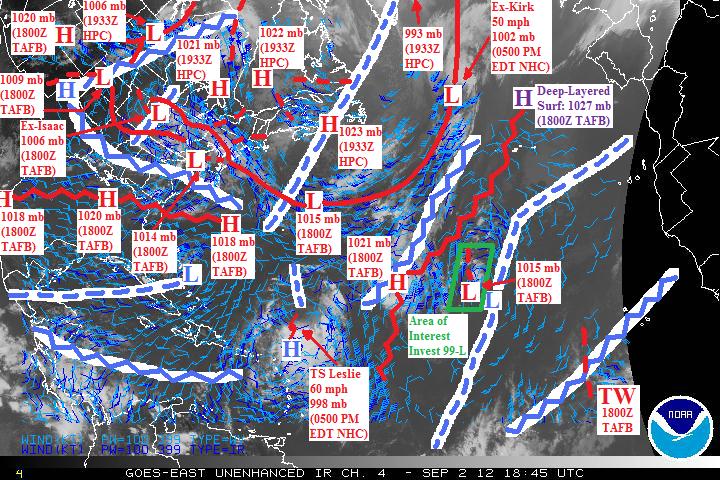 This chart is generated based on surface analysis from the National Hurricane Center TAFB at 1800Z, and the 1933Z-released HPC analysis.

In light blue is upper air analysis, with 200 mb wind barbs calculated by GOES satellite imagery showing the upper-level wind direction. Based on the 200 mb wind barbs, blue-dashed lines are locations of upper troughs, blue-zig-zag lines are locations of upper ridges. Blue Ls are locations of upper lows, blue Hs are locations of upper ridges.

In red is surface analysis, with solid lines indicating locations of surface fronts, dashed lines indicating locations of surface troughs, and zig-zag lines indicating surface ridge axes. Ls indicate surface lows, Hs indicate surface highs.

...THERMODYNAMICS BIRDSEYE CHART...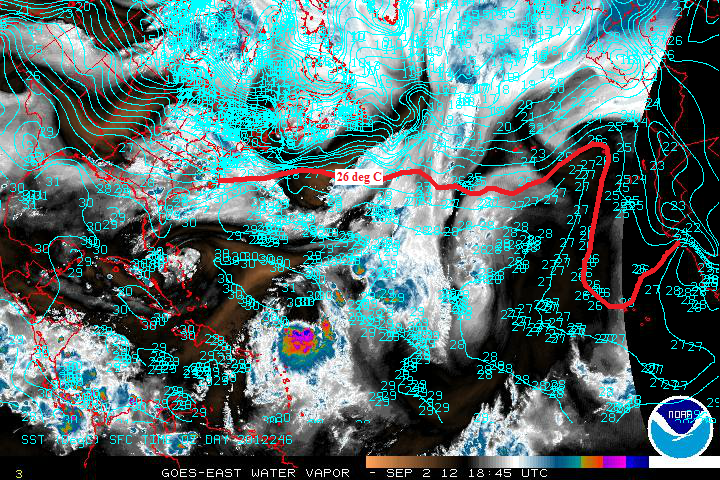 This chart is generated using GOES water vapor satellite imagery. Brown indicates dry air. White, blue, and purple indicates moist air. An increase in moisture indicates slower air parcel lapse rates with elevation and hence an increase toward instability.

Sea-surface temperatures are overlaid with light blue isotherms. The 26 deg C isotherm is highlighted in red. Waters at and south of the 26 deg C isotherm indicate low-level warmth and hence faster environmental lapse rates with elevation (more instability). Waters north of the 26 deg C isotherm indicate slower environmental lapse rates with elevation (less instability).

...SPECIAL FEATURE...TROPICAL STORM LESLIE...
As expected previously...Leslie has turned sharply northward toward low-level ridge ridge weakness associated with developing NW Atlantic frontal cyclone (frontal cyclone is marked with a 1015 mb center in above atmo chart and as mentioned in paragraph P2). Better yet...the northward turn occurred along the longitude I expected previously...which caused me to previously be a bit to the right of the NHC forecast. Albeit the northward turn began earlier than I forecasted...so my new Leslie forecast in Figure 1 below has its points further north than my previous. For some reason though...the recent NHC recorded storm track shows a wobble to the west...which will cause Leslie to depart from the longitude I previously showed her continuing northward along. Therefore my new forecast points in Figure 1 are also more left than my previous...although I stll develop a bit of a rightward bias (with respect to NHC) because I think Leslie will be attracted to the NW Atlantic frontal cyclone as it zips away to the northeast. From 11 AM Mon to 11 PM Tue...it seems imminent Leslie will make hardly any northward progress...with the storm trapped between the Atlantic Canada low-level ridge to her north (paragraph P2)...Gulf of Mexico low-level ridge to her west (paragraph P3)...and Atlantic low-level ridge to her east (paragraph P6).

Longer term...models show the remnants of Isaac (paragraph P3) and the next frontal system in the mid-latitude westerlies (paragraph P1) knocking out the paragraph P2 low-level ridge to the north. 36 hrs ago...12Z GFS showed Leslie remaining stalled and not getting swept up ahead of this frontal system...but at the time I was skeptical. Now...this morning's 00Z GFS...as well as the CMC...GFS...Euro (ECMWF)...and NOGAPS all agree Leslie will get swept up ahead of this frontal system. The less reliable NOGAPS is an eastern outlier showing all of Leslie passing east of Bermuda...and the less reliable CMC is the western outlier as it shows a low-level ridge from the Great Lakes (behind the frontal system) bending Leslie NW toward the mid-Atlantic area (Virginia/Delmarva Peninsula area). I prefer to agree with the more reliable GFS and Euro...and I show my own version of Leslie curving ahead of the frontal system based on how the 00Z GFS evolves the low-level winds thru 120 hrs. I am more north than 00Z GFS by 11 PM Fri (120 hrs)...perhaps I am underplaying the resistance from the Gulf of Mexico low-level ridge to the west (paragraph P3).



Figure 1: My forecast for Tropical Storm Leslie this morning

My previous intensity forecast 36 hrs ago showed Leslie weakening from 70 to 65 mph...then recovering back to 70 mph for reasons I cited in that discussion. Leslie first followed that forecast perfectly...but then began weakening to 60 mph...hence falling behind the previous intensity forecast. The weakening is due to northerly shear from flow on the back side of the paragraph P2 upper trough passing to the north. Cool air advection on the back side of 1015 mb frontal cyclone (also mentioned in paragraph P2) should amplify the upper trough...which will increase the northerly shear across Leslie thru 11 PM Tue (thru 48 hrs) based on the 00Z GFS 200 mb (upper wind) forecast. So despite the mighty impressive t-storm cluster currently in the south half of Leslie...I choose to weaken Leslie thru that time (unlike the 11 PM EDT NHC forecast which keeps Leslie at 60 mph). After that time...the upper winds become quiet favorable over Leslie...and coupled with sea-surface temps of 29 to 30 deg C (more 29 deg C toward Bermuda)...I strengthen Leslie to 90 mph by 11 PM Fri (a bit more aggressive than the 11 PM EDT NHC forecast).

Impact swath in Figure 1 is based on 11 PM EDT NHC tropical storm wind radius...which I change its size based on my forecasted weakening then subsequent strengthening.

...MID-LATITUDES DISCUSSION...
P1...Next upper trough in mid-latitude westerlies is entering the upper-left corner of above charts from the NW US and western Canada with the surface cold front it supports. Warm air advection ahead of this front is helping to pump up a portion of the southern US upper ridge at a location behind the remnants of Isaac.

P2...Upper trough over eastern Canada in the previous discussion is now pushing into the NW Atlantic and the Atlantic highs seas south of Greenland ...intensifying its main 996 mb frontal cyclone into 993 mb as the frontal cyclone rapidly ejected NE from the coast of Canada and past the south tip of Greenland all in the last 36 hrs. It also supports a new 1015 mb frontal cyclone NE of Bermuda. Cool air advection behind both frontal cyclones have amplified the upper trough. Cold front of the 993 mb cyclone has absorbed the circulation of Tropical Storm Kirk...making him extratropical (non-tropical) as he accelerates rapidly NE into the far north Atlantic...albeit he became extratropical 12 hours later than I thought he would in my previous forecasts. The final NHC advisory on Kirk suggests he will become indistinct along frontal zone in next 24 hrs...and he is quickly exiting the picture of the above birdseye charts...so this will be my last statement on Kirk in this blog. Other news with this upper trough...a portion of it has become a cut-off upper vortex heading southwestward toward the Bahamas. Since this upper vortex is embedded in tropical Atlantic upper ridging...it will be moved to paragraph P7 in the tropical belt discussion. Finally...upper convergent west side of this upper trough is currently supporting a 1021 to 1023 mb low-level ridge over eastern Canada that will soon be marching into the Atlantic Canada area.

P3...Remnant surface low of Isaac is centered over Illinois as of this evening and early morning. Shortwave upper trough over and just west of Isaac continues to support Isaac itself with its eastern divergence. Because the shortwave upper trough is coupled with the mid-latitude upper westerlies...the shortwave upper trough will move east...and so will Isaac now that he is supported by this shortwave. This means he will move into the Ohio Valley...although his eastward progress is slowed by the E Canada low-level ridge mentioned in paragraph P2. Some scattered severe t-storms and tornado warning across the SE US popped up this evening. I suppose the severe threat emerged from instability of daytime heating coupled with directional vertical wind shear in the east half of Isaac (low-level southerlies in Isaac's east half coupled with upper westerlies ahead of upper shortwave). Therefore...watch out for possible severe threat in Isaac's east half thru the next few days. Low-level warm air advection ahead of Isaac's circulation is supporting the southern US upper ridge. Upper convergence on the SE half of this upper ridge supports Gulf of Mexico surface ridge with 1018 to 1020 mb centers.

P4...Upper trough SE of Greenland in the previous discussion has quickly exited the picture from the upper right corner of the above charts in the last 36 hrs.

P5...Weather is quiet active to the northeast of Leslie. Large cut-off upper vortex near the Azores (paragraph P4 of discussion #94) has been diving quickly southward into the open eastern Atlantic...steered by the central Atlantic upper anticyclonic cell mentioned in paragraph P7. What I assessed to be a dissipating surface trough below this upper vortex has persisted as a 1015 mb low with a few t-storms supported by instability of the cold air of the upper vortex...although this t-storm activity is not immense enough to support subtropical cyclone formation even though this was upgraded to Invest 99-L in last 24 hrs. To the west of 99-L...a large cluster of t-storms is supported by outflow of paragraph P7 central Atlantic upper anticyclonic cell...but this t-storm activity is occurring directly above 1021 mb center of paragraph P6 surface ridge. Therefore...surface pressures are too high for this t-storm cluster to evolve into a tropical disturbance.

P6...Atlantic surface ridge has been eroded out of the western Atlantic thanks to cold front pushing in from the NW...associated with paragraph P2 and P4 systems. Easterly flow on the south side of this surface ridge (in conjunction with easterly flow on south side of paragraph P7 upper ridge) is helping to waft pockets of Africa desert dry air westward across the Atlantic tropics. This surface ridge is supported by convergence ahead of the central Atlantic upper anticyclonic cell mentioned in paragraph P7.

...TROPICAL BELT DISCUSSION...
P7...Upper ridging across the tropical Atlantic persists. Southern US upper ridge persists...now supported by warm air advection ahead of Isaac's remnant and ahead of cold front as mentioned in paragraphs P1 and P3. A portion of paragraph P2 upper trough has cut-off into an embedded upper vortex diving SW into the Bahamas while steered about southern US upper ridge. Anticyclonic upper ridge center in the central Atlantic (pumped up by the outflow of Leslie and once pumped up by Kirk) has been stretched into the NE Atlantic by low-level warm air advection ahead of paragraph P2 cold front. The NE lobe has aligned with 1027 mb surface center of paragraph P6 ridge to make a deep-layered ridge center north of the Azores. Large upper vortex of Invest 99-L (paragraph P5) is in relatively lower pressures east of this central Atlantic upper anitcyclone...while the remainder of the upper ridging is located toward the west coast of Africa in relatively higher pressures SE of that upper vortex.

P8...Tropical wave SSW of the Cape Verde Islands in the previous discussion is now SW of the islands. Although it is under favorable outflow beneath the upper ridge portion toward Africa (mentioned in paragraph P7)...it is showing no signs of significant t-storm activity...perhaps due to dry air mentioned in paragraph P6. This tropical wave's westward progress has been slow...I think due to the unusual southward extent of the paragraph P6 Atlantic surface ridge to its NW. As stated in paragraph P6...this surface ridge is supported by convergence ahead of the central Atlantic upper anticyclonic cell mentioned in paragraph P7...a portion of which is enhanced by Leslie's upper outflow. Therefore I think it is Leslie's upper outflow that is contributing to the unusually far south extent of the paragraph P6 Atlantic surface ridge.
The views of the author are his/her own and do not necessarily represent the position of The Weather Company or its parent, IBM.
Reader Comments
Comments will take a few seconds to appear.
NCHurricane2009 doesn't have a bio yet.
Previous Entries for 2017