2012 Atlantic Hurricane Season Birdseye Discussion #94
...SEPTEMBER 1 2012...3:25 PM EDT...
See paragraph P2 of mid-latitudes discussion for updated assessment of Isaac remnant on this blog.

Kirk weakens to from a category 2 hurricane to tropical storm in last 36 hours...and remains a marine threat as he curves northeastward into the open north Atlantic. See Kirk special feature section for details.

Tropical Storm Leslie is taking longer to become a hurricane than previously thought. Although currently expected to pass NE of the Lesser Antilles and stay over open water for the next 5 days...she could spread surf and rip currents to all northern Caribbean Islands...Bahamas...Bermuda...and the east US shore. See Leslie special feature section for further details.

Leslie makes this the second earliest formation of an Atlantic season's twelvth tropical storm...behind Luis of 1995. This now means Lee of 2005 is thrid place for this record. Despite the hyperactive pace reminiscent of the 1995 and 2005 seasons...none of this seasons's storm have yet to become a major hurricane (115 mph+ max winds)...especially after Kirk failed to do so yesterday.

...ATMOSPHERIC FEATURES BIRDSEYE CHART...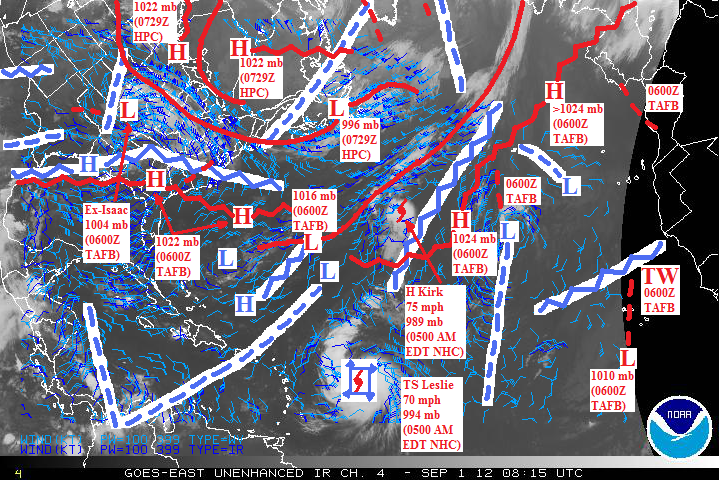 This chart is generated based on surface analysis from the National Hurricane Center TAFB at 0600Z, and the 0729Z-released HPC analysis.

In light blue is upper air analysis, with 200 mb wind barbs calculated by GOES satellite imagery showing the upper-level wind direction. Based on the 200 mb wind barbs, blue-dashed lines are locations of upper troughs, blue-zig-zag lines are locations of upper ridges. Blue Ls are locations of upper lows, blue Hs are locations of upper ridges.

In red is surface analysis, with solid lines indicating locations of surface fronts, dashed lines indicating locations of surface troughs, and zig-zag lines indicating surface ridge axes. Ls indicate surface lows, Hs indicate surface highs.

...THERMODYNAMICS BIRDSEYE CHART...


This chart is generated using GOES water vapor satellite imagery. Brown indicates dry air. White, blue, and purple indicates moist air. An increase in moisture indicates slower air parcel lapse rates with elevation and hence an increase toward instability.

Sea-surface temperatures are overlaid with light blue isotherms. The 26 deg C isotherm is highlighted in red. Waters at and south of the 26 deg C isotherm indicate low-level warmth and hence faster environmental lapse rates with elevation (more instability). Waters north of the 26 deg C isotherm indicate slower environmental lapse rates with elevation (less instability).

...SPECIAL FEATURE...TROPICAL STORM KIRK...
Concerning Kirk...I previously had a slight leftward bias tracked in my previous discussion...for a few reasons posted in that discussion. He bent to the NE earlier than thought...which made my previous track forecast too far left initially. However...the angle at which he has taken his NE acceleration has allowed him to catch up to my previous track forecast...and moreover the NHC in last 24 hrs has adjusted their track forecast leftwards toward my previous one. The recent NHC recorded storm track in Figure 1 is technically angled ever-so-slightly leftwards of my previous forecast track and the NHC's current. Right now I choose to go with the current NHC (my previous) track in Figure 1 below...because this ever-so-slight angular difference is not big enough to make me confident in adjusting my track more left from my previous. As I showed previously...I still think Kirk will be transitioning to an extratropical (non-tropical) remnant low by 5 AM Sunday as he merges with cold front currently mentioned in paragraph P1....or alternatively the cold front just to his NW mentioned in paragraph P3. While my 5 AM Sunday position is on the same track I showed previously (what the NHC shows currently)...it is further NE to account for the NHC curently showing a faster track forecast.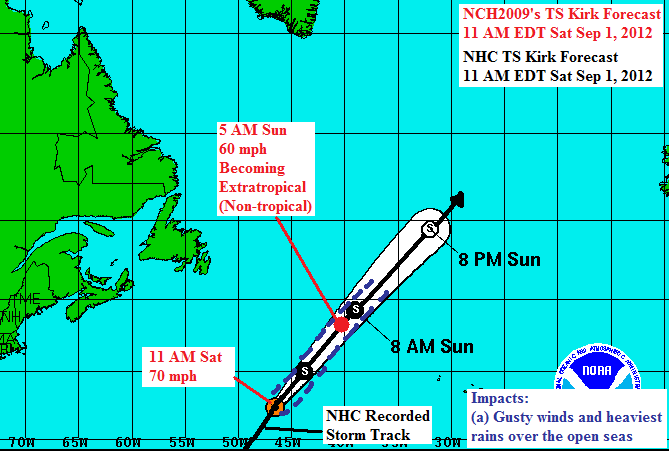 Figure 1: My forecast for Tropical Storm Kirk this afternoon

Kirk's small pinhole eye when I did my previous forecast 36 hrs ago disappeared not long after (as if there was an eye replacement cycle)...and so he weakened earlier than I anticipated. So for my 5 AM Sunday forecast point...my intensity of 60 mph max winds is 10 mph less than what I showed previously..and this intensity point is in general agreement with the 11 AM NHC forecast (which predicts 65 mph for 11 PM tonight...then 60 mph for 11 AM Sunday).

Impact swath in Figure 1 is initialized based on a the very small tropical storm wind radius shown at 11 AM NHC advisory and the presumption that Kirk should be a compact system thru the forecast period. Although he should get southwesterly shear anytime soon...the NE track by that time and beyond still allows the impact swath to be symmetric about the storm track.

...SPECIAL FEATURE...TROPICAL STORM LESLIE...
Since birth...Leslie's westerly track is best described as a stair-step...tracking more westward initially...stair stepping a bit more north while feeling the low-level ridge weakness to the north (located between paragraph P5 Atlantic surface ridge to the NE and paragraph P2 east US surface ridge to the NW)...then returning to a more westerly track this morning. I speculated previously that as Kirk lifted northward...the low-level ridge weakness would fade...creating a more westerly track...and that is what I believe we saw this morning. Her stair-step in track made her follow the more north NHC forecast track at first...then this morning's more westerly heading is pointing her toward my previous forecast which predicted her to pass over 60W-20N. Therefore my new forecast track in Figure 2 below in the short-term is similar to my previous short-term...but adjusted to be a tad north of 60W-20N...because I am impressed with a new paragraph P1 frontal feature that the GFS model did not previously show...a feature which I think will curve her sharply northward as described in the next paragraph.

Longer term...towards 24 hrs and beyond...models show another low-level ridge weakness developing thanks to paragraph P1 front. What is interesting is today's 12Z GFS (unlike 00Z GFS from 36 hrs ago) shows an upper-level shortwave impulse developing in the back side of the paragraph P1 upper trough...whose eastern divergence causes a strong frontal cyclone to develop in the NW Atlantic...and in turn cool air advection from the new frontal cyclone amplifies the shortwave impulse into the dominant feature of the paragraph P1 upper trough. Therefore between 24 and 48 hrs...I sharply curve Leslie northward toward this frontal cyclone. From 48 to 96 hrs...I show Leslie making hardly any progress (slowing down and becoming stationary)...as the 12Z GFS shows Leslie trapped between the Atlantic Canada low-level ridge to her north (paragraph P1)...eastern US low-level ridge to her west (paragraph P2)...and Atlantic low-level ridge to her east (paragraph P5). Between 96 and 120 hrs...12Z GFS shows the next frontal system in the mid-latitude westerlies (which contains the remnants of Isaac...or at least its moisture) knocking out the paragraph P1 low-level ridge to the north...so I think Leslie would begin sliding NW toward the frontal system at 120 hrs. Beyond 120 hrs (not shown in Figure 2)...my intuition tells me Leslie would curve and accelerate northward then northeastward in southwesterly flow ahead of that frontal system. Interestingly though...the GFS prefers to keep Leslie stalled for much longer than 120 hrs out! I suppose the GFS sees the conflicting steering of the paragraph P2 east US low-level ridge to the west and and paragraph P5 Atlantic ridge to the east keeping Leslie trapped.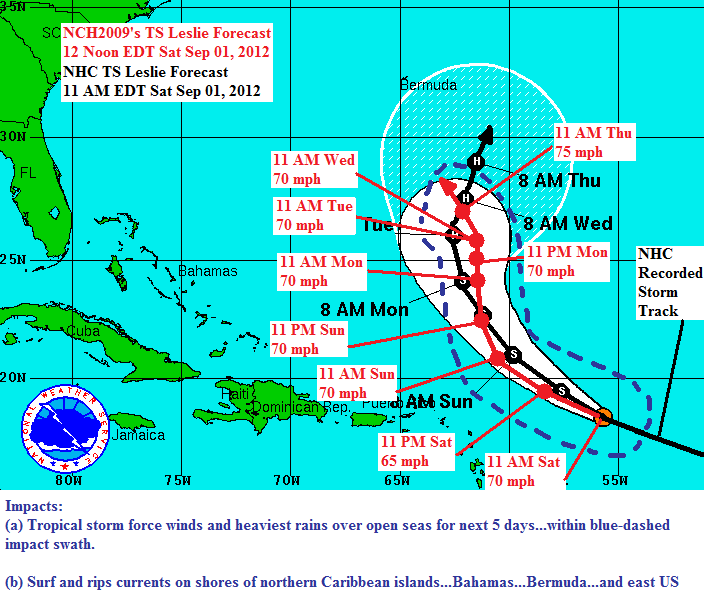 Figure 2: My forecast for Tropical Storm Leslie this afternoon

My new intensity forecast in Figure 2 is much more toned-down from my previous. In the short-term...Leslie has seen unexpected northwesterly shear...or at least resistance to its northwestern outflow. I attribute this to not previously considering a pesky upper trough just NW of Leslie (mentioned in paragraph P6)...and also a small upper ridge NW of Leslie located in relatively higher pressures between this upper trough and upper vortex headed toward Bahamas (upper vortex mentioned in paragraph P1). She looks a little disheveled from this northwesterly shear...so I weaken her a bit by 12 hours. However...latest satellite-derived 200 mb wind barbs show her upper outflow beating out the pesky upper trough...and merging with the adjacent upper ridge to the NW...so I re-strengthen her a bit by 24 hrs.

Longer term...I did previously mention some northwesterly shear developing due to northerly flow on back side of paragraph P1 upper trough passing by to the north. With GFS now showing the development of an impressive shortwave impulse (and associated surface frontal cyclone in NW Atlantic) in the back side of this upper trough...I think this northerly shear will be more impressive than previously thought...so like the NHC did at 11 AM...I am reluctant to show strengthening beyond 70 mph max winds for quiet some time. I take longer than the 11 AM NHC forecast to suggest hurricane strength (75 mph +)...barely showing her becoming a hurricane by 120 hrs. This is because I think the stalled motion between 48 and 120 hrs could allow her winds to upwell cooler waters below the ocean surface. Ultimately what pushes me to suggest hurricane strength at 120 hrs is that the northerly shear should abate by that time...based on today's 12Z GFS upper wind forecast.

Impact swath in Figure 2 is based on 5 AM NHC tropical storm wind radius...which I maintain the same size due to uncertainty in Leslie strengthening.

...MID-LATITUDES DISCUSSION...
P1...Shortwave upper trough with low amplitude...and surface frontal system with 996 mb surface low...continues to rapidly eject eastward into eastern Canada...and will soon be crossing the north Atlantic. As it does so...it is expected to transition Kirk to an extratropical system. A portion of this upper trough's vorticity (and upper vorticity from paragraph P3 upper trough) is in the process of evolving into a cut-off upper vortex heading southwestward toward the Bahamas. Its upper convergent west side is currently building a 1022 mb low-level ridge over central Canada that will soon be marching into the Atlantic Canada area. Low-level Warm air advection ahead of this system once supported the upper ridge over the southern US...but now this is supported by warm air advection ahead of Isaac's remnant (see paragraph P2).

P2...Remnant surface low of Isaac is centered over Missouri as of this morning. See paragraph P2 of discussion #93 for how an upper vortex above Isaac originated. This upper vortex is now just west of Isaac as a shortwave upper trough whose eastern divergence supports Isaac itself...meaning Isaac is more structured as an extratropical (non-tropical) low. Because the shortwave upper trough is coupled with the mid-latitude upper westerlies...the shortwave upper trough will move east...and so will Isaac now that he is supported by this shortwave. This means he will move more eastward into the paragraph P1 low-level rather than around the low-level ridge's west side...taking him into the Ohio valley (GFS and final NHC solution) rather than the southern Great Lakes region like I showed in discussion #92. Low-level warm air advection ahead of Isaac's circulation is supporting the southern US upper ridge formerly supported by warm air advection ahead of the front in paragraph P1. Upper convergence on the SE half of this upper ridge supports eastern US surface ridge with 1022 mb centers...formerly supported by the back side of upper trough in paragraph P3.

P3...Upper trough in the mid-latitude westerlies entering the NW Atlantic in the previous discussion is already SE of Greenland. Upper divergence east of this upper trough supports a surface front that has moved into the north-central Atlantic to the north and west of Kirk...the front curling into a vigorous cyclone that has exited the picture to the east of Greenland. Upper convergence behind this upper trough formerly supported a surface ridge centered over the eastern US....which has now been moved to paragraph P2 because it is supported by different means.

P4...Upper trough moving into Europe has exited the picture...but still leaves behind a large cut-off upper vortex near the Azores. The 1021 mb surface low near the Azores that was weakening in the non-divergent environment of this upper vortex is now a dissipating surface trough. Upper vortex has begun diving southward about the Leslie-Kirk upper anticyclonic cell mentioned in paragraph P6...and has merged with the inverted upper trough near the Cape Verde Islands also mentioned in paragraph P6. Therefore this upper vortex will now be moved to paragraph P6.

P5...Atlantic surface ridge has been eroded out of the western Atlantic thanks to cold front pushing in from the NW...associated with paragraph P3 system. Easterly flow on the south side of this surface ridge (in conjunction with easterly flow on south side of paragraph P6 upper ridge) is helping to waft Africa desert dry air westward across the Atlantic tropics. This surface ridge was once supported by convergence on back side of upper trough mentioned in paragraph P4...but now supported by convergence ahead of the Leslie-Kirk upper anticyclonic cell mentioned in paragraph P6.

...TROPICAL BELT DISCUSSION...
P6...Upper ridging across the tropical Atlantic persists. Southern US upper ridge persists...now supported by warm air advection ahead of Isaac's remnant as mentioned in paragraph P2. This leaves sprawling upper vorticity in relatively lower pressures south of the upper ridge and located across the Caribbean. Hurricane Kirk and Tropical Storm Leslie t-storm latent heat release continues to locally inflate the upper ridge into an anticyclonic center in the central Atlantic...with relatively lower pressures west of this anticyclone still supporting adjacent upper trough SW of Kirk (and NW of Leslie)...merging with afoermentioned Caribbean upper vorticity. Relatively lower pressures east of this upper anticyclone continues supporting a large inverted upper trough moving west from Cape Verde Islands that is transforming into a large upper vortex as the upper vortex in paragraph P4 dives south into it.

P7...As mentioned in the previous two discussions...I had been using Meteosat-9 satellite animation to track what I believe was a tropical wave that had recently emerged Africa...and had estimated it to be SSW of the Cape Verde Islands yesterday. NHC TAFB this morning has located a tropical wave SSW of the Cape Verde Islands (new on their maps)...which either means the wave has been stationary for 24 hours...or that on my own I was positioning this wave too far west.
The views of the author are his/her own and do not necessarily represent the position of The Weather Company or its parent, IBM.
Reader Comments
Comments will take a few seconds to appear.
NCHurricane2009 doesn't have a bio yet.
Previous Entries for 2017