2012 Atlantic Hurricane Season Birdseye Discussion #86
...AUGUST 24 2012...6:10 AM EDT...
Tropical Storm Isaac makes the long-awaited west-northwest turn...taking it into Hispaniola this morning...where the risk of flooding and mudslides will take place throughout the day. It will later cross Cuba...brush the Bahamas...affect south Florida and the Florida keys...eventually making its way into the eastern Gulf of Mexico where residents should continue monitoring Isaac's progress. See special Isaac special feature section for details.

Tropical Depression Ten became Tropical Storm Joyce yesterday afternoon...before suddenly sputtering and weakening to a feeble tropical depression this early morning. Although Joyce is weaker...interests in Bermuda should monitor her progress in case she somehow recovers. See Joyce special feature section for details.

The next tropical wave to roll off of Africa continues to be in the NHC tropical weather outlook. Because it is gradually organizing...I am now considering this a special feature on this blog. See third special feature section below for details.

...ATMOSPHERIC FEATURES BIRDSEYE CHART...


This chart is generated based on surface analysis from the National Hurricane Center TAFB at 1800Z, and the 1916Z-released HPC analysis.

In light blue is upper air analysis, with 200 mb wind barbs calculated by GOES satellite imagery showing the upper-level wind direction. Based on the 200 mb wind barbs, blue-dashed lines are locations of upper troughs, blue-zig-zag lines are locations of upper ridges. Blue Ls are locations of upper lows, blue Hs are locations of upper ridges.

In red is surface analysis, with solid lines indicating locations of surface fronts, dashed lines indicating locations of surface troughs, and zig-zag lines indicating surface ridge axes. Ls indicate surface lows, Hs indicate surface highs.

...THERMODYNAMICS BIRDSEYE CHART...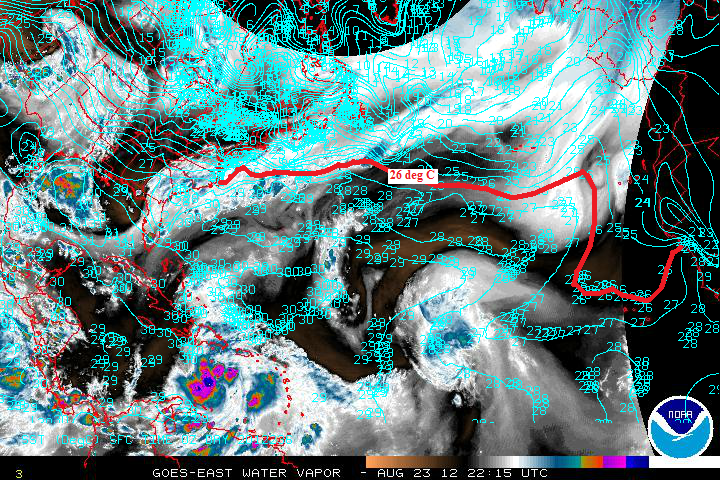 This chart is generated using GOES water vapor satellite imagery. Brown indicates dry air. White, blue, and purple indicates moist air. An increase in moisture indicates slower air parcel lapse rates with elevation and hence an increase toward instability.

Sea-surface temperatures are overlaid with light blue isotherms. The 26 deg C isotherm is highlighted in red. Waters at and south of the 26 deg C isotherm indicate low-level warmth and hence faster environmental lapse rates with elevation (more instability). Waters north of the 26 deg C isotherm indicate slower environmental lapse rates with elevation (less instability).

...SPECIAL FEATURE...TROPICAL STORM ISAAC...
As of this early morning...Isaac has made the long-awaited WNW turn...which will take him across Hispaniola (Haiti and the Dominican Republic) this morning. Due to the intensity of t-storm clouds seen on infrared satellite...this looks to be a heavy rain maker...and therefore the flash flood and mudslide threat across the mountain slopes of the area is going to be a concern thru the next 24 hours. My latest forecast graphic (versus the NHC's) is shown in Figure 1 below.

Track-wise for Isaac...it is now apparent that in the short-term...I had too much of a south and west bias...and the NHC did better in forecasting the WNW turn right into Hispaniola that we are seeing this morning. In the longer term though...I did better in having a westward bias...showing a more westerly track across the eastern Gulf of Mexico that the NHC has adjusted toward in the last 24 hrs. Now as seen in Figure 1...there is no disagreement between my track and NHC track.

With the paragraph P4 low-level ridge still firmly in place to the north...why has Isaac turned more poleward in track? As mentioned in my previous Isaac section (discussion #85)...the next shortwave upper ridge (in between paragraphs P1 and P2 upper troughs)...coupled with the Gulf portion of upper ridge mentioned in paragraph P2...has stopped-up the westward progress of the paragraph P6 upper vortex. As a result...he has caught up to the upper vortex...and thus it appears this is why he has turned WNW toward Hispaniola (similar to how Joyce continues being pulled poleward by the upper vortex just west of her this morning). Even though he really has not strengthened...I suppose he is near enough to the upper vortex (and that the upper vortex is low enough in the atmosphere) to impart a steering influence on Isaac. Joyce and Isaac this morning are teaching me that if tropical cyclones are not that strong/that tall...as long as they get close to an upper vortex...they get some steering influence from that upper vortex.

Paragraph P6 upper vortex is in the process of merging with paragraph P2 upper trough...creating a large-scale upper ridge weakness still forecasted to have an extension across the Gulf of Mexico and west of Isaac thru most of the forecast period. So expect the WNW track to continue as he stays close to paragraph P6/P2 upper vorticity that is currently keeping the northward component in his steering. Remainder of paragraph P2 upper trough is expected to pass north of Isaac while having a low amplitude thanks to Isaac's impressive upper anticyclone....so I don't see Isaac bending more north toward it (As I stated in my previous two Isaac sections...discussions #84A and #85...the low-amplitude presentation of this upper trough is what led me to a steady WNW to NW track across the east Gulf early on).

Longer-term...by day 5 and beyond...Isaac's low-level circulation teams up with surface frontal system in paragraph P1 in narrowing (but not eliminating) what's left of low-level ridging to the north. Because the low-level ridge does not get a wide weakness...and because it now appears the paragraph P1 upper trough will zoom on by with a low amplitude to the north of Isaac (low amplitude will not help in pulling the storm northward)...he may stall during landfall on the east US Gulf coast...especially as the western upper convergent side of paragraph P1 upper trough builds a blocking low-level ridge due north of Isaac. This solution is what I show at the end of my forecast track in Figure 1 below.

Warnings are dropped across the Lesser Antilles...Puerto Rico...and the Virgin Islands...while warnings/watches remains spread across across Hispaniola (Haiti and DR). Advisories in the Bahamas continue to be spread in...and because of Isaac's WNW turn...the Bahamas are more likely to receive impacts. As anticipated...Cuba has also received advisories in last 24 hrs. Outside of some sea swells...Jamaica and parts of the Caymans should not expect much impact from Isaac thanks to the WNW turn. Advisories in the SW half of Florida and the Florida keys should begin anytime now...and will be spread across the eastern US Gulf shores for the next days...so interests in the east half of the Gulf of Mexico should keep abreast of Isaac.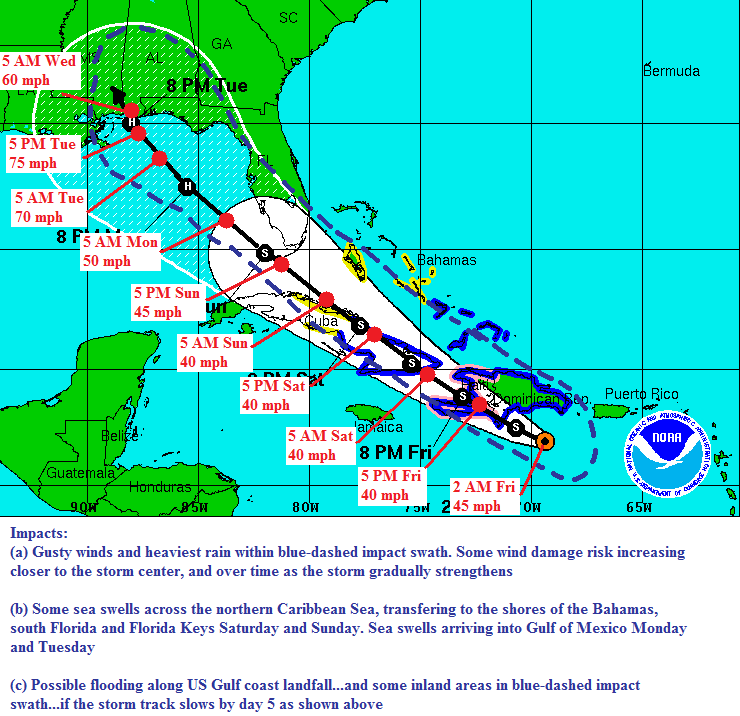 Figure 1: My forecast for Tropical Storm Isaac this morning

Intensity-wise...Isaac refuses to strengthen...despite warm waters and a grandure upper outflow environment (characterized by enhanced upper outflow into the paragraph P6 upper vortex due west and paragraph P5 upper vortex due east)! This appears to be due to its broadly organized core that simply will not tighten up. This underscores how little fidelity there is in understanding and predicting the changes in a tropical cyclone's core. I weaken him only to 40 mph max winds despite all the land interation...as I think Isaac's broad core/large circulation will allow him to stay in touch with the waters around the islands and keep on going. But the landfalls are not going to help Isaac's broad core consolidate either...so that is why I show a lax strengthening rate when he enters the eastern Gulf of Mexico. Based on latest GFS model runs...I also think he will experience some upper outflow blockage from the paragraph P2/P6 upper vorticity to his west as he gets a bit too close to it...another reason I only show more gradual development in the eastern Gulf of Mexico. I do ramp up the strengthening rate a bit toward the end...as GFS weakens/shrinks (but doesn't eliminate) the lingering upper vorticity west of Isaac around days 4 and 5. At this time...my forecast US Gulf coast landfall intensity is barely a minimal hurricane (75 mph max winds).

Impact swath in Figure 1 begins with the shape/size of the tropical storm wind radius shown at 5 AM NHC advisory. Notice how I keep the impact swath biased toward the right of the storm track...as I think this will be the shape of his cloud bias due to the aforementioned paragraph P6/P2 upper vorticity lingering to his west. I do increase the size a bit to reflect the storm intensifying in the east Gulf....and I also add a bit more symmerty as the lingering upper voriticity could weaken/shrink by days 4 and 5 as said above.

...SPECIAL FEATURE...TROPICAL DEPRESSION JOYCE...
Tropical Depression Ten became Tropical Storm Joyce yesterday afternoon...becoming the 2nd earliest 10th Atlantic tropical storm on record. First place still belong to Jose (Aug 22, 2005)...and Joyce ties the 2nd place record with Jerry (Aug 23, 1995). She then has suddenly sputtered into a poorly-organized tropical depression.

As mentioned previously...Joyce continues interacting with an upper vortex in relatively lower pressures east of Isaac's upper outflow (see paragraph P5). East side of this upper vortex continues to be too close to Joyce such that Joyce is under southerly vertical shear that is currently causing her to collapse. One would expect that a sheared/weak/shallower tropical cyclone south of the paragraph P4 low-level ridge would continue straight west under low-level steering winds...but apparently this upper vortex is low enough in the atmosphere to leverage a more WNW track out of this shallow tropical cyclone. With the GFS timing of the upper vortex's position...I expect the current WNW track to continue through 5 AM Monday (which causes me to have a slight west bias). It should be noted that the upper vortex is south of Joyce by 5 AM Sunday...but what keeps the track going WNW is how the large horizontal circulation of Isaac deforms the low-level winds as he does his WNW track. The reason I have a bit of a west bias is how the GFS shapes the forecasted paragraph P4 low-level ridge weakness...which shows enough low-level ridging remaining to the north in my opinion to keep the track WNW thru 5 AM Mon. The low-level ridge weakness is a superposition of Isaac's large horizontal circulation and an impressive surface frontal cyclone entering the NW Atlantic (and supported by paragraph P1 upper trough) later in the forecast period.

Compared to what I showed in previous discussion #85...this is an overall rightward shift into Bermuda. I suppose a rightward shift makes sense as Isaac's forecast track shifted more northward in the last 24 hrs...and as said above Isaac's circulation plays a role in steering Joyce.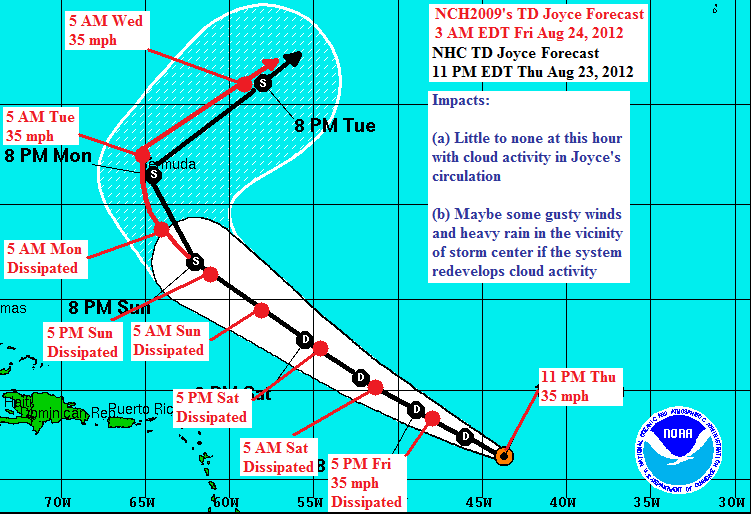 Figure 2: My Tropical Depression Joyce forecast this morning

Intensity-wise...I dissipate Joyce later today (by 5 PM EDT) due to her currently poor satellite appearance. I keep her dissipated thru 5 AM Monday...although after 5 AM Sunday she is already north of the shearing upper vortex and in more favorable upper winds beneath the north Atlantic upper ridge (paragraph P2). However I expect her to be so beaten by the shear that it takes her a while before she can regenerate beneath the more favorable north Atlantic upper ridge. Because she will be sharing this upper ridge with Isaac's tremendous outflow...some northerly shear is possible from Isaac...but I still forecast regeneration into a tropical depression by 5 AM Tue (about the time she passes over or near Bermuda). I do not want to re-strenghten her beyond tropical depression status by day 5 because it appears she will be under immense westerly shear under an upper westerly jet delivered by paragraph P1 upper trough by that time.

...SPECIAL FEATURE...EASTERN ATLANTIC TROPICAL WAVE...
Another tropical wave has entered the Atlantic tropics from west Africa. Its cloud pattern has gotten better organized about a low pressure spin...but still suggestive of easterly shear on the south side of the paragraph P5 upper ridge. However as we saw with the recent developments of Isaac and Joyce to the west...latent heat release from the t-storms of the wave can locally inflate this upper ridge into an upper anticyclone overhead that makes the upper outflow more symmetric...and reduces the easterly shear. Given the gradual organization taking place...I expect this will become our next Atlantic tropical cyclone...and therefore have granted it a special feature section on this blog.

...MID-LATITUDES DISCUSSION...
P1...The next upper trough in the mid-latitude westerlies is about to enter the picture from the upper-left of the above charts. Upper divergence east of this upper trough supports a difuse surface frontal system across central Canada and central US.

P2...Upper trough over the eastern US/Canada persists. Surface frontal cyclone supported by divergence from this upper trough...now located over east coast of Canada and waters S of Greenland...has weakened to a very diffuse 1007 to 1011 mb area. Warm air advection ahead of this surface cyclone still supports north Atlantic upper ridge. This upper ridge still has a SW-NE tilt...still extending into the Gulf of Mexico (albeit this upper ridge is now split in half by paragraph P6 upper vortex). Meanwhile...upper convergence on the back side of this upper trough has been supporting surface ridging...with multiple 1020 to 1022 mb centers across the eastern US and now SE Canada.

P3...Upper trough regime over Atlantic high seas persists. It supports a relatively new frontal cyclone (upper-right corner of above charts) moving into the British Isles. Weakening surface trough chasing ex-Gordon is now east the Azores as a surface trough. Meanwhile...ex-Gordon has dissipated north of the Canary Islands in last 24 hrs.

P4...Atlantic surface ridge with 1020 mb to 1024 mb centers is supported by a few upper convergent sources while stretching from the Gulf of Mexico to the waters offshore of SW Europe....including convergence SE of the of the north Atlantic upper ridge (paragraph P2)...and convergence behind Atlantic high seas upper trough (paragraph P3). In conjunction with south sides of north Atlantic upper ridge (paragraph P2) and E Atlantic upper ridge (paragraph P5)...south side of this surface ridge is helping to waft Africa desert dry air westward across the Atlantic tropics.

...TROPICAL BELT DISCUSSION...
P5...Upper ridge across the eastern tropical Atlantic persists. T-storm latent heat release from Isaac has caused this upper ridge to concentrate into an anticyclonic center over the storm. The remainder of the upper ridge is toward west Africa. An embedded upper vortex persists in relatively lower pressures east of Isaac's upper anticyclone. The tropical wave in the above 3rd special feature section appears to be locally inflating the upper ridge with its t-storm latent heat release...resulting in yet another embedded upper vortex forming just SW of the Cape Verde Islands.

P6...Upper vortex in the tropical Atlantic is still entering the Caribbean Sea from eastern Cuba.

P7...Former western Gulf of Mexico disturbance Invest 95-L has dissipated in the S Texas/NE Mexico area in last 24 hrs.

P8...Tropical wave entering the central Caribbean in the previous discussion...located west of Isaac...has become indistinct in the west side of Isaac's outer low pressure field. Therefore it will no longer be mentioned on this blog.

P9...Tropical wave that was rolling off of Africa in previous discussion has been moved to its own special feature section. See above 3rd special feature section for details on this system.
The views of the author are his/her own and do not necessarily represent the position of The Weather Company or its parent, IBM.
Reader Comments
Comments will take a few seconds to appear.
NCHurricane2009 doesn't have a bio yet.
Previous Entries for 2017