2012 Atlantic Hurricane Season Birdseye Discussion #85
...AUGUST 23 2012...7:20 AM EDT...
Tropical Storm Isaac churning through eastern Caribbean Sea at this hour....after having delivered impacts to the northern half of the Lesser Antilles. The continued delay in its intensification shifts the major hurricane threat to the northwestern Caribbean....mainly Cuba. I think it is possible for re-intensification into a major hurricane when Isaac reaches the eastern Gulf of Mexico after Cuba. See Isaac special feature section for details.

Area of Interest Invest 96-L...Tropical wave east of Isaac (96-L) has strengthened into Tropical Depression Ten in the last 24 hours...and is expected to track generally northwest into the open Atlantic waters well to the east of Isaac. Interests in Bermuda should monitor this system. See TD 10 special feature section below for additonal details.

Although another tropical wave about to emerge from Africa has already been introduced into the NHC tropical weather outlook...I am not yet considering it a special feature on this blog because its cloud signature shows signs of unfavorable easterly vertical shear. See paragraph P10 for details on this wave.

...ATMOSPHERIC FEATURES BIRDSEYE CHART...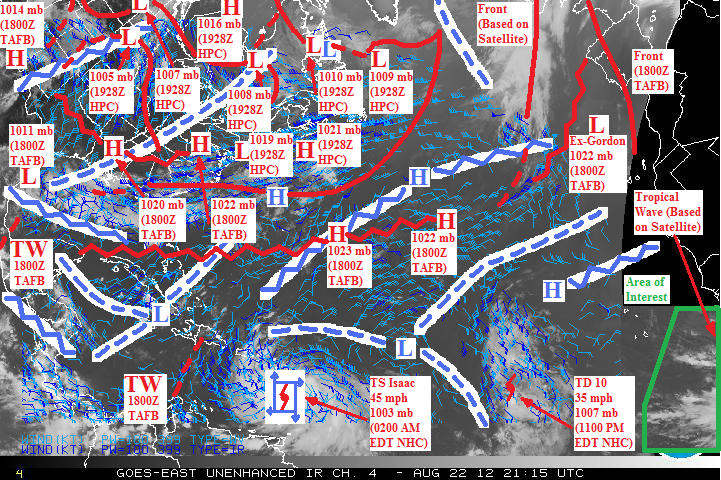 This chart is generated based on surface analysis from the National Hurricane Center TAFB at 1800Z, and the 1928Z-released HPC analysis.

In light blue is upper air analysis, with 200 mb wind barbs calculated by GOES satellite imagery showing the upper-level wind direction. Based on the 200 mb wind barbs, blue-dashed lines are locations of upper troughs, blue-zig-zag lines are locations of upper ridges. Blue Ls are locations of upper lows, blue Hs are locations of upper ridges.

In red is surface analysis, with solid lines indicating locations of surface fronts, dashed lines indicating locations of surface troughs, and zig-zag lines indicating surface ridge axes. Ls indicate surface lows, Hs indicate surface highs.

...THERMODYNAMICS BIRDSEYE CHART...


This chart is generated using GOES water vapor satellite imagery. Brown indicates dry air. White, blue, and purple indicates moist air. An increase in moisture indicates slower air parcel lapse rates with elevation and hence an increase toward instability.

Sea-surface temperatures are overlaid with light blue isotherms. The 26 deg C isotherm is highlighted in red. Waters at and south of the 26 deg C isotherm indicate low-level warmth and hence faster environmental lapse rates with elevation (more instability). Waters north of the 26 deg C isotherm indicate slower environmental lapse rates with elevation (less instability).

...SPECIAL FEATURE...TROPICAL STORM ISAAC...
As of 5 AM EDT (a couple of hours before the release time of this discussion)...Isaac was centered at 15.3N-64.0W...or 255 miles SSE of San Juan Puerto Rico...with maximum sustained winds at the center declining from 45 to 40 mph. My latest forecast graphic (versus the NHC's) is shown in Figure 1 below.

Track-wise for Isaac...I continue to be in a conundrum. Basically...the NHC and computer model consensus show a more north track that I do not quiet agree with. As in special update #84A...I continue to opt for a more southward solution.

One preference to a more southward solution is that since its formation...Isaac's deepest t-storm clouds still have a slight southward bias in satellite pictures...and we have seen that storms in their formative stages (like Isaac) like to regenerate their centers a bit closer to the deepest t-storm clouds...and indeed we have observed this! Because of the slight reformation...I actually have taken my forecast track from #84A and made it a bit more south...which makes me even further from the NHC and model consensus.

A second preference to a more southward track solution is that Isaac remains weaker than expected...which means he is more shallow than expected and thus is less likely to have poleward steering influence from the paragraph P6 upper vortex in the shorter-term. Isaac's large upper anticyclone also is keeping this upper vortex pushed out at a distance. However...the next shortwave upper ridge (in between paragraphs P1 and P2 upper troughs)...coupled with the Gulf portion of upper ridge mentioned in paragraph P1...should stop-up the westward progress of the paragraph P6 upper vortex. So if Isaac strengthens and gets taller as we still forecast...he would catch up to the upper vortex a bit..."feel" the upper vortex as he gets taller...and hence begin the long-awaited poleward bend in his track.

Medium-term...remnants of paragraph P6 upper vortex merge with paragraph P2 upper trough...creating a large-scale upper ridge weakness in days 2 to 4 in the W Atlantic...still forecasted to have a narrow extension across the Carolinas to Gulf of Mexico. With the paragraph P4 low-level ridge firmly to the north...the only thing causing Isaac to continue more poleward during this time is that it feels this upper ridge weakness. Having my track further south/further west by those days is also consistent with my thinking of an aggressively-strengthening Isaac whose upper anticyclonic outflow pushes out/de-amplifies the paragraph P2 upper trough (a less amplified upper trough means that strong/vertically tall Isaac won't feel as much poleward tug from the upper trough). This hunch told me to point Isaac toward the eastern Gulf of Mexico in discussion #84A...and I still believe an east Gulf solution is more likely.

Longer-term...by day 5 and beyond...Isaac's low-level circulation teams up with surface frontal system in paragraph P1 in eroding what's left of surface ridging to the north. There is also a cut-off fragment of the paragraph P2 upper trough in the west Gulf of Mexico...so I expect a track that begins bending more northward as the low-level ridge erodes and as a tall Isaac "feels" the west Gulf upper trough and paragraph P1 upper trough to the NW.

Warnings will be dropped across the Lesser Antilles with improving weather...while warnings/watches remains spread across Puerto Rico and the Virgin Islands...and have been introduced across Hispaniola (Haiti and DR) in last 24 hrs. Advisories in the Bahamas have begun...in accordance with the more north NHC track...but my southerly forecast suggests the Bahamas should go unscathed (nonetheless advisories in the Bahamas should be acted on in case the current NHC solution is the better). Regardless of the solution difference....Cuba looks to be in the crosshairs...so one expects advisories to begin there soon. Jamaica and parts of the Caymans would be more in the crosshairs with a more southerly solution...and may also soon have advisories. For Florida...the NHC solution suggests more significant impacts for the Florida Keys and west coast...while my solution is less intense for the west coast but still significant for the keys. Including Florida...interests in the eastern half of the Gulf of Mexico should monitor this system carefully.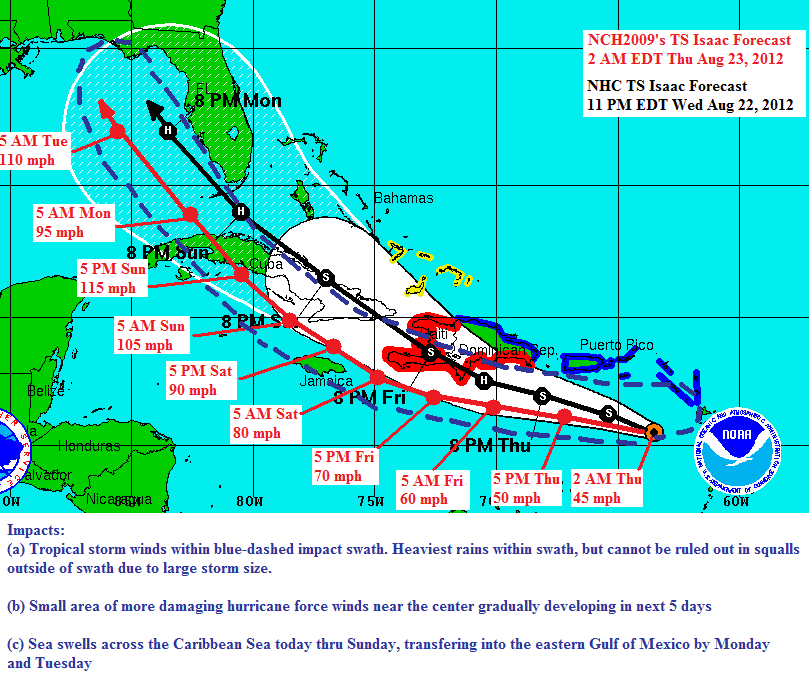 Figure 1: My forecast for Tropical Storm Isaac this morning

Intensity-wise...Isaac has taken longer to strengthen than prevoiusly thought...now due to its broadly organized core. As my previous Isaac discussion said...I believe outside of this...Isaac has almost unlimited strengthening potential with warm waters and a good upper atmosphere. Significant upper outflow enhacement is likely/imminent from:

(1) Paragraph P6 upper vortex to its west.

(2) A second upper vortex that to the east (paragraph P5)

(3) Outflow enhacement to the north from the large-scale paragraph P2 upper trough as it moves into the Atlantic.

My intensity forecast philosophy is to first gradually strengthen Isaac...modeling him as a broadly organized core taking some time to consolidate (which appears to be the case right now). I then ramp up the strengthening rate a bit after 5 PM Saturday (when I believe Isaac's broad core would have finally consolidated). I then have a category 3 landfall for Cuba (at 115 mph max sustained winds)...weakening due to landfall...and then some resurgence as the upper winds remain favorable over Isaac as he marches into the eastern Gulf of Mexico.

Impact swath in Figure 1 begins with the shape/size of the tropical storm wind radius shown at 5 AM NHC advisory...then me imagining the tropical storm wind field growing from there and into a generically-sized strong to major hurricane. With today's skill...it is almost impossible to forecast the true size fluctuations that occur in a tropical cyclone...so the swath size could easily change in the next 5 days. The swath location could also undergo shifts in the next days if there is a good shift in forecast track.

...SPECIAL FEATURE...TROPICAL DEPRESSION TEN...
Tropical wave located well east of Isaac has strneghtened to tropical depression ten in the open tropical Atlantic waters.

As mentioned previously...an upper vortex has been forming in relatively lower pressures east of Isaac's upper outflow (see paragraph P5). Initially I thought this upper vortex would be in the right place to enhance the NW outflow of this tropical cyclone...but it is too close and now providing southerly shear. One would expect that a sheared/weak/shallower tropical cyclone south of the paragraph P4 low-level ridge would continue straight west under low-level steering winds...but apparently this upper vortex is low enough in the atmosphere to leverage a more WNW track out of this shallow tropical cyclone. As Isaac moves west...so will this upper vortex. My Isaac forecast has a west bias...so one would think that my upper vortex forecast would be faster to the west. However I still follow how the GFS moves this upper vortex...as I believe Isaac's outflow will be quiet strong to compensate for my westward bias in his track...such that the upper vortex still tracks on schedule. With the GFS timing...I expect the current WNW track to continue through 5 AM Sunday (which causes me to have a slight west bias)...because TD 10 will continue to be under the east side of this upper vortex and south of the paragraph P4 surface ridge as it is now. Later in the track forecast...the large low-level circulation of Isaac joins up with the low-level ridge weakeness of the paragraph P1 upper trough...and the way GFS shapes the low-level winds east of the weakness tells me a turn to the north is due by day 5. I still maintain a slight west bias by days 4 and 5...accounting for my westward bias in my Isaac forecast track. Because the forecast points to the waters just southwest of Bermuda...and because of the usual errors by day 5...Bermuda should watch this system.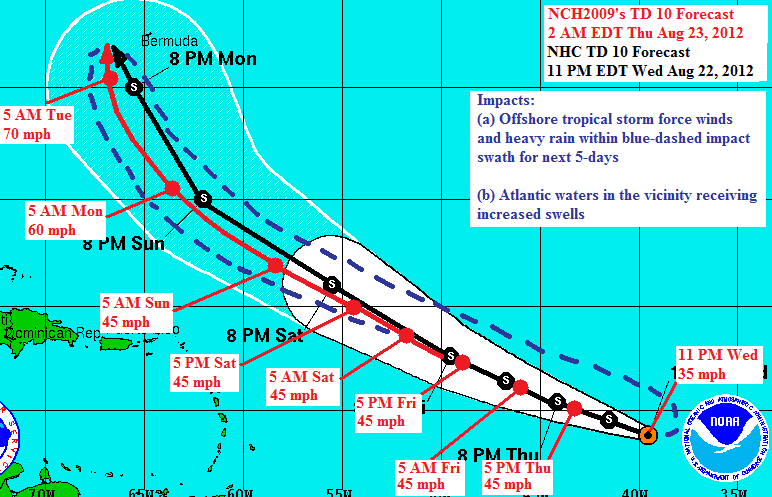 Figure 2: My Tropical Depression Ten forecast this morning

Intensity-wise...despite southerly shear from the upper vortex...there are some impressive t-storms firing on the north half of the circulation...so I believe this is close to tropical storm status. I keep this as a marginal tropical storm thru 5 AM Sunday...accounting for the southerly shear under the east side of the upper vortex. After that time...the north Atlantic upper ridge (paragraph P2) sags southward...and this tropical cyclone will be under that upper ridge and north of the upper vortex such that shear reduces and its upper outflow gets enhanced. Because it will be sharing this upper ridge axis with Isaac's tremendous outflow...some northwesterly shear is possible from Isaac...but I still forecast strengthening by that time into a strong tropical storm. My impact swath in Figure 2 reflects the current southerly shear that TD 10 is under...then is more symmetric about the storm track when the shear reduces...then has a bit of a southeastward bias about the storm track by day 5 to reflect the possible northwesterly shear.

...MID-LATITUDES DISCUSSION...
P1...The next upper trough in the mid-latitude westerlies is about to enter the picture from the upper-left of the above charts. Upper divergence east of this upper trough supports a 1005 mb frontal cyclone over the north-central US.

P2...Upper trough over the eastern US/Canada persists. Surface frontal cyclone supported by divergence from this upper trough...now located over east coast of Canada...has weakened to a very diffuse 1008 to 1010 mb area under the less divergent upper vortex that is a product of its local cool air advection. Warm air advection ahead of this surface cyclone still supports W Atlantic upper ridge which has now spread across the north Atlantic. This upper ridge still has a SW-NE tilt...still extending into the Gulf of Mexico. Meanwhile...upper convergence on the back side of this upper trough has been supporting surface ridging...with multiple 1020 to 1022 mb centers across the eastern US.

P3...Upper trough regime over Atlantic high seas persists. Frontal cyclone just offshore of Europe has exited the picture. Western upper convergence of Atlantic high seas upper trough supports part of Atlantic surface ridge (paragraph P4). Weakening surface cyclone chasing ex-Gordon is now over the Azores as a surface trough. Meanwhile...remnant low of Gordon himself has quickly decayed into a 1022 non-tropical remnant low with zero t-storm activity due to cooler waters north of the Canary Islands and east of the Azores. So far...it shows no signs of surviving under any divergence produced by the Atlantic high seas upper trough. Therefore...Gordon continues to be a gradually dissipating surface feature.

P4...Atlantic surface ridge with 1022 mb to 1023 mb centers is supported by a few upper convergent sources while stretching from the eastern Gulf of Mexico to the waters offshore of W Europe....including convergence SE of the of the north Atlantic upper ridge (paragraph P2)...and convergence behind Atlantic high seas upper trough (paragraph P3). In conjunction with south sides of north Atlantic upper ridge (paragraph P2) and E Atlantic upper ridge (paragraph P5)...south side of this surface ridge is helping to waft Africa desert dry air westward across the Atlantic tropics.

...TROPICAL BELT DISCUSSION...
P5...Upper ridge across the eastern tropical Atlantic persists. T-storm latent heat release from Isaac has caused this upper ridge to concentrate into an anticyclonic center over the storm. The remainder of the upper ridge is toward west Africa...a portion of which is inflated by Tropical Depression Ten's latent heat release. An upper vortex has formed between Isaac's outflow and Ten's outflow...splitting this upper ridge in half.

P6...Upper vortex in central tropical Atlantic is still retrograding westward...thanks to steering about the growing north Atlantic upper ridge (paragraph P2). The upper vortex is currently entering the Caribbean Sea from eastern Cuba.

P7...Western Gulf of Mexico disturbance Invest 95-L is no longer a special feature on this blog. As of 1800Z earlier this evening...it was a surface low of 1011 mb. After having been jammed stationary between the surface ridges in paragraphs P4 and P2...those two surface ridges are becoming more aligned to the northeast such that a low-level southeasterly steering flow is developing...carrying this system slowly NW into NE Mexico/S Texas.

P8...Tropical wave heading for the Yucatan/Bay of Campeche/SE Mexico area in previous discussion is about to exit the picture into the eastern Pacific. Therefore...this is the last mention of this tropical wave on this blog.

P9...Tropical wave entering the eastern Caribbean in the previous discussion is now headed into the central Caribbean. Tropical Storm Isaac continues to gradually strengthen to its east...this wave is losing the battle of low-level inflow against Isaac. Due to strengthening Isaac's proximity to the east...this tropical wave may become indistinct in the west side of Isaac's outer low pressure field.

P10...Yet another tropical wave is about to enter the Atlantic tropics from west Africa. Its cloud pattern suggests it is getting blasted by easterly shear on the south side of the paragraph P5 upper ridge. However as we saw with the recent developments of Isaac and TD 10 to its west...latent heat release from the t-storms of the wave can locally inflate this upper ridge into an upper anticyclone overhead that makes the upper outflow more symmetric...and reduces the easterly shear. Therefore...will watch this wave carefully...but I do not see it well-organized enough yet to make it a special feature on this blog.
The views of the author are his/her own and do not necessarily represent the position of The Weather Company or its parent, IBM.
Reader Comments
Comments will take a few seconds to appear.
NCHurricane2009 doesn't have a bio yet.
Previous Entries for 2017