2012 Atlantic Hurricane Season Birdseye Discussion #80
...AUGUST 16 2012...6:35 AM EDT...
Tropical disturbance Invest 93-L has strengthened into tropical depression eight...then into Tropical Storm Gordon...in the last 24 hours. Interests in the Azores should monitor this system carefully. See special feature section for further details.

Elsewhere...remnant of tropical depression seven is currently crossing the Yucatan Peninsula....headed for southeast Mexico and Bay of Campeche. It is not clear if the system could contribute to gradual tropical development in the Bay of Campeche/west Gulf of Mexico area over the next days. See paragraph P6 for details.

...ATMOSPHERIC FEATURES BIRDSEYE CHART...


This chart is generated based on surface analysis from the National Hurricane Center TAFB at 0000Z, and the 0125Z-released HPC analysis.

In light blue is upper air analysis, with 200 mb wind barbs calculated by GOES satellite imagery showing the upper-level wind direction. Based on the 200 mb wind barbs, blue-dashed lines are locations of upper troughs, blue-zig-zag lines are locations of upper ridges. Blue Ls are locations of upper lows, blue Hs are locations of upper ridges.

In red is surface analysis, with solid lines indicating locations of surface fronts, dashed lines indicating locations of surface troughs, and zig-zag lines indicating surface ridge axes. Ls indicate surface lows, Hs indicate surface highs.

...THERMODYNAMICS BIRDSEYE CHART...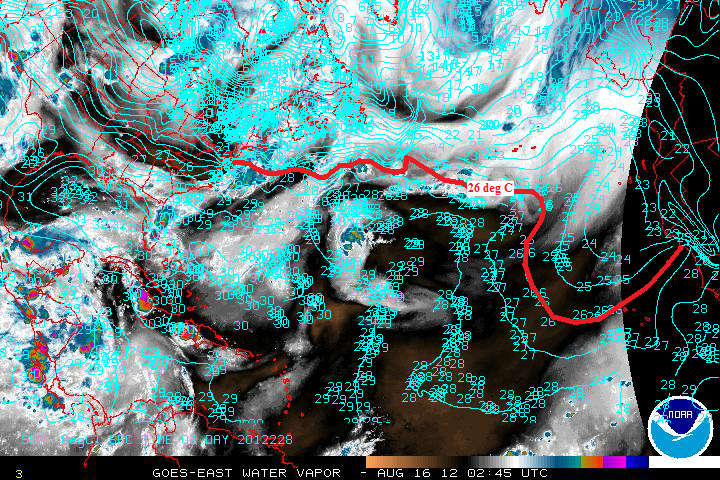 This chart is generated using GOES water vapor satellite imagery. Brown indicates dry air. White, blue, and purple indicates moist air. An increase in moisture indicates slower air parcel lapse rates with elevation and hence an increase toward instability.

Sea-surface temperatures are overlaid with light blue isotherms. The 26 deg C isotherm is highlighted in red. Waters at and south of the 26 deg C isotherm indicate low-level warmth and hence faster environmental lapse rates with elevation (more instability). Waters north of the 26 deg C isotherm indicate slower environmental lapse rates with elevation (less instability).

...SPECIAL FEATURE...TROPICAL STORM GORDON...
Tropical depression eight from special update #79B has strengthened to Tropical Storm Gordon. Origin of this system briefly mentioned in paragraph P7 below. Figure 1 below shows my versus the NHC's forecast for Tropical Storm Gordon as of 5 AM EDT this morning.

Track-wise...I agree with the NHC's forecast track thru first 72 hrs. An eastward turn is imminent...as models show abundant westerly flow between 30N and 35N on north side of paragraph P4 surface ridge by 24 hrs. Although the 1022 mb ridge S of Greenland (paragraph P2 below) could retard eastward progress...its south side is not beyond 40N...and its influence will be wedged even further north and away from Gordon by NE US surface cyclone (paragraph P2) pushing in. Beyond 72 hrs...east US shortwave upper trough will be joining Atlantic high seas upper trough (both upper troughs mentioned in paragraph P2)...with upper convergence behind the merged upper trough causing the 1022 mb ridge S of Greenland (paragraph P2) and Atlantic surface ridge (paragraph P4) to strengthen west of Gordon. In fact by 120 hrs (5 AM Tue)...GFS shows NW low-level flow from this ridge at a location west of 20W...and the forecast below shows Gordon still a tad west of 20W by that time. Given the GFS is on the south side of current model consensus...and because the NHC notes the model consensus shifted south as of 5 AM EDT...I am inclined to be biased south of the NHC's track after 72 hrs...giving more credence to the NW low-level flow produced by strengthening surface ridge west of Gordon.

Intensity-wise...dry air (paragraph P4) is not a problem...as upper outflow supplemented by E Atlc upper ridge (paragraph P5) and atmospheric instability over warm enough waters is allowing Gordon to create its own environment. Moreover...the above thermo chart shows that Gordon is generally headed toward moist air in the higher latitudes...with all the dry air staying south of the higher latitudes. One thing that impedes Gordon's intensity in the very-near-term is SW shear evident by storm clouds biased NE of the center as seen on this morning's infrared. SW shear is caused by paragraph P3 upper vorticity just to Gordon's west. It is assumed that the forecast eastward-curving track will quickly allow Gordon to distance himself away from the shearing upper vorticity. However...if the SW shear becomes more of a problem for Gordon than expected...I will be doing a special update later today downgrading my intensity forecast.

With that said...I am assuming continued warm waters and paragraph P5 upper ridge outflow will continue to allow Gordon to strengthen...and my strengthening rate is at or slightly above the NHC's thru 5 AM Sat (48 hrs out). By 48 hrs..the GFS model 200 mb (upper) wind forecast shows the east US shortwave upper trough (paragraph P2) zooming eastward toward the Atlantic high seas upper trough (paragraph P2)...with a more zonal upper westerly jet connecting the south sides of both upper troughs and overspreading Gordon's general region. So after 48 hrs (after 5 AM Sat)...I assume some westerly shear from this jet will begin weakning Gordon. By 5 AM Sun (72 hrs)...Gordon will be crossing the 26 deg C isotherm into cooler waters...and with continued westerly shear...I expect him to have weakened back down to a strong 70 mph tropical storm (this is more aggressive weakening than NHC's...which still has him a 75 mph minimal hurricane by that time). Transition to non-tropical status after 72 hrs is expected by NHC...and this makes sense to me too...with Gordon being over cooler waters. How strong Gordon remains as a non-tropical cyclone will depend on how much upper divergence he sees from the base of (or east side of) the Atlantic high seas upper trough.



Figure 1: Forecast for Tropical Storm Gordon this morning.

Impact swath in Figure 1 is drawn based on my forecast track. Its initial shape is based on the NE-biased storm canopy seen on infrared imagery...then I extrapolate that along my forecast track. Taking my impact swath literally means only the southeasternmost Azores islands barely get clipped by tangible weather from Gordon...but all of the Azores should remain cautious in case there needs to be a northward adjustment in forecast later on. Mention of strongest winds being biased south of center is due to Gordon's forecast brisk eastward track...and we know that cyclonic circulations tracking eastward in the northern hemisphere have their winds enhanced on the south side and weakened on the north side.

...MID-LATITUDES DISCUSSION...
P1...Next upper trough in the mid-latitudes has entered the upper-left corner of atmo chart from W Canada. Divergence east of this upper trough is supporting a vigorous 999 mb surface frontal cyclone in south-central Canada. Expect the upper trough to support this frontal cyclone over the next days...and in turn cool air advection behind this frontal cyclone will cause this upper trough to amplify southward across the eastern half of North America in the next days.

P2...Upper trough regime over eastern US and eastern Canada remains spread into all of the Atlantic high seas. Frontal cyclone that spun up along front offshore of Europe (in previous discussion #79) has intensified....and remains just offshore of Europe. Cool air advection behind this cyclone continues enforcing a longwave upper trough covering the entire Atlantic high seas...whose western upper convergence supports a 1022 mb ridge south of Greenland. Shortwave upper trough over the eastern US remains supported by cool air advection from Hudson Bay surface cyclone which has just recently exited the picture. Divergence east of this shortwave upper trough now supports a developing 1008 to 1010 mb surface cyclone over the NE US. Low-level warm air advection ahead of this NE US cyclone supports W Atlantic upper ridge.

P3...Mid-ocean upper vorticity persists. One upper vortex persists in the western Gulf of Mexico. Elongated upper trough E of Bermuda persists...a portion of which has broken off into a new Central Caribbean inverted upper trough.

P4...Atlantic surface ridge with 1018 mb to 1020 mb centers is supported by a few upper convergent sources while stretching from Gulf of Mexico to waters offshore of W Europe....including convergence SE of the of west Atlantic upper ridge (paragraphs P2)...convergence behind east US shortwave upper trough (paragraph P2)...and convergence behind Atlantic high seas upper trough (paragraph P2). In conjunction with south sides of W Atlantic upper ridge (paragraph P2) and E Atlantic upper ridge (paragraph P5)...south side of this surface ridge is helping to waft Africa desert dry air westward across the Atlantic tropics.

...TROPICAL BELT DISCUSSION...
P5...Upper ridge across the eastern tropical Atlantic persists.

P6...Remnant tropical wave of depression seven is crossing the Yucatan Peninsula...heading toward Bay of Campeche and SE Mexico. Highly divergent SW quad of W Atlantic upper ridge (paragraph P2) is helping to produce plenty of t-storms over and east of the remnants. Unlike 24 hrs ago...GFS computer model is no longer explicit in suggesting tropical cyclone formation in the Bay of Campeche/W Gulf of Mexico. However...watching to see if remnant tropical wave will contribute to anything before moving into the eastern Pacific...or alternatively if the t-storms east of the remnant wave (supported by divergent SW quad of W Atlc upper ridge) develop something. Also...surface cold front from paragraph P1 system is expected to dive toward the Gulf of Mexico in the next days...which could also add to disturbed weather in this area.

P7...North half of tropical wave Invest 93-L contributed to formation of Tropical Storm Gordon (NE of the Lesser Antilles and east of Bermuda) in the last 24 hrs...see above special feature section for details on Gordon. Meanwhile...south fragment of tropical wave has crossed the Lesser Antilles and is headed toward the northern Caribbean sea Islands. At this time...dry air (paragraph P4) and SW shear from paragraph P3 upper vorticity is suppressing this tropical wave fragment.

P8...Tropical west of the Cape Verde Islands in previous discussion is now midway between the Cape Verdes and Lesser Antilles moving rapidly westward. Dry air (paragraph P4) is suppressing this tropical wave.

P9...Suspect tropical wave moving offshore of Africa in previous discussion has been added to NHC TAFB surface maps during the last 24 hrs. As of 0000Z...the tropical wave had passed over the Cape Verde Islands and is just west of the islands. Despite the favorable environment provided by E tropical Atlantic upper ridge (paragraph P5)...dry air (paragraph P4) is likely to suppress this tropical wave...similar to what is now happening with the tropical wave in paragraph P8.
The views of the author are his/her own and do not necessarily represent the position of The Weather Company or its parent, IBM.
Reader Comments
NCHurricane2009 doesn't have a bio yet.
Previous Entries for 2017