2012 Atlantic Hurricane Season Birdseye Discussion #71
...AUGUST 4 2012...10:40 AM EDT...
Tropical Storm Ernesto has begun strengthening earlier than expected...and poses a major threat in the Caribbean Sea for the next days. See first special feature section below for further details.

Tropical wave in eastern Atlantic strengthens to tropical depression six and then Tropical Storm Florence. See second special feature section below for further details on this system.

Tropical wave fragment over Cuba and Bahamas strengthened to tropical disturbance Invest 91-L in last 24 hours...but no tropical cyclone formation is expected at this time. See paragraph P7 in tropical belt discussion.

...ATMOSPHERIC FEATURES BIRDSEYE CHART...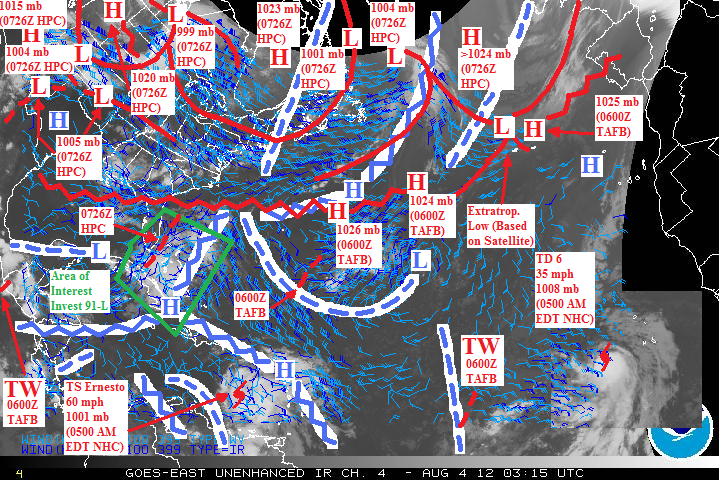 This chart is generated based on surface analysis from the National Hurricane Center TAFB at 0600Z, and the 0726Z-released HPC analysis.

In light blue is upper air analysis, with 200 mb wind barbs calculated by GOES satellite imagery showing the upper-level wind direction. Based on the 200 mb wind barbs, blue-dashed lines are locations of upper troughs, blue-zig-zag lines are locations of upper ridges. Blue Ls are locations of upper lows, blue Hs are locations of upper ridges.

In red is surface analysis, with solid lines indicating locations of surface fronts, dashed lines indicating locations of surface troughs, and zig-zag lines indicating surface ridge axes. Ls indicate surface lows, Hs indicate surface highs.

...THERMODYNAMICS BIRDSEYE CHART...


This chart is generated using GOES water vapor satellite imagery. Brown indicates dry air. White, blue, and purple indicates moist air. An increase in moisture indicates slower air parcel lapse rates with elevation and hence an increase toward instability.

Sea-surface temperatures are overlaid with light blue isotherms. The 26 deg C isotherm is highlighted in red. Waters at and south of the 26 deg C isotherm indicate low-level warmth and hence faster environmental lapse rates with elevation (more instability). Waters north of the 26 deg C isotherm indicate slower environmental lapse rates with elevation (less instability).

...SPECIAL FEATURE...TROPICAL STORM ERNESTO...
Since previous discussion...and as this discussion was being written...Tropical Storm Ernesto has actually strengthened instead of weakened. I was expecting Ernesto to weaken slightly thru this morning...then start strengthening again later today...but it is obvious this strengthening has occurred ahead of schedule. As mentioned before...Ernesto's upper anticyclone has been trying to merge with upper anticyclone of upstream tropical wave (Invest 91-L...paragraph P7). This merger has been delayed as the tropical wave had unexpectedly intensified the identity of its upper anticyclone...and so the unfavorable east Caribbean inverted upper trough (paragraph P6) remains defined between these two upper anticyclones. 24 hrs ago...NW shear from the tropical wave's upper anticyclone was allowing dry air (paragraph P5) to enter from the NW. So one would think that the delayed merger between the upper anticyclones would cause persistent NW shear/dry air...as well as E Caribbean inverted upper trough...that would all go against Ernesto's favor. But clearly...Ernesto's t-storm canopy has gotten very impressive and symmetrical...latent heat release from which has allowed for its own upper anticyclone to push out all these unfavorable effects/features.

My intensity forecast is shown in Figure 1...and is definitely upped from the previous due to the earlier than expected strengthening. With warm waters...low shear...and good upper anticyclonic outflow in all directions...there is a possibility of rapid intensification in this forecast period. I show a steady strengthening rate...but then slow it after 5 AM Tuesday simply out of conservativeness (in case I am wrong to show aggressive strengthening). Weakening is shown by 5 AM Thu due to landfall across Yucatan peninsula. For now...my intensity forecast shows a category 3 hurricane moving into the Yucatan by day 4...and then a category 1 hurricane entering the SW Gulf of Mexico by day 5 due to weakening from landfall.

Trackwise...I see no reason to disagree with the steady west-to-WNW track shown by NHC for the next five days...given there will be deep-layered easterly flow on the south sides of the W Atlantic upper ridge (paragraph P2) and Atlantic surface ridge (paragraph P5). Upper trough in paragraph P1 (and another upper trough that will dig in right behind it from Hudson Bay) will erode the Gulf portion of the Atlantic surface ridge beginning day 2 and later. However...there will be another surface ridge supported by convergence behind the upper trough...so this surface ridge in conjunction with the Atlantic surface ridge would create more of a NW track rather than a total turn to the north. Previously I wanted to show a more northward track than NHC by day 5...out of respect for upper vortex in paragraph P4 that I thought this strong/deep-layered tropical cyclone would "feel." Because of the surprise flare up in upstream tropical wave's upper anticyclone (paragraph P7...Invest 91-L)...GFS now suggests this upper vortex will get a head start in moving west away from Ernesto to suggest that Ernesto will no longer interact with it.

Blue-dashed impact swath in Figure 1 is initially based on tropical storm wind radius shown at 5 AM EDT NHC advisory. It is generally symmetric about the forecast track to represent a well-organized and symmetric t-storm canopy...gradually growing size to represent the strengthening storm I forecast. Notice the swath becomes slightly smaller by the end....to account for landfall and weakening as Ernesto crosses the Yucatan. All of Jamaica is under a tropical storm watch...but taking my forecast impact swath literally means only south half of Jamaica would get notable impacts. However...if Ernesto tracks more north than expected or grows bigger than expected...all of Jamaica would be covered...so all of Jamaica should be preparing for tropical storm conditions as the watch suggests.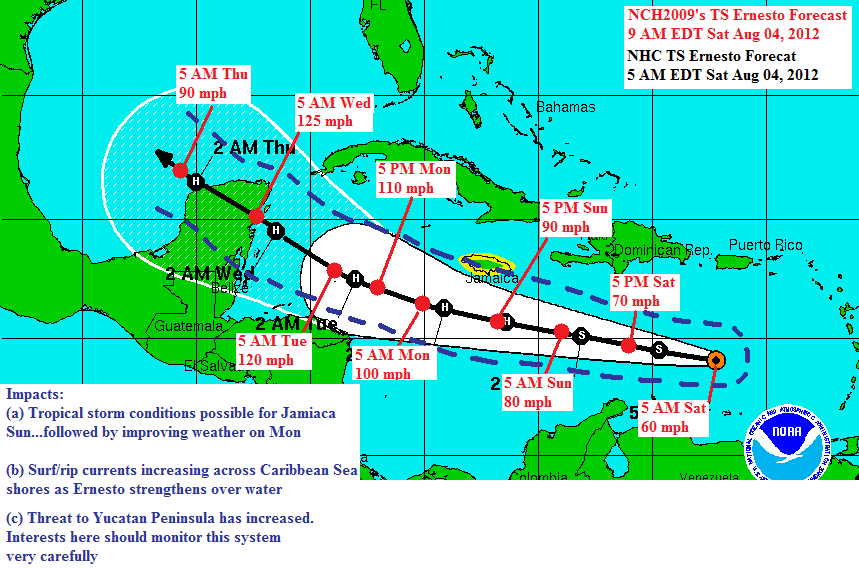 Figure 1: Forecast for Tropical Storm Ernesto this morning.

...SPECIAL FEATURE...TROPICAL DEPRESSION SIX (TROPICAL STORM FLORENCE)...
This feature strengthened from tropical depression six to Tropical Storm Florence as I was writing this discussion. However...I still refer to it as tropical depression six. I will be fully referring to it as Florence in my next discussion.

Tropical wave south of the Cape Verde Islands has moved WNW in past 24 hours while strengthening into tropical depression six. Its t-storm driven latent heat release continues to be south of the paragraph P6 upper ridge axis...which has locally increased the speed of upper easterly winds as it tries to locally inflate this upper ridge. This has maintained the easterly vertical shear over the tropical cyclone...as evidenced by the organized t-storm activity taking a SW bias in satellite pictures.

Over the next 5-days...mid-ocean upper vortex mentioned in paragraph P3 will be key in how this tropical cyclone behaves. GFS model 200 mb (upper) wind forecast suggests upper vortex will gradually merge with longwave upper trough regime in paragraph P2. As it does so...upper vortex is forecast to be stationary for next 48 hours...begin lifting NW by 72 hours...and then be merged in mid-latitude westerlies by 120 hours (while leaving behind another upper vortex retrograding SW into Hispaniola and well ahead of this tropical cyclone). All of this suggests the upper vortex will be far enough away to not shear this tropical cyclone...and instead be an upper-level ridge weakness such that the tropical cyclone tracks more WNW when stronger and deeper-layered...and tracks more W when weaker and shallower.

On these notes...my and NHC's forecast is shown in Figure 2 below. Based on its impressive satellite appearance...I agree with the intensity forecast shown by NHC for first 36 hrs...predicting a 45 mph max wind tropical storm. Because of the SW bias in storm clouds mentioned above...this makes the depression susceptible to swallowing dry air mentioned in paragraph P5 and shown "knocking on the door" of this tropical cyclone's north half in above thermo chart. Having the cyclone's north half passing over waters 26 deg C or below for the next couple of days is no help in allowing for t-storms in the north half. So I also agree with the NHC's forecast weakening between 36 hrs to 72 hrs. I do not dissipate the system like NHC does after 72 hrs...as I am gambling that warmer waters and very symmetrical upper outflow will help by then. Philosophy for symmetric upper outflow is because of SW-NE orientation of paragraph P6 upper ridge presently in this part of the Atlantic...so the cyclone's W-to-WNW heading will take it more directly under the upper ridge axis with time.

Track forecast in Figure 2 between me and NHC is same thru first 72 hrs...agreeing that a stronger and more deep-layered tropical cyclone will track WNW while "feeling" upper-level ridge weakness mentioned in 3rd paragraph of this special feature section...then agreeing that it will no longer "feel" this weakness while the tropical cyclone itself becomes shallower and weaker (hence turning more west). After 72 hrs...my intensity forecast is more aggressive...so my track forecast is more north than NHC after 72 hrs as I think it will "re-feel" the upper ridge weakness as it regains strength and hence vertical structure.

Impact swath in Figure 2 is on the basis of current small cloud canopy biased SW of the center...followed by gradual shrinking of impact swath diameter due to forecast weakening...and then a resurgence of the diameter as I forecast re-strengthening. The impact swath is also more symmetric about my forecast track in the end as I expect fully-symmetric upper outflow structure by then...which will lead to more symmetric cloud canopy.



Figure 2: Tropical depression six forecast issued earlier this morning.

...MID-LATITUDES DISCUSSION...
P1...Next frontal system and its upper trough is entering the picture from W Canada. It features a vigorous 999 mb surface cyclone over Manitoba whose cold front is generating strong t-storms over south-central Canada and north-central US this morning. This frontal system will be interacting with western Atlantic tropical activity over the next days...see Tropical Storm Ernesto section above and paragraph P7 below for further details on this.

P2...Longwave upper trough regime continues across NE North America and Atlantic high seas...with low-level warm air advection ahead supporting a west Atlantic upper ridge...while another upper ridge exists behind over the SW US. Deep-layered low and its upper trough is beginning to push into the British Isles (upper-right corner of above atmo birdseye chart). Surface ridge E of Atlantic Canada is now SE of Greenland...supported by upper convergence on the back side of deep-layered low and currently greater-than-1024 mb. Accelerationally divergent westerly jet on north side of SW US upper ridge appears to support a disorganized 1005 mb frontal depression over the central US soon to merge with cold front of system in paragraph P1. Frontal depression from E Canada has moved offshore to waters S of Greenland while strengthening to 1001 mb with support of divergence on the east side of longwave upper trough regime. Upper convergence behind the longwave supports a surface ridge just SE of Hudson Bay that has strengthened to 1026 mb in last 24 hrs. Frontal depression moving into Azores and its upper trough is merging with British Isles system mentioned at the beginning of this paragraph.

P3...Mid-ocean upper vortex persists. Western fragment has broken off and stationary south of Bermuda while quickly orbiting strong W Atlantic upper ridge mentioned in paragraph P2.

P4...Cut-off upper vorticity over west tip of Cuba persists.

P5...Atlantic surface ridge of 1025 to 1026 mb centers is supported by a few upper convergent sources while stretching from the Gulf of Mexico to the waters offshore of west Europe....including convergence SE of the of the SW US and west Atlantic upper ridges in paragraph P2. South side of this surface ridge is helping to waft Africa desert dry air westward across the Atlantic tropics. However...this dry air is reduced due to moisture from Tropical Storm Ernesto...tropical disturbance Invest 91-L (paragraph P7)...and newly-formed tropical depression six. Within this surface ridge...mid-ocean surface trough is still supported by upper divergence between mid-ocean upper vortex in paragraph P3 and W Atlantic upper ridge in paragraph P2. This mid-ocean surface trough is further SW and located now just SE of Bermuda while moving with this upper divergence maximum.

...TROPICAL BELT DISCUSSION...
P6...Upper ridge continues to cover most of the Atlantic tropics. T-storm latent heat release from Tropical Storm Ernesto...tropical disturbance Invest 91-L (paragraph P7)...and from newly-formed tropical depression six...continue to locally inflated this upper ridge into cells of upper anticyclonic outflow...with inverted upper troughs forming between these cells. Inverted upper troughs are over E Caribbean Sea...south-central Caribbean Sea...and WSW of Cape Verde Islands. The inverted upper trough WSW of the Cape Verde Islands may merge with the mid-ocean upper vorticity mentioned in paragraph P3.

P7...Tropical wave over Central America in previous discussion has moved across Guatemala into the eastern Pacific. It leaves behind a surface trough and t-storm activity over Cuba and the Bahamas...continuing to be supported by divergent southwesterly jet between paragraph P4 upper vortex and anticyclonic cell of paragraph P6 upper ridge. The t-storm activity had inflated the upper anticyclonic cell with latent heat release in last 24 hours...which has reduced the southwesterly shear...in effect forcing this to become an area of interest in the NHC outlook and be upgraded to Invest 91-L. Based on latest GFS model output...I forecast this surface trough to make landfall over Florida in next 24 hours and move directly under the paragraph P4 upper vorticity...leaving behind the favorable upper outflow beneath the anticyclonic cell. I expect this cell to then merge with strengthening Ernesto's anticyclonic outflow by 48 hours...and Ernesto's outflow would then push the paragraph P4 upper vortex across the Gulf of Mexico right as this surface trough continues WNW into the Gulf. This would keep the surface trough beneath the unfavorable upper vortex...so I do not expect tropical cyclone formation from this surface trough. Surface trough likely to continue WNW into Louisiana via steering from surface ridge that builds on back side of paragraph P1 upper trough...perhaps enhancing SE US rainfall on the tail end of the paragraph P1 cold front.

P8...Tropical wave SW of the Cape Verde Islands is now WSW of the islands. It continues struggling while ingesting dry air described in paragraph P5 while simultaneously competing for low-level inflow with strong tropical wave to its east that has strengthened into tropical depression six in last 24 hrs. Inverted upper trough WSW of Cape Verde Islands (paragraph P6) is also suppressing this tropical wave.

P9...Tropical wave south of the Cape Verde Islands in previous discussion has strengthened to tropical depression six in last 24 hrs. See second special feature section above for further details on this system.
The views of the author are his/her own and do not necessarily represent the position of The Weather Company or its parent, IBM.
Reader Comments
Comments will take a few seconds to appear.
NCHurricane2009 doesn't have a bio yet.
Previous Entries for 2017