2012 Atlantic Hurricane Season Birdseye Discussion #69
...AUGUST 2 2012...6:30 AM EDT...
Tropical wave Invest 99-L has become tropical depression five...but the newly-formed depression is currently in a fragile state. Nonetheless...interests in the central Lesser Antilles should prepare for tropical storm conditions...and interests in the Caribbean Sea should monitor this system carefully. See special feature section for details.

...ATMOSPHERIC FEATURES BIRDSEYE CHART...


This chart is generated based on surface analysis from the National Hurricane Center TAFB at 0000Z, and the 0131Z-released HPC analysis.

In light blue is upper air analysis, with 200 mb wind barbs calculated by GOES satellite imagery showing the upper-level wind direction. Based on the 200 mb wind barbs, blue-dashed lines are locations of upper troughs, blue-zig-zag lines are locations of upper ridges. Blue Ls are locations of upper lows, blue Hs are locations of upper ridges.

In red is surface analysis, with solid lines indicating locations of surface fronts, dashed lines indicating locations of surface troughs, and zig-zag lines indicating surface ridge axes. Ls indicate surface lows, Hs indicate surface highs.

...THERMODYNAMICS BIRDSEYE CHART...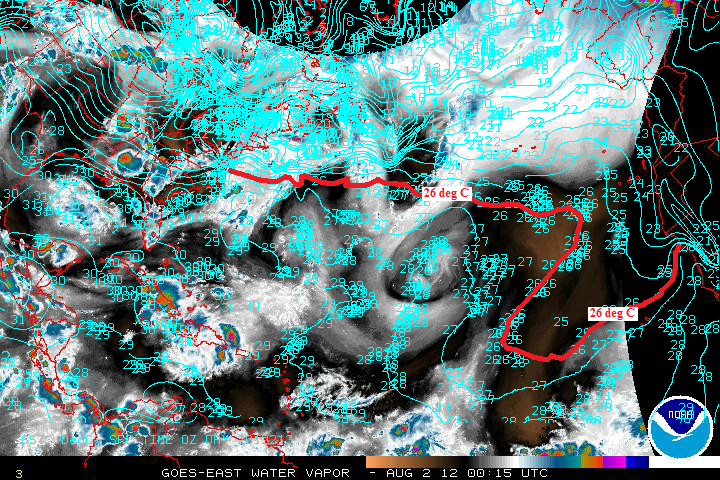 This chart is generated using GOES water vapor satellite imagery. Brown indicates dry air. White, blue, and purple indicates moist air. An increase in moisture indicates slower air parcel lapse rates with elevation and hence an increase toward instability.

Sea-surface temperatures are overlaid with light blue isotherms. The 26 deg C isotherm is highlighted in red. Waters at and south of the 26 deg C isotherm indicate low-level warmth and hence faster environmental lapse rates with elevation (more instability). Waters north of the 26 deg C isotherm indicate slower environmental lapse rates with elevation (less instability).

...SPECIAL FEATURE...TROPICAL DEPRESSION FIVE...
Tropical wave WSW of the Cape Verde Islands...designated as Invest 99-L...has strengthened to tropical depression five in last 24 hrs...and is accelerating west toward the Lesser Antilles this morning. During the previous discussion...the outlier CMC model suggested the upper vorticity in paragraph P2 (mid-lat discussion) would split over the next 5-days while a fragment retrograded around the W Atlantic upper ridge (paragraph P1). The CMC then calculated a respectable deeper-layered tropical cyclone that would "feel" the western split of the upper vorticity and hence track more northward. Current strength of W Atlantic upper ridge suggests it will act as a fortress against any splitting of paragraph P2 upper vorticity...so I don't think this CMC scenario will happen. In fact...the CMC has increasingly stopped shwoing this outlier solution and come into agreement with the remainder of the computer models.

Even though the paragraph P2 upper vorticity will not split...it has surprised us by becoming more amplfied east of the W Atlantic upper ridge...hence splitting the favorable upper anticyclone over tropical depression five into once cell to the WNW and another to the ENE (see paragraph P5). This had increased the westerly shear over the depression...and made the depression quickly appear "sickly." Very recently though...a t-storm complex has fired over/south of the center...as it enters the favorable upper anticyclonic cell to the WNW. Moreover...GFS 200 mb (upper wind) forecast suggests this cell will merge with the anticyclonic cell of the paragraph P6 tropical wave...and then the merged cell continuing west with the tropical cyclone. My intensity forecast in Figure 1 is more aggressive than the NHC forecast...on the basis that if the GFS 200 mb forecast verfies...I see a prolonged exposure to favorable upper anticyclonic outflow that will strengthen this system thru the next 5 days. I initially dampen the intensity forecast today and Friday...given the poor initial structure of the depression and that it may encounter light southerly shear from E Caribbean inverted upper trough mentioned in paragraph P5. I then accelerate the intensity Saturday and Sunday...but then I go a bit more conservative by Monday and Tuesday. My intensity forecast by the end of 5-days in Figure 1 is a high-end category 1 hurricane.

Trackwise...I see no reason to disagree with the steady west-to-WNW track shown by NHC...given there will be deep-layered easterly flow on the south sides of the W Atlantic upper ridge (paragraph P1) and Atlantic surface ridge (paragraph P4). Upper trough over Alaska in previous discussion is now in W Canada (but still not yet in the scope of mid-latitude discussion below). Based on model presentations of this upper trough (and another upper trough that digs right behind it from Hudson Bay)...it does not look as though it will sufficiently erode the Atlantic surface ridge (paragraph P4) nor the SW US upper ridge (paragraph P1)...so a steady west-to-WNW track is possible beyond 5 days.

Blue-dashed impact swath in Figure 1 is initially based on very recent t-storm complex that has fired over and just south of center. The swath is then drawn generally symmetric about the forecast track in a generic size...but it is hard to predict what the actual size fluctuations of this storm are going to be over the next 5 days. Tropical storm advisories are in effect for central Lesser Antilles islands...where tropical storm preparations should be taking place. Beyond that...interests in the Caribbean Sea should monitor this system very carefully.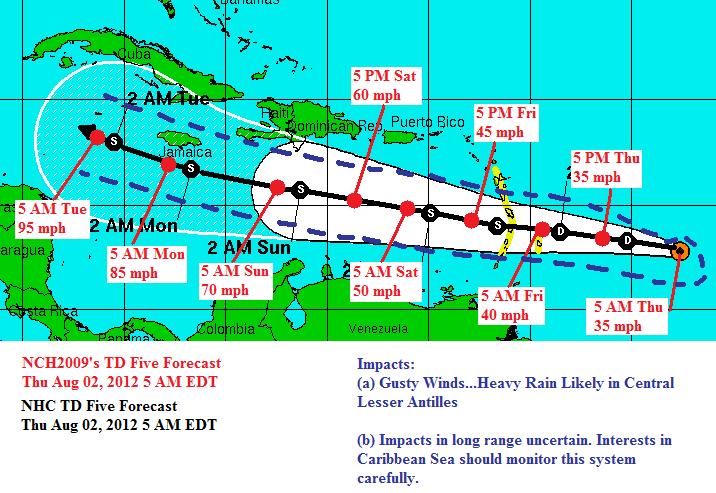 Figure 1: Forecast for tropical depression five this morning.

...MID-LATITUDES DISCUSSION...
P1...Longwave upper trough regime continues across eastern North America and Atlantic high seas...with low-level warm air advection ahead supporting a west Atlantic upper ridge...while another upper ridge builds behind over the SW US. Upper trough from Hudson Bay has shifted SE into eastern US while what's left of its frontal depression is an east-west front in eastern US. Yet another Hudson Bay upper trough and surface frontal depression has sweeped in. Convergence between this longwave upper trough regime and SW US upper ridge supports a 1020 mb west US surface ridge...while 1013 mb and 1020 mb surface ridges over the Great Lakes and E of Atlantic Canada is supported by upper convergence on the back sides of embedded shortwave upper troughs. Accelerationally divergent westerly jet on north side of SW US upper ridge appears to support a disorganized 1004 mb frontal depression over the central US...and another 1004 mb depression moving quickly E across south-central Canada. Surface frontal cyclone and its shortwave upper trough heading toward Europe is about to make landfall in the British Isles...and its satellite appearance suggests its shortwave upper trough has become vertically stacked with the surface cyclone to create a deep-layered low. Frontal depression offshore of Newfoundland (and its supporting shortwave upper trough) has moved quickly east toward Azores in last 24 hrs. Finally...frontal depression has moved NE from NC/VA coast and into Nova Scotia/Newfoundland in last 24 hrs.

P2...Mid-ocean upper vortex persists.

P3...Cut-off upper vorticity over west Cuba is retrograding slowly west toward the Yucatan while steeered about SW US upper ridge mentioned in paragraph P1.

P4...Atlantic surface ridge of 1016 to 1023 mb centers is supported by a few upper convergent sources while stretching from the Gulf of Mexico to the waters offshore of west Europe....including convergence SE of the of the SW US and west Atlantic upper ridges in paragraph P1. South side of this surface ridge is helping to waft Africa desert dry air westward across the Atlantic tropics. However...this dry air is reduced due to moisture from tropical depression five...and the tropical waves in paragraphs P6...P8....and P9. Within this surface ridge...mid-ocean surface trough is still supported by upper divergence between mid-ocean upper vortex in paragraph P2 and W Atlantic upper ridge in paragraph P1.

...TROPICAL BELT DISCUSSION...
P5...Upper ridge continues to cover most of the Atlantic tropics. T-storm latent heat release from paragraph P6....P8....and P9 tropical waves...as well as from tropical depression five....continue to locally inflated this upper ridge into cells of upper anticyclonic outflow...with inverted upper troughs forming between these cells. Inverted upper troughs are over Panama...E Caribbean Sea...and SW of Cape Verde Islands. Upper anticyclonic cell over tropical depression five is split into one cell to its WNW and the other to its ENE...thanks to amplified upper vorticity in paragraph P2.

P6...Tropical wave in the central Caribbean continues west. Its t-storm activity...and associated upper anticyclonic cell of paragraph P5 upper ridge (driven by t-storm latent heat release)...remains displaced to the east thanks to upper vorticity in paragraph P3. Therefore...no tropical cyclone development is possible with this tropical wave.

P7...Tropical wave WSW of the Cape Verde Islands...designated as Invest 99-L...has been upgraded to tropical depression five in last 24 hrs. See special feature section for further details.

P8...Tropical wave south of the Cape Verde Islands in the previous discussion is now SW of the islands. The low pressure swirl of this wave is not as well-defined as 24 hrs ago...but there is still some cyclonic turning of the clouds in satellite animation. T-storm activity in NW half of this tropical wave is limited by dry air mentioned in paragraph P4.

P9...Satellite imagery suggests the next tropical wave is rolling off of Africa...as remarked in the lower-right corner of above atmo birdseye chart.
Reader Comments
Comments will take a few seconds to appear.
Post Your Comments
Please sign in to post comments.
Not only will you be able to leave comments on this blog, but you'll also have the ability to upload and share your photos in our Wunder Photos section.
Previous Entries for 2016