2012 Atlantic Hurricane Season Tropical Storm Beryl Post-Storm Report
Based on my day-to-day observations made during my blog posts under www.wunderground.com/blog/NCHurricane2009/ during the 2012 Atlantic Hurricane Season...the following is my post-storm report for Tropical Storm Beryl.

To view my post-storm reports on systems other than Alberto...I recommend visiting www.wunderground.com/blog/MIHurricane2009/archive to browse other posts made on this blog.

The following report may refer to other significant tropical weather disturbances that were simultaneously occurring during Alberto...either with "TWO" numbers (numbers I assigned to the disturbance because the National Hurricane Center issued a Tropical Weather Outlook on them)...or with "Invest" numbers (numbers that the Naval Research Laboratory issues on a tropical disturbance). I also have written mini-reports on "TWO" and "Invest" disturbances that I will not be publishing here...but I am willing to send such mini-reports upon e-mail requests made to me by individuals.

TROPICAL STORM BERYL
DATES: May 25 to 30
MAXIMUM WINDS: 70 mph
MINIMUM PRESSURE: 993 mb

METEOROLOGICAL HISTORY
The formation of the second early Atlantic tropical storm of the 2012 season (immediately after Alberto) begins with begins with an upper trough and associated surface front present across the central North America on May 12. Over the next twenty-four hours, the northern part of the upper trough merges with another offshore of North America (the same that would later absorb Invest 92-L in the eastern Atlantic) while the southern part becomes stationary over the southeastern United States. Eastern divergence of this southern fracture upper trough supported a weak surface front across the Gulf of Mexico and southeastern United States through May 14.

The weak surface front decayed into a trough by the 16th, with the northern portion becoming enhanced by a Georgia cut-off upper vortex (left behind by the upper trough of an east Canada cyclone) and evolving into Tropical Storm Alberto on the 17th through 19th. The southern portion of the surface trough became quasi-stationary over the Yucatan peninsula and western Caribbean during this time while becoming enhanced beneath the outflow of an upper ridge and hence gaining the semblance of a more tropical-like disturbance. Immediate development was precluded due to a shearing upper westerly jet north of the upper ridge and south of the upper vortices near Alberto. The upper trough of the frontal system that steered Alberto northeast and eventually absorbed Alberto also absorbed the upper vortices near Alberto, but by May 23rd this upper trough left behind a cut-off in the Gulf of Mexico that would interact with the west Caribbean disturbance. From the 22nd to 25th, the Gulf cut-off upper trough steered the disturbance northeastward across Cuba, the Bahamas, and into the Atlantic waters offshore of the southeastern United States. The eastern divergence of this upper trough enhanced the disturbance, and with the system simultaneously featuring warm core anticyclonic upper outflow to the south and east propped up by thunderstorm latent heat release, the disturbance became more subtropical-like. As such, the disturbance intensified into Subtropical Storm Beryl by the late evening of the 25th while centered well south of Cape Hatteras, North Carolina.

In the days leading to Beryl's formation, dry air over the Gulf of Mexico was triggered by upper convergence between northwesterlies behind the upper vortices near Alberto and the warm core upper ridging over the pre-Beryl disturbance. This upper convergence and dry air was maintained by northwesterlies behind the Gulf cut-off upper trough. The presence of this dry air and southwesterly vertical shear from the upper trough caused the west half of the pre-Beryl disturbance and early phases of Subtropical Storm Beryl to be inactive. The shear relaxed as the upper trough amplified into an upper vortex directly over the subtropical storm on the 26th and 27th, the amplification process triggered by equal and opposite amplification of an upper ridge that emerged over the eastern United States from warm air advection ahead of two frontal systems. The low shear coupled with de-stabilizing cold temperatures of the overhead upper vortex allowed for Beryl to mix out the dry air and develop a ring of intensifying thunderstorms around the center. Anticyclonic outflow and an eye-type feature at the core of the ring indicated that Beryl had intensified into a strong and fully tropical storm on the afternoon of the 27th.

Upper convergence east of the aforementioned eastern United States upper ridge supported surface ridging due north of the strong tropical storm that ultimately steered it westward for a landfall at Jacksonville Beach in northeastern Florida overnight into the early morning of the 28th. Beryl was at a peak of 70 mph maximum winds and 993 mb pressure just prior and is estimated to have crossed the coast with 65 mph winds and 994 mb pressure, making it the strongest United States landfall from a tropical storm before the official start of hurricane season on June 1. Beryl weakened to an inland tropical depression along the Florida/Georgia border later on the 28th, and from that location the track reversed to northeast and eventually east as the surface ridge to the north became replaced by westerly flow south of the aforementioned two frontal systems. As the center tracked through eastern Georgia and the coastal Carolinas on the 29th and 30th, the circulation maintained its strength due to supportive divergence ahead of the western of the two frontal upper troughs. In the National Hurricane Center post-storm assessment of Beryl, it is now known that Beryl briefly re-strengthened to a tropical storm on the 30th based on measurements of wind provided by ships offshore of the Carolinas. Later on the 30th Beryl had lost much of its storm activity such that it was declared a remnant low accelerating east-northeast into the open western Atlantic. It passed just north of Bermuda on the 31st as an extratropical remnant low continuing to be supported by the eastern divergence of the western of the two frontal upper troughs, and for the first two days of June Beryl reached the eastern of the two upper troughs while on a heading into the northeastern Atlantic. By June 3 the remnant low had become absorbed by a large frontal cyclone supported by the eastern upper trough.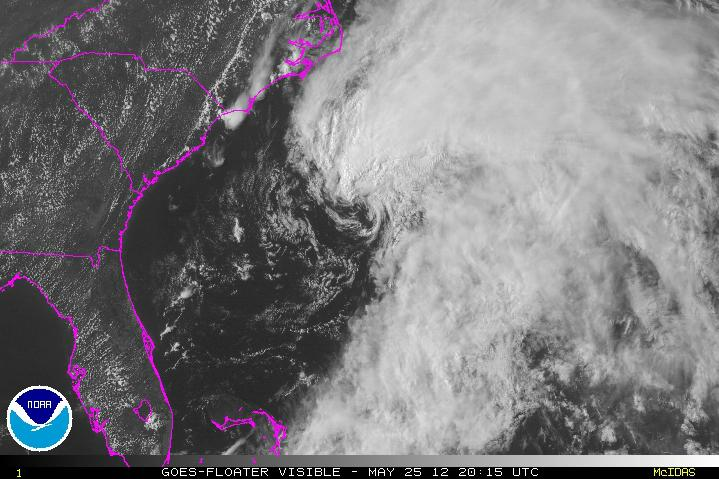 Visible satellite image of Subtropical Storm Beryl during its formation on May 25



Visible satellite image of Tropical Storm Beryl at peak strength as it accelerates westward toward the northeastern Florida coastline on the afternoon of May 27


GENESIS FORECAST
Under www.wunderground.com/blog/NCHurricane2009/, I issued a total of 169 birdseye discussions during the 2012 Atlantic Hurricane Season, which are centered around two birdseye view charts of the North Atlantic basin (an atmospheric features chart and thermodynamic chart) from which I made statements of analysis and forecasts.

During the evening of May 18, I issued full discussion #12 due to the presence of the pre-Alberto disturbance. Although I had also identified the pre-Beryl disturbance in the western Caribbean Sea with another special feature section in the same post, I had cancelled it as a special feature by full discussion #13 (May 19) due to westerly vertical shear and Gulf of Mexico dry air mentioned in the early part of the above Meteorological History. Through discussions #13 through #15 (May 19 to 21), the pre-Beryl disturbance was mentioned in the first paragraph or two in the tropical belt section. I issued special update #15A on May 23 as the disturbance had become better organized, but was not yet declaring an imminent risk of subtropical cyclone formation due to the continued presence of shear and Gulf of Mexico dry air. In full discussion #16 (early morning of May 25) I re-upgraded the pre-Beryl disturbance to a special feature while predicting subtropical cyclone formation by 0000Z May 26 (or during the evening of the 25th) due to persistent computer model support, due to high risks issued in the National Hurricane Center Tropical Weather Outlook, and finally due to identifying the upper air pattern (described in the above Meteorlogical History) that was causing the Gulf of Mexico upper trough to amplify into a shear-reducing upper vortex. Indeed Beryl had come into genesis by the evening of the 25th. In all I had provided 21 hours of "advanced warning" time before genesis between when I re-upgraded the system to a special feature in discussion #16 and when the National Hurricane Center issued their first advisory on Subtropical Storm Beryl. In contrast the National Hurricane Center did better in foreseeing the genesis of Beryl with about two days (48 hours) of advanced warning time between their first mention of this system in their Tropical Weather Outlook on May 23 and the issuance of their first advisory on Subtropical Storm Beryl.


TRACK FORECAST
For the track forecasts I issued from discussions #16 to #20, the mean average error in nautical miles was 38 for 12 hr, 89 for 24 hr, 114 for 36 hr, 73 for 48 hr, 118 for 60 hr, 128 for 72 hr, 54 for 84 hr, 36 for 96 hr, 98 for 108 hr, and 239 for 120 hr. In contrast the National Hurricane Center (NHC) mean average errors were 19 for 12 hr, 20 for 24 hr, 29 for 36 hr, 31 for 48 hr, 34 for 72 hr, and 53 for 96 hr. Therefore I overall performed worse than the NHC concerning Beryl's track forecast mainly due to the error margins in discussions #16 and #17. As the above Meteorological History highlights, Beryl was south of two frontal systems from May 26 and onwards, and the track forecast in discussion #16 had too much of a northeast bias while over-predicting the steering influence from the eastern of the two frontal systems (in fact this frontal system had no steering influence, and instead the ridge to the north steered Beryl immediately southwestward after its genesis). I maintained a northeast bias (but a smaller one) in discussion #17 due to the northward drift that Beryl had during genesis, but immediately after this forecast Beryl began its southwest and westward acceleration toward northeastern Florida such that the NHC forecast performed better. For the northeast recurvature track forecasting in discussions #18 to #20, my error margins became small while I correctly identified the amount of westward bias relative to NHC for discussion #18 based on the eastward progress of the western of the two frontal systems (in fact the NHC track later aligned with mine in discussion #19). Beryl was still centered over southeast Georgia during the afternoon of May 29 while discussions #18 and #19 predicted to reach this point 6 hours earlier, and so I slowed down my northeast track forecast by discussion #20 to compensate. However Beryl ended up catching up to the pace in the earlier #18 and #19 forecasts such that the #20 forecast had slightly larger error.


INTENSITY FORECAST
For the intensity forecasts I issued from discussions #17 to #20, the mean average error in knots was 2.7 for 12 hr, 5.4 for 24 hr, 4.3 for 36 hr, 4.3 for 48 hr, 10.9 for 60 hr, 17.4 for 72 hr, 9.8 for 84 hr, 8.7 for 96 hr, 4.3 for 108 hr, and 10.9 for 120 hr. In contrast the National Hurricane Center (NHC) scored 5.7 for 12 hr, 8.0 for 24 hr, 6.9 for 36 hr, 4.4 for 48 hr, 5.0 for 72 hr, and 10.0 for 96 hr. Therefore with the exception of my 72 hr average, my Beryl intensity forecasting outperformed the NHC. Highlights included a good estimation in discussion #17 of how long it would take Beryl to mix out the dry air and develop a thunderstorm core and resulting upper anticyclonic outflow for strengthening as well as a fairly accurate assessment of the peak strength that Beryl would achieve before landfall. In discussion #18 I precisely predicted when Beryl would begin re-strengthening due to upper divergence ahead of the western of the two frontal upper troughs which produced zero to near-zero error for some longer range points in this forecast. In discussion #19 the first 36 hrs of intensity forecast had zero error (with low error after that) again due to precise prediction of the re-strengthening. The reason my overall 72 hr average was the only average that under-performed the NHC was due to my northeast-biased track forecast in discussion #17 which created an incorrect timing of landfall. This caused a large 72 hr forecast intensity error in discussion #17 as I had incorrectly predicted when Beryl would begin weakening from landfall.


IMPACT FORECAST
Impact-wise, I drew impact swaths of significant weather during discussions #17 to #20 to represent heavy rain/gusty wind potential. Therefore it is fair to evaluate these swaths against the actual region where Beryl produced these impacts. Tropical storm force winds occurred in northeast Florida as far inland as Ocala and as far south as Daytona Beach, with tropical storm force winds also occurring from coastal Georgia to the coastal areas of the North Carolina Outer Banks. A swath of 3 or more inches of rain covered northeast Florida, eastern Georgia, and the eastern Carolinas. All four tornadoes produced by Beryl occurred within this heavy rain/gusty wind region with the exception of an inconsequential EF-0 in southeast Florida in Port St. Lucie (none of my impact swaths included southeast Florida, but since this tornado was non-damaging and occurred well away from the bulk of Beryl's significant weather, I consider it an isolated incident). In all discussions I mentioned that the drawn impact swaths were a superposition of the heavy rain and gusty wind potential. I also mentioned the threat of severe thunderstorms (but did not specifically mention tornadoes) within the swath in discussions #19 and #20. It may have been better in hindsight to have specifically mentioned isolated tornadoes since two of them that occurred within the impact swath region were damaging EF-1s.

The impact swath I drew in discussion #17 was based on extrapolating the NHC tropical storm wind radius along my forecast track and having a rightward bias to represent a sheared storm late in the forecast. Because the discussion #17 track forecast was too far northeast (too offshore), the impact swath was undersized by not including all land areas that actually experienced heavy rain and gusty winds. The impact swath in discussion #18 was drawn with the same strategy, but because the track forecast was much more accurate the impact swath region closely represented the heavy rain/gusty wind region that actually occurred (with the exception of southeast Georgia where my swath was a bit too oversized inland and North Carolina where the swath did not include enough of the northeast corner of the state). Discussion #18 was released just hours before landfall in northeast Florida, so considering that my swath did not cover enough of northeast Florida until just hours beforehand means that my impact forecasting underperformed here. The impact swath size in discussions #19 and #20 became based on extrapolating the spiral rain shield of Beryl on radar, but these impact swaths became too oversized considering that the more inland areas in the rain shield did not receive storm-force winds or gusts, heavy rain (3+ inches), nor any severe thunderstorms.

In addition to impact swaths, on May 23 I mentioned in discussion #15A the threat of flooding rains from in Honduras, Nicaragua, Jamaica, the Cayman Islands, Cuba, and the Bahamas as the large pre-Beryl disturbance had been slow to move and had produced persistent rain in these areas. Indeed this flood threat materialized in central Cuba. I first suggested a general threat to northeast Florida, southeast Georgia, and the Carolinas during discussion #16 early on May 25, a time 21 hours before genesis of the storm. The first mention of ocean effects (surf and rip currents) for the southeast US shore was released on discussion #17 and was continued in discussion #18. Considering that a storm surge of 1 to 3 ft propagated slowly northward onto the Carolina coast through May 30 (due to persistent onshore flow on the north side of Beryl), it would have been better to have continued to mention surf and rip currents during discussions #19 and #20.


IMPACTS
From May 23 to 24, the pre-Beryl disturbance produced 24-hourly rainfall accumulations of 4 inches in many spots across central Cuba. The highest storm total rainfall in Cuba was measured to be a significant 21.93 inches at Puerto Pesquero de Casilda in the province of Sancti Spiritus.

From May 25 to 30, ships passing offshore of the southeastern United States measured a variety of tropical storm force winds. It is the ship observations on May 30 that helped the National Hurricane Center to re-assess that Beryl had re-strengthened to a tropical storm that day due to supportive divergence ahead of an upper trough. Hours later that same day, Beryl had transitioned into an extratropical remnant low still supported by this upper trough and was still capable of producing storm-force winds as evidenced by a 42-knot wind gusting to 55 knots at Jennettes Pier, North Carolina and by a 41-knot wind gusting to 48 knots at Cape Hatteras, North Carolina.

As Beryl approached landfall in northeastern Florida on May 27, storm surges of 1 to 3 ft (with a peak of 3.73 ft at Fernandina Beach, Florida) hit the northeastern Florida and southeastern Georgia coast. The onshore flow of winds on the north side of Beryl as it tracked parallel to shore through May 30 caused a 1 to 3 ft surge that propagated northward along the Carolina coast. Beryl's peak strength of 70 mph maximum winds (and landfall intensity estimate of 65 mph winds) was the result of flight-level winds and radar-estimated measured by recon aircraft. Radar from Jacksonville, Florida measured hurricane force winds of 80 to 85 knots well above ground level such that the friction-limited surface winds may have briefly been hurricane force. However, there are no surface measurements to confirm for sure such that Beryl was not upgraded to a hurricane in the post-storm assessment. No official measurements by the National Weather Service network or unofficial measurements made by storm chasers or other commercial weather networks captured the estimated 65 mph sustained winds during landfall in the Jacksonville, Florida area late on the 27th/early on the 28th. The highest official measurement was 40 knots gusting to 54 knots at Mayport on the Atlantic shore. The highest unofficial measurement was 44 knots gusting to 63 knots on Buck Island just east of Jacksonville along the St. Johns River. Tropical storm force gusts in northeast Florida reached as far south as Daytona Beach, and tropical storm sustained winds and gusts reached as far inland as Ocala. As evidenced by a 35-knot (40 mph) sustained wind as far north as Fort Pulaski and 38-knot sustained wind at Jekyll Island very early on the 28th, it appears all of coastal Georgia experienced low-end tropical storm force conditions (and tropical storm force gusts were measured as late as the 29th on coastal Georgia as Beryl tracked up the coast). On May 30 tropical storm force gusts were measured on the coast and areas close to the coast in the Carolinas, with instances tropical storm sustained winds measured on the Outer Banks of North Carolina as Beryl transitioned into an intensifying extratropical remnant low later that day.

Northeast Florida, southeast Georgia, and the eastern Carolinas experienced rainfall totals in the 3 to 7 inch range. A local maximum of 15 inches occurred well inland in northeast Florida at Wellborn where minor flooding was reported. Beryl also produced some severe thunderstorms and tornadoes. On Truttney's Landing on coastal Carteret County in North Carolina, an EF-1 tornado destroyed 3 mobile homes and damaged 60 others. An EF-1 near Holly Hill in Orangeburg County South Carolina knocked down trees and damaged a few roofs. A severe thunderstorm wind gust also in Orangeburg County also downed trees. Inconsequential EF-0 tornadoes were spawned in Yankeetown on the northwest Florida coast and Port St. Lucie on the southeast Florida coast in rain bands on the south and west sides of Beryl.
The views of the author are his/her own and do not necessarily represent the position of The Weather Company or its parent, IBM.
Reader Comments
Comments will take a few seconds to appear.
No reader comments have been posted for this blog entry yet.
MIHurricane2009 doesn't have a bio yet.
Previous Entries for 2017