Virgina Launch May 8 8-11PM EDT ••••• Jupiter Southeast before Sunrise ••••• Venus & Mars Low East before Sunrise
By: LowerCal, 6:13 PM GMT on April 20, 2009
Today - SpaceWeather.com
also Earth & Sky | Tonight & 365 Days of Astronomy
This Week - SkyandTelescope.com - This Week's Sky at a Glance
also Jack Horkheimer - Star Gazer, Current Scripts
This Month - SkyandTelescope.com - Sky Tour Podcasts
also HubbleSite - Tonight's Sky: Your guide to constellations, deep sky objects, planets, and events
& International Year of Astronomy Monthly Discovery Guides

Visible Satellites:
Simplest - Satellite Flybys by SpaceweatherPhone.com
More satellites and more info - Heavens-Above.com

Launches - Spaceflight Now - Worldwide Launch Schedule
Reentries - Center for Orbital and Reentry Debris Studies - Upcoming & Recent Reentries

All events described below can be viewed with your naked eye. Occasionally simple binoculars will improve the view and that will be noted. Scroll down for future dates, farther down for past dates.

Virginia Minotaur I Launch


Mission: Tactical Satellite 3 (TacSat-3)
Launch Vehicle: Minotaur I
Launch from Mid-Atlantic Regional Spaceport (MARS), Wallops Island, Virginia
May 6
May 8
May 9
0000-0300 GMT
May 5
May 7
May 8
8:00-11:00pm EDT (local time)
5:00-8:00pm PST.

Launch status updates at
Spaceflight Now | Tracking Station | Worldwide launch schedule.

More info is on the Twitter feed.

There will be a live Launch Webcast.


○ Full Moon


WunderPhoto: Full Moon by Ralfo Wednesday April 8, 2009
Exact at
May 9
0401 GMT
12:01am EDT
May 8
9:01pm PDT.

Rises near sunset and sets near sunrise.

The gravitational pull of the Moon and Sun are aligned resulting in stronger tides - higher highs, lower lows and faster flows (see SPRING-TIDES). (Due to the huge mass and volume of the ocean's water the tidal effect lags behind the phases of the Moon. The delay can be as long as three days at some times and places.)


Moon Near Antares


Early Morning May 10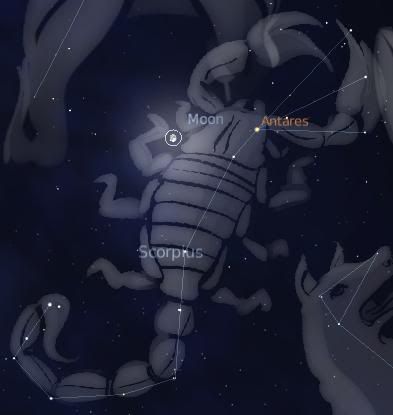 Early Morning May 11
After midnight the Moon can be seen near the star Antares, the heart of and the brightest star in the constellation Scorpius. The Scorpion is one of the most recognizable constellations with his long curving tail. Antares is a reddish star close the the pathway of the planets and is sometimes a rival (Ant-) of the red planet Mars (-ares).


Shuttle Atlantis Launch


Photo credit: NASA/Dimitri Gerondidakis
Mission: STS-125 (final Hubble Space Telescope servicing mission)
Spacecraft & Launch Vehicle: Space Shuttle Atlantis
Launch from Kennedy Space Center, Florida
May 11
1801 GMT
2:01pm EDT (local time)
11:01m PDT.

Landing at Kennedy Space Center
May 22
1541 GMT
11:41am EDT (local time)
8:41am PDT.

Find later landing options at NASA - Launch and Landing
and the landing paths (when published) at NASA - STS-125 Landing Ground Tracks.

Launch status updates at
Spaceflight Now | Tracking Station | Worldwide launch schedule.

You can follow the progress of the Space Shuttle mission online at
Spaceflight Now | STS-125 Shuttle Report | Mission Status Center
and NASA - Space Shuttle.
There are links in the "WATCH NASA TV NOW" section of the NASA page where you can watch video (sometimes live).

You can dig for more info at
Spaceflight Now - Index of /shuttle/sts125 and
CBS News Space Place - STS-125 Status Report.

Live online coverage of the launch on NASA TV starts at 8:30am on launch day - see the NASA TV Schedule.


Summaries of Sky Events for the Year
2009
SkyandTelescope.com - Observing Highlights - Eclipses in 2009
SkyandTelescope.com - Observing Highlights - Meteor Showers in 2009


***** Past Dates *****

Dawn, April 19-21 southeastern sky image from SkyandTelescope.com - This Week's Sky at a Glance.


Meteor Shower


WU Photo: Searching for Shooting Stars by johnlanoue Monday October 8, 2007
Early Morning April 22
The Lyrid meteor shower has a usual rate of about 18 per hour visible from ideal locations. It is a variable shower and has produced an outburst of 90 per hour.

Best areas for watching are north of the Equator and highest numbers will be visible before the break of dawn while the sky is still at its darkest.

Source and more information at
IMO Meteor Shower Calendar 2009 | International Meteor Organization - Lyrids.

Also see
Viewing Activity from the 2009 Lyrid Meteor Shower,
Astronomy.com - Sky-event preview: The 2009 Lyrid meteor shower and
NASA - Venus Disappears during Meteor Shower.

For Better Viewing
Find a Dark Location
A dark country location without "security" lights is best. If that's not convenient try to find a location where you can't see any lights or lighted surfaces. A nearby park or maybe even your backyard would qualify. On a beach facing the water could be a good alternative.

Where to Look
Meteors can appear in any part of the sky. To see the most meteors face the darkest part of your sky and look at least 45° above the horizon.

Be Comfortable
A reclining chair will keep you from getting a stiff neck and tired feet. A sleeping bag will keep you warm. (Even in the summertime you can get chilly at night if you are just lying still.) Insect repellent will keep you from being distracted by those little pests.

General Meteor Shower Information
An easy to read introduction to meteors with an interesting summary of annual showers is
Astronomy - Meteors and meteor showers - Francis Reddy.

The two primary sources of most of what you'll read about meteor showers are
The American Meteor Society and
The International Meteor Organinzation.


Thin Crescent Moon, Venus & Mars
Before Sunrise April 22
A thin crescent moon will stand very close to the brilliant planet Venus low in the east before sunrise. For western North America the Moon will even cover Venus!

Use binoculars to find the reddish planet Mars below the Moon and Venus.

Also see
SkyandTelescope.com - Observing Highlights - A Daring Pairing of Moon and Venus and
NASA - Venus Disappears during Meteor Shower.


Dawn, April 22-23 eastern sky image from SkyandTelescope.com - This Week's Sky at a Glance.


Meteor Shower?
Early Evening April 23
The π (Pi) Puppid meteor shower has had occasional outbursts of 40 per hour visible from ideal locations and this is a good year to watch for some.

Best areas for watching are south of the Equator and highest numbers would be visible in the first hours of darkness after dusk.

Source and more information at
IMO Meteor Shower Calendar 2009 | International Meteor Organization - π-Puppids.


● Dark Moon (a.k.a. astronomical new moon)


Exact at
April 25
0323 GMT
April 24
11:23pm EDT
8:23pm PDT.

Lower and thinner morning crescent moons the week before. Higher and thicker evening crescent moons the week after.

The gravitational pull of the Moon and Sun are aligned resulting in stronger tides - higher highs, lower lows and faster flows (see SPRING-TIDES). (Due to the huge mass and volume of the ocean's water the tidal effect lags behind the phases of the Moon. The delay can be as long as three days at some times and places.)


) Thinnest Evening Crescent Moon (the original meaning of "new moon")


WunderPhoto: One day old Moon by LaddObservatory Friday June 15, 2007
April 25 or 26
Low in the western sky soon after sunset.

On April 25 a very thin new moon should be easy shouldn't be too difficult to spot from North America. It may be possible to spot an extremely thin new moon from western Europe. For both these areas the moon will be less than 24 hours old and possibly the thinnest you have ever seen.

For areas and dates of visibility see Moonsighting.com.


Moon, Mercury & the Pleiades
April 26
After sunset low in the western sky a very thin crescent Moon stands above the planet Mercury. Between them is the Pleiades star cluster visible in binoculars as the sky darkens.

See also
Astronomy.com - See Mercury, the Moon, and the Pleiades together in the night sky and
Spaceweathwer.com -- Twilight Sky Show.


Dusk, April 25-27 west-northwestern sky image from SkyandTelescope.com - This Week's Sky at a Glance.


Moon with the Twins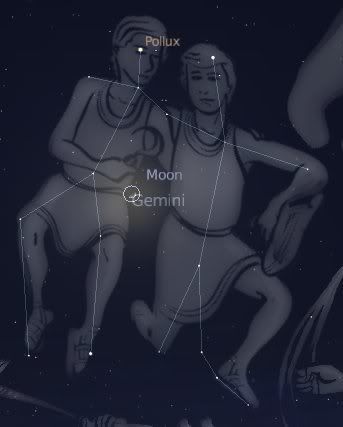 Image created with Stellarium.
April 29
This night the Moon shines below the two stars that mark the heads of Castor & Pollux in the constellation Gemini. Pollux is farther south, closer to the Moon and slightly brighter than Castor.


Dawn, May 1 eastern sky image from SkyandTelescope.com - This Week's Sky at a Glance.


◐ First Quarter Moon


Exact at
May 1
2044 GMT
4:44pm EDT
1:44pm PDT.

Rises near noon and sets near midnight. Evening crescent moons for a week before. Each one thicker and higher above the horizon.

The gravitational pull of the Moon and Sun are at right angles resulting in weaker tides - lower highs, higher lows and slower flows (see NEAP-TIDES). (Due to the huge mass and volume of the ocean's water the tidal effect lags behind the phases of the Moon. The delay can be as long as three days at some times and places.)


Mercury with the Pleiades & Hyades Star Clusters
Dusk, May 2
West-northwestern sky image from SkyandTelescope.com - This Week's Sky at a Glance.


Moon Near Regulus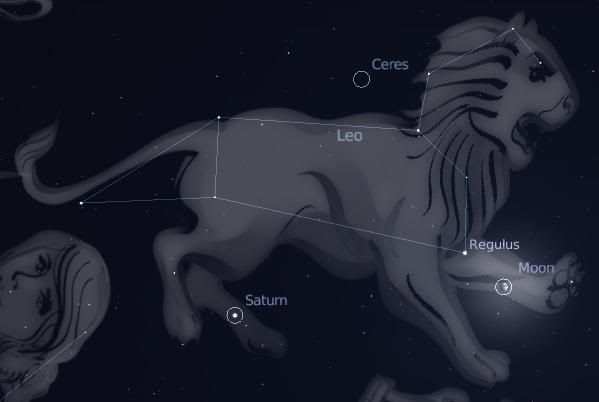 Image created with Stellarium.
May 2
This evening the Moon is near the star Regulus, the heart of and the brightest star in the constellation Leo. Regulus is the "dot" on a backward question mark pattern that marks the mane and chest of the Lion.


JPL Open House Weekend
May 2-3
NASA Jet Propulsion Laboratory - Public events
The 2009 JPL Open House will take place on Saturday and Sunday, May 2nd and 3rd, 2009, 9am-5pm both days. ....
Live video stream and chat
Saturday, May 2, 10AM-1PM.
Moon Near Saturn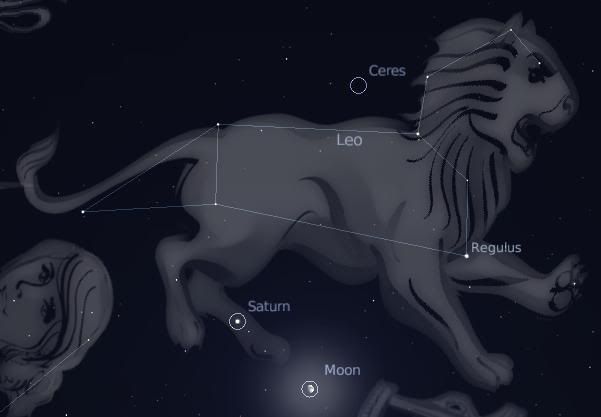 Image created with
Stellarium
.
May 3
This evening the Moon is near
the planet Saturn
. Saturn is the farthest planet visible to the naked eye. It has an orbit of about 30 years and so moves very slowly against the background of stars. A year from now it will only be about hand's width farther from its current position near Regulus.
Vandenberg Delta II Launch
Mission:
Space Tracking and Surveillance System Advanced Technology Risk Reduction
(STSS-ATRR)
Launch Vehicle:
Delta II
7920
Launch from
Vandenberg AFB
, California
May 5
2024-2052 GMT
4:24-4:52pm EDT
1:24-1:52pm PDT (local time).
Launch status updates at
Spaceflight Now | Tracking Station | Worldwide launch schedule
with more details on the launch blog (closer to launch time) at
Spaceflight Now | Delta Launch Report | Mission Status Center
.
As the launch date grows closer you can find more information and a live webcast of the launch at
United Launch Alliance.
At the request of the Missile Defense Agency, an external TV and internet broadcast of this mission will not be provided.
Meteor Shower
WU Photo:
Searching for Shooting Stars by johnlanoue Monday October 8, 2007
Early Morning May 6
The peak of the η (Eta) Aquariid meteor shower rate varies from year to year. The rate ranges from 40 to 85 per hour from ideal locations.
The η Aquariids are visible from the Northern and Southern Hemispheres with better visibility closer to the equator. The highest numbers will be visible in the hour or so before dawn after the moon has set.
For the Americas
the morning of May 5
may see hourly rates nearly equal.
The η Aquariids have a broad peak and some early meteors may be seen in the moon free hour
before dawn in earlier May
.
Source and more information at
IMO Meteor Shower Calendar 2009 | International Meteor Organization - η-Aquariids
.
Also see
Viewing Activity from the 2009 Eta Aquariid Meteor Shower
.
For Better Viewing
Find a Dark Location
A dark country location without "security" lights is best. If that's not convenient try to find a location where you can't see any lights or lighted surfaces. A nearby park or maybe even your backyard would qualify. On a beach facing the water could be a good alternative.
Where to Look
Meteors can appear in any part of the sky. To see the most meteors face the darkest part of your sky and look at least 45° above the horizon.
Be Comfortable
A reclining chair will keep you from getting a stiff neck and tired feet. A sleeping bag will keep you warm. (Even in the summertime you can get chilly at night if you are just lying still.) Insect repellent will keep you from being distracted by those little pests.
General Meteor Shower Information
An easy to read introduction to meteors with an interesting summary of annual showers is
Astronomy - Meteors and meteor showers - Francis Reddy
.
The two primary sources of most of what you'll read about meteor showers are
The American Meteor Society
and
The International Meteor Organinzation
.
Moon Near Spica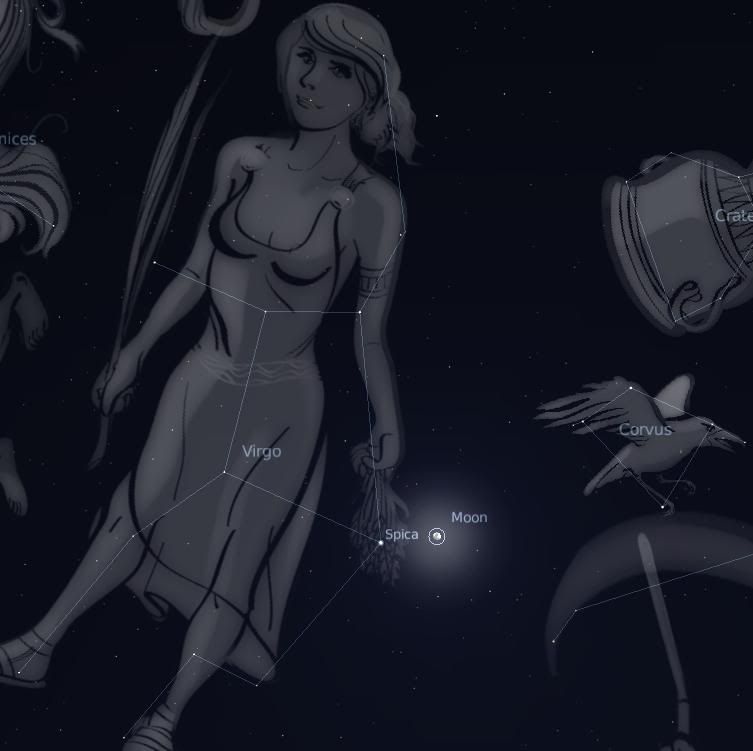 Image created with
Stellarium
.
May 6
This evening the Moon is near the star Spica, the brightest star in
the constellation Virgo
. Spica is one of the bluest stars in the sky. If it doesn't seem blue to your naked eye try looking through binoculars and unfocusing them to make Spica appear as a disk instead of a point of light.
Spica is the spike of wheat in the Virgin's hand. A kite shaped pattern of four dimmer stars sits just to the southwest of Spica. The four stars define
the constellation Corvus
the Crow who sits ever watchful for a chance to grab the wheat.
Launch of Resupply Mission to ISS
Mission: Flight 33P to ISS
Spacecraft:
Progress
M-02M
Launch Vehicle:
Soyuz
-
U
Launch from
Baikonur Cosmodrome
, Kazakhstan
May 7
11:37pm AQTT (Aqtobe Time, local time)
1837 GMT
2:37pm EDT
11:37am PDT.
Launch status updates at
Spaceflight Now | Tracking Station | Worldwide launch schedule
.
Possible live coverage of the docking on
NASA TV
.
Between launch and docking with the ISS it may be possible to sight both craft in the sky at the same time.
Check satellite pass predictions at
Heavens-Above
or try the simpler tool at
Satellite Flybys by SpaceweatherPhone.com
.
Create your own visitor map!
The views of the author are his/her own and do not necessarily represent the position of The Weather Company or its parent, IBM.
Lower California Weather & Climate, Spaceflight News and Casual Astronomy
Previous Entries for 2017