Tropical weather analysis - June 30, 2010
Hurricane Alex is poised to make landfall in northeastern Mexico probably within the next 20 minutes. Landfall will occur about 100 miles south of Brownsville. As of the 7:00 PM CDT intermediate advisory from the National Hurricane Center, the hurricane had maximum sustained winds of 100 mph, a Category 2 hurricane, and was located at 24.3N 97.5W. Additionally, the movement was toward the W at 12 mph, and the pressure was at 950 mb. This pressure is more typical of a Category 3 hurricane, but again, because Alex is a large storm, and its energy spans a large area, it has effectively minimized the otherwise steep pressure gradient that would be associated with an ordinary, smaller tropical cyclone. Reconnaissance aircraft reported an outer wind maxima within the hurricane this afternoon, and that undoubtedly halted any rapid intensification of the storm. Alex does not have time to intensify further, and will make landfall about 100 miles south of Brownsville as a Category 2 hurricane with 100 mph sustained winds. After landfall, expect rapid weakening of the inner core, but the outer core will probably take considerable time to weaken, as will the overall circulation envelope, even within the core of the hurricane. This is because Alex is a tremendously large storm, and its overall circulation influences a very large area. Hence, heavy rainfall will continue to be a possibility across portions of the western and northern Gulf of Mexico, even after Alex is already well inland and weakening. This heavy rain threat should persist until at least sometime tomorrow night.




Figure 1. Latest infrared satellite image of Hurricane Alex. Notice the small eye just offshore the northeastern Mexico coast.

Long-range radar from Brownsville, Texas shows that Alex will be making landfall soon, as I said. It also shows, impressively, that the hurricane is generating outer rain bands over a very large swath of real estate, with bands stretching all the way from its landfall location to southeastern Louisiana. Already, Alex has spawned a total of five tornadoes across the state of Texas, including three in south Texas, one in central Texas, and one in southeast Texas. The Storm Prediction Center in Norman, Oklahoma, has issued a tornado watch for extreme southern Texas, and adjacent coastal waters, effective since 7:45 PM CDT. The watch is forecast to be maintained until 4:00 AM CDT Thursday morning.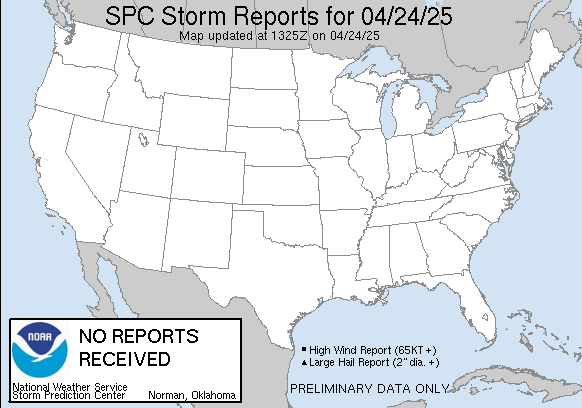 Figure 2. List of severe weather reports so far today, as per the Storm Prediction Center in Norman, Oklahoma. Notice the tornado reports so far today in the state of Texas. There could be some additional reports of tornadoes before all is said and done.

Another big impact from Alex will be torrential rains, well away from its center. These rains will likely produce some flash flooding across portions of southern Texas, as well as a good portion of northeastern, northern, and central Mexico over the next couple of days. These rains could prove particularly deadly across the enormously high mountains of Sierra Madre Oriental, where in addition to flash flooding, mud/landslides will be a possibility.

Another factor is storm surge. The National Hurricane Center is predicting that Alex will bring storm surges in excess of 4 to 6 feet above normal along the immediate coast to the north of where the eye makes landfall. As is always the case with landfalling hurricanes, the surge could penetrate up to several miles inland from the coast, inundating some areas (though the surge does steadily decrease in depth as it travels inland). In addition to the storm surge, large, battering waves will lash a large swath of the Gulf Coast from northeast Mexico all the way to the northern Gulf Coast (obviously, these waves will be lesser in magnitude the farther away from the center one is).

I am expecting Alex to be worse than 2008's Hurricane Dolly, which made landfall in extreme south Texas as an 85 mph Category 1 hurricane. I expect this not necessarily because of Alex's intensity, but because of its tremendously large size. The overall circulation covers a much larger area than Dolly did.

Elsewhere in the tropics

Elsewhere, all is quiet in the Atlantic. The extratropical surface low that the GFS and GFDL (and previously, the HWRF, as well) were forecasting would branch off along the northern Gulf Coast from the longwave trough is not present in any of the model fields today.

The NOGAPS, however, is predicting that a tropical disturbance will form in the western Caribbean in about five days. No other models are showing this, though most other models do show an increase in moisture in the area during this time, so it bears watching.
The views of the author are his/her own and do not necessarily represent the position of The Weather Company or its parent, IBM.
Reader Comments
Comments will take a few seconds to appear.
Post Your Comments
Please sign in to post comments.
Not only will you be able to leave comments on this blog, but you'll also have the ability to upload and share your photos in our Wunder Photos section.
KoritheMan's WunderBlog
Recent Posts
Local Weather
70 °F

Overcast
Previous Entries for 2017
Recommended Links