Winter Storm Pax Biggest Snowstorm in Mid-Atlantic since 2010
By: Jpeterson , 10:43 PM GMT on February 14, 2014
Winter Storm Pax swept through the South, Mid-Atlantic, and then the Northeast. In the Mid-Atlantic, two rounds of snow brought double-digit snowfalls to Maryland, DC, Virginia and West Virginia, and the Carolinas. Ice brought Raleigh-Durham and Charlotte what Winter Storm Leon brought to Atlanta two weeks prior: a traffic disaster. Across the region, power outages soared as the double-whammy of snow and ice combined with wind to produce a formidable Nor'easter.

The Carolinas

A wall of moisture swung out of the Deep South and overspread the Carolinas shortly after devastating parts of Georgia with an inch of ice and in some places, more than 5 inches of snow.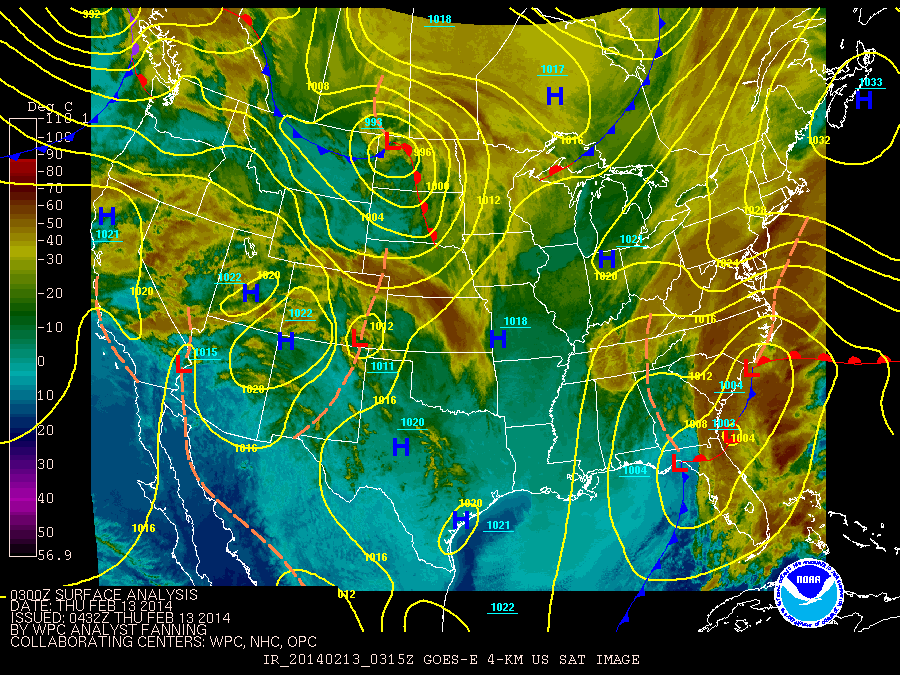 Vigorous upper low and its induced surface low feed in Gulf of Mexico moisture into the Mid-Atlantic over a layer of cold, subfreezing air. (WPC)

The abundant moisture being drawn in from the Gulf of Mexico (aka the "warm conveyer belt") overran cold air that was being funneled in by a strong high pressure system to the north. The Appalachians block the cold air at the surface from spreading into the Ohio and Tennessee Valleys and thus allow a "cold air damming" (or CAD) setup, a rather common occurrence in the region. The deep warm layer (from the warm conveyer belt) aloft--i.e. above the surface--and the shallow subfreezing layer at the surface is perfect for freezing rain.


The red line is the temperature profile from the surface to more than 15 km above the ground (as denoted on the y-axis on the left of the graph).
The green is the dewpoint temperature.
Note the deep warm layer extending from right above the surface to almost 3 km above the surface (this layer is the portion of the red line to the right of the 2nd dashed blue line, indicating temperatures above freezing). However, from the surface to the bottom of the warm layer, the temperature is at or below freezing so any precipitation that exists starts as snow (way up in the clouds), falls through the warm layer where it melts into plain rain, and finally through the shallow subfreezing layer where it freezes on anything it touches--trees, roads, etc. (SPC)

The forecast office in Columbia, SC issued a Winter Storm Warning Tuesday to be in effect through Thursday for a majority of South Carolina, an Ice Storm Warning for counties in southwestern counties along Interstate 20, and Winter Weather Advisories for coastal portions of eastern South Carolina.


(NWS)

Heavy ice of about one inch brought down trees and power outages soared throughout the state. By Thursday, February 13, about 550,000 were without power throughout the East Coast, the majority in South Carolina and Georgia (Fox News). Further inland, snow totals were enormous for the region with a swath of generally 4-8 inches for areas north of Columbia, SC and about 1-3 inches as far south as Barnwell, SC. Ice accumulations were heavies along Interstate 20 where amounts in excess of 1 inch were common.


"A tree is coated in ice outside a home after a rare winter ice storm swept across the South on Feb. 12, 2014, in Summerville, S.C. (Richard Ellis/Getty Images)" (Weather.com)

Highways are still a mess and power outages, as of about 3:40pm, Friday, Valentine's day, amount to roughly 65,000 customers in the southern portions of SC, as reported by SCE&G.


"Ice and snow cover Interstate 26, early Wednesday, Feb. 12, 2014, in Columbia, S.C. (AP Photo/Mary Ann Chastain)" (Weather.com)



"Vehicles travel north on I-85 on Wednesday, Feb. 12, 2014, in Greenville, S.C. Snow and icy conditions in the southeast are expected to continue through Wednesday and into Thursday morning. (AP Photo/Rainier Ehrhardt)" (Weather.com)

Roads are still slippery and power is still out across many counties, so stay safe out there!

In Raleigh and Charlotte, NC, traffic became an Atlanta-style-standstill Wednesday as motorists rushed to the highways to try and get home. Meanwhile, double-digit snowfall was occurring in areas north and west of the metropolitan area, after which an ice storm soon followed. By then, the storm was off the coast, poised to rapidly intensify with a northern low pressure system to create a classic Nor'easter.



"Northbound on Interstate 85 is at a standstill at rush-hour, while southbound is abandoned on Feb. 12, 2014, in Durham, N.C. (Sara D. Davis/Getty Images)" (Weather.com)

By Thursday evening, close to 6,500 flights had been cancelled within the United States (cnn.com) and about 70% of flights at Baltimore, Philadelphia, Washington D.C., and Charlotte had been cancelled (Fox News). Delta Air Lines cancelled 2,000 flights (AP).

Generally, points west and north received 5-10 inches with higher amounts around the Appalachians. Winston-Salem was hit with 8 inches of snow, the most in 15 years (AP).

DCMDVA (and West Virginia)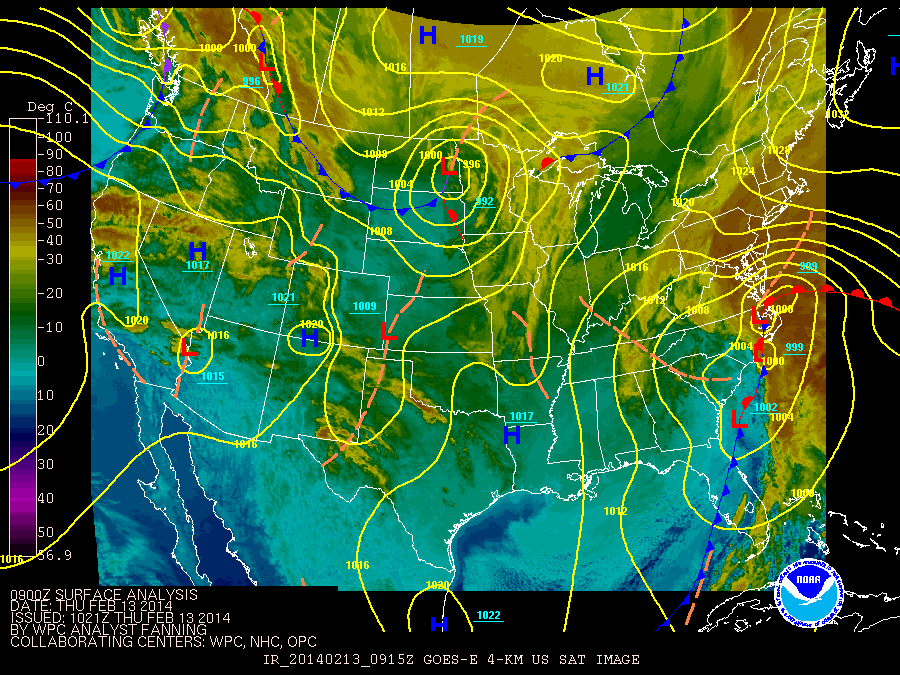 (WPC)

The DC area received an enormous amount of snow (well, at least a lot in recent standards). The double whammy of the coastal low and then the vigorous upper low brought many double-digit snowfalls, giving reminder to the "Snowmageddon/Snowpocapalyse" in 2010. The forecast was a difficult one--the track of the low determined where and when the region would receive snow (if any). For our area (Annapolis, MD), a track that is far enough offshore to prevent any warm air intrusion is best for big accumulations, like in 2010. The track of Pax's low would put us (and DC) somewhat close to the freezing line but with still some accumulation. On the Tuesday, 11th, the Governor declared a state of emergency as a Winter Storm Watch was in effect with the potential for five or more inches of snow. By Wednesday morning, there was a general aura of giddiness as a big snowstorm was arriving and forecast models were agreeing (for the most part). The Euro and NAM were forecasting heavy snow on the order of 6-9 inches for the DC metro, as blogged by Dan Stillman of Washington Post's Capital Weather Gang. The region was preparing for big snowfall--at least since the "Carmageddon" of 2011. As such, schools cancelled, the Federal government closed, and rapid transit ran on limited schedules. Also, heavy snowfall was likely to occur overnight Wednesday into Thursday, wreaking havoc on the already-jam-packed Baltimore/Washington morning rush hour. Late Wednesday night, heavy snowfall was occurring with snowfall rates of 1 to 2 inches per hour extending across the I-95 corridor, as noted by the SPC.



(SPC)



"Snow plows push snow off of Pennsylvania Ave. near the U.S. Capitol building, on Feb. 13, 2014 in Washington, D.C. The east coast was hit with a winter snowstorm with the Washington area expecting up to 8 inches of snow before it ends. (Mark Wilson/Getty Images)"

By Thursday morning, many woke up to falling sleet and more than 6 inches of snow on the ground, more west and north of I-95. Thursday morning, Reagan National Airport closed all of its runways and Dulles soon followed. BWI (Baltimore/Washington International Airport) remained open throughout both parts of the storm but with "limited operations" (BWI twitter feed). A brief lull in the storm Thursday allowed for some mixing (of rain/sleet/snow/freezing rain) but soon after, the final act swept through. Many areas north and west of I-95 were reporting more than 20 inches of snow with more to come! The Capitol and White House were among places surrounded in a wintry wonderland Thursday morning into afternoon with a coating of about 6-10 inches across the area (NWS Sterling).


"A snowman sits where Congressman sometimes hold their news conferences on the House side of the U.S. Capitol, on Feb. 13, 2014 in Washington, D.C. (Mark Wilson/Getty Images)"
"The White House north lawn is covered in snow Feb. 13, 2014 in Washington, D.C. The east coast of the U.S. was hit with a winter storm leaving up to 12 inches of snow on the ground in parts of the Washington, D.C. area. (Win McNamee/Getty Images)"

To many Washingtonians' demise, another round of wintry weather would occur Thursday night, dropping an additional 2-4 inches. This round of "Snochi", as coined by Capital Weather Gang readers, was the upper-level low of the system--the initial low that brought ice and snow to the Deep South. This time, the atmosphere was marginally unstable, allowing for some "thundersnow" (i.e. a thunderstorm over cold air) and along with it, heavy, wet snowfall, gusty winds, and some power outages (my power went out in Arnold, MD for a few hours overnight). Rain had been on and off all day but then started to mix with sleet as the cold core of the upper low came closer. In Richmond, VA, an additional 6 inches fell with the second "lightning round" (literally). Snow bands developed over the Chesapeake Bay and DC/Baltimore regions around 6pm Thursday night and it it quickly became heavy. Visibility across the region dropped off rapidly as heavy snow bands coated the area, even causing some white-out conditions. The heavy snow and wind peaked to nearly 20,000 outages in Maryland by about 10pm Thursday night (MDMEMA), mostly in Charles and Prince George's counties. Storm total snowfall ranged from 3 inches near the Bay to 24 inches in Owings Mills (NWS Sterling). BWI set a record snowfall of 12.3 inches and DCA at 7 inches (NWS). The storm was FINALLY outta here by late Thursday night/Friday morning.



"Snow falls in front of the U.S. Capitol building on Feb. 13, 2014 in Washington, DC. The east coast was hit with a winter snow storm with the Washington area expecting up to 8 inches of snow before it ends. (Mark Wilson/Getty Images)" (Weather.com)

How much snow did you have and are you ready for our next wintry blast?
The views of the author are his/her own and do not necessarily represent the position of The Weather Company or its parent, IBM.
Reader Comments
Comments will take a few seconds to appear.
No reader comments have been posted for this blog entry yet.
Jpeterson's WunderBlog
About Jpeterson
Local Weather
55 °F

Clear
Previous Entries for 2017
Personal Weather Stations