2012 - The Year in Review, Volume III: Isaac - Leslie.
By: CybrTeddy , 5:23 PM GMT on December 07, 2012
2012 - The Year in Review


Good afternoon and welcome to my Year in Review. This hurricane has been by all accounts deadly and destructive. As it stands right now, the final totals are 19-10-1 (subjected to change during post-season analysis) this once again ties us for the third most active hurricane season with 2011, 2010, 1995, and 1887, with 320 fatalities, 180 of those being in the United States. This season is the second most destructive on record, with an estimated 68-70 billion dollars in damages. Most of these were from Hurricane Sandy, which was the second most destructive hurricane ever strike the United States, only behind Hurricane Katrina.

After Gordon had dissipated, a new threat was rising, perhaps the greatest one of the year at the time. A large, monsoonal like tropical wave was approaching the Caribbean with strong model support. However, once again the conditions in the Caribbean appeared to be hostile, but the models wanted to develop this system into a potent Hurricane in the Eastern Caribbean and continue on, this time towards the United States. By the 21st of August, the system was deemed to have become organized enough to be declared Tropical Depression 9, about 215 nautical miles away from the Leeward Islands.


(Figure 1. Tropical Depression 9 at the time of its classification)

Behind Isaac, another tropical wave was noted to be developing into a tropical depression. On the 22nd of August, it was declared to have become Tropical Depression 10, nearly 900 miles WSW of the Cape Verde Islands. Significant intensification appeared unlikely as the system would be entering an area of high shear and dry air, however it became organized enough to be called Tropical Storm Joyce on the 23rd. However, it quickly weakened, only achieving a peak of 40mph, before dissipating on the 24th.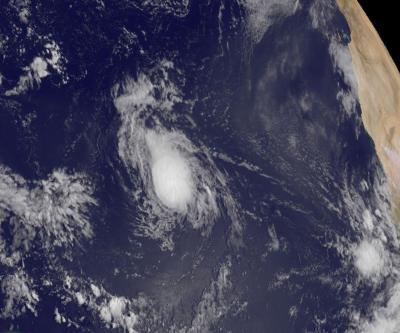 (Figure 2. Tropical Storm Joyce at peak intensity)

Later that day, a hurricane hunter aircraft discovered that the system had gained sufficient winds and organization to be declared Tropical Storm Isaac. Isaac was a tricky situation to forecast, many models had a short wave trough off the US east coast that would cause the system to first veer north, towards Hispaniola, weaken, and move up the US east coast. Other models, such as the ECMWF, had the system having organization issues and moving more westwards, towards Florida and the Gulf of Mexico. When Isaac entered the Caribbean, it faced many the same issues Ernesto had. Isaac had dry air intrusion from the central Atlantic following him into the Caribbean, and trade winds were brutal on Isaac, not allowing the core to become better organized. However, unlike Ernesto, Isaac was massive and had a lot more energy to work with. Through the 22nd and most of the 24th, Isaac struggled to become better organized, but became even more massive.


(Figure 3. Isaac struggling in the Central Caribbean)

During this time, Isaac was also being drawn slowly north, towards Hispaniola, unlike being forced west like Ernesto. It was being influenced by a weakness that had developed over Florida, but a high was situated over the United States, blocking off a more westward route. Because of this, it appeared likely that Isaac was targeting the Central Gulf, from Louisiana to Florida. Early on the 25th, Isaac made landfall as an intensifying 70mph Tropical Storm. An eye was briefly seen on visible as the storm crossed the the tip of Haiti. Often though, storms can be 'jerked' around by the rough terrain of Haiti, and Isaac was jerked northwards, causing the core of the system, however disorganized, to barely miss the Cuban coast. However, it ingested further dry air, and caused the system to become absolutely massive.


(Figure 4. Isaac on the 26th of August scraping the northern coast of Cuba)

Because of the size, a new issue was growing: Storm Surge. In recent years, storms like Ike and Irene have been noted to drop their pressures significantly, and not have their winds increase. Instead, Isaac remained a tropical storm as it entered the Gulf of Mexico, but it's wind field expanded exponentially, kicking up more water as it targeted Southeastern Louisiana. Isaac managed to finally kick out the dry air that was plaguing it on the 28th, and became Hurricane Isaac with top winds of 80mph, based on a dropsonde from the Hurricane Hunters. It's pressure though was significantly lower than you would expect in a minimal Category 1, around 970mb. This caused the windfield to expand further, and increase the threat of storm surge. Also with this, Isaac was crawling towards the coast, and would bring significant flooding in areas in it's path.


(Figure 5. Hurricane Isaac approaching the US Gulf Coast)

Isaac made landfall as an 85mph Category 1 hurricane with a pressure of 968mb, much lower for a normal Category 1 hurricane, near the mouth of the Mississippi River, and again early on the 29th, the anniversary of Hurricane Katrina, west of Port Fourchon, Louisiana. Despite being inland, and because of it's massive size, Isaac retained hurricane status until mid-day on the 29th, causing significant storm surge damage and flooding many homes. The system finally weakened to a depression on the 30th, and dissipated on the 1st. Isaac was a significantly destructive hurricane, causing up to 2.4 billion dollars in damages to the United States, and cost the lives of 42 people, 24 of which were in Haiti due to flooding. It's size and low pressure contributed highly to the damage, and was a foreshadowing of what would happen later in October, on a far more significant scale, with Hurricane Sandy.

While Isaac was wrecking havoc on the Gulf Coast, two more tropical waves were noted in a similar area were Gordon and Isaac had developed. The northern one was deemed to be the quickest organizing, and became Tropical Depression 11 at 5pm, August 28th. Dvorak numbers came in at a unanimous 2.5/2.5, prompting the Depression to be upgraded to Tropical Storm Kirk. Intensification appeared unlikely for Kirk, and was not expected to 'live long and prosper' as later NHC discussions in it's life would call it. However, the models, and the NHC, underestimated it's small size and the conditions it had to work with. Because of this, rapid intensification ensued on 30th, and the system was upgraded to Hurricane Kirk, the 5th hurricane of the season. Kirk then achieved it's peak as a 105mph Category 2 before undergoing an eyewall replacement cycle, and further weakening due to it's small size, back to a Tropical Storm. Further weakening occurred, and the system became post-tropical on the 1st of September.


(Figure 6. Hurricane Kirk near peak intensity)

The southern tropical wave also gained increased organization, and quickly became Tropical Depression 12 on the 30th of August. The future was not as bright as it was for Kirk, as now Tropical Storm Leslie was going to have to deal with significant wind shear, the shear that Isaac managed to avoid, as it moved north of the Leeward Islands. Because of this, it only appeared Leslie would peak as a minimal hurricane, if that. Intensification halted on the 31st of August, as it began to reach the area of higher shear, and the system failed to become a hurricane. The system remained near hurricane status through the 5th, when an eye like feature was noted and Leslie was upgraded to Hurricane Leslie, the 6th hurricane of the season. Weakening once again happened, and the system went back down to a tropical storm as it moved northward towards Newfoundland. The system made landfall as a 70mph Tropical Storm, though the CHC estimated it as a 75mph post-tropical storm at landfall, on the 11th of September and the last advisory was issued.


(Figure 7. Hurricane Leslie at peak intensity)

The season had already proven deadly, and destructive, but the worst was yet to come. August 2012 had 8 tropical cyclones develop, 5 of those systems eventually became hurricanes. This tied with 2004 for the most active September on record. The next part of my blog should cover Michael, Nadine, Oscar, Patty, and Rafael. The final entry will deal in it's entirety with Hurricane Sandy, the destruction it caused, and what could have been done differently to prevent this horrific storm.

CybrTed
Reader Comments
Comments will take a few seconds to appear.
Post Your Comments
Please sign in to post comments.
Not only will you be able to leave comments on this blog, but you'll also have the ability to upload and share your photos in our Wunder Photos section.
CybrTeddy's tropical weather blog
Local Weather
77 °F

Partly Cloudy
Previous Entries for 2016
Recommended Links
Personal Weather Stations
Waterford Lakes

Orlando, FL

Elevation:
122 ft
Temperature:
75.0 °F
Dew Point:
73.5 °F
Humidity:
95%
Wind:
1.0 mph from the SW
Wind Gust:
1.0 mph

Updated: 5:05 PM EST on December 06, 2016