3/5/11 Spring nears, what might be in store for Hurricane season?
By: CybrTeddy , 5:24 PM GMT on March 05, 2011
Good afternoon everyone and welcome to my update for SATURDAY March 5th, 2011. I haven't done a tropical update in a bit so I thought I'd give you all a bone, those who read my forecasts anyways. Even though in the Northern US it might not seem it, for the most part the 2010-2011 Winter is over, particularly in the South-Eastern United States. Which means we're starting to get a better view of the shape the ENSO is going to take. Earlier predictions back in December when CSU made its first prediction of 17, it appeared then the La Nina was going to hold well into the summer and we'd have another La Nina hurricane season. I'm starting to think its much more likely that 2011 will be a neutral year on the ENSO (-0.5 to 0.5), but then might begin to re-strengthen back into a La Nina as the season progresses. The CFS is showing this.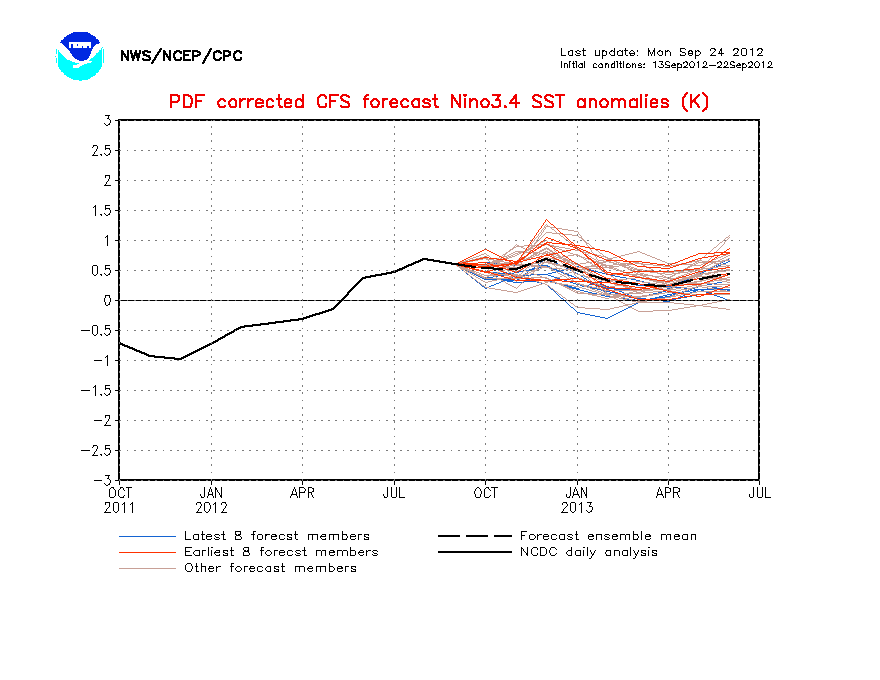 As it stands right now, the La Nina is defiantly collapsing and will continue to do so straight on through the spring. But is this a blessing for the 2011 Hurricane Season? I can tell you it is not. Let me explain. First of all, think back to the year 2008. That was a neutral year, and so was the infamous year of 2005. Both years featured significant amount of US landfalls. 2008 and 1961 so far resemble the way 2011 is shaping up so far. What I find interesting however is the way the SST's are shaping up in the Atlantic, they are defiantly cooler than what they were this time last year. However what is equally as interesting is that the GOMEX is much warmer than this time last year.


What will also be interesting to see with these SST's the way they are is how the Madden-Julian Oscillation (MJO) will react. Last year as you may recall in some of my updates I made mention of the MJO behavior. It seemed stuck in the Atlantic the entire year but we didn't get intense amount of activity until late August, were we had virtually non-stop named storms until late-October and finished off with 19 named storms.. something that I didn't even think would get that high. What I think is going to happen is that 2011 however unlike 2010, will be more active earlier into the year but September won't be as active as 2010 was. This is again similar to what 2008 experienced.

I will not speculate on US landfalls, last year I thought it was likely that the US would get at least 1 major hurricane. I was wrong to the fullest extent, but everyone else got nailed by strong storms particularly the Mexican Gulf Coast and Central America. But however, neutral years usually based on history alone see bad hurricanes hitting the United States. Does that mean 2011 will follow suite? No, does not mean so at all. Personally, I do not think 2011 will be as active as 2010 was. Here are my March predictions. I'll have another one on May 15th.

Number of named storms: 16-17
Number of hurricanes: 9
Number of major hurricanes: 5

Get ready, be prepared. The game begins in 86 days from this blog post.

CybrTed
Reader Comments
Comments will take a few seconds to appear.
CybrTeddy's tropical weather blog
Local Weather
80 °F

Clear
Previous Entries for 2016
Recommended Links
Personal Weather Stations
Waterford Lakes

Orlando, FL

Elevation:
122 ft
Temperature:
74.4 °F
Dew Point:
73.8 °F
Humidity:
98%
Wind:
Calm
Wind Gust:
0.0 mph

Updated: 1:22 AM EDT on July 30, 2016