Tropical Storm Flossie aiming towards Hawaii
Tropical Storm Flossie continues to take aim at Hawaii. As of the 5 am HST advisory from the Central Pacific Hurricane Center (CPHC), Flossie has maximum sustained winds at 65 mph and minimum barometric pressure of 996 mb. It is located about 535 miles east of Hilo, Hawaii or about 720 miles east of Honolulu, Hawaii. The system is moving westward at 20 mph. Although Flossie has been over cool waters of 25°C (which is below the 26°C threshold needed for tropical storms to sustain), it remains fairly organized as it continues to produce modest amount of thunderstorms in the center as seen on satellite image.



Figure 1. GOES West infrared satellite image of Tropical Storm Flossie approaching towards Hawaii. Image credit: NASA/MSFC.

Forecast for Flossie
Flossie will continue to move generally westward in the next several days as it remains south of a mid-level ridge. Nearly all the track guidance shows Flossie reaching the Big Island and Maui by tomorrow afternoon and passing south of Oahu on Monday night. The GFS and ECMWF have come into better agreement on the timing, which increases confidence in the forecast. Flossie will weaken steadily during the next several days. Although water temperatures will increase in Flossie's projected path, a large amount of dry air is evident on water vapor imagery. In addition, shear is forecast to slowly increase in the next few days. The combination of dry air and increasing shear should result in gradual weakening. Yesterday, I believe that Flossie will weaken and make landfall in Hawaii as a tropical depression. However, given the storm's progress and conditions, a rare tropical storm landfall becomes inevitable. The cyclone should dissipate by Wednesday after it passes the Hawaiian Islands.

Interests in the Hawaiian Islands are urged to monitor the progress of this storm as it will likely bring heavy rain, thunderstorms, strong gusty winds, and large surf on early Monday into Tuesday. Torrential rainfall could trigger dangerous flash flooding and mudslides. Heavy rainfall is anticipated for the Big Island by Monday morning and will spread to Maui County and Oahu by later that day. Flossie is expected to bring 6-10" of rain over Hawaii and Maui counties and 4-8" for Oahu. The high winds could result in power outages and some structural damage. Gust could reach up to 60 mph for some localized areas. Tropical storm warnings have been issued for the Hawaii and Maui counties and tropical storm watch is issued for Oahu. Tropical storm watch may be required for the Kauai County by later today. Dangerously high surf will begin to impact the east facing shores of the islands by tonight and is expected to peak on Monday and Tuesday.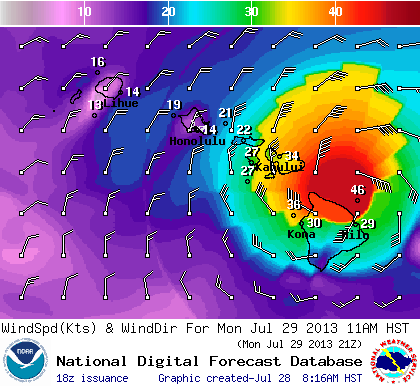 Figure 2. Wind speed and direction forecast on Monday, July 29, 2013 at 11 am HST. Image credit: National Weather Service, Hawaii.

I will have an update by tomorrow for the latest on Flossie.

Civicane49
Reader Comments
Comments will take a few seconds to appear.
Post Your Comments
Please sign in to post comments.
Not only will you be able to leave comments on this blog, but you'll also have the ability to upload and share your photos in our Wunder Photos section.
Civicane49's WunderBlog
About Civicane49
Recent Posts
Previous Entries for 2016