July 17th: Heating Up
For the first time this summer the Columbus area is under a Heat Advisory. Temps in the low 90's and dewpoints in the low 70's are forecasted to push the heat index as high as 102°. But I think it'll go higher.

On Monday I recorded a heat index of 101°. Yesterday? 103°. Todays dewpoints are forecasted to be even higher than yesterdays, so I predict a high heat index of 105°. That's oppressive.

This always happens once a year, usually around July or August, a major warm up brings out the heat advisories and calls to check on your elderly neighbors and stay out of the sun during the peak heating.

Already today at 10:40am I recorded a temp of 87° with a heat index of 98°. That's what you get with a dewpoint of 76° I suppose.

You can track today's heat index from this image, updated every minute: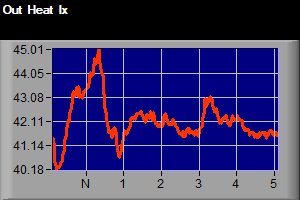 Relief in Sight
While this heat wave isn't a truly major heat wave by definition, it's still hot enough to make us all want a cool down. Well, it's coming in the form of severe storms this weekend.

The SPC has been tracking this next round of storms accurately every since Sunday, an unheard of 6 day outlook.

As of now here is the current Saturday outlook for location.




I'll post more once model guidance becomes a little more clear on our risk.

Severe Weather Stats:
Severe Thunderstorm Watches: 5
Severe Thunderstorm Warnings: 7
Tornado Watches: 1
Tornado Warnings: 0
Flood Watches: 4
Flood Warnings: 0
Heat Advisories: 1
Excessive Heat Warnings: 0
Red Flag Warnings: 0
The views of the author are his/her own and do not necessarily represent the position of The Weather Company or its parent, IBM.
Reader Comments
Central Ohio
Previous Entries for 2017