Significant rainfall coming Saturday...
"Initial Thoughts on October 25 Rainstorm"
After what is one of the driest Octobers up to this point, may be erased by some relatively moderate to heavy rainfall amounts. This event looks mainly a stratiform scenerio with some embedded convection, some of which could be severe. Rainfall amounts will be very similar across the entire state with the favored rainfall locations in this event being along the favored upsloping locations in the eastern ridges of the Appalachians as southeast winds will drive moisture out of the Atlantic. It appears rainfall totals will still be slight below normal even after this event, but it will bring a rise to area river levels and stream levels. Also some of the local dams are running near low values with Dehart Dam in the Harrisburg area only at 77% capacity, which is the lowest it has been for nearly a year. Areas across northern Pennsylvania, which are in a slight drought will be greatly benifited by this event. Even taking a look at nowcast radars, this is quite a bit of available moisture for some nice steady rains. This system will be followed by a main cold front that will move through Saturday night, but will only be followed by a wind shift. Another cold front boundary will move through late Sunday, which will bring the coldest air of the season, which will spark lake effect and orographic snow showers. Later in the week there are coastal storm speculations followed by a gradual warming trend. Good news for some is that warmer air is likely to welcome November, and could last for a week. But latest models and EURO weeklies are bringing in a major trough for the second week of November. Do not be fooled by the warmth in the beginning of the month. In any case enjoy the nice rainfall this weekend. Have a great day!!!

"Current Weather Setup"
Looking across the Northeast we have a departing high pressure system moving north then northeast off the New England coastline ahead of a pattern changer type cold front. The push of cooler air though will not quite be felt along the front, but until a day later. Low pressure has formed along the cold front and is creating a large mass of heavy rain along the front currently moving up through the Ohio Valley. Meanwhile moisture continues to stream out of the Gulf of Mexico with heavy rainfall in the southeast. Nearly 2inches of rain has fallen in Atlanta today (Friday). These areas of rainfall will somewhat merge according to latest simulated rainfalls and should make for a shield of generally stratiform heavy rain. While ahead of the front rising heights to nearly 10C bring a slug of warm, moist air northward possible sparking a band of low-topped severe thunderstorms across parts of central and eastern Pennsylvania, which may have some damaging winds gusts to near 60mph across the higher elevations. The band of rainfall will be across the region for much of the day Saturday before departing to the north and east Saturday night. Highs on Saturday will be near 60degrees across many areas, with dewpoints in the 50s. Cloud cover will be present over the entire region during most if not all of the day. After the frontal passage winds will gust to near 35mph in the valleys and upwards of 40mph in the higher elevations especially in the Laurel Highlands. The cold air though follows behind for Sunday night. See sections below for more detailed explainations.

"Regional Radar"


(Courtesy of NOAA)

"Regional Satellite"


(Courtesy of Penn State Meteo.)

"Regional Advisories"


(Courtesy of NOAA)

"Forecast Discussion"
A somewhat complex scenerio develops for some of the layers of the atmosphere during the rains this weekend making for some possible interesting weather conditions. As the front approaches winds will shift to the southeast drawing in some higher dewpoints and PWATS to near 1.5inches which is a few deviations above normal. The low level jet kicks in later Friday night bringing in the heavy rain and very high shear values. Winds aloft in the boundary to 6k ft aloft are in the 80knot range. Winds even higher up with the approach of the mid level jet is nearly 110knots. The trough moves in with a positive tilt before transitiong to a potential negative tilt through the week. Rising heights to near 9-11C in the 850s will lead to an unstable mid level boundary. CAPE values from 0-3K ft range are near 50 j/kg, but in the boundary layer they are nearly non existant for CAPE values. More so there is near -100CIN along the surface. As the front further moves across the state the stratiform rainband may gain some convective energy and create a low-topped squall line capable of tapping into the strong winds aloft and bringing them down to the surface. I was looking at some case studies for this scenerio and I found a few similarities with the November 16, 2006 event Link. It appears though that the heavy rain is the primary threat. It appears that by afternoon most of the activity will be over for western Pennsylvania, and by evening most of the rain should be out of the region. See sections below for my forecasts for rain, wind, and severe weather.

"Current Water Vapor Loop"


(Courtesy of Penn State Meteo.)

"Rainfall Forecast"
I was debating on issuing a rainfall map, but I decided it would just be easier to say a widespread 1-2inches of rain looks likely. High pressure will move out of the region and dewpoints will continue to increase through the rest of this Friday keeping virga at a minimum. Rainfall will fall mostly moderate, but some heavier bursts can be expected. Rainfall rates though should generally not exceed 1.5inches per hour for any period of time. An embedded squall line though could cause some isolated higher amounts. But overall it looks like a nice soaking. No flood worries are expected with flash flood guidance nearly 5inches for a 24hour event. Only some rises on creeks and streams is to be expected.

"12hr Estimated Precipitation"


(Courtesy of NOAA)

"HPC Forecast 5-day total QPF map"


(Courtesy of HPC)

DAY 1...

UPR OH VALLEY/CNTRL APPALACHIANS/MID ATLANTIC...

OVERALL THERE IS GOOD AGRMNT WITH THE CONTINUED ENEWD PUSH OF THE
ONGOING MDT TO HVY PCPN EVENT INTO THE UPR OH VALLEY/CNTRL
APPALACHIANS/MID ATL REGION DAY 1. THE PCPN DISTRIBUTION IS
EXPECTED TO REMAIN SIMILAR TO THE ONGOING DISTRIBUTION WITH A SRN
MAX MOVG NEWD FROM THE COASTAL SE INTO THE COASTAL SRN MID
ATL...IN THE REGION OF STRONG SELY LOW LEVEL INFLOW OFF THE
GULF...WHILE A SECOND AXIS REMAINS ALONG THE SFC FRONT/TROF
PUSHING EWD FROM THE UPR OH VALLEY INTO THE MID ATL. WITH RESPECT
TO THE SRN MAX...THE NAM IS AN OUTLIER IN BEING SLOWER WITH THE
SFC WAVE MOVG NEWD ACRS THE SOUTHEAST AND COASTAL SRN MID ATL FRI
NIGHT/EARLY SAT. AS PER THE PMDHMD...THE NAM MAY BE INITIALED TOO
FAR TO THE WSW. AT THE MOMENT...WE ARE FAVORING THE GFS TYPE OF
SOLN IN BEING FASTER WITH THE SFC WAVE AND THE NEWD PUSH OF MDT TO
HVY PCPN ALONG THE SRN MID ATL COAST.

WITH TIME...PW VALUES ALONG THE AFOREMENTIONED FRONT MOVG EWD FROM
THE UPR OH VALLEY ARE EXPECTED TO INCREASE...WITH VALUES 1-2 STD
ABOVE THE MEAN. THIS ALONG WITH FAVORABLE UPR DYNAMICS TO THE
EAST OF THE EJECTING MID WEST CLOSED LOW AND WELL DEFINED BNDRY
LAYER CONVERGENCE SHOULD INCREASE PCPN AMT POTENTIAL OVR THE UPR
OH VALLEY EWD INTO THE CNTRL APPALACHIANS AND MID ATL STATES FROM
POINTS UPSTREAM. AREAL AVG PCPN AMTS OF 1-1.5" DEPICTED...WITH
POTENTIAL FOR ISOLATED HEAVIER TOTALS IN WHAT WILL LIKELY BE A
WELL DEFINED AREA OF PCPN AHEAD OF THIS FRONT. AT THE MOMENT...WE
DO NOT BELIEVE THERE WL BE WIDESPREAD RUNOFF PROBLEMS ACRS THESE
AREAS GIVEN PROGRESSIVE NATURE OF THE FRONT AND RELATIVELY HIGH
FFG VALUES.

"Severe Weather Forecast"
I talked about the severe weather indices in many other discussions in this blog, so I will not be redundant and not mention it again. With meager instability at the surface, but some unstable air aloft I do expect a weak to possible strong line of embedded thunderstorms. In situations like this there may not even be thunder. Within this band of heavy rain will be a line of gusty winds gusting to 60mph on a few isolated mountaintop locations mainly across the ridge and valley region. Elsewhere winds will gust generally to 30mph. If enough instability develops, which is not likely, an isolated weak tornado cannot be ruled out. Stay tuned for more updates throughout the day Saturday.

"Severe Weather Outlooks from Storm Prediction Center Days 1, 2, and 3"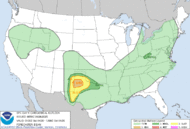 (Courtesy of NOAA)

...CAROLINAS/MID ATLANTIC STATES TO SOUTHERN NEW ENGLAND...
HIGHLY DYNAMIC SCENARIO FOR THE EASTERN SEABOARD ON SUNDAY WITH
NORTHEAST DEVELOPMENT OF STRONG JET ALOFT COINCIDENT WITH
OPENING/INCREASINGLY PROGRESSIVE GREAT LAKES UPPER LOW. AIDED BY A
STRONG SOUTHERLY LOW LEVEL JET /40-70 KT/...A RELATIVELY
MOISTURE-RICH AIRMASS WILL QUICKLY DEVELOP NORTHWARD DURING THE DAY
ON SATURDAY...WITH UPPER 60S F DEWPOINTS ACROSS EASTERN NC...AND
AROUND 60 F DEWPOINTS DEVELOPING AS FAR NORTH AS THE DELMARVA/NJ
AREAS. HOWEVER...CONSIDERABLE CLOUD COVER AND POTENTIAL FOR EARLY
DAY PRECIPITATION WILL TEND TO HINDER AGGRESSIVE SURFACE-BASED
DESTABILIZATION...ESPECIALLY NORTH OF THE DELMARVA VICINITY.

MLCAPE VALUES WILL BE GENERALLY BE LIMITED TO 500 J/KG OR LESS IN
MOST LOCALES...ALTHOUGH STRONGER INSTABILITY COULD MATERIALIZE
ACROSS EASTERN NC/FAR SOUTHEAST VA WHERE MLCAPE MAY EXCEED 1000 J/KG
SATURDAY AFTERNOON. IN SPITE OF MODEST INSTABILITY...FAVORABLE
KINEMATICS/STRONGLY FORCED SCENARIO WILL CONTRIBUTE TO A DIURNAL
UPSWING IN TSTM INTENSITY THROUGH THE AFTERNOON...WITH VERY
STRONG/VEERING DEEP LAYER TROPOSPHERIC FLOW AND 250-400 M2/S2 0-1KM
SRH SUPPORTIVE OF SUPERCELLS AND BOWING SEGMENTS/LEWPS ACROSS THE
MID ATLANTIC REGION. AS SUCH...DISTINCT POSSIBILITY OF DAMAGING
WINDS AND PERHAPS SOME TORNADOES WILL EXIST THROUGH SATURDAY
AFTERNOON/EARLY EVENING ACROSS THE MID ATLANTIC REGION...WITH SOME
HAIL POSSIBLE AS WELL. SURFACE BASED TSTM POTENTIAL/SEVERE RISK
BECOMES MORE QUESTIONABLE NORTHWARD ACROSS SOUTHERN NEW
ENGLAND...ALTHOUGH A STRONGLY SHEARED ENVIRONMENT AHEAD OF A
SECONDARY/DEEPENING NY-VICINITY SURFACE LOW SUGGESTS AT LEAST A
CONDITIONAL RISK FOR DAMAGING WINDS.

"Computer Model Analysis"
It appears that we have a general consensus for the forecast with the Saturday frontal passage and rain storm. The GFS and EURO are in similar agreement with the storm position, but then diverge on solutions for later in the week. First off I want to take a look at the NMM simulated radar. The radar is shown for midday Saturday.


The model shows a large shield of heavy rain over much of Pennsylvania at this time with areas of embedded thunderstorms. Precipitation amounts are generally near 2inches in eastern Pennsylvania with 1inch in western Pennsylvania. The GFS shows a clear forecast with a slug of moisture over much of Pennsylvania during the day moving at a very slow rate across the state. The NAM also seems to be forecasting an accurate solution with a widespread 1-2inches over much of Pennsylvania. The NAM develops some extreme helicity values well over 600, along with some very high SWEAT values. CAPE remains minimal with extreme low instability. LI index though for the NAM is down to -2 across parts of southcentral Pennsylvani. The shear values according to the NAM are very extreme with a nose 70-80knots sneaking along with the jet as it moves across the state. Keep in mind though this is 6k ft aloft. Surface layer CAPE is litle to non-existant also for the GFS, but 3k ft aloft it does develop some minimal values. Shear values are also similar to NAM from the GFS with nearly 80knots 6k ft aloft. Looking at inhibiting factors for thunderstorms the SREF does develop some -200 CINH across the region, but also does develop some CAPE across the region near 50-100 j/kg. Lastly looking at the 500mb chart from the GFS is a very potent looking disturbance along with the front that will help kick the rain out of the region and move in the colder air.



"Concluding Thoughts (A look at next week)"
O gosh so much to look at for next week as the nearly arctic front moves in for Monday behind the main frontal system, which will bring the push of colder air. Sunday generally should be a very nice day with partly cloudy skies and highs near seasonal values. But Sunday night the front moves through with some light precipitation less than .1 QPF. The front will be accompanied by a nearly 15degree temperature drop along with a wind shift to the West-northwest. Rain showers will change to snow showers with the frontal passage for western Pennsylvania and parts of west central Pennsylvania. The positively titled trough moves into the region with lots of energy and very strong winds aloft.


Once the trough settles over the region, the trough becomes more negatively oriented along with a weak shortwave north of the Great Lakes in Canada. This will fuel instability and orographic lift snowshowers along with some possibly hefty lake effect snow values. Omego values are quite high along with decent ice crystal growth. Temperature contrasts between the lakes and surface air turns to nearly 30-40degrees, which could develop some extreme instability. With a surface wind from the northwest nearly 30-40mph and winds aloft over 50knots the pull of the lake effect snow showers will be quite widespread and favored upslope locations will mostly likely see accumulations. Isotherms are nearly -8C during parts of the week with surface temperatures below freezing at night and in the mid to upper 30s during the day. I will have much more on this Sunday with a new blog, where yes I may even have to issue a snow map (first one of the year). This will be a very wet snow, which may cause power outages and tree damage in some favored snow belt regions. At this point I would say accumulations will likely be confined to elevations about 1800ft, but that could change. Snow showers still though will occur in the valleys at night. Later in the week models diverge on solutions with a coastal storm with the GFS developing it offshore, but the EURO bringing it into New England with a major interior wet snowstorm, especially for Upstate NY. UKMET has similar solution also to EURO. Stay tuned for many more updates throughout the coming week. By the end of the week high pressure moves in with just dry and chilly air as the trough slowly departs.
The views of the author are his/her own and do not necessarily represent the position of The Weather Company or its parent, IBM.
Reader Comments
Comments will take a few seconds to appear.
Post Your Comments
Please sign in to post comments.
Not only will you be able to leave comments on this blog, but you'll also have the ability to upload and share your photos in our Wunder Photos section.
The Northeast Weather Blog...
Recent Posts
Local Weather
43 °F

Clear
Previous Entries for 2017
Personal Weather Stations