Cold weather and even snow for the coming week...
"Afternoon Thoughts" (Updated 10/19)
So as I sit here typing this around 7pm, it is completely dark with the temperature already dropping to 44degrees. I think once again it has hit me that we are now entering winter. Skies continue to darken earlier and earlier overnight, with lengthening shadows from the house in the backyard. Fall leaves are fallen all throughout the yard and all of my gardening things are away and in the shed. The snow blower has been pulled out ready for the first major snow, and shovels sit only in the corner. It is amazing how fast time seems to travel. I mean it just seems as if it was on Labor Day last weekend. But yet we are already to the nearly the 20th of October with nearly a month before meteorological winter starts. Also it is hard for me to believe that nearly half of Pennsylvania has already had or near peak fall foliage. It just seems that the colors have begun to show. And then I look into the meteorological models, grids, etc and I see snow in the forecast for parts of Pennsylvania. Some of us are beginning to enter our own hibernations as we enter the depressing months of winter with limited sunshine and a dark landscape on the horizon. But yet all of these things are happening so fast, and soon Halloween will be over and history as we look towards Thanksgiving and yes I am going to say it… Christmas. Winter has already started for parts of the United States with rapidly increasing snow cover across Alaska and snow-covered Rocky Mountains across the inner mountain west. Where has time gone? We always seem to be living in the future, and not in the present. Then when the time has come, it feels like it has flown by. It is hard for me to believe that I was wishing for snowfall back in early September with the release of my outlook, and now here I am typing in forecasts for snowfall across parts of Pennsylvania. Once again where has time gone? And then here I sit staring at my Wunderground totals of nearly 79 blogs and over 4148 comments. But yet it seems I have joined this amazing site only yesterday (mid December). I am looking forward to another wonderful year with Wunderground blogs and ready for more hilarious goof-offs in the winter. I am sure bloggers like TheRasberryPatch will keep me on my toes and let me know if I make a bad forecast, lol. So overall this evening I am saying live in the moment and not in the future. Have a wonderful evening!!! Stay warm!!!

"Regional Radar"


(Courtesy of NOAA)

"Regional Satellite"


(Courtesy of Penn State Meteo.)

"Regional Advisories"


(Courtesy of NOAA)

"Forecast Discussion" (Updated 10/19)
A 1028mb high pressure system sits parked over the region for Sunday and Monday keeping cooler conditions funneled over the Northeast region. Meanwhile a rapidly intensifying coastal storm is moving northeast out towards the shipping lanes causing increased surf along New England and parts of coastal New Jersey. Winds are also high in the northwest quadrant with some occasional 35mph gusts along coastal regions. Precipitation though should generally stay offshore except for some .01 QPF near Cape Cod. Meanwhile a very strong cold front with some cold air will be funneling across the Great Lakes during the day Monday. Downsloping winds should keep clouds away from Pennsylvania until Monday night when a cirrus deck approaches western Pennsylvania. 5C isotherms remain parked over Pennsylvania keeping temperatures at seasonal values for Monday. For Tuesday the cold front moves quickly across the northeast with rapidly falling heights. Some light rain showers will accompany the front with QPF generally less than .25inches. Areas in southern Pennsylvania may not see any precipitation. Rapidly falling heights below 0C in the 925-850mb range will cause some precipitation to change to snow across the highest of elevations in Pennsylvania generally above 2300ft during the day Tuesday. Marginal surface 2m temperatures will prevent any accumulation. During the night Tuesday some residual moisture combined with orographic lift will aid some widespread snow showers from the Laurel Highlands up north through the northwest mountains. A dusting of snow may occur on some peaks near Bradford and near Mt. Davis and Blue Knob. Valley locations will not see any precipitation and downsloping conditions will prohibit any precipitation from reaching the Cumberland Valley on eastward. Across the north Poconos also I would not rule out some snow showers and even a dusting of snow. Isotherms continue to fall to nearly –5C during the day Wednesday. High pressure will move over the region capping off any chances of lake effect under an unfavorable flow (20degrees) from the north-northeast. Very cold conditions will persist during the day Thursday with 2m temperatures from the GFS generally under 10C statewide. High pressure (1032mb) remains parked over the region for Friday. Overnights will favor frosts, clear skies, light winds, and patchy valley fog with visibilities less than .25miles in deep river valleys of the Pine Creek Gorge. Overall though the period remains pretty quiet other than some early season snowflakes.

"Current Surface Map and Weekly History of Jet Stream Position"


(Courtesy of Weather Underground)

"Weekly Forecasts" (Updated 10/19)
Monday- Another chilly day is on tap for Monday with a high pressure to the north over the region. After some very heavy frost and areas of fog in the morning, skies will clear for another beautiful fall day. Winds will be variable throughout the day and mostly calm. Some high cirrus may move in later in the day during Monday across western Pennsylvania ahead of the next front. Dewpoints will also be very low and in the 30s and 40s. High temperatures will be about 5-10degrees below normal with highs across the northwest mountains in the mid 50s, highs across the central mountains in the upper 50s, highs across the Susquehanna Valley in the lower 60s, and highs in the mid 60s in the Pittsburgh and Philadelphia metro area. Monday night more clouds will overspread the region ahead of the coldest weather of the season behind a cold front. Lows will be milder than they have been, but still well below normal. Lows will range from the mid 30s across the north country to low 40s across the southern region.

Tuesday- Tuesday will be a slight transition day as a cold front approaches the region. Another weak low pressure will also accompany the front creating clouds and light rain showers across the state. Very cold air aloft will move in along with the front creating upper levels to drop below freezing. Elevations above 1800ft during the day Tuesday will see a transition from rain showers to snow showers. Surface temperatures will fall during the day. Highs Tuesday will be well below normal from the lower 50s across the north dropping to the low 40s by afternoon, and highs in the mid 50s across the south dropping into the upper 40s late. Rainfall amounts will be generally light and no more than .25inches. The lighter amounts will be found across southern Pennsylvania. As the flow turns more northwesterly some residual moisture combined with orographic lift will give way to snow showers across the mountains of Pennsylvania, especially in the Laurel Highlands and Northwest Mountains. Snowfall amounts may occur up to a dusting at the highest peaks above 2500ft. Also some areas across the Northeast Mountains will see some snow showers. Elsewhere clouds will clear from west to east with gradually falling temperatures along with a gusty northwest wind. Lows will be near the freezing mark in the mountains and in the mid 30s elsewhere in the valleys.

Wednesday- After a few morning flurries across the extreme north, skies will generally stay cloudy under a typical northwest flow with low stratus over the Laurel Highlands. Winds will be out of the northwest around 10-20mph with gusts up to 30mph on the ridge tops. Downsloping conditions though will make for sunshine across eastern Pennsylvania, but it will not get warm out. High temperatures will be nearly 10degrees below normal with highs in the northwest mountains and Laurel Highlands in the upper 40s with low 50s elsewhere. Skies will clear for Wednesday night and winds will likely decouple. Wednesday night could be the coldest night of the season as radiational cooling conditions hit a max as dewpoints will be very low. Lows may even be in the upper teens across far northern Pennsylvania near Bradford if they can get clear skies. Elsewhere lows will range from the mid 20s to low 30s in the city centers.

Thursday- Sunshine will prevail after some heavy morning frost. Thursday will be the coldest daytime temperatures of the season with highs not even possibly over 50degrees as far south as Harrisburg. Across the north country high temperatures will be in the low to mid 40s. Highs will be nearly 20degrees below normal in some areas. And across far southeast Pennsylvania highs will be in the low 50s. For overnight skies will clear with calm winds. Overnight temperatures will be very cold once again with temperatures below freezing for many areas. Some patchy fog can also be expected after midnight.

Friday- After some morning frost and patchy valley fog limiting visibilities to less than 1mile, sunshine will prevail. Winds will shift from west-northwest to the southwest ahead of an approaching storm system for the weekend. Dewpoints will rise slightly up into the low 40s for most areas, which will be the highest values seen all week. Temperatures will still be 5-10degrees below normal with them generally in the 50s statewide. Overnight skies will be variably cloud ahead of the next storm system. Lows will be milder than they have been generally dropping in the mid 30s to mid 40s.

"Current Water Vapor Loop"


(Courtesy of Penn State Meteo.)

"Fall Foliage Outlooks" (Updated 10/19)
Conditions are quite in a varying position across Pennsylvania. Across northern Pennsylvania in counties such as Crawford, McKean, Warren, Potter, Tioga, Bradford, Susquehanna, Wayne, Sullivan, Cameron, Elk, Wyoming, Forest, and Venango Counties the fall foliage season has already peaked and now has turned mostly brown except for a few late turning oaks. Last weekend was there peak and now this cold weather and at times gusty winds have brought down the rest of the leaves. From the reports that I head, it was a beautiful foliage season across that area with epic views near Pine Creek Gorge in the Pennsylvania Grand Canyon. The central mountains of Pennsylvania are currently seeing their peak with Happy Valley, the Middle Susquehanna Valley, and the Delaware Valley (Poconos) the best viewing locations. Maples are still bright red with blotches of yellow color from the local Oak tree populations. Birches have also completely turned in the coal country. Out towards Pittsburgh color is still reported near peak or just approaching peak conditions. Many oaks are still green out that way. But with all of these frosts, conditions will quickly be changing. Across the Laurel Highlands peak conditions are now being reported with bright yellows, oranges, reds, and even purples. Out towards Mt. Davis, Blue Knob, and Laurel Summit are wonderful locations to get out and enjoy the fall colors. The new wind turbine farms should add for some interesting backgrounds for local pictures. Across other parts of southern Pennsylvania in the Lower Susquehanna Valley, Lehigh Valley conditions are being reported with colors approaching peak in about one week. Oaks have yet to really turn much, but most other trees have turned color with many maples even already have lost most of their leaves. The winds this past weekend have brought down many leaves. I expect by next weekend top viewing locations will be found in the South Mountain region, Lancaster Valley area, and the local ridges of Blue, Stony, Peters, Second, and Third Mountain. Hawk Mountain would also be a great daytrip with top hawk migrations occurring around this time up that way. Areas near Philadelphia in the Chester and Bucks County Valley locations should be approaching peak conditions by Halloween. And lastly up towards the lakes region in Erie County warmer lake temperatures have inhibited the real cold air felt elsewhere, so peak conditions are slightly delayed compared to other locations up north, but I would expect peak in a few days. Local fall foliage is running about 20-25days earlier than last year, which is quite interesting for comparison. Enjoy the beauty of Fall for the last week or two in October, because as we enter November things will definitely be more brown. Here is a website for more information on Pennsylvania Fall Foliage... Link.

"Wildfire Outlook" (Updated 10/20)
We have now entered peak wildfire season here in Pennsylvania. Now our forestfires are never very widespread or destructive for the most part, but still it should raise some eyebrows to watch for the possibility. Latest drought levels are reported slight drought conditions over northern and western Pennsylvania. These are also areas where already many leaves have fallen. With these dry humidity levels with dewpoints in the teens near Bradford, along with the gusty northwest wind and dry forest floors; I would not be surprised to see a few spotty brush fires reported. Last year around this time it was much warmer with similar dry conditions and many little brush fires were reported including one that was pretty destructive up in Clinton and Lycoming County. Also one was reported in Centre County along with a very small one in Dauphin County on the north side of Blue Mountain. It does not appear there is any natural ignition for any forest fires to develop during the next week, but still any tossed cigarettes or unwatched campfires with sparks could ignite an accidental fire. Responsibility is key to prevention. Looking across the United States the dry Southeast is at a heightened risk along with parts of California for possible forest fires. For this upcoming week there are a few chances of precipitation and winds should be generally light so I believe the worst of the heightened brush fire risk is over after today. But still stay tuned to any of your local park service for updates on the forest fire danger. Once again here is the criteria according to the State College NWS for fire development...Link.

Criteria for rapid initiation and spread of wildfires in PA:

1. Winds must be sustained at 15 mph (13 knots) for two hours or more, and

2. Minimum Relative Humidities (which usually occur in the afternoon) must be 30 percent or less, and

3. 10-hour Fuel Moistures must be 15 percent or less (and expected to remain there for two or more days).

Latest from State College NWS concerning fire threat this week...
.FIRE WEATHER...
-- Changed Discussion --PERSISTENT DRY PATTERN HAS RESULTED IN LOW FUEL MOISTURE VALUES
ACROSS CENTRAL PA FOR PAST SEVERAL DAYS. SIGNIFICANT RAINFALL IS
NOT EXPECTED OVER MOST OF PA THROUGH FRIDAY. AHEAD OF COLD FRONTAL
PASSAGE TOMORROW...WINDS WILL LIKELY EXCEED RFW CRITERIA /GREATER
THAN 15MPH/ ESPECIALLY IN GUSTS. HOWEVER RELATIVE HUMIDITY VALUES
TOMORROW AFTERNOON...WHILE LOW...ARE NOT EXPECTED TO DROP BELOW
CRITICAL VALUE /30 PERCENT RH/. THUS NO FIRE WEATHER
WATCHES OR RED FLAG WARNINGS ARE ANTICIPATED ATTM.

COLLABORATED WITH PA BUREAU OF FORESTRY THIS AFTN. THEY ARE
REPORTING SPORADIC WILDFIRES AND ARE AWARE OF THE DRY CONDS AND
POTENTIAL WINDS TOMORROW. THEY WILL POLLING THEIR DISTRICTS FOR
SIG PROBLEMS AND WILL REPORT BACK IF NEEDED.-- End Changed Discussion --

"Fire Outlooks from Storm Prediction Center Days 1, 2, and 3"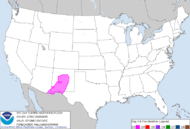 (Courtesy of NOAA)

"A Look at Winter Predictions" (Updated 10/19)
Well looking at winter I want to talk about thaws. Every winter has its typical winter Thaw, which seems to be happening lately around New Years. Even during the coldest of winters there is always a winter thaw. The cold conditions cannot just keep occurring and at some points it just needs to become slightly more mild. During this time I call the pattern in a sense of reloading, where up in the Arctic the AO turns positive allowing cold air to build. Then as the AO shifts negative the cold air comes crashing down in the northern United States. Lately, almost every winter for the past five years it seems right around or after New Years it gets very mild with temperatures soaring up to the 60s nearly breaking records. That also occurred last winter. Then when the cold air reloaded across the Arctic it gets sent down to the Northeast during late January and February. The winter of 2006-7007 is a perfect example of this pattern. With this coming forecasted winter I do expect several winter thaws, even though I am calling for mostly below normal temperatures. So as these warm periods I would predict them to be in January and maybe late February as the pattern reloads. December is definitely looking to be the coldest and snowiest month, and then January may be warmer as the pattern reloads. So it will be interesting to watch this unfold. Even during the coldest and snowiest of winters like 1996 there were several periods of mild thaws, typically in January. But overall I am just mentioning the fact that we can expect milder periods this winter, but the overall pattern should favor colder than normal conditions. In other news looking across the United States the snow pack from the inner mountain west major snowstorm is beginning to dwindle, but the mountains still have a decent snow pack. I have even heard that some of the ski resorts have opened up with one or two trails for the early season. Looking across the Arctic the sea ice levels continuing to rapidly rise, which is a great sign and good news for non-glacier melting in Greenland. Ice levels are much, much higher than levels last year at this time.

Winter 2008-2009 forecast... Link.
Winter 2008-2009 forecast update... Link.

"Snow Depth Animations and Current Wind chills"


(Courtesy of Wunderground)

"Average Date of First Freeze"


(Courtesy of NOAA)

"Long Term Outlook" (Updated 10/19)
Very, very interesting pattern is in store for the long term period here across the Northeast, almost too much to talk about in a short discussion. But since it is the long term I will not get too detailed, as most people know I put little faith in long term forecasts. But in any case a very deep trough is poised to approach the United States during the beginning of the week of Halloween. A strong low pressure should accompany ahead of the front, possibly in the form of a coastal storm. As that system pulls away, cold air will move over the Great Lakes and into the Northeast. This air will definitely be the coldest of the season with high temperatures in the mid 40s as far south as south-central Pennsylvania. A clipper system is supposed to follow and reinforce the cold air right around Halloween. With heights down to nearly –8C in the 850s and surface temperatures in the 30s and 40s snowfall is definitely possible. Also looking at the pattern, it is very conductive to the chance of a widespread lake effect snow outbreak around Halloween with the GFS and EURO indicating snowflakes as far south as Harrisburg. The EURO, GFS, and CMC both indicate very amplified troughs for that time period with some model runs having the 0C isotherm along the Gulf Coast and the –10C isotherm along the NY-PA border. This forecast has been quite consistent now for the last week. The NAO is also headed negative around this time to nearly –2 and the PNA will be positive. Also the AO is showing signs of a negative value. The CPC also indicates the chance of well below normal temperatures across all of the east coast during this time period. It seems very likely that the month of October will close on the cold sign. As for snowfall chances, that remains to be seen. But look for many updates on these chances in the coming days. Stay warm!

"Current NAO and PNA Predictions"


(Courtesy of NOAA)

"Monthly Outlook" (October)
So September has now just about come to a close. Precipitation was above normal for most of the state of Pennsylvania, except for parts of western and extreme northwestern Pennsylvania. Temperature wise it was about 1-2degrees above normal for much of the state. My forecast called for normal temperatures along with above normal precipitation, so overall I am pleased with my forecast for September. The first half of the month was much warmer than normal followed by a cooler than normal second half of the month. So now we are in October, the height of the fall season, and many are wondering if we will have another scorcher like last year. Temperatures were into the 80s for much of the month along with an extremely late fall foliage season. As many bloggers have mentioned, they were swimming in pools during the first half of the month. By the end of the month finally many areas received a very late frost and freeze followed by a relatively cold November with an early snow around mid month. So for October here is what I am thinking...

Temperature- There does not seem to be quite an evident trend for temperatures for October. There does not seem to be one distinctive pattern setting up other than a consistent eastern United States trough. The NAO seems to be staying negative for next two weeks along with PNA mostly positive. AO index is also staying the majority of the time in the negative range. Also EURO long-range model supports Greenland blocking with a slight eastern trough. GFS has shows a similar pattern with cold and mild periods throughout much of the month. So overall I expect temperature values to be near normal with slightly below normal temperatures in some areas. I do not think we will be seeing any extreme warmth this month like last year.

Precipitation- Precipitation wise again there does not quite seem to be an evident storm track. I am thinking a typical October like setup occurs with a few dry cold fronts along with some wetter low-pressure systems. Around midmonth the long range GFS has consistently showed a large coastal storm so we will have to see what happens with that. Tropics are beginning to calm down, so I do not feel too confident on the east coast experiences another tropical system. So my forecast for precipitation is normal to slightly below normal. Overall I think October should be pretty consistent with 30-year historical means.

"Temperature and Precipitation Outlooks from Climate Prediction Center for next 30 days"


(Courtesy of NOAA)

"Here north of Harrisburg 2008 statistics"
(Severe Weather Stats...)
Severe Thunderstorm Watches- 8
Severe Thunderstorm Warnings- 4
Tornado Watches- 1
Tornado Warnings- 0
Total Thunderstorms- 32

(Precipitation Stats...)
Flood Watches- 6
Flood Warnings- 5
Monthly Precipitation- 0.02inches
Yearly Precipitation- 33.61inches

(Temperature Stats...)
Heat Advisories- 4
Excessive Heat Warnings- 0
90degree days- 17
The views of the author are his/her own and do not necessarily represent the position of The Weather Company or its parent, IBM.
Reader Comments
Comments will take a few seconds to appear.
Post Your Comments
Please sign in to post comments.
Not only will you be able to leave comments on this blog, but you'll also have the ability to upload and share your photos in our Wunder Photos section.
The Northeast Weather Blog...
Recent Posts
Local Weather
37 °F

Clear
Previous Entries for 2017
Personal Weather Stations