Cooler air by week's end...
"Afternoon Thoughts" (Updated 10/12)
Good evening!!! I say this every year, but there is nothing else quite like a Fall in Pennsylvania. Magnificent colors dapple through the forest canopy. Shadows begin to lengthen with each passing day, and clear blue sky causes endless visibilities. It seems this season with each passing day is more and more fall color. See more information on fall color in fall foliage section below. So this weekend has just been beautiful and definitely work getting out in the outdoors with temperatures in the 70s, but still with lows in the low to mid 40s. Some people may describe this as an "Indian Summer," and I would agree with that. This is probably the last bit of real warmth we will see for quite a long time, because as the month progresses the sun's rays continue to lower in the sky along with the allowance for more polar air to penetrate the Northeast region. So enjoy this warmth while it lasts for the first half of this week, and I would not be surprised if we hit 80degrees either Monday or Tuesday for many areas south of I-80. But all great things seem to come to an end, and that will be the case as an impressive cold front comes crashing through the region with the coldest air of the season. Yes, I am using the word cold and not chilly. Some areas this weekend may not see highs out of the mid 40s with mostly cloudy skies. And it seems the "cold air" wants to stick around for a while. Fall leaves will probably reach peak in many northern areas this coming weekend.

There has been one change on my blog for the standard format. I said my goodbyes to the gardening outlook section last week, so now as this is a seasonal transition blog I am devoting a section to winter predictions and forecasts. This will continue to update all of the indices I have mentioned for my forecast. Also this will look at places around the United States that may and are seeing premature winter like conditions. There will also be links to the Winter Forecast Blog and Winter Forecast Update Blog. Continue to feel free to post your winter outlooks, as that will be a major discussion point in the next few weeks to come. Today is the 12th of October so we are about midway through the month. Also I was taking a look through my weather journal from last year; the first snowflakes occurred in November 9 for my area, which is less than a month away. So for now enjoy these wonderful Fall conditions we are under. Have a great day!!!

"Regional Radar"


(Courtesy of NOAA)

"Regional Satellite"


(Courtesy of Penn State Meteo.)

"Regional Advisories"


(Courtesy of NOAA)

"Forecast Discussion" (Updated 10/12)
A large ridge of high pressure sits bubbled over the North Carolina/Virginia border with a max pressure 1032mb. This will continue to pump up extreme abnormal heights for this time of year with the 15C isotherm nearly over the region, which is several deviations above normal. This large ridge will continue to slide out of the region Tuesday and Wednesday, but still keeping the flow southwesterly. Dewpoints though will continue to be dry around 50degrees. The large storm system over the western United States producing all of the snow will move northeastward into Canada, while a strong but dry cold front marches east across the lower 48. The front will begin to slow down as it moves eastward across the Ohio Valley. And by Thursday the front moves into the western portions of Pennsylvania. QPF will generally be light around .1inch. Rapidly falling heights behind the front below 10C will move into the region with a dry northwesterly flow. By Friday the 0C isotherm moves near the I-80 corridor. High pressure will be situated across the Midwest, so the flow will turn north-northwest near the 320degree mark. Clouds will be over the region with a slightly unstable flow with CAPE values up to 50, so there is enough to produce light rain across the far northwest and cumulus clouds elsewhere. A weak disturbance will rotate along the trough for Friday out in the Midwest and slides south of Pennsylvania during the day Saturday. This will reinforce the cold air bringing the coldest air of the season with isotherms near (-1)-(-4)C across the state. Surface temperatures remain very cold for highs and lows. Solutions diverge with a possible scenario of a coastal low forming and heading up the east coast. The GFS has been consistent with forming a low pressure off the Middle Atlantic, but most runs show it heading out to sea. But the latest 18z run from October 12 show precipitation being thrown back into Pennsylvania with QPF near .5inches. I am not sold on that solution, so I am buying the out to sea solution at this point. I do want to note something very interesting. That 18z run shows temperatures at the surface for Saturday night in the upper 30s for eastern Pennsylvania with precipitation over the region. Also 850s are below freezing, so yes the 18z run does develop mixed precipitation over northeastern Pennsylvania. I highly, highly doubt this will happen, but I thought I would show everyone just to make them shiver, lol. So weather for this weekend remains a little questionable with maybe some rain for Saturday night. But one thing I am for sure is the coldest air of the season is moving in this weekend. Stay tuned for more updates.

"Current Surface Map and Weekly History of Jet Stream Position"


(Courtesy of Weather Underground)

"Weekly Forecasts" (Updated 10/15)
Monday- The ridge of high pressure continues to strengthen turning the flow southwesterly pumping up the heat up the Appalachians. The warmest air since mid September will move into the region with highs nearly 15degrees above normal. Skies will generally be clear, but there could be some afternoon cirrus. Dewpoints will be low and in the low 50s. Highs will be near 80degrees from I-80 southward and mid 70s to the north of that. Sunshine will prevail, but as evening approaches temperatures will drop once again. Dewpoints will though be slightly higher than previous nights creating some patchy valley fog. Lows will be in the mid 40s across the north to low 50s in the south.

Tuesday- Another beautiful day is in store across the region. The ridge of high pressure in the southern Middle Atlantic will continue to dominate the region, but it will slowly be moving eastward. Highs will still be nearly 10-15degrees above normal. Cloud cover will generally be non-existent though some orographic lift could aid cumulus development in the Laural Highlands and northwest mountains. Highs will be near 80degrees in the major city metro areas. Elsewhere highs will be in the mid to upper 70s. Dewpoints will be in the mid 50s. Tuesday night will be another cool night with ideal radiational cooling. Lows will drop to wet bulb levels with them ranging from the upper 40s across the north to low 50s across the south. A bit of cirrus cloud cover may move over the region later in the night ahead of an advancing frontal system.

Wednesday- The ridge of high pressure will be moving to the east and a front will be approaching from the west. We are caught in a squeeze position, which usually generates warmer than normal temperatures with slightly higher dewpoints. Cloud cover will be partly cloudy with a cirrus deck and possible afternoon cumulus in the western part of the state. Highs will be near 5-10degrees above normal. Highs will be in the upper 60s across western areas, which is cooler than most areas thanks to some cloud cover. Elsewhere highs will be in the 70s. Overnight Wednesday some light rain could move in for western areas with cloud cover over much of the state of Pennsylvania. It will be a very mild night with lows statewide in the 50s.

Thursday- The cold front continues across the state of Pennsylvania with any precipitation rapidly drying up after maybe some morning light rain across western Pennsylvania with rainfall totals less than .25inches. I also would not rule out a thunderstorm. Clouds will be over the state with near normal temperatures for most areas. Highs will be in the 60s statewide, except for a few 70degree readings in the Philadelphia area. Cooler conditions will funnel in later in the afternoon and evening. Overnight Thursday clouds will be scattered over the region with some light 5mph northwest winds. The northwest flow will inhibit radiational cooling for the most part keeping temperatures warmer than they could have been. Still lows will drop in the low 40s across the northwest and mid to upper 40s elsewhere. Metro areas will see lows in the low 50s. Clouds will break up as the night progresses.

Friday- Much cooler air will funnel into the region with a north-northwest flow. Moisture from Lake Erie will cause a few lake effect rain showers across far northwestern areas. Clouds will be partly cloudy during the day, especially in the afternoon hours. Highs will be near 5degrees below normal. Highs will be in the low 50s across the north country and highs in the low to mid 60s across the south. Friday night will be very chilly, and if winds decouple lows could drop in the upper 20s across the north and mid 30s elsewhere with some frosts and freezes possible in areas that still are in a growing season. Stay tuned for more updates on this potential.

"Current Water Vapor Loop"


(Courtesy of Penn State Meteo.)

"Fall Foliage Outlooks" (Updated 10/12)
Well for a few areas across the state of Pennsylvania we are entering peak foliage time. Take a spin this Columbus Day down the famous Rt 6 in northern Pennsylvania, because foliage conditions have been reported near Peak across many areas, especially for northern hardwood maples. The Poconos and the Pennsylvania Grand Canyon areas are reporting beautiful fall foliage with vibrant and bright colors of reds and yellows. Also many areas in the central mid portion of the state from Mercer County to Centre County to Carbon County are reporting 50% fall color change with many of the maples of all varieties at peak conditions. Bald Eagle Mountain is really shining these last couple of nights with bright yellows and dotted reds. Some of the oaks though are still green. Peak conditions in this central region can probably be expected by the end of next weekend towards the start of next week. The coal country of Pennsylvania in the Schuylkill County region is reporting nearly 40% color change with many of the Birch trees near peak conditions in the limestone mountains. Areas in the Laural Highland ridge tops will be nearing peak conditions in about one week. Many trees in this region are of the oak variety and taking slightly longer to change color. Across southern Pennsylvania to the south of the ridge and valley region, conditions are being reported at 25% with now just about all conditions reporting color. Even local mountainsides definitely have color. Across counties such as Berks, Lehigh, and Northampton conditions are slightly farther ahead than areas just to the west. And finally across the Philadelphia suburbs conditions have noticeable changed with conditions near 15% with mostly maple trees changing color. Some of the roadside poisons and sumacs may be misleading to the actual color of the countryside. Warm days and cool nights are perfect for bringing out bright colors, also dry conditions brings out the colors. These cold nights and warm days we have been having are just about perfect for leaf changes. I see a noticeable difference each morning I get up with the color change. As for peak changes they are running about normal across the north and slightly earlier than normal across the south. Also interestingly enough we are running about 20-25days earlier for color changes than we were last year. So get this beautiful Monday and take a drive through the beautiful Pennsylvania countryside. Feel free to post pictures below! Here is a website for more information on Pennsylvania Fall Foliage... Link.

"Wildfire Outlook" (Updated 10/12)
We are just about into the heart of wildfire season here in Pennsylvania. Our wildfire conditions from season to season never amount to anything much, especially considering what happens to the Western United States, but still it bears monitoring this time of year when things are dry. We have not had much rain here in eastern areas for nearly two weeks it seems. Some areas across western Pennsylvania, though, saw nearly .5inches of rain a few days ago. Northern areas in counties such as McKean, Potter, Tioga, and Bradford Counties are reporting the driest of conditions statewide. That is also where the peak of fall foliage is with leaves covering the forest floor. And that is also where the driest of dew points are located. I would put that area at a heightened risk of wildfire conditions, but luckily winds are light and variable preventing rapid spread of anything that develops. Elsewhere conditions are still prone to development, but not exactly ideal conditions. Last year several large forest fires occurred this time of year, partly thanks to all the heat we had in the beginning of the month. Lycoming, Centre, and Clinton Counties saw the worst of the first conditions. So for this coming week take precautions when outdoors. Across the United States conditions are very prone to fire development in California with red flag warnings up. But overall the United States is pretty quiet with red flag conditions. Once again here is the criteria according to the State College NWS for fire development...Link.

Criteria for rapid initiation and spread of wildfires in PA:

1. Winds must be sustained at 15 mph (13 knots) for two hours or more, and

2. Minimum Relative Humidities (which usually occur in the afternoon) must be 30 percent or less, and

3. 10-hour Fuel Moistures must be 15 percent or less (and expected to remain there for two or more days).

"Fire Outlooks from Storm Prediction Center Days 1, 2, and 3"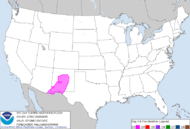 (Courtesy of NOAA)

"A Look at Winter Predictions" (Updated 10/12)
I just finished up my blog on my latest winter prediction updates, but this section in my weekly blog is going to look at early appearances of winter across the country along with changing conditions in nature. Also I may choose to have updates on indices such as the winter ENSO situation. Anyways a major winter storm just occurred across the Western United States with snowfall affecting nearly six states with some areas in the higher elevations seeing over four feet of snow. Even valley locations saw wet and heavy snow accumulating sometimes over 6inches causing tree limbs to fall and power lines to come down. Many higher elevations over 10,000ft will hardly see any snow melting in the coming weeks even with warmer air, so this will be a nice build-up to the western United States snow pack for the ski season, and even provide water for surrounding communities. Many areas in Alaska have been seeing above normal snowfall to start out their winter season. We have now started into the season where everyday there is some type of winter advisories in the state of Alaska.

Looking around at our natural surroundings we can definitely tell winter is coming with not only the leave changes, but also insect and animal patterns. It seems there have been abnormal amounts of spider webs this season, and abnormal amounts of those pesky stinkbugs. Also squirrels have been running around like it would be mating season, but they have only been gathering acorns and such to store for the winter. Reporting from the Dutch County, the Amish have reported that the horse's winter coats have come in very heavy, which could potentially mean a cold winter. Pennsylvania Dutch standards have lots of interesting weather folklore. Many areas are also getting ready for hunting season; meanwhile warm water fishing is just about over. Hard to believe, but already they are beginning to stock trout in area creeks and lakes for ice fishing this winter. There are plenty of other changes according too.

Winter 2008-2009 forecast... Link.
Winter 2008-2009 forecast update... Link.

"Snow Depth Animations and Current Wind chills"


(Courtesy of Wunderground)

"Average Date of First Freeze"


(Courtesy of NOAA)

"Long Term Outlook" (Updated 10/12)
Yep it is starting to get that time where in my long term outlooks I begin to look for potential snowy patterns. But not yet, so do not get worried. Currently the NAO is positive, which corresponds exactly to the weather pattern we are in with a large ridge over the east. But as we head later in the month the NAO is progged to go negative and the PNA heading positive favoring east coast troughing. It looks like my monthly outlook for October should pan out nicely in the temperature department. Troughs look to be coming down out of Canada in the Midwest and then should head eastward. The pattern looks pretty progressive with troughs not lasting long, but they still should be the overall pattern with below normal temperatures. Precipitation wise I still do not really see any good chances of rain. And looking at the size of some of these troughs, I would not be surprised for some more areas to see snow flurries before the month's end. The CPC is calling for below normal temperatures for the second half of the month also. So overall the pattern looks very similar to the beginning of October this year with below normal temperatures and occasional lake effect precipitation. This pattern looks to continue through the beginning of November. Also I do want to add that some of the GFS model runs are indicating very deep troughs to move across the east with some having the 0C isotherm as far south as the Gulf Coast. While this is not quite feasible, it still shows that some very chilly air will be moving southward.

"Current NAO and PNA Predictions"


(Courtesy of NOAA)

"Monthly Outlook" (October)
So September has now just about come to a close. Precipitation was above normal for most of the state of Pennsylvania, except for parts of western and extreme northwestern Pennsylvania. Temperature wise it was about 1-2degrees above normal for much of the state. My forecast called for normal temperatures along with above normal precipitation, so overall I am pleased with my forecast for September. The first half of the month was much warmer than normal followed by a cooler than normal second half of the month. So now we are in October, the height of the fall season, and many are wondering if we will have another scorcher like last year. Temperatures were into the 80s for much of the month along with an extremely late fall foliage season. As many bloggers have mentioned, they were swimming in pools during the first half of the month. By the end of the month finally many areas received a very late frost and freeze followed by a relatively cold November with an early snow around mid month. So for October here is what I am thinking...

Temperature- There does not seem to be quite an evident trend for temperatures for October. There does not seem to be one distinctive pattern setting up other than a consistent eastern United States trough. The NAO seems to be staying negative for next two weeks along with PNA mostly positive. AO index is also staying the majority of the time in the negative range. Also EURO long-range model supports Greenland blocking with a slight eastern trough. GFS has shows a similar pattern with cold and mild periods throughout much of the month. So overall I expect temperature values to be near normal with slightly below normal temperatures in some areas. I do not think we will be seeing any extreme warmth this month like last year.

Precipitation- Precipitation wise again there does not quite seem to be an evident storm track. I am thinking a typical October like setup occurs with a few dry cold fronts along with some wetter low-pressure systems. Around midmonth the long range GFS has consistently showed a large coastal storm so we will have to see what happens with that. Tropics are beginning to calm down, so I do not feel too confident on the east coast experiences another tropical system. So my forecast for precipitation is normal to slightly below normal. Overall I think October should be pretty consistent with 30-year historical means.

"Temperature and Precipitation Outlooks from Climate Prediction Center for next 30 days"


(Courtesy of NOAA)

"Here north of Harrisburg 2008 statistics"
(Severe Weather Stats...)
Severe Thunderstorm Watches- 8
Severe Thunderstorm Warnings- 4
Tornado Watches- 1
Tornado Warnings- 0
Total Thunderstorms- 32

(Precipitation Stats...)
Flood Watches- 6
Flood Warnings- 5
Monthly Precipitation- 0.02inches
Yearly Precipitation- 33.61inches

(Temperature Stats...)
Heat Advisories- 4
Excessive Heat Warnings- 0
90degree days- 17
Beautiful Pennsylvania Fall Weather... (
Blizzard92
)
Gettysburg... Near Little Round Top and Devil's Den
The views of the author are his/her own and do not necessarily represent the position of The Weather Company or its parent, IBM.
Reader Comments
The Northeast Weather Blog...
Previous Entries for 2017