More fall weather this coming week...
"Afternoon Thoughts" (Updated 10/4)
Well I must certainly say that this late week and beginning of this weekend sure have brought a taste of late Fall and even winter in some locations. This was quite a steep trough that affected areas from across the Great Lakes to as far south as Georgia with below freezing temperatures. International Falls, Minnesota broke a record low reaching 21degrees and Embarrass, Minnesota even got as low as 18degrees. Parts of Michigan received their first frost along with some snowflakes being reported near Marquette, MI. Across northern sections of Ohio they had their first taste of strong lake effect rain bands and even some frosts across rural conditions. Lake effect rain occurred also across much of the northeast with even snow occurring across the Adirondacks of New York state. Snowfall fell as low as 2500ft. Across the White and Green Mountains of New Hampshire and Vermont snow fell as low as 3500ft with places like Stowe Mountain ski resort in Vermont seeing accumulations of nearly 2inches. Places like Mt. Washington, NH saw fierce winter-like conditions with winds gusting to near 94mph and temperatures in the low 20s making it feel like it was below zero. Up to 3.3inches of snow fell on Mt. Washington with drifts as deep as one foot. Some observers on Mt. Washington even took the opportunity to do some early season snowboarding and skiing. Some more snow is expected at Mt. Washington over the next few days. Across Pennsylvania frosts occurred in many areas Friday night with a minimum low of 26degrees at the Pennsylvania icebox of Bradford. But frosts will also reported farther east such as in Mt. Pocono with a low of 31degrees. A bit of precipitation moved over the northwestern part of the state overnight Friday night with a few snowflakes reported near St. Mary, Pennsylvania, which is in Elk County. Deep frosts occurred in four northern PA counties bringing the official end to the growing season in Elk, Cameron, McKean, and Potter Counties. No more frost or freeze products will be issued for those areas until next Spring. Frosts also occurred in the West Virginia Mountains and down the Blue Ridge parkway through North Carolina. Also near freezing temperatures of 33degrees was reported near the North Carolina/Georgia border in the Appalachian Mountains. So overall it was quite an active weekend. Enjoy more beautiful fall weather to come. Have a great day!!!

"Regional Radar"


(Courtesy of NOAA)

"Regional Satellite"


(Courtesy of Penn State Meteo.)

"Regional Advisories"


(Courtesy of NOAA)

"Forecast Discussion" (Updated 10/4)
A pretty typical October week is in store this week starting off cool and dry becoming more mild with rain towards the end of the week. High pressure begins to depart to the east on Sunday with 850 level still below normal though for this time of year in the 5-8C range. Winds turn southerly and with some sunshine highs will be mild. But a backdoor cold front will be approaching from the north followed be a weak Canadian polar high. Monday rain showers move over the region associated with the backdoor cold front and a weak clipper type system. QPF is generally less than .25inches for the entire event. 850s cool slightly with the 0C isotherm nearly to the NY/PA border. A 1035mb high pressure stationed north in Canada parks itself over the region for Tuesday keep temperatures well below normal. Winds should decouple for Tuesday night along with dry air aloft preventing cloud cover; it should be a very cold night. Frosts will occur farther south than they have been so far this Fall season. 2m GFS even indicates freezing temperatures dipping to the NY/PA border. The 2m chart is usually very modest with temperatures because it does not factor in radiational cooling and elevation. The building ridge over the central USA moves and slowly flattens as it moves eastward across the Northeast. But still heights will generally be on the rise for Wednesday with warmer than normal temperatures, especially in western Pennsylvania. High pressure remains parked over the region to the north with a 1030mb high. Jet stream generally becomes more zonal late in the week and less amplified like it has been. But a slight trough/disturbance will be working across the great lakes for late in the week along with a cut off low in the southeast. The flow will turn more southerly bringing in higher wet bulb levels. Some slightly different timing issues exist with the EURO and GFS as for the timing of the precipitation, but it appears it either starts late Thursday or early Friday. QPF is generally less than .5inches for the event. Although some 1inch QPF is forecast by the GFS in the southern Middle Atlantic. A quick trough moves in for the beginning of the weekend with lowering isothermal levels near 2C across the NY/PA border. The trough does not last long before more rising heights over the east. GFS indicates a major storm forming out in the west with a giant trough moving across the country with the first major winter-like storm system of the year with Great Plain severe weather and mountain snow. I will have more details in the long-term section below.

"Current Surface Map and Weekly History of Jet Stream Position"


(Courtesy of Weather Underground)

"Weekly Forecasts" (Updated 10/6)
Sunday- High pressure remains over the region as the deep and amplified trough begins to lift out of the region. Dewpoints will be the highest they have been in several days with them maybe hitting 50 across southern areas. Morning conditions will be pretty calm with some patchy valley and river valley fog limiting visibilities to as low as 1mile. Also there will be some widespread frost, especially over the north country. A disturbance moving in from the Ohio Valley will advect a thin cirrus deck across all areas for late afternoon, but for the most part it should be sunny. There is a chance though that with a southeasterly flow and the right rear entrance to the jet in southeastern Pennsylvania that there could be some morning to midday stratus clouds. Highs will be right at seasonal normals for most of the state with highs up to 70degrees near Philadelphia and up to 60degrees near Bradford. Sunday night clouds will continue to filter in over the region. A few rain showers may occur over northern Pennsylvania from an area northeast of the Indiana-Du Bois-Bradford line. Drizzle cannot be ruled out elsewhere across the state. Lows will be slightly below normal with mostly temperatures in the 40s, but a few upper 30s could occur especially across the Poconos.

Monday- Another upper level trough builds over the Northeast region along with a weak disturbance of a clipper type system. Clouds will be thick over much of the state keeping a hold on temperatures from rising all too much. Rain showers will be most widespread over northern Pennsylvania with precipitation totals up to .25inches. Across southeastern Pennsylvania only a few rain showers is expected with amounts generally less than .1inch. High temperatures will be well below normal with highs barely reaching 50degrees across northern areas with elevations over 2300ft. Western Pennsylvania will see highs in the mid to upper 50s, central Pennsylvania upper 50s, and eastern Pennsylvania generally lower 60s. As evening falls winds will shift from the east to the north behind this backdoor cold front. Looking at the latest guidance, Monday may be a pretty decent day though for southern Pennsylvania. Drier air will advect from the north with a few debris clouds and rain showers possible overnight across the north country. Skies will clear out after midnight for most southern areas. Lows will be very chilly as the weak trough pushes down some cold air. Frost and freezes look possible in areas even maybe southern Pennsylvania. Between the turnpike and I-80 it appears frosts are possible. Lows should be statewide in the low 30s to low 40s. Stay tuned to more updates on frost potential.

Tuesday- Skies will be mostly clear across the entire state after some residual morning fog in locations that saw rainfall overnight. Visibilities could be as low as 1mile. Dewpoints will be quite low with them generally in the mid 30s to low 40s across the state. Winds will generally be light as high pressure dominates the region. High temperatures will be in the upper 50s to mid 60s statewide. As dusk approaches temperatures dramatically drop under perfect radiational cooling conditions with low dewpoints, calm winds, and clear skies. Tuesday night will be very chilly with lows in the upper 20s in the northern tier border counties, with lows in the 30s for areas from PA turnpike on northward. Low 40s can be expected elsewhere. Frosts may occur the farthest south they have so far this fall season. I will have more updates on the frost potential for the overnight hours, during the day on Tuesday.

Wednesday- Weak trough quickly departs the region, which brings in a more southwesterly flow with warmer and slightly more humid air for Wednesday. Sunshine will dominate the weather as high pressure is still in control for the most part. High temperatures may actually reach 70degrees as far north as Williamsport. High temperatures will generally be 5degrees above normal statewide with the coolest of the temperatures found in the Poconos. Wednesday night skies will start off with clear skies, but as the night progresses warm air advection clouds will advance into the region along with a few rain showers. Winds will be calm and dewpoints will be on the increase. Lows will be in the low 40s to low 50s.

Thursday- After some morning river valley and valley fog limiting visibilities to 2miles, mostly cloudy skies will persist with on and off rain showers across the region. Computer model guidance is in major disagreement for the forecast, but it appears the flow will turn southerly bringing in some higher dewpoints and warm temperatures.
Rainfall total should generally be pretty light and manageable. Meanwhile a new trough is moving through the Midwest. High temperatures will be highly dependent on how much cloud cover moves is around the region, but I expect highs to be similar to Wednesday with low 70s as far north as the Pittsburgh-Harrisburg-Allentown line. For Thursday night the cut off low pressure in the southeast begins to bring in some light rain showers, but rain totals should generally be less than .1inches. Lows will be the most mild they have been in nearly a week with mid 40s across the north and low 50s across the south.

Friday- With cloud cover over all of the state of Pennsylvania, highs will be relatively near seasonal values of mid to upper 60s across the state. Rain showers will affect the region from a cut off low in the southern Middle Atlantic. Meanwhile a cold front is going to approach from the west with more chilly air to start off the beginning of next week. Friday's forecast will be clearer later this week, but precipitation totals could be near .5inches in some southern areas. Friday night appears mild once again with on and off rain showers. Lows will be in the upper 40s to mid 50s.

"Current Water Vapor Loop"


(Courtesy of Penn State Meteo.)

"Fall Foliage Outlooks" (Updated 10/4)
Fall foliage is becoming nice across the state with some pictures of the beautiful colors beginning to appear across the northern mountains. It seems colors are running right above average for peak times. Trees such as maple and birch have already begun to change, but the oak still have a week or two to go. Across northern Pennsylvania conditions are being reported near moderate across Alleghany National Forest and the northern Poconos. Also across Pine Creek Valley near Pennsylvania Grand Canyon conditions are reported near moderate. With these past very cold nights and even a few snowflakes in that region, the color has really taken off over the last week. I expect peak values to be reached by the end of next weekend. Across the ridge and valley region many maples are beginning to turn red, and now I have begun to spot some color changes in the forests alongside the mountains, especially the northern side. Across southern areas colors still remain patchy with most likely a mid to late October peak for color. For those hoping to enjoy a nice Sunday drive, I would expect the best fall foliage to be found near Alleghany National Forest and probably up in the northern Poconos. During the day Sunday I am heading down towards the South Mountain region in Adams and Franklin County, which typically is known as a favored location for early fall color. I will be sure to report back and maybe take some pictures. Yet again I did not get to hawk mountain this weekend due to some drizzle this Saturday, so hopefully next weekend I will get out there and see how the fall foliage is doing. Enjoy this beautiful season and feel free to post pictures in the form of a comment below of your area's magnificent fall colors!

"Wildfire Outlook" (Updated 10/4)
We are now entering the prime time for forest fires in Pennsylvania. With fall leaves covering the forest floor, dry humidity levels with dewpoints in the 30s and 40s, dry northwesterly winds, and lack of precipitation, it all sets Pennsylvania up for wildfire conditions. But precipitation has occurred across a few areas in the last couple of days, and it is still a little early for fall leaves to be covering the ground. But humidity levels have been very low and there have been consistent northwest breezes. Still overall fire conditions remain low for natural development; this still though needs to be monitored for accident fire development by campers during this time of year. Across the nation some rainfall is occurring over the Western United States along with snowfall in the mountains. Also Florida has been quite wet lately and a low-pressure system will bring rain to the dry southeast area. So across the nation natural forest fire development is low, in fact the SPC does not predict any hazard areas for forest fires anywhere across the country. That is always nice to see this time of year. Once again here is the criteria according to the State College NWS for fire development...Link.

Criteria for rapid initiation and spread of wildfires in PA:

1. Winds must be sustained at 15 mph (13 knots) for two hours or more, and

2. Minimum Relative Humidities (which usually occur in the afternoon) must be 30 percent or less, and

3. 10-hour Fuel Moistures must be 15 percent or less (and expected to remain there for two or more days).

"Fire Outlooks from Storm Prediction Center Days 1, 2, and 3"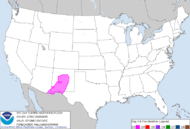 (Courtesy of NOAA)

"Fall Gardening Outlook" (Updated 10/4)
Well I believe this is going to be my latest gardening outlook of the season. The growing season has no officially ended for several Pennsylvania counties; Potter, McKean, Elk, and Cameron. Also many other areas north of I-80 have seen their first frost with other areas seeing possible frosts during Tuesday evening. I am beginning to make my winter preparations for the outdoor, which included bringing in my garden statues and such, pulling last of weeds, pulling some annuals out, dumping pots, and just overall cleaning up the yard. Next weekend I plan to empty my water garden, fountain, and bird bathes. So already the yard is beginning to turn more brown, which that color is always associated with the wintertime landscape. I did plant some Mums and Ornamental cabbage plants along with some perennials that were on sale at my local plant nursery. For rainfall this week it appears there will be several chances of rain, which may fall on Monday and late Thursday through late Friday possibly into Saturday. Still though with dry dewpoints, watering will become necessary every other day this week. Frosts look possible only Tuesday night of this coming week. So here is the last update on my vegetable garden. My blueberry bushes have turned a beautiful red similar almost to a burning bush. My spring onion scallions are growing very nicely, but some of them seemed to disappear. My herbs of basil, chives, and parsley are still growing nicely. But I plan to cut back my basel before the possible frost during Tuesday night. My variety lettuce plants look great and are growing quite large. My cabbage plants and broccoli and cauliflower plants never recovered from the groundhog attack, so I guess it will be time to dig them up. My roma tomato plant seems to want to do some last minute ripening of green tomatoes with a few of them actually orange. My pepper plant is slowing down with the cooler weather. My radishes are growing nicely and I have started to pick some of them. And lastly and finally my cucumber plant has died. So overall a nice end to a successful season of my first largely expanded vegetable garden. Thanks to everyone for all of the helpful advice with a special thanks to TheRasberryPatch, JDinWPA, Sullivanweather, jthal57, and others. Happy gardening!!!

"Soil Moisture Anomalies and 5-day Precipitation Amounts from Hydro Prediction Center"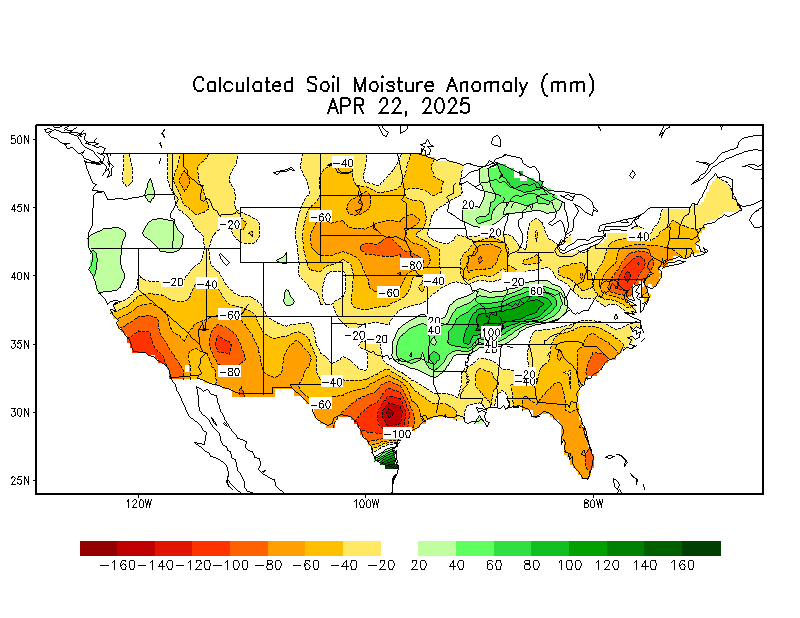 (Courtesy of NOAA)

"Average Date of First Freeze"


(Courtesy of NOAA)

"Long Term Outlook" (Updated 10/4)
Quite a very interesting long term, which I am getting very excited for a possible first major storm system of the year. PNA turns sharply negative as an amplified trough moves over the region. The trough will move eastward, while low pressure begins to form over Colorado. The jet stream becomes highly amplified with a very strong low pressure forming and moves northeastward towards the Great Lakes bringing in the strong cold front of the season with very cold air. According to some model runs of the GFS the 0C isotherm is as far south as Oklahoma. Mountain snows will probably occur in Colorado with even some backlash snows in the badlands of the Dakotas. The low pressure continues to strengthen as it heads up the Wisconsin and eventually Michigan. Severe weather would probably occur along the front range with possible tornadoes. The front would push eastward over the Northeast with 2m GFS charts indicating below freezing temperatures as far south as the Ohio River. The EURO and GFS have been consistently showing this setup with a very strong trough moving across the country. Much of the low pressure forecast is pure speculation, but it does appear the first October like polar blast will be moving in for the midmonth period. AO heads negative during this time too. Signs of cold air building up in the Arctic are already occurring with a quick rebound in sea ice levels along with a building snow cover and snow pack. Blizzard conditions have been reported in Northern Canada and mountains snows have been occurring in Alaska. The long-term period looks quite active. Looking real far into the distance it appears a very chilly zonal flow develops by mid to late month.

"Current NAO and PNA Predictions"


(Courtesy of NOAA)

"Monthly Outlook" (October)
So September has now just about come to a close. Precipitation was above normal for most of the state of Pennsylvania, except for parts of western and extreme northwestern Pennsylvania. Temperature wise it was about 1-2degrees above normal for much of the state. My forecast called for normal temperatures along with above normal precipitation, so overall I am pleased with my forecast for September. The first half of the month was much warmer than normal followed by a cooler than normal second half of the month. So now we are in October, the height of the fall season, and many are wondering if we will have another scorcher like last year. Temperatures were into the 80s for much of the month along with an extremely late fall foliage season. As many bloggers have mentioned, they were swimming in pools during the first half of the month. By the end of the month finally many areas received a very late frost and freeze followed by a relatively cold November with an early snow around mid month. So for October here is what I am thinking...

Temperature- There does not seem to be quite an evident trend for temperatures for October. There does not seem to be one distinctive pattern setting up other than a consistent eastern United States trough. The NAO seems to be staying negative for next two weeks along with PNA mostly positive. AO index is also staying the majority of the time in the negative range. Also EURO long-range model supports Greenland blocking with a slight eastern trough. GFS has shows a similar pattern with cold and mild periods throughout much of the month. So overall I expect temperature values to be near normal with slightly below normal temperatures in some areas. I do not think we will be seeing any extreme warmth this month like last year.

Precipitation- Precipitation wise again there does not quite seem to be an evident storm track. I am thinking a typical October like setup occurs with a few dry cold fronts along with some wetter low-pressure systems. Around midmonth the long range GFS has consistently showed a large coastal storm so we will have to see what happens with that. Tropics are beginning to calm down, so I do not feel to confident on the east coast experiences another tropical system. So my forecast for precipitation is normal to slightly below normal. Overall I think October should be pretty consistent with 30-year historical means.

"Temperature and Precipitation Outlooks from Climate Prediction Center for next 30 days"


(Courtesy of NOAA)

"Here north of Harrisburg 2008 statistics"
(Severe Weather Stats...)
Severe Thunderstorm Watches- 8
Severe Thunderstorm Warnings- 4
Tornado Watches- 1
Tornado Warnings- 0
Total Thunderstorms- 32

(Precipitation Stats...)
Flood Watches- 6
Flood Warnings- 5
Monthly Precipitation- 0.02inches
Yearly Precipitation- 33.61inches

(Temperature Stats...)
Heat Advisories- 4
Excessive Heat Warnings- 0
90degree days- 17
The views of the author are his/her own and do not necessarily represent the position of The Weather Company or its parent, IBM.
Reader Comments
Comments will take a few seconds to appear.
Post Your Comments
Please sign in to post comments.
Not only will you be able to leave comments on this blog, but you'll also have the ability to upload and share your photos in our Wunder Photos section.
The Northeast Weather Blog...
Recent Posts
Local Weather
62 °F

Clear
Previous Entries for 2017
Personal Weather Stations