PA summer outlook recap...
Summer Outlook (2008)...



(2007 Summer thunderstorm damage to my next-door neighbors)

First Thoughts...
Well it is hard to believe that summer is almost here. The winter seemed to fly by, and now already it is mid April with 80degree temperatures. Buds on trees are appearing, with tulips already at full bloom here in the southern half of Pennsylvania. Grass is green around the area even though the recent lack of rain. Vegetables gardens have all cool season crops in the ground. Mountains reappearing with color instead of the dull, brown which coats the mountains all winter. Already oriental trees have peaked and starting to bud back to normal leaves that stay all summer. And also already the first taste of severe weather has hit parts of Pennsylvania with some small hail and some minor wind damage. Thunderstorms have been pretty common across the state with many areas having already seen 3-5 thunderstorms. Local parks are busy during dusk with baseball games and other sports. It sure is looking like Spring. But already almost a month into Spring, Summer is right around the corner coupled with severe weather and extreme heat. With global warming activists causing all the stir about rising temperatures, many people fear another dangerously hot summer is looming. But in my outlook I do not really see another sweltering summer this year.

Revisiting typical summer time weather threats...
Well just a quick review on some of the dangers of weather that people face in the summer. The three main ones are heat, severe weather, and hurricanes. Now here in Pennsylvania we really do not see any direct hits from hurricanes, just the remnants. But severe weather and heat waves can be big threats here in Pennsylvania. First about heat... When high temperatures combined with high humidity dangerous heat indexes can be reached. In the winter it is wind chill and in the summer it is heat index. The heat index is not the actual temperature but it what an animal and human feel on the skin. When the heat index reaches certain standards then advisories may be posted. Below are the thresholds for the advisories.


(Courtesy of NOAA)
Below are the official definitions from NOAA of common advisories found when severe weather strikes in the summer time...
-SEVERE THUNDERSTORM or TORNADO WATCH Severe thunderstorms with large hail, damaging winds, and/or tornadoes are possible, but the exact time and location of storm development is still uncertain. A watch means be prepared for storms.
-SEVERE THUNDERSTORM WARNING A severe thunderstorm is imminent or occurring; it is either detected by weather radar or reported by storm spotters. A severe thunderstorm is one that produces winds 58 mph or stronger and/or hail 3/4 inch in diameter or larger. A warning means to take shelter.
-TORNADO WARNING A tornado is imminent or occurring; it is either detected by weather radar or reported by storm spotters. A warning means to take shelter.
-FLOOD WATCH Conditions are favorable for flash flooding. A watch means to get prepared for possible flooding.
-FLASH FLOOD WARNING Life-threatening flooding is imminent or occurring; it is either detected by weather radar, indicated by stream gauges, or reported by storm spotters. A flash flood is a flood that occurs very quickly; it is caused by heavy rainfall over a short period of time or from a dam break. A warning means to leave low-lying or flood prone areas.

Discussion for outlook for Summer 2008...
The major key player in the summer forecasts is the La Nina. Here is an update on the La Nina. The La Nina has weakened from strong to moderate intensity. Here are the latest SST anomalies in the central Pacific...


(Courtesy of NOAA)
These anomalies have warmed significantly and now only a small area has anomalies 1degree below normal. The cooler waters of the central Pacific are what leads to La Nina patterns. In El Nino situations it is the opposite effect in which the central Pacific is warmer than normal. Based on the latest trends the La Nina is supposed to weaken, but still continue for the next three months. Here are the latest model forecasts for three-month periods...


Typical La Nina patterns have a great effect on wintertime climate in Pennsylvania. But they do also affect the weather in the summer time. Some climatologists indicate possible trends to a weak El Nina come next fall, which may indicate a colder and snowier winter. But lets first get a hold on the summer forecast. Here are the average effects of a moderate La Nina in the June, July, and August time period...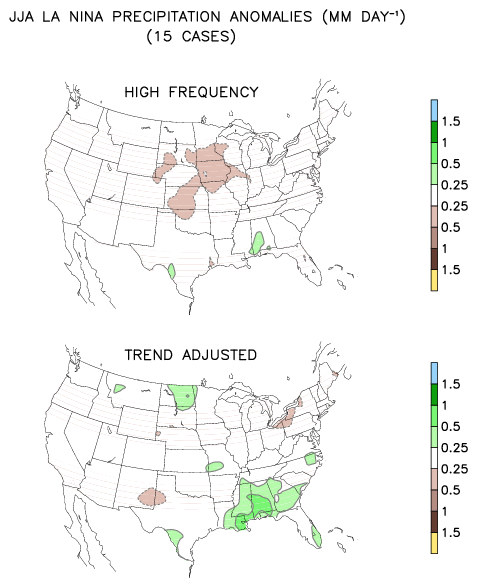 (Courtesy of NOAA)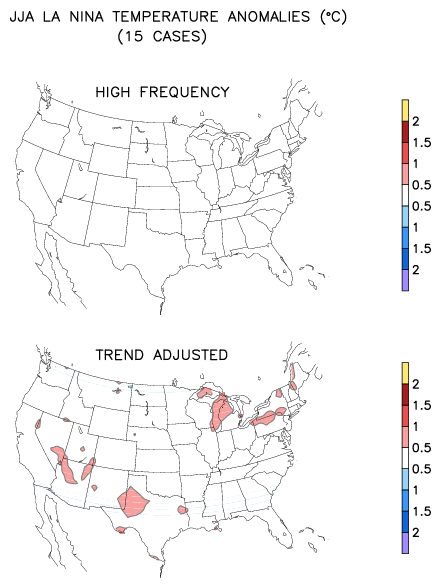 (Courtesy of NOAA)
The only difference I believe we will see is we will have a weak La Nina and this will bring normal to cooler than normal temperatures with average precipitation. And I know many people are concerned about more drought conditions developing in Pennsylvania during the summer, but I do not think we need to be too concerned, expect for the northwest, which will see below normal precipitation. Here is the latest drought outlook...


(Courtesy of NOAA)
Here are the official outlooks from the Climate Prediction center; they indicate a pretty average summer here in Pennsylvania.


(Courtesy of NOAA)


(Courtesy of NOAA)

My forecasts for the 2008 Summer...
Temperature- As for temperatures I believe conditions will be slightly below normal in the northwest with normal conditions across the central third of Pennsylvania. In the far southeast I believe it will be warmer than normal, mostly thanks to the urban heat island affect the Philadelphia has.


The sun is also showing signs of going into a slower sun spot cycle, which leads to cooler conditions. Now I am not saying there will not be extreme heat. Because I do believe there will be one or two heat waves (3 days of 90degree temperatures). But I do not expect any 100degree temperature weather.

Precipitation- Now I know many people are concerned about drought conditions developing again this summer. As last summer most of Pennsylvania was under a drought watch. Last summer was an unusual year because not one tropical storms' remnants moved into the area. When the remnants move into a region typically a widespread soaking rain occurs. As for this year, precipitation will be normal to slightly below normal. With the only above normal precipitation in the Laural Highlands. This is due to the busy pulse thunderstorm season in the middle of the summer.


Overall though I do not expect any widespread dry conditions anywhere across the state of Pennsylvania.

Severe Weather- As for severe weather, I do expect another busy season. The jet stream appears it may be favorable for a west of the state storm track, putting us in the warm sector creating large outbreaks of severe weather. Tornadoes may also be common too this summer. As for tropical systems, leading hurricane experts believe it may be an active year for an east coast storm track. If storms do hit the east coast they typically affect the state of Pennsylvania is some way. So be aware of this come late summer into fall.

Final thoughts...
This is an experimental outlook, and by no means going to be a fully accurate account of what the summer will bring. I do specialize in long-term forecasts for seasonal outlooks, but I decided to look at some factors and come upon an outlook. This is more of a learning experience. Come the end of Summer I will reopen this blog and take a look at what went correct, and what went wrong. This will be a reflection and help me learn to make better outlooks for the future to come. I hope everyone has a wonderful and safe summer!
The views of the author are his/her own and do not necessarily represent the position of The Weather Company or its parent, IBM.
Reader Comments
The Northeast Weather Blog...
Previous Entries for 2017