Thursday regional forecast...
"Afternoon Thoughts" (Updated 8/12)
What a wonderful trip I had up to Oswego, New York. What was most surprising was the extreme weather I ran into along my trip. Driving along Rt. 81 North we ran into some very impressive thunderstorms that were just to the east of Syracuse. That thunderstorm to the east had one of the most impressive anvil clouds I have ever seen. And as typical with supercell thunderstorms, mammatus clouds formed on the underside of the anvil. The storm appeared to be very organized with a clear-cut structured core of the storm. A severe thunderstorm warning was issued for the storm at the time. Later that evening after arriving in Oswego, a few thunderstorms formed to the west of the city tracking eastward. While eating dinner along the marina I heard some of the captains from incoming boats about the waterspouts reported nearby. Most all of the boats were rushing into dock all telling the same story. Unfortunately I was not able to see the waterspout over water, but fortunately it made no damage to any land mass area or boats over water. Then later that evening the cell finally moved into the area with loud thunder and very heavy rain. Then shortly after the heaviest of the rain the sun came out, but before the storm ended hail began to fall almost covering the streets and sidewalks of downtown Oswego. Hail was the size of dime-sized to penny sized. Some reports out of the area reported that hail fell to the depth of 3inches in surrounding suburbs. I have never seen such a vicious storm occur during when the sun was out for the majority of the storm. The last time I saw hail in Harrisburg was back in June of 2006, so it had been a while since I have seen hail. As the storm ended some mammatus clouds moved over the region then giving way to a brilliant sunset which I did get pictures of as the thunderstorm departed. The next morning around 5:15am we boarded the fishing boat and headed out. Meanwhile it was raining moderately with an occasional lightning strike. It was very eerie heading out while it was dark with occasional lightning; also we were the only boat out there that early in the morning. But by later in the morning the rain cleared to give way to mostly cloudy skies with some lake-effect rain showers in the area. Our boat caught a total of 3 brown trout and 1 salmon all of which were keep able. On the drive home more unusual weather occurred with occasional rain showers along with cool temperature of 57degrees just outside of Hazleton around 6:30pm. There were areas of dense fog on the ridges along with a brilliant rainbow in the distance. All in all the fishing was just as successful as the interesting weather that occurred during the two-day trip. Who would have thought I would have to travel to Oswego, New York to see some impressive thunderstorms. In any case enjoy the sunset pictures below!

"Regional Radar"


(Courtesy of NOAA)

"Regional Satellite"


(Courtesy of Penn State Meteo.)

"Regional Advisories"


(Courtesy of NOAA)

"Short Term Forecast" (Updated 8/12) (Wednesday through Thursday night)
Wednesday a weak front moves in from the west with very limited moisture. The front may squeeze out some showers and thunderstorms across the state continuing into Thursday. A little morning ground fog may be possible across the southern mountain valleys as some slightly higher dewpoints move in for Tuesday night creating some fog for Wednesday as skies remain clear and winds remain calm. Highs for Wednesday will be near seasonal values with dewpoints in the 60s. Wednesday night skies remain variable for some nocturnal showers and thunderstorms. A slight CAP remains over the region as an area of subsidence moves over the region limiting thunderstorms to very low tops with little threat of severe weather. PWATs are not overly impressive by any means. Pretty impressive low pressure begins to churn up the east coast as it moves northeast out to sea. For Thursday some showers and thunderstorms will occur thanks to the cold pocket aloft and the sunshine. CAPE values will be marginal near 1500 j/kg. The low pressure will continue to spin northeast of the region for Friday. Tracks differ as far as the global models go with the latest 12z GFS coming more in line with the NAM. The EURO is farthest west with high winds and heavy rain scraping New England. Meanwhile the NAM and GFS keep heavy precipitation confined only to the Cape Cod and Nantucket region. At this point I think the farthest east solution is best, as a trough will push the low out to sea. The only impacts I see is a few rain showers along with some high waves and coastal tides along the Atlantic seaboard. Highs for Thursday will be seasonable to slightly below normal. Thursday night skies will clear from west to east as lows drop in the upper 50s to low 60s across the state. A few showers could occur early on for Thursday evening.

"Current Surface Map and Weekly History of Jet Stream Position"


(Courtesy of Weather Underground)

"Long Term Forecast" (Updated 8/12)
First I will talk about the weather for the rest of the week. Then I will update a forecast through the end of the month. Friday looks to be a unsettled day with showers and thunderstorms over most of the region as a weak front moves through. Saturday though things clear out for a nice weekend. Saturday night through Sunday night look to be nice days. But a front approaches for next week with scattered chances of convection. Looking ahead towards the rest of the month, the GFS continues a very similar pattern as right now with troughs continuing to progress over the region. But the 0z EURO develops a bubble of high pressure over the Midwest with more heat across the nation. At this point I think a solution in between is likely with periods of troughs and zonal patterns with temperatures on either side of slightly above or below normal temperatures. Nothing too extreme looks likely at this point. The NAO is headed back towards slightly positive with the PNA right about zero. The AO is headed and staying negative for the most part. The Climate Prediction Center believes temperatures will be slightly above normal with above normal precipitation for the end of the month. My August outlook seems that it will play out pretty good for the rest of the month.

"Wildfire Outlook" (Updated 8/12)
Wildfire chances remain extremely low for the next coming week. Conditions will remain plentiful with rain along with cooler temperatures and dewpoints in the 50s and 60s. Winds will remain breezy throughout the week under a northwest flow. Cloud cover will also be pretty widespread over the region for the upcoming week. Looking across the nation there is really not any widespread threat areas for forest fires, but none the less the West looks to have some possible threats this coming week as temperatures are somewhat high along with dewpoints in the teens. Any accidental fires or dry thunderstorms could develop forest fires and make them become pretty widespread. Please take necessary precautions when camping outside. Here again are the fire criteria for development in Pennsylvania... Link.

Criteria for rapid initiation and spread of wildfires in PA:

1. Winds must be sustained at 15 mph (13 knots) for two hours or more, and

2. Minimum Relative Humidities (which usually occur in the afternoon) must be 30 percent or less, and

3. 10-hour Fuel Moistures must be 15 percent or less (and expected to remain there for two or more days).

"Fire Outlooks from Storm Prediction Center Days 1, 2, and 3"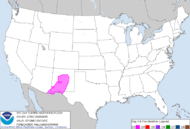 (Courtesy of NOAA)

"Gardening Outlook" (Updated 8/12)
It is a sad day in the vegetable garden of mine. Some terror has wreaked havoc in parts of my garden. It all started the day before I left for my fishing trip. That morning I saw the groundhog slowly moving across the yard headed towards the carrots in my garden. Keep in mind I do have a large chicken wire fence surrounding my entire garden. So I scared the groundhog away and there he went back under the shed. Well later that day near evening I went outside to water, and I stood there shocked. It looked like a vicious storm had just went through. Three zucchini were eaten off the plant, a part of a cucumber was eaten, a bite out of a tomato, miniature lettuce heads were gone, carrot tops were bare, and the new cabbage plants were slightly eaten. So out of frustration I put rocks around the fence and more stakes to hopefully prevent the "thing" from eating any more of my plants. Honestly I really am not sure what got in the garden. Then this morning I go out to check my garden after I arrived home last night and to my astonishment there were two tomatoes eaten, the actual zucchini plant leaves were eaten, and all of the cabbage plant leaves were eaten. Sadly I stared at my once beautiful garden. Now the garden is in a state of healing which will only slowly delay my hopefully bountiful harvest in the late Fall. I saw no sign of how anything possibly could have gotten in the garden. But in any case I will keep my eyes wide open in the coming days. If anything else happens I will have to take some type of action. I know people have warned me about this with the groundhog theory and I was reluctant to take any precautions. But now this is getting more serious. In any case here is a quick update on the plants that survived the attack. My spring onions are looking wonderfully growing twice as fast as they did in the very early Spring. My pepper plants have a few peppers with one green pepper extremely large soon ready for picking I hope. My spinach plant growth seems stunted and does not want to seem to grow. My cauliflower plants are growing great and look much more healthier than when I bought them. Lastly my herbs are doing wonderfully, almost growing too large. Looking ahead this week after the recent rains across the state soil moisture anomalies are near normal to above normal. With more rains expected this week and cool weather plants should do great with watering only necessary between rains.

"Soil Moisture Anomalies and 5-day Precipitation Amounts from Hydro Prediction Center"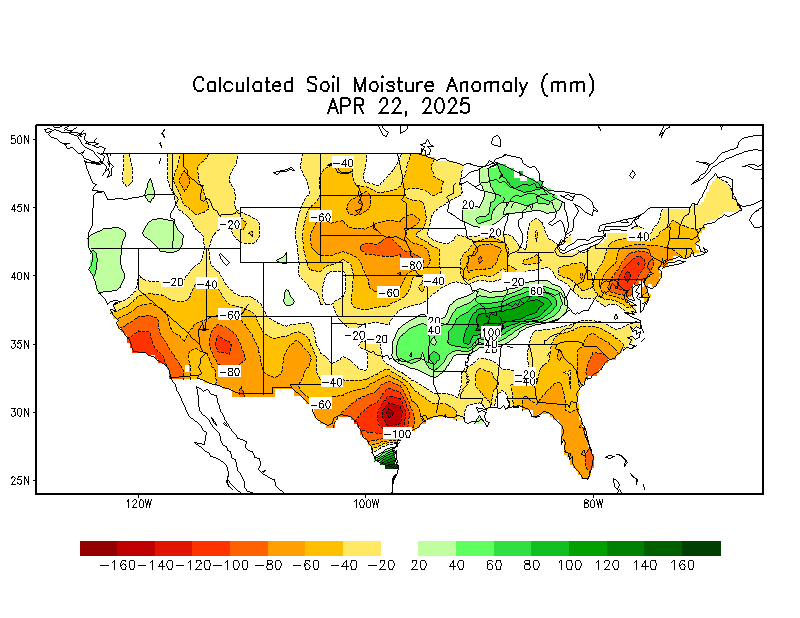 (Courtesy of NOAA)

"Severe Weather Outlook" (Updated 8/12)
Organized severe weather chances look dim for the upcoming days. Times of convection are forecast, but severe weather should not accompany the storms. For Wednesday and Thursday thunderstorms are a threat across the state, but low instability and meager kinematics will be responsible for little severe weather other than maybe a few pea sized hail reports thanks to the cold mid and upper levels. Enough instability should develop across parts of southern Pennsylvania for a few hail storms that will be marginally severe. The cold pool aloft is responsible for the instability of the pulse severe thunderstorms. This severe threat will occur for Thursday and Friday. As another trough departs the flow may turn more southerly returning some more mild air and humid air as another front approaches the region for next week. Showers and thunderstorms are possible late Saturday through Monday as a warm front lifts northward and a cold front approaches from the west. I have yet to investigate whether the severe weather variable will accompany the frontal passage. So overall severe weather chances remain pretty low with the coming week. The section will not be updated unless it become necessary due to changes in the forecast for severe weather for the upcoming week.

"Severe Weather Outlooks from Storm Prediction Center Days 1, 2, and 3"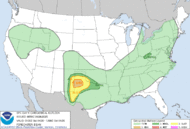 (Courtesy of NOAA)

"Monthly Outlook" (August)
Here is my experimental monthly outlook for the month of August. July has already come to an end and here is a little recap. Overall the month came out about normal for temperatures along with varying areas of precipitation anomalies. Some areas saw normal, below normal, or above normal precipitation. Overall my forecast turned out very well with my call for normal temperatures and normal precipitation. I am very pleased with how everything turned out. Now we look ahead to the last of the meteorological summer months. August is known for its complexes of thunderstorms and scorching heat. So what can be expected... Will it be hot and dry? Will it be cool and wet? Well below is my look for what I believe will be the August weather for this year...

Temperature- Looking at temperatures as we enter the month heat will be across much of Pennsylvania with temperatures above normal and in the 90s. But then a trough moves back into the region, and by next week the models really bring in a deep trough over the eastern sections of the nation. Looking at the NAO it looks to be staying negative through the entire month of August, which is indicative of eastern trough development. Now on the other side of the nation in the west the PNA will be moving towards a positive state, which correlates to a ridge over the west and trough over the east. So looking at the first part of the month will be warmer than normal temperatures followed by cooler than normal temperatures the last two thirds of the month. So overall temperatures should average about normal when it is all said and done and the warm air balances with the cool air.

Precipitation- Precipitation should be above normal for much of the state for August 2008. An active jet looks to be stationed over the region with first large MCSs moving along the northern perimeter of the ridge associated with warm air advection. This will bring heavy rain with these thunderstorm complexes. Then with the sudden pattern change from ridge to trough a large cold front should bring in some heavy thunderstorms. By the time the trough moves in many short waves will rotate in on the northwest flow. The driest area will probably be in eastern Pennsylvania with the wettest in northwestern Pennsylvania. But overall most areas should be above normal. This will be good for our lawns and gardens. Looking at drought conditions across the state all areas are not in any threat of a drought in the future.

"Temperature and Precipitation Outlooks from Climate Prediction Center for next 30 days"


(Courtesy of NOAA)

"Tropical Update" (Updated 8/12)
Tropics are becoming really active now as we enter mid August. We have several areas of concern across the Greater Atlantic in the coming days. Let me start off with the first major tropical wave. The tropical wave has officially been named Invest 92L by the National Hurricane Center. The National Hurricane Center gives 93L a greater than 50% chance of further developing. Thunderstorms have flared up around the wave, but there has yet to an exact pinpoint area to where the low-level center of circulation is, and whether or not it is under convection. Shear levels remain high, which is inhibiting strong deepening of the system. Shear levels will be around 10knots for the next couple of days as the system chugs along to the west-northwest at 10mph. I do expect tropical depression status to be reached shortly possibly becoming our next tropical storm within the next couple of days. Model trends continue the track to the northwest eventually impacting the Bahamas. After that there is some large variability to where the storm goes. So at this point I will just say that the east coast should monitor this storm's progression. The next wave is now named Invest 93L which I believe has a better chance to become a stronger storm despite the National Hurricane Center only giving it a 25%-50% chance of further developing. Wind shear is below 5knots and water temperatures are in the 27-29C vicinity. Some dry air may affect this storm, but I find most tropical systems are able to overcome dry air for the most part. This system will continue on a westerly track in the coming days and may eventually impact the Lee Ward Islands. Another much weaker wave is moving into Central America with a few showers and thunderstorms. No development is expected. Looking ahead in the future short term wise a coastal low will form off the Carolina coastline and track northeastward. This system does not look to be classified as tropical nature. As the only impacts to any land mass would be some rain showers and high waves along the East Coast. Long term outlook suggests further strong tropical waves will progress off of the coastline of Africa with possible development as they move westward. This tropical outlook section will be updated when necessary throughout the next couple of days. Interests along the United States coastline should be monitored during the next upcoming week.

"Latest Tropical Systems including Sea Surface Temperatures"



"Regional Forecasts" (Updated 8/14) (Thursday)
1. Eastern- (Allentown, Southern Poconos)-
Scattered showers and thunderstorms thoughout the day under partly cloudy skies. A few storms may be strong to severe capable of small hail, gusty winds, and frequent lightning. Warm. High 80-82.

2. South Central (Harrisburg, York, Lancaster)(my home)-
Partly cloudy to mostly cloudy. Some showers and thunderstorms in the afternoon. A few storms may be strong to severe capable of gusty winds, small hail, and frequent lightning. Seasonal temperatures. High 80-83.

3. Southern- (Philadelphia)-
Partly cloudy. Some showers and thunderstorms in the afternoon. Warm. High 83-85.

4. Central- (State College)-
Mostly cloudy with afternoon showers and thunderstorms. High 78-80.

5. Northern- (Erie, Bradford, Williamsport)-
Mostly cloudy with afternoon showers and possibly a thunderstorm. Cool. High 70-73.

6. Western- (Pittsburgh)-
Mostly cloudy with some showers and thunderstorms. Cool. High 75-78.

7. Johnstown, Altoona-
Mostly cloudy with showers and thunderstorms. Some storms may produce heavy rain. Cool. High 75-77.

***Note on regional map, the number equals which region in Pennsylvania. I chose regions with similar climates, geography, and elevation to make my overall forecast for the region.



"Here north of Harrisburg 2008 statistics"
(Severe Weather Stats...)
Severe Thunderstorm Watches- 8
Severe Thunderstorm Warnings- 4
Tornado Watches- 1
Tornado Warnings- 0
Total Thunderstorms- 29

(Precipitation Stats...)
Flood Watches- 4
Flood Warnings- 5
Monthly Precipitation- 0.86inches
Yearly Precipitation- 28.71inches

(Temperature Stats...)
Heat Advisories- 4
Excessive Heat Warnings- 0
90degree days- 12
A beautiful sunset after the storm... (
Blizzard92
)
Dime to penny sized hail accompanied the supercell that was departing during the sunset.
A beautiful sunset after the storm... (
Blizzard92
)
Dime to penny sized hail accompanied the supercell that was departing during the sunset.
The views of the author are his/her own and do not necessarily represent the position of The Weather Company or its parent, IBM.
Reader Comments
Comments will take a few seconds to appear.
Post Your Comments
Please sign in to post comments.
Not only will you be able to leave comments on this blog, but you'll also have the ability to upload and share your photos in our Wunder Photos section.
The Northeast Weather Blog...
Recent Posts
Local Weather
48 °F

Clear
Previous Entries for 2017
Personal Weather Stations