Saturday regional forecast...
"Afternoon Thoughts" (Updated 8/6)
Good Wednesday!!! Hard to believe it is August already and the end of the meteorological summer is less than a month away. I have been pretty busy lately gathering data to prepare a winter forecast, as my goal is to get the prediction out by early September. An early taste of Autumn will be upon us this weekend as temperatures struggle to reach the 80s in the south and struggle to reach the 70s in the north. We will be under that typical northwest flow with thick clouds and sprinkles every so often. Even a few weak thunderstorms could form with small hail. But before I talk about the weather there are some other points I want to make. First off I have noticed already the environmental changes as we prepare for Fall. Flowers and plants are beginning to lose the beauty as the summer heat has taken its toll. Even I have noticed a few maples turning red; I cannot figure out why this is as really it has not been too terribly dry here to turn the trees red. Animals have been pretty busy lately scurrying around gathering food, especially the chipmunks and squirrels. I always saw you could tell tomorrow's weather with just a watch of the animals in the early evening hours. Weather folklore has come a long way. My elder relatives grew up as children on a farm in a time where there was no "Weather Channel." Their parents who operated the farm have to use weather folklore to try to predict the weather to prepare to a good or bad harvest. Now they all have some wild stories on the farm from the weather. The stories can keep me entertained for hours on end. One of my favorites is how a tornado went over the farm and carried the chicken coup along with the chickens in it and placed everything safely down about a half a mile away down in the cornfield. A lot of their weather folklore they used though we found out to be not the best. Such as the famous heat lightning… Early thoughts were that after a brutally hot and humid day lightning would develop across the clear night sky. Thanks to the age of technology we now know that heat lightning is only a distant thunderstorm upon the horizon. It is amazing to think how far we have come just in the last decade in terms of weather forecasting. Just not too long ago local weatherman used magnetic boards to place a sun or a rain cloud on a map. Now we have radars that can zoom to street levels, and now we can slice a thunderstorm super cell on radar and look into the core of the storm. Technology has its pros and cons. But all in all it is for the better. I was also thinking about the Internet. Remember when Weatherunderground was offline for about a day for some members. Some people were having withdrawal symptoms because they could not check their favorite website. But years ago there was no major Wunderground.com website. Just the morning newspaper look at the weather and the local town weatherman who sometimes got mean phone calls from citizens who might have had to shovel that "partly cloudy" off their driveway during January. In any case the meteorological frenzy has taken off in the last 5 years due to the wealth of new technology. Will we ever be able to predict where and when exactly a tornado will hit? Just maybe. Anyway just wanted to get some of those thoughts down this afternoon. Have a wonderful Wednesday!!!

"Regional Radar"


(Courtesy of NOAA)

"Regional Satellite"


(Courtesy of Penn State Meteo.)

"Regional Advisories"


(Courtesy of NOAA)

"Short Term Forecast" (Updated 8/6) (Thursday through Friday night)
Well the highly mentioned deep trough is entering the region very shortly. It will take several days for the cooler air to moves across the middle atlantic, but by Friday the core should enter the region. For Thursday some morning radiational ground fog could form in the valley locations and river valley locations. Morning lows will be in the low 50s to low 60s across the state with the warmer readings towards Philadelphia. Clear skies will be across the region before clouds work their way in ahead of a weak front that will move through the region on Thursday. Some cold pocket instability rain showers and thunderstorms may form later in the day across the state. Also there is a slight chance of small hail with any stronger storm, but overall instability remains low. Cloud cover will be variable throughout the entire day. The highest chance of rain will be in the northern mountains where orographic lift will aid in rain shower development. Highs will be normal to below normal in western Pennsylvania varying from low 70s at elevations above 2000ft to mid 80s in the Philadelphia metropolitan. For Thursday night rain showers will be across the east with cloudy skies. Showers will die out by midnight due to the loss of daytime heating. The rain showers and thunderstorms will be highly diurnally driven. Lows will be cool in the upper 40s in the north to lower 60s in the south. For Friday a northwest flow develops will very dry air aloft, as PWATs are several deviations below normal. But a sort of lake effect rain flow will form and drive some light rain showers or weak thunderstorms across the region. Only the strongest of the storms will be capable of small hail. Highs will generally be from the mid 60s in the mountains to the upper 70s in the south. Friday night rain showers die out and skies clear out for what could be a very chilly night with lows in the upper 40s to upper 50s. Looking ahead things remain very chilly. See section below for more detail.

"Current Surface Map and Weekly History of Jet Stream Position"


(Courtesy of Weather Underground)

"Long Term Forecast" (Updated 8/6)
The long-term pattern is pretty quiet, as the trough remains parked over the region. Dry air aloft will prevent any rain showers from forming this weekend. Sunshine will be across the east under downsloping winds. But cool air will keep highs well below normal as cool as highs in the mid 70s as far south as the Raystown Lake-Harrisburg-Reading-Easton line. Cool nights will also be ahead and they may go into the upper 40s to mid 50s in many areas. Some lake effect rain showers can be ruled out across the north. For next week, highs slowly go back to near normal values with dry conditions. I see no sign of any heat in the next two weeks. Enjoy the early taste of fall!!!

"Wildfire Outlook" (Updated 8/6)
Forest fire conditions will be again non-threatening towards Pennsylvania for the upcoming week. Though the risk is slightly higher than it has been. Basically our pattern for the next seven days will be relatively dry and breezy. But temperatures will be cooler than normal and cloud cover will keep sunrays down to a minimum. Forests most at danger will be the dry trees that were stripped of their leaves by the pesky gypsy moths. Looking across the nation the forest fire threat remains highest over the inner-mountain west especially in states such as California, Oregon, Washington, and Idaho. The SPC has placed them in a fire risk area for at least the next couple of days. Also temperatures will be quite mild and warm out that way with breezy southwesterly flow as a ridge builds in and the trough remains over the east. We are entering forest fire season here in Pennsylvania in just about a month. And based on now what looks like a dry period in August, that could enhance forest fires when the leaves begin to fall. I wonder if this year will be a late Fall for leaves to turn colors like last year. I guess we have to wait and see. Here again are the fire criteria for development in Pennsylvania... Link.

Criteria for rapid initiation and spread of wildfires in PA:

1. Winds must be sustained at 15 mph (13 knots) for two hours or more, and

2. Minimum Relative Humidities (which usually occur in the afternoon) must be 30 percent or less, and

3. 10-hour Fuel Moistures must be 15 percent or less (and expected to remain there for two or more days).

"Fire Outlooks from Storm Prediction Center Days 1, 2, and 3"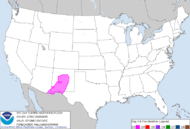 (Courtesy of NOAA)

"Gardening Outlook" (Updated 8/6)
Well I am preparing my garden for cool season crops. I planted spring onion bulbs about two weeks ago and they are coming up wonderfully. They are actually growing much faster than they did in the spring. So I will have to wait and see if they will produce just as wonderfully as they did in spring. I planted some butter crunch lettuce seeds and they are really growing fast also. The leaves of the lettuce are really developing fast. I am hoping for a decent crop come September. The carrots are recovering 100% better than I ever thought they would. Earlier in the summer the groundhog ate all of the tops of the carrot leaves, but now all of the leaves have returned. Blueberry bushes lost all of their berries due to birds, but a few very small berries have grown again. Nothing really productive though out of them. Next year I will prepare better for the birds by getting a net. Also I am thinking about planting strawberry plants next to the blueberry plants. Strawberries are my favorite fruit. I was also thinking again to next year for planting the herbs in a large pot instead of in the middle of the vegetable garden. My chives, basil, and parsley are taking over the garden and becoming way too large. Hopefully in a pot this will keep their size down a little bit, but still maintain a healthy plant. Well I have been picking a lot of tomatoes lately, though the groundhog seems like he wants his own tomatoes also. I found one eaten in half this morning. My pepper plants are finally growing much larger with one of the plants having a quite large pepper. I do not eat great peppers, but red peppers are ok. My cucumber plant I am very disappointed with. I only have had 3 cucumbers off of the two plants. Now today I did notice another small cucumber forming. But overall very disappointed. Next year I will plant another variety of cucumber species. Well I dug out 5zucchini plants and only have 1 left. Now the last zucchini plant is very healthy and still producing quite often. I have received what seems like dozens of zucchini the summer. My spinach is extremely slow to grow, but now it is finally getting some larger leaves. Next year I do not think I will plant spinach. I also just planted 4 cabbage plants, which I hope will be ready before November. Also I planted 3 cauliflower plants in the spots where the zucchini plants previously were. I still am eating peas and beans from my plants, thanks to quite a large harvest. I am also hoping to get in some radish seeds in the next week or so. Overall other week I am very pleased with the latest results of my garden. Looking ahead it appears as if we are entering quite a dry period along with cooler temperatures. I really do not see much of any decent rain chances in out future. The Climate Prediction Center also predicts well below normal precipitation out to 14days. Hopefully I will be able to get my rain barrel filled by a chance of thunderstorms this Friday before the dry spell sets in. Well anyway that is the latest update on my garden. How is everyone's garden? Happy planting fall season crops!!!

"Soil Moisture Anomalies and 5-day Precipitation Amounts from Hydro Prediction Center"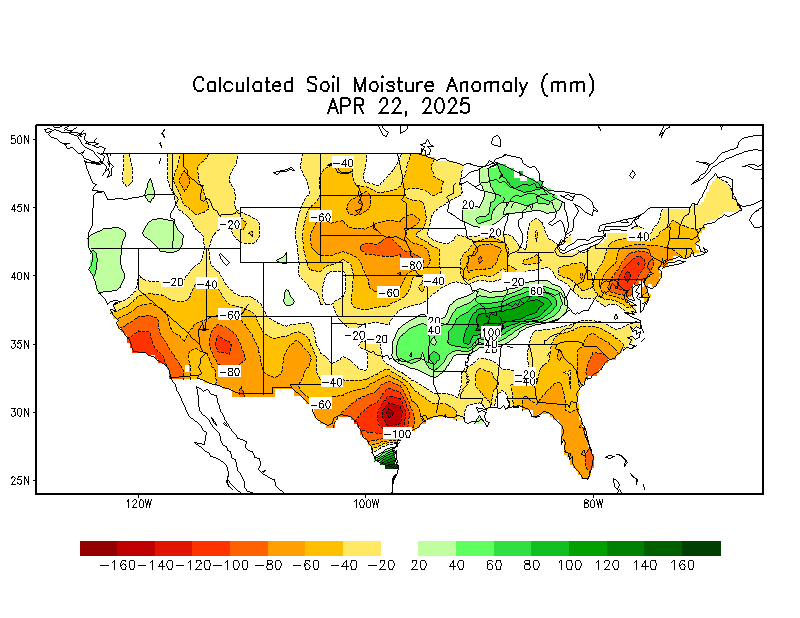 (Courtesy of NOAA)

"Severe Weather Outlook" (Updated 8/6)
Severe weather chances are looking pretty slim in the upcoming days. As the cold poor aloft moves over the region with a northwest flow, some showers and thunderstorms will form. Any thunderstorm has the potential to bring some small hailstones as it taps into the low freezing levels. Looking ahead into the future organized chances of severe weather remains low. I will provide an update to this section if need be. For now I will talk a little about the severe weather season so far this year. Last year severe weather was quite widespread across the region. Usually I find the region with the most severe weather reports to be in the Lower Susquehanna Valley particularly in Lancaster, York, Franklin, and Adams counties. They are relatively flat counties that are located just to the east of the mountains. They also are some of the southern most counties in the state and their close proximity to the Chesapeake Bay draws up higher moisture levels at times. The mountains also seem to add a natural spin to the thunderstorms making this region the tornado alley of Pennsylvania. But this year severe weather has been focused across western Pennsylvania with primarily wind damage being the threat. For tornadoes this year we have had the Venango County tornado, Warren County tornado, Butler County tornado, Mercer County tornado, and Lebanon County tornado. If I missing any please let me know. That is about normal for tornadoes as Pennsylvania averages about 9 every year. Also this year I have noticed an abnormal amount of large hail reports. Overall this year's severe weather season has been pretty calm compared to other parts of the northeast. We still have a little bit of ways to go before our severe weather season ends, so it will be interesting to wait and see what happens.

"Severe Weather Outlooks from Storm Prediction Center Days 1, 2, and 3"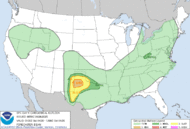 (Courtesy of NOAA)

"Monthly Outlook" (August)
Here is my experimental monthly outlook for the month of August. July has already come to an end and here is a little recap. Overall the month came out about normal for temperatures along with varying areas of precipitation anomalies. Some areas saw normal, below normal, or above normal precipitation. Overall my forecast turned out very well with my call for normal temperatures and normal precipitation. I am very pleased with how everything turned out. Now we look ahead to the last of the meteorological summer months. August is known for its complexes of thunderstorms and scorching heat. So what can be expected... Will it be hot and dry? Will it be cool and wet? Well below is my look for what I believe will be the August weather for this year...

Temperature- Looking at temperatures as we enter the month heat will be across much of Pennsylvania with temperatures above normal and in the 90s. But then a trough moves back into the region, and by next week the models really bring in a deep trough over the eastern sections of the nation. Looking at the NAO it looks to be staying negative through the entire month of August, which is indicative of eastern trough development. Now on the other side of the nation in the west the PNA will be moving towards a positive state, which correlates to a ridge over the west and trough over the east. So looking at the first part of the month will be warmer than normal temperatures followed by cooler than normal temperatures the last two thirds of the month. So overall temperatures should average about normal when it is all said and done and the warm air balances with the cool air.

Precipitation- Precipitation should be above normal for much of the state for August 2008. An active jet looks to be stationed over the region with first large MCSs moving along the northern perimeter of the ridge associated with warm air advection. This will bring heavy rain with these thunderstorm complexes. Then with the sudden pattern change from ridge to trough a large cold front should bring in some heavy thunderstorms. By the time the trough moves in many short waves will rotate in on the northwest flow. The driest area will probably be in eastern Pennsylvania with the wettest in northwestern Pennsylvania. But overall most areas should be above normal. This will be good for our lawns and gardens. Looking at drought conditions across the state all areas are not in any threat of a drought in the future.

"Temperature and Precipitation Outlooks from Climate Prediction Center for next 30 days"


(Courtesy of NOAA)

"Tropical Update" (Updated 8/6)
Well Tropical Storm Edouard made landfall in Texas as a tropical storm with winds sustained at 65mph. The storm did not cause any major damage in any areas, just some minor problems such as power outages and urban flooding. In fact the storms in Chicago caused more damage than Edouard did. The storm is continuing to move at a quick pace off through central Texas preventing any serious rainfall from coming. The highest rainfall total I saw was about 6.5inches of rain, which really is quite manageable in the tropics region. This also helped put a dent in the drought in southern Texas, which is great news also. So all-in-all the storm had more advantages than disadvantages. Now as we enter closer to the heart of the tropical season in September, things are pretty quiet right now. Closer to home there is a tropical disturbance located off the North Carolina coastline. That disturbance could become our next invest or possibly depression. Based on satellite it definitely has developed some convection around the center. It also has a small swirl. Sea surface temperatures are adequate enough for development, but shear levels are a little higher than adequate. But none the less even if development occurs, an upper level trough over the east will push what remains of the wave out to sea in the open Atlantic affecting only shipping lanes. I also am watching an area of showers and thunderstorms near the Bahamas, which are the remnants of 99L. I am not really expecting any development with this feature, but none-the-less it needs monitoring as it crosses Florida into the Gulf of Mexico. High shear though remains over 99L and it has very little convection with it. Elsewhere it looks pretty quiet. A little area north of South America has some disturbed weather with showers and thunderstorms. This area may move into the Caribbean. At this point development is not expected in the short term. Also now is the time to watch the Cape Verde wave train, but it does not appear any strong waves are making it off the coast in the short term. This tropical section will not be updated unless it is necessary due to unexpected tropical development.

"Latest Tropical Systems including Sea Surface Temperatures"



"Regional Forecasts" (Updated 8/9) (Saturday)
1. Eastern- (Allentown, Southern Poconos)-
Mostly sunny skies. Cool. High 78-80.

2. South Central (Harrisburg, York, Lancaster)(my home)-
Mostly sunny. Remaining cool. High 78-81.

3. Southern- (Philadelphia)-
Clear skies. Remaining cool. High 80-83.

4. Central- (State College)-
Partly cloudy. Cool. Breezy (NORTHWEST). High 74-78.

5. Northern- (Erie, Bradford, Williamsport)-
Mostly cloudy throughout the day with showers and thunderstorms. Some storms may be severe capable of damaging winds, large hail, and frequent lightning. Cool. High 70-74.

6. Western- (Pittsburgh)-
Partly cloudy. Cool. Slight chance of thunderstorms especially later in the day. Storms may produce heavy rain and frequent lightning. High 73-75.

7. Johnstown, Altoona-
Partly cloudy. Very cool with thunderstorms possible by nightfall. Some storms may produce heavy rain and frequent lightning. High 75-77.

***Note on regional map, the number equals which region in Pennsylvania. I chose regions with similar climates, geography, and elevation to make my overall forecast for the region.



"Here north of Harrisburg 2008 statistics"
(Severe Weather Stats...)
Severe Thunderstorm Watches- 6
Severe Thunderstorm Warnings- 4
Tornado Watches- 1
Tornado Warnings- 0
Total Thunderstorms- 26

(Precipitation Stats...)
Flood Watches- 4
Flood Warnings- 5
Monthly Precipitation- 0.45inches
Yearly Precipitation- 28.30inches

(Temperature Stats...)
Heat Advisories- 4
Excessive Heat Warnings- 0
90degree days- 12
This is a new water garden I made this summer. I took an empty barrel and put lining in it. Then filled with a layer of stone followed by the fountain, water, and plants. My own little oasis.
The views of the author are his/her own and do not necessarily represent the position of The Weather Company or its parent, IBM.
Reader Comments
The Northeast Weather Blog...
Previous Entries for 2017