Monday regional forecasts...
"Afternoon Thoughts" (Updated 8/3)
Marvelous. What a great day today was outside weatherwise. Skies were partly cloudy to mostly cloudy under that northwest instibility flow. Temperatures were in the 70s to low 80s with endless visibility. For once this summer a day without haze. Also a lovely northwest breeze. Almost felt sort of chilly today, lol. Well today I was up in central Pennsylvania in Centre County to visit Penn's Cave. This is a very interesting cave in which boats take tourists throughout the cave. Also there is an animal safari tour in the same complex. Penn's Cave is the only cave in which tours are give completely by boat. Pretty interesting trip that I recommend to everyone. Though it was a little chilly as the cave is perminitely 52degrees with a water temperature of 38degrees. The cool limestone water fed from a natural spring makes a perfect habitat for large trout which followed the boat. Some of the largest Rainbow trout I have ever seen in fact. The region in Centre County is part of a large geological region in central Pennsylvania called the Ridge and Valley region. The ridge and valley region is one of the most scenic regions in Pennsylvania. It stretches from the mountains just east of the Laural Highlands up north through central Pennsylvania with the southern border formed naturally by Blue Mountain. The mountains in this region stretch to impressive elevations near 2500ft in some areas. The mountains were actually formed millions of years ago by the glaciers the pushed up the ridge tops. Then as the glaciers melted naturally formed creeks/streams formed carving out the mountain valleys. There is just something about the thrill of driving through a mountain side as babbling creeks run down the side of the road and light dapples through the trees. With the lush green ferns on the forest floor to the tall Eastern Hemlock trees creating a canopy in which sunlight is very limited. And as you rise with elevation and look at over the scenic vistas over the farm side, the beauty of Pennsylvania is at its utmost best. I could tell today that the valleys in this region has received quite a bit of rain as the field corn was quite impressively well developed and tall. Air temperatures ranged from 74degrees in the valley floor to 68degrees on the mountain tops. What a great, relaxing Sunday!

"Regional Radar"


(Courtesy of NOAA)

"Regional Satellite"


(Courtesy of Penn State Meteo.)

"Regional Advisories"


(Courtesy of NOAA)

"Short Term Forecast" (Updated 7/31) (Friday through Saturday night)
A weak high pressure associated with a slowly departing trough keeps fair weather in the forecast for Friday. After some radiational cooling, some ground fog may form early Friday in the river valleys creating visibilities as low as 1mile, but that will dissipate by 8am. Winds will be from the northwest and a bit breezy at times. Dewpoints will remain lower and in the upper 50s to low 60s throughout the day. The region remains under an upper level CAP so no instability thunderstorms are expected. For Friday night skies remain relatively clear, except there will be increasing clouds later in the night moves from west to east. Another cold front approaches the region along with showers and thunderstorms and then followed behind by another trough. Lows Friday night will be muggy and in the low to mid 60s with some patchy fog limiting visibilities to as low as 2miles. Models really diverge on solutions for the forecast for Saturday. The GFS and EURO show a MCS over the state in the morning hours followed by some leftovers showers in the afternoon. The NAM shows a lighter precipitation scenario with just widespread showers and thunderstorm, with not much of any organization. It is hard to say which scenario will be exact at this point, but in any case showers and thunderstorms are possible over the entire state. Severe weather should not be too much of a threat, but some places could see some storm reports. It is a little questionable on the thermodynamics end of the equation as the debris clouds from morning convection could limit severe weather for in the afternoon. Shear levels are pretty high Saturday. In any case the front moves through by evening with clearing skies from west to east. Lows Saturday night will be in the 60s with variable skies.

"Current Surface Map and Weekly History of Jet Stream Position"


(Courtesy of Weather Underground)

"Long Term Forecast" (Updated 7/31)
Looking at the long term the forecast has changed over the last couple of days. It appears the heat will be slightly delayed until Monday as a trough remains situated over the state on Sunday with cooler temperatures. Then the western ridge tries to move north with a southwesterly flow. A tight flow should develop with northwesterly winds keeping temperatures cooler across the north, but a southwesterly wind in the south keeping hot and humid temperatures. This contrasting area will move northward as the trough is pushed out of the northeast. This will keep the active jet stream situated over Pennsylvania. Several large impulses will move along the front, which could make for some very strong complexes of thunderstorms rotating along the north end of the ridge. The storms will be nondiurnally driven with an MCS organization. A cold front moves in for Wednesday with more potential severe weather. Next week looks quite active at this point with high temperatures and high dewpoints followed by severe thunderstorms. Models slightly differ on their scenarios. The EURO is quite cooler and keeps the trough parked over the northeast, but the GFS brings in the warmth from the ridge with even the 20C isotherm over the NY/PA border, which is quite indicative of high heat. If the EURO solution plays out we could be move stormy as this would put Pennsylvania in the bullseye for these complexes of thunderstorms. The GFS would place these MCSs over parts of New England. Overall the long term is a very low confidence forecast, and changes can be expected almost daily. Stay tuned...

"Wildfire Outlook" (Updated 7/31)
Looking at the wildfire outlook, threat conditions remain low over Pennsylvania. Common thunderstorms within the next several day period will provide adequate moisture over Pennsylvania. Also winds will not be overly excessive and dew points will be high. Also looking at soil moisture anomalies across Pennsylvania they are wetter than normal over western Pennsylvania, and about normal over eastern Pennsylvania. There really is not much fuel for any forest fire development. Across the nation things are pretty quiet in terms of fire development. But as in the summertime fires are always a threat in the west. Here are some criteria for forest fire development in Pennsylvania courtesy of the State College NWS weather criteria page. Link...

Criteria for rapid initiation and spread of wildfires in PA:

1. Winds must be sustained at 15 mph (13 knots) for two hours or more, and
2. Minimum Relative Humidities (which usually occur in the afternoon) must be 30 percent or less, and
3. 10-hour Fuel Moistures must be 15 percent or less (and expected to remain there for two or more days).

"Fire Outlooks from Storm Prediction Center Days 1, 2, and 3"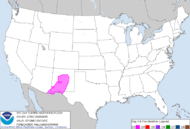 (Courtesy of NOAA)

"Gardening Outlook" (Updated 7/31)
It actually has been a pretty quiet animal week in my backyard. Still the normal activities with squirrels swinging from tree to tree like Spider Monkeys. But one thing different is the chipmunks. While they may look cute to some people they are full of trouble. Digging holes up through my entire yard, and running around across my deck in the backyard, ugh! Birds have been very active lately along with many of those butterfly moths (I am uncertain of their scientific name). My butterfly bush, which I must say is the most impressive one I have ever seen, is always full of movement from moths, to butterflies, to hummingbirds, and bumblebees. My vegetable garden is doing pretty well, though I have noticed my zucchini crops are now coming in much slower. In fact I pulled out one of the plants that died. My carrots are slowly recovering after the tips were all eaten by the groundhog. Which reminds me... Ugh, that groundhog is getting bolder. Two days ago I woke up early in the morning and it was after one of those cool mornings with a lot of dew. There sat the groundhog sun bathing himself in front of my shed on the wooden ramp. Then a few minutes later I looked out and there he is standing up on his back legs with one of my tomatoes in his mouth. What a funny, but yet frustrating scene it was. Since then I have yet to see the groundhog again. Now back to my garden... I am amazed on how well my spring onions are doing after I planted the bulbs about a week ago. They are already 3inches tall. My spinach as many of you know has been slow to grow even though I have it in the shade during the heat of the day. My tomatoes I have been picking, they are roma tomatoes. My cucumbers are about ready for some of them to be picked. The string beans are continuing to produce out of this world. The pepper plants are slowly producing small peppers that get larger every day. My buttercrunch lettuce seeds have sprouted and are growing at a very fast rate. My local nursery is getting in some broccoli and cauliflower plants soon, so I am going to run up when they arrive to get some of those plants for a fall harvest. My garden is doing quite well. Now onto to the forecast. Soil moisture anomalies are normal to above normal across the state for this time of year. But with strong summer sun each day and heat, watering is needed almost everyday except on days with rainfall. Looking ahead for the next week there are several chances of rainfall, but in the convective form, which means not everyone will see rain. Overall though the week looks to be pretty typical for summer with some thunderstorms and 90-degree weather. Happy gardening!

"Soil Moisture Anomalies and 5-day Precipitation Amounts from Hydro Prediction Center"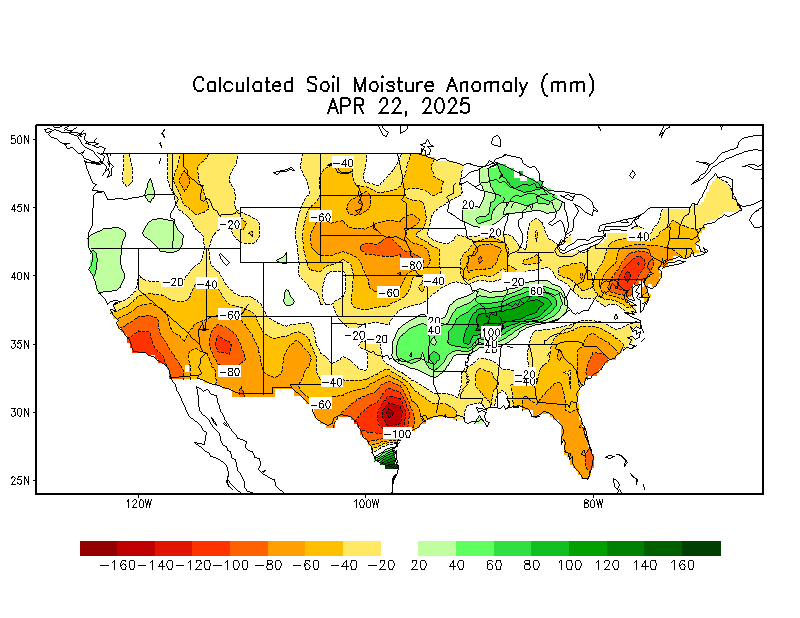 (Courtesy of NOAA)

"Severe Weather Outlook" (Updated 8/2)
Alright here is the severe weather outlook for August 2. A complex storm system is entering the eastern CONUS region. A cold front is situated across western Pennsylvania this morning followed by a trough. Meanwhile a warm front is lifting northward across the region situated near the Mason-Dixon line this morning at evident by atmospheric moisture with PWATs to the south near 1.7inches and to the north around 1inch. A low pressure center will develop along the warm front/cold front interaction near NYC. Winds aloft are very high near 50knots for bulk shear values with helicity near the low's center of 100-200. EHI values though remain pretty low. Thermodynamics are relatively weak for August standards for a severe weather outbreak, but the overall jet dynamics should make up for that. Severe storms will organize into small clusters before coming more linear. Supercells are possible with some rotation possible especially in extreme eastern Pennsylvania. CAPE values will reach a max of 2000 j/kg near where the strongest instibility is which will likely be in any areas that receive sunshine today. I think the area with the best chance of severe weather will be in eastern Pennsylvania where wind damage is the primary threat. Freezing levels are lower than normal due to the cold pocket aloft moving over the region and they range from 10,000 to 12,000ft. But I do not think hail will be too much of a threat today. Stay tuned to your local NWS today for updates incase of possible rotation with any of the cells. Also training thunderstorms may be a threat as already evident this morning in Somerset and Tioga/Potter Counties.

"Severe Weather Outlooks from Storm Prediction Center Days 1, 2, and 3"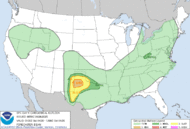 (Courtesy of NOAA)

"Monthly Outlook" (August)
Here is my experimental monthly outlook for the month of August. July has already come to an end and here is a little recap. Overall the month came out about normal for temperatures along with varying areas of precipitation anomalies. Some areas saw normal, below normal, or above normal precipitation. Overall my forecast turned out very well with my call for normal temperatures and normal precipitation. I am very pleased with how everything turned out. Now we look ahead to the last of the meteorological summer months. August is known for its complexes of thunderstorms and scorching heat. So what can be expected... Will it be hot and dry? Will it be cool and wet? Well below is my look for what I believe will be the August weather for this year...

Temperature- Looking at temperatures as we enter the month heat will be across much of Pennsylvania with temperatures above normal and in the 90s. But then a trough moves back into the region, and by next week the models really bring in a deep trough over the eastern sections of the nation. Looking at the NAO it looks to be staying negative through the entire month of August, which is indicative of eastern trough development. Now on the other side of the nation in the west the PNA will be moving towards a positive state, which correlates to a ridge over the west and trough over the east. So looking at the first part of the month will be warmer than normal temperatures followed by cooler than normal temperatures the last two thirds of the month. So overall temperatures should average about normal when it is all said and done and the warm air balances with the cool air.

Precipitation- Precipitation should be above normal for much of the state for August 2008. An active jet looks to be stationed over the region with first large MCSs moving along the northern perimeter of the ridge associated with warm air advection. This will bring heavy rain with these thunderstorm complexes. Then with the sudden pattern change from ridge to trough a large cold front should bring in some heavy thunderstorms. By the time the trough moves in many short waves will rotate in on the northwest flow. The driest area will probably be in eastern Pennsylvania with the wettest in northwestern Pennsylvania. But overall most areas should be above normal. This will be good for our lawns and gardens. Looking at drought conditions across the state all areas are not in any threat of a drought in the future.

"Temperature and Precipitation Outlooks from Climate Prediction Center for next 30 days"


(Courtesy of NOAA)

"Tropical Update" (Updated 8/3)
So here we go again. Another tropical storm that quickly developed off the Gulf Coast and is headed towards Texas. This system has been quickly developing throughout the day. This afternoon it became a tropical depression. Tropical Depression 5 was not too impressive with its appearance and did not have to much convection around the center. But within the last few hours pressure dropped several pressure readings now down to 1002mb. Convection is now forming around the center of circulation with further intensifing likely. Shear values remain low around 0-5knots over the system with sea surface temperatures over the stregthening threshold of 26C. So now the system is Tropical Storm Edouard with winds sustained at 50mph as of the last advisory of 8pm. The storm is moving west at 4mph eyeing up the Texas coastline. High pressure remains to the north of the storm which will allow Tropical Storm Edouard to travel along the southern extent of the strong heat ridge. I was just looking at the latest water vapor loop and it appears the system will not be fighting too much dry air, though there is some dry air over Texas and in the Gulf of Mexico just south of Ed. Based on the current statistics with this strengthening storm I would not be surprised if hurricane status is reached before landfall. I am thinking at this point landfall may be pretty close to Galveston, Texas as a category 1 hurricane. But as many know intensity forecasts are quite difficult with the tropics. If this slow speed continues there could be even more strengthening. This storm should be a very heavy rain producer with lots of deep convection. This system requires monitoring throughout the next day or two. I am thinking landfall may come early Tuesday afternoon. Stay tuned for further updates. Elsewhere across the atlantic a weak wave is moving westnorthwest currently north of the Lee Ward islands. Development chances are not too likely in the immediant term as shear levels are near 25knots over the system, but recently 99L is showing signs of gaining some intense convection. 99L will also need to be monitored in teh coming days. Elsewhere just some weak disturbances across the Carribeans.

"Latest Tropical Systems including Sea Surface Temperatures"



"Regional Forecasts" (Updated 8/4) (Monday)
1. Eastern- (Allentown, Southern Poconos)-
Sunshine across the region. Slightly warmer. High 86-87.

2. South Central (Harrisburg, York, Lancaster)(my home)-
Mostly sunny skies. Warmer. High 87-89.

3. Southern- (Philadelphia)-
Sunshine. Warm. Some haze (6-9mile vis.). High 89-91.

4. Central- (State College)-
Partly cloudy. Warmer. High 84-86.

5. Northern- (Erie, Bradford, Williamsport)-
Partly cloudy skies. Warmer. Humidity increasing towards evening. High 82-84.

6. Western- (Pittsburgh)-
Partly cloudy skies. Warmer and more humid. Slight chance of a thunderstorm towards evening. High 84-86.

7. Johnstown, Altoona-
Mostly sunny skies. Warm. High 83-85.

***Note on regional map, the number equals which region in Pennsylvania. I chose regions with similar climates, geography, and elevation to make my overall forecast for the region.



"Here north of Harrisburg 2008 statistics"
(Severe Weather Stats...)
Severe Thunderstorm Watches- 6
Severe Thunderstorm Warnings- 3
Tornado Watches- 1
Tornado Warnings- 0
Total Thunderstorms- 25

(Precipitation Stats...)
Flood Watches- 4
Flood Warnings- 5
Monthly Precipitation- 3.47inches
Yearly Precipitation- 27.85inches

(Temperature Stats...)
Heat Advisories- 4
Excessive Heat Warnings- 0
90degree days- 12
Interesting cloud picture from distant tornadic thunderstorm... (
Blizzard92
)
Possible mammatus clouds...
Interesting cloud picture from distant tornadic thunderstorm... (
Blizzard92
)
Possible mammatus clouds...
The views of the author are his/her own and do not necessarily represent the position of The Weather Company or its parent, IBM.
Reader Comments
The Northeast Weather Blog...
Previous Entries for 2017