Thursday regional forecast...
"Afternoon Thoughts" (Updated 7/27)
Well I have quite a bit to talk about this afternoon so I will break it up into sections. First I want to talk about the severe weather today and some annoucements I have. First off I have decided I will no longer be posting severe thunderstorms warnings. It clogs up my blog comments and makes it harder for the readers to read. I will post heavily worded severe thunderstorm warnings for example 70mph winds or golf ball sized hail. Also off course I will post tornado warnings. I will also post watches and mesoscale discussions. But as for the severe thunderstorm warnings I will not post them. As for today the cold front still is back in east central Pennsylvania where a few lone isolated cells are forming. The severe storms earlier today formed along a prefontal trough. Alot of ingredients came together for a broken line of supercellular thunderstorms. Hail and extreme lightning were some of the primary threats, but a tornado might have touched down in York County, PA. So far though I do not think one actually touched the ground, just funnel cloud. The cell even had a hook echo which is a strong indication of rotation in the cell. Hail is fell so heavily that in Franklin County it fell to the depth of it needed to be shoveled like snow. Hail was the size of golf balls there, wow. I also must say that even though I really dislike our local weathermen on the local news, they did a really great job on getting the tornado information out to the public. Here is a link to some impressive storm photos from our local WGAL8 news of today's storms...Link. I apologize for not having a special severe weather formatted blog, but I was too busy to sort out all of the details into discussions. Heavy rain was also a threat today and radar estimates show up to 6inches fell in Lancaster County, PA also into Chester County too. What a day of severe weather. The Storm Prediction Center actually made a very good outlook today after their poor track record this year.

Now today I was at the beautiful Hershey Gardens. I walked through the rose gardens and all of other gardens. There is also a butterfly house there which I took some wonderful pictures which I will be sure to upload hopefully this evening. Hershey, PA is really a great tourist place with the beautiful well-kept town, wonderful amusement park and chocolate factory tour/ride, also the wonderful gardens. There is just so much to do. Now yesterday I was at another wonderful place here in the area which is Lake Tobias. That is an animal excursion in which you ride around in bus safaris and ride through the 700acres of the Powells Valley region between Peters Mountain and Berry Mountain. The ride goes through herds of all rare animals that are mostly seen in areas such as in Africa. Also there is more animal exhibits back at the main station. I think Lake Tobias is even better than a zoo. There sure is a lot of things to do around this region. Pictures will be coming tonight hopefully. Also three days ago in the evening I went to Mt. Gretna where there is a mountain resort location in Lebanon County also with a playhouse and lake. This is really a great location with a lot of things to see and do.

And lastly as I have been recently, I want to continue to write slightly off-topic blogs. Some of my recent ones have been... "Summer Outlook, "A Novice Gardener's Perspective", "Journey through the Seasons", and "My Mountain Washington Journey." I want to come up with more topics and so far the only one I have is my Winter Outlook which will come in the early part of Autumn probably by the end of September. I would like some more ideas though and I would be happy if any of the readers of my blogs have any suggestions. That would be great. I also probably in the near future will have a novice gardener's perspective blog II coming which will talk about how everyone's gardens are taking off and what to plant for a fall harvest. Anyways I want to keep this blog interesting as we are in a somewhat boring period of time in this later summer transition. Well that is all for today. Expect some of the other sections to be updated sometime this evening or tomorrow morning. Have a wonderful rest of your day!!!

"Regional Radar"


(Courtesy of NOAA)

"Regional Satellite"


(Courtesy of Penn State Meteo.)

"Regional Advisories"


(Courtesy of NOAA)

"Short Term Forecast" (Updated 7/30) (Wednesday through Thursday night)
Last night some decent radiational cooling occured, but by later in the night the winds turn southwesterly drawing in much higher dewpoints. Dense fog formed in many valley locations, especially in northeastern Pennsylvania. Last night thunderstorms died out over eastern Ohio with a weakening MCS from Missouri also associated with the remnants of Dolly which are currently also over Missouri this morning. A cirrus cloud deck is over much of the state. Now a weak front is approaching the region with a trough followed behind. Instibility is developing out ahead of the front, especially in southeastern Pennsylvania. Showers and thunderstorms will form out along the front and intensify as they progress eastward into more unstable air. Some CIN is out there this morning, but that should dissipate as the day progresses. Temperatures will be hot again near 90degrees to 85degrees in the mountains. Dewpoints will be higher than they have been near 70degrees and there should be no midday dry air mixing aloft. Heat indices may approach 100degrees near Philadelphia where a Heat Advisory is in place. Haze with visibilities as low as 4miles will also plague local airfields today. Poor air qualities can also be expected in the metroplex regions. And thunderstorms that do form are capable of some heavy rain so rainfall amounts may approach 1inch in areas that see the worst of the thunderstorms. For Wednesday night the front progresses eastward across the state with weakening showers and thunderstorms with the loss of daytime heating. Behind the front winds turn westnorthwesterly becoming calm. Areas of fog will be possible late tonight under clear skies. Lows will be a muggy upper 60s to low 70s. For Thursday the trough really does not affect temperatures all to much with highs in the upper 80s to low 90s. A few lake breeze thunderstorms may form Thursday under the northwesterly unstable flow with some chances of small hail in the strongest convection. Activity should die out by 6pm as the dry air aloft moves over the region and the trough begins to lift northward slightly. For Thursday night skies clear again and with higher dewpoints fog may form once again in the typical prone regions. Lows will be a muggy upper 60s. Looking ahead Friday through Saturday the trough tries to park itself over the region due to a sharp negative NAO, but a strong western ridge tries to move into the region.

"Current Surface Map and Weekly History of Jet Stream Position"


(Courtesy of Weather Underground)

"Long Term Forecast" (Updated 7/29)
The long term forecast as I mentioned yesterday keeps on changing. Well the EURO has now come in line with the GFS. A strong ridge will build across the entire country pumping heat and humidity up from the south. Rising heights will lead to very hot weather. The 25C line in the 850s gets over Pennsylvania which shows extremely hot weather possible. Ensemble models are also beginning to catch up in terms of forecasting this heat wave. Now the last heat wave in July did not have the real high dewpoints like we saw in June's heatwave. But this upcoming heat wave looks poised to have very high dewpoints in the 70s. Some guidance even suggests upper 90s with 70degree dewpoints making heat indices well into the 100s. With 850s that warm it will be hard for scattered pulse convection to form, but still that can be expected. Still the Storm Prediction Center is talking about a MCS or derecho potentially moving through the region so this will need to be watched for potential severe weather. The heat wave starts this week and last until Tuesday. Some places may see temperatures at or above 90degrees for 8 days. This will be a sure hot start to August. Though August is usually hot in the east. Please monitor the latest information regarding this heat wave as it will be widespread across the country. Already heat advisories are out for today in the Philadelphia metro area so today starts the heat wave for there lasting all the way through next week. Lets hope for some afternoon relief in terms of thunderstorms. Also one other thing to keep in mind is poor air qualities in the metroplexes. Anyways stay cool for the next 7 days!

"Wildfire Outlook" (Updated 7/25)
Well after all of that recent rainfall it is hard to imagine a fire threat. With relatively high humidity, low winds, and potential precipitation for this upcoming week there is really no wildfire threat. Still though careless actions while hiking and camping in the winds could spark a accidental fire. Please remember to act responsibly to prevent forest fires. Looking across the nation it also appears the fire threat is very low. As with typical summertime monsoonal patterns a few dry thunderstorms could spark wildfires across the western United States. But overall it looks like the United States can breath a sigh of relief for the next couple of days in terms of wildfires. Remember Pennsylvania's forest fire season is in Autumn which is fast approaching.

"Fire Outlooks from Storm Prediction Center Days 1, 2, and 3"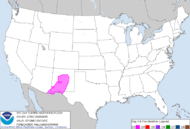 (Courtesy of NOAA)

"Gardening Outlook" (Updated 7/25)
For late July I must say everything around these parts of Pennsylvania is still quite green. The lawns are very green and almost look tropical in terms of the type of blade of grass this year. That is thanks to quite a bit of rainfall this summer. Looking ahead at this week it appears to be pretty typical for a normal summer standard. There will be several chances of precipitation throughout the week. As usual in between rainfalls, watering will still be necessary as especially pots dry out quickly. Looking at soil moisture anomalies they are wetter than normal across much of Pennsylvania. For temperatures this week they also should be pretty normal for summer with highs in the 80s maybe hitting 90degrees for a day or two. Well on to my garden. Let me first update my animal situation. Another wild couple of days in terms of wildlife in my backyard. First off a bear has been spotted nearby that has come out of Blue Mountain. Last year a bear got into my neighbors yard destroying birdfeeders and even the rain spouting. Luckily my yard is fenced in by a wooden fence. So now here we go again with another bear. Blue Mountain is actually quite full of bear. Then we have the crazy chipmunks who have lately been bathing themselves in the birdbathes and in the container water garden. The squirrels are out of control knocking down birdfeeders. In fact they knocked down a birdfeeder today and broke the plastic pole. The rabbits are annoying as they have been eating all of my flowers in crocs. Also for some reason these rabbits seem very calm around people. They do not budge a bit when I approach them. Also there have been tons of birds with even a little bird today with a broken wing. I have been watching him this evening and he seems to be alright and slowly moving his wings more than he was this morning. I think he will be ok! Onto my garden. Well today a frustrated me put up a chicken wire fence around my garden. My one section of the vegetable garden is located in very large wooden boxes 6inches off the ground. Up until this past week nothing has been eating the vegetables, but now the groundhog has been up in the garden eating everything. Well today I hopefully made a stop to that. My tomatoes are rapidly turning yellow and orange with some just the slightest shade of red. My zucchini plants are still producing, but I did have to cut back some large dead leaves today. My carrots are soon ready for picking. My newly planted spinach and buttercrunch lettuce seeds are popping up. Also already my scallion onion bulbs are pushing out of the ground after only 2days, wow. My pepper plants finally have a large green pepper forming along with some small ones. My cucumber plants are also producing with three large ones soon ready for picking. The blueberry bushes were all destroyed by the birds eating the berries, they also ate my neighbors too. The beans again are being harvested like wild. I picked a whole bowl full today. So overall my garden is doing superb. I hope yours is doing the same also. Now is the time to plants some seeds, and bulbs in preparation for Fall vegetable crops.

"Soil Moisture Anomalies and 5-day Precipitation Amounts from Hydro Prediction Center"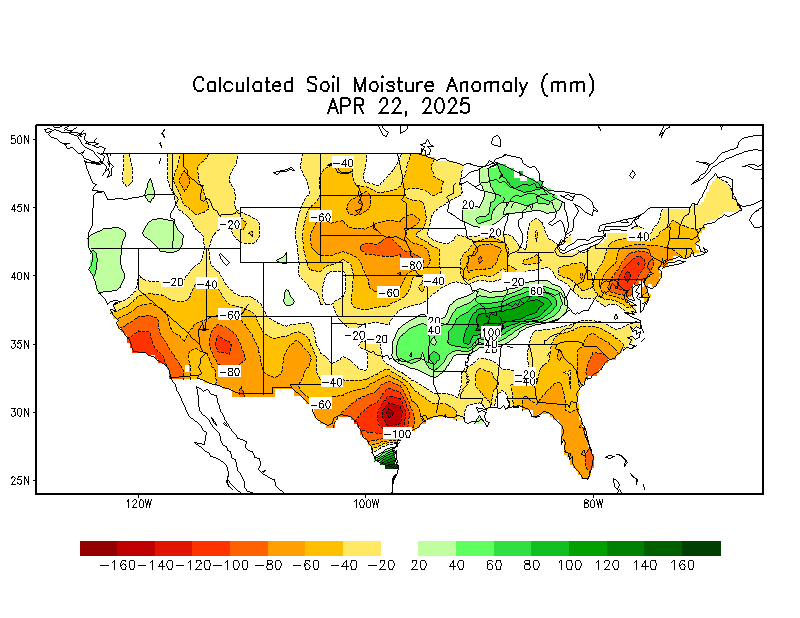 (Courtesy of NOAA)

"Severe Weather Outlook" (Updated 7/30)
Well looking at the water vapor loop this morning there are several distinctive features to take note. First off a cold front is moving east followed in by a weak trough as noticed in the western Great Lakes. Along the front currently in Ohio a shortwave is located up moving into western New York. A sort of pre-frontal trough boundary is located across westcentral Pennsylvania. This is a location currently with stable air and very low PWATs (moisture aloft). Precipitation is currently forming a line of thunderstorms from Erie on southward to north of Pittsburgh. Two areas of convection should form with one being in west central Pennsylvania along the boundary. Those storms should be cellular and ahead of the front maintaining a pretty weak status. A broken line of clusters of thunderstorms will form in western Pennsylvania and track eastward. Currently debris clouds in the form of high thin cirrus are across much of the state except southern portions. Southern portions will get the maximum instibility. With relatively weak wind fields aloft I am not expecting much in the way of severe weather, just a slight threat as indicated by the SPC latest outlook. PWATs will increase to near 1.7inches so heavy rain will be a threat, but flash flooding with training thunderstorms should not be a threat. CAPE values may reach 2000 j/kg in southern Pennsylvania along with LI indices near -3. Wind shear is near 20-30knots max, but the best dynamics in terms of shear levels are located to the north where there is less instibility. I looked at some 12z soundings and it appears as if severe weather will be the highest threat to Pennsylvania's south, but still affecting southern portions. Freezing levels today are near 14,000ft but updrafts may be strong enough to tap that level. As for tornadoes they cannot be ruled out as some EHI values are near 3 in Maryland, but I do not think they will be much of a threat. Today is mainly isolated damaging wind threat. As for the MCS threat late this weekend, I will have more on that tomorrow.

"Severe Weather Outlooks from Storm Prediction Center Days 1, 2, and 3"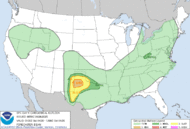 (Courtesy of NOAA)

"Monthly Outlook" (July)
Well back to my experimental monthly outlooks. July is now here and we are entering in to the heart of the Summer season. So this leaves many wondering well is it going to be hot and dry? But first let me recap the month of June statewide. Statewide the month averaged above normal in temperatures, but that is due to one reason... the intense heatwave that occured in the beginning of the month. Temperatures were in the upper 90s when they were supposed to be in the upper 70s. Low temperatures were also very mild and sometimes in the 70s. Excluding the heatwave the month was below normal temperature wise thanks to the deep eastern trough that hung over the region keep cool air and moist air over the region for much of the end of the month. Overall the summer has not been that hot and I have only received a measly five 90degree days, which is fine with me. Below now is my July outlook...

Temperature- Looking at temperatures the beginning of the month will be seasonable to slightly below average temperature wise as an eastern trough remains parked over the region. But by early mid month the Bermuda high should become parked in a favorable position for some hotter more seasonable air. Overall for the month I expect temperatures right around normal by the time the month is over. A heat wave or two may occur, but nothing overally significant. This keeps in tune also with my summer outlook of average to below average temperatures.

Precipitation- The month of July is never a favorable one for widespread rains, but more of spotty convective rains making it difficult to say a forecast for rainfall. I do not see though any really dry period. Thunderstorms should be common and basically be occuring in the same positions they have occured since late June with a favorable track along the mountain ranges. So this does not sound like much of a forecast, but some places may be wetter than normal, and other places may be drier than normal.

"Temperature and Precipitation Outlooks from Climate Prediction Center for next 30 days"


(Courtesy of NOAA)

"Tropical Update" (Updated 7/25)
Well the tropics are now getting pretty quiet after all of that recent activity in mid July. Hurricane Dolly though is still in the minds of many Texans as it moved ashore near South Padre Island as a category 2 hurricane. Dolly became an official tropical storm on July 20th as it moved into the Yucatan with winds of 50mph sustained along with higher gusts. Other than heavy rain Mexico did not feel to many affects on the Yucatan Peninsula. Then Dolly moved into the open Gulf of Mexico where low winds aloft of less than 5knots and sea surface temperatures of 28C were adequate enough for strengthening. Dolly initially was ragged in the Gulf, but it strengthened to hurricane strength as it neared the Texas coastline. Dolly strengthened to a category 2 shortly before landfall. Winds in the eye wall were estimated over 100mph and rainfall was recorded over 15inches in some locales. But now Dolly is just producing heavy rain over Mexico as it slowly dissipates. Currently across the tropics an area of disturbed weather, Invest 97L is moving across the Atlantic. High winds aloft and cooler than normal sea surface temperatures are preventing development. But there still is a slight chance for this wave to move into a more favorable environment. Models currently project the storm to progress westward before turning to the northwest. One thing to note in the long term is the high pressure across the central Atlantic is becoming in a favorable position for Cape Verde storms to be aimed at the east coast of the United States. This will be something to watch down the road. Otherwise the tropics are pretty quiet.

"Latest Tropical Systems including Sea Surface Temperatures"



"Regional Forecasts" (Updated 7/31) (Thursday)
1. Eastern- (Allentown, Southern Poconos)-
Partly cloudy skies. Breezy (WEST). Some morning dense fog (.5-2mile vis.). Warm. High 87-89.

2. South Central (Harrisburg, York, Lancaster)(my home)-
Mostly cloudy becoming partly cloudy. Breezy (WEST). Warm. High 87-90.

3. Southern- (Philadelphia)-
Partly cloudy. Warm. High 89-92.

4. Central- (State College)-
Partly to mostly cloudy skies. Breezy (WESTNORTHWEST). Warm. High 84-86.

5. Northern- (Erie, Bradford, Williamsport)-
Mostly cloudy skies. A passing thunderstorm cannot be ruled out. Breezy (WESTNORTHWEST). Cooler. High 79-83.

6. Western- (Pittsburgh)-
Partly to mostly cloudy skies. A passing thunderstorm cannot be ruled out. Breezy (WEST). Warm. High 84-88.

7. Johnstown, Altoona-
Partly cloudy skies with times of mostly cloudy skies. Breezy (WEST). Slight chance of an isolated thunderstorm. Warm. High 83-85.

***Note on regional map, the number equals which region in Pennsylvania. I chose regions with similar climates, geography, and elevation to make my overall forecast for the region.



"Here north of Harrisburg 2008 statistics"
(Severe Weather Stats...)
Severe Thunderstorm Watches- 6
Severe Thunderstorm Warnings- 3
Tornado Watches- 1
Tornado Warnings- 0
Total Thunderstorms- 25

(Precipitation Stats...)
Flood Watches- 4
Flood Warnings- 5
Monthly Precipitation- 3.47inches
Yearly Precipitation- 27.85inches

(Temperature Stats...)
Heat Advisories- 4
Excessive Heat Warnings- 0
90degree days- 12
The views of the author are his/her own and do not necessarily represent the position of The Weather Company or its parent, IBM.
Reader Comments
Comments will take a few seconds to appear.
Post Your Comments
Please sign in to post comments.
Not only will you be able to leave comments on this blog, but you'll also have the ability to upload and share your photos in our Wunder Photos section.
The Northeast Weather Blog...
Recent Posts
Local Weather
36 °F

Overcast
Previous Entries for 2017
Personal Weather Stations