Severe Weather Outlook...
"Afternoon Thoughts" (Updated 7/19)
Well it was another scorcher today with temperatures into the mid 90s. Looking across the entire country it is quite warm with a very typical summer appearance on the surface maps. There sure is some active weather across the country with the tropics really heating up. Today the third tropical storm of the season has been announced Tropical Storm Cristobal. And still out in the cold North Atlantic waters Bertha continues to transition to a cold core system (extratropical). I will not have any tropical update tonight. Tomorrow will be my next tropical update. Invest 94L continues to swirl in the Carribean giving the National Hurricane Center a tough time due to the frustration with the wave. Also coming off of Africa is a very, very impressive wave already with symmetrical details associated with it. The major global models all expect development to another tropical system. This sure has been one active July which probably lead to an active September period in which the tropics really heat up. Elsewhere the weather pattern is relatively zonal with a few weak cold fronts with some weak stationary frontal boundaries across the northeast. Some chances of afternoon thunderstorms especially from Sunday through Wednesday. Tropical moisture from Cristobal may add to some tropical downpoors in the eastern portions of the state as Cristobal rolls gently out to sea where all lost systems eventually end up. Wow, I looked at the calender and it sure is amazing today is already the 19th. Time sure does fly by. Before you know it winter will be approaching along with the holidays. You know what the means...Blizzard search. Yes I will be posting all throughout the winter trying to get out all of the details on any winter storms that head towards this direction. I was looking back at some of my blogs from last winter and reading the comments. Brought back alot of laughs as we all speculated on major winter storms weeks out only to be welcomed by an icy/snowy mix of 2inches or so. I all will join me on throwing opinions out for future winter storms. Looking ahead my winter forecast will be posted sometime in the early fall similar to my summer forecast format. Before I jump to excitement about next winter's possibilities and make some of you anxious; I must always remember to love the weather of the present and not always pondering onto future storm possibilities. Anyway have a great Saturday evening!

"Regional Radar"


(Courtesy of NOAA)

"Regional Satellite"


(Courtesy of Penn State Meteo.)

"Regional Advisories"


(Courtesy of NOAA)

"Short Term Forecast" (Updated 7/20) (Sunday through Monday)
Today a stalled boundary is located over the NY/PA border. A MCS is rolling eastward currently located over northeastern Ohio. A trough is moving into the northeast which will eventually push Cristobal out to sea. Also a departing high pressure over Virginia responsible for the warm mid-levels (CAP) that Pennsylvania delt with this weekend. So pretty active day on the weather maps. The MCS will move into very unstable air resulting in severe thunderstorms across much of Pennsylvania with damaging winds, frequent lightning, and large hail. See a detailed look at the threat in the sections below. Across northern Pennsylvania clouds from convective debris in New York State will keep a hold on temperatures keeping them in the 80s today. But in the south temperatures will shoot up into the mid 90s with heat indices near or over 100degrees. Also there will be thick haze resulting in visibilities of 4-6miles. And watch for poor air qualities in the metroplex areas as today is a high smog threat day. Dewpoints will range from the mid 60s to low 70s but some dry air mixing from aloft will cause dewpoints to slowly drop throughout the afternoon hours. Rainfall amounts will be of the convective sort so hard to pinpoint amounts. For Sunday night thunderstorms will move into eastern Pennsylvania with a few still severe gradually diminishing overnight. Lows will be muggy and in the upper 60s to low 70s. Fog may also be a problem overnight in areas that received rainfall. For Monday a shortwave over the Great Lakes will push a weak cold front through the area resulting in some showers and thunderstorms. Some severe storms cannot be ruled out especially in western portions of the state. Highs will be in the upper 80s across most areas.

"Current Surface Map and Weekly History of Jet Stream Position"


(Courtesy of Weather Underground)

"Long Term Forecast" (Updated 7/20)
Looking ahead at this coming week it appears as if temperatures return to seasonal values as models indicate 850s getting back to where they should be for this time of year around 13-17C. For Monday night through Tuesday night there will be a high chance of showers and thunderstorms as a weak cold front approaches the area along with some shortwaves riding up along the front. For Tuesday a low pressure system will also ride up along the front and the latest GFS indicates some very heavy convective rains over eastern Pennsylvania. I will have more on this threat in the upcoming days. After that Wednesday through Thursday looks spectacular with cooler temperatures and sunshine. For Friday a front may approach the region with a southwest flow drawing in warmer air and more moist air. Things then may clear out for the weekend. All in all looks like a normal summer week with chances of thunderstorms followed by clearings after frontal passages.

"Wildfire Outlook" (Updated 7/17)
Forest fire season for Pennsylvania is typically in the fall time when all of the dry leaves are on the ground on the mountainsides. Fall winds and dry humidity levels help to fuel the fires. As for the next couple of days it appears as wildfires will not be too major of a threat anywhere across the state. There will be relatively dry conditions across the southern 2/3rds of the state until Sunday roles around, but winds will be pretty calm and humidity levels will be high. Though still if you are still traveling to state parks and build a campfire, remember to act responsibly towards your actions to prevent man-made forest fires. I remember a few years ago an accidental fire occured in Blue Mountain right behind my house and the whole mountain went up in flames. Fire trucks rushed by my house and later that night the fire became contained. But all of this was just caused by an unwatched campfire near the summit of the mountain. Across the United States forest fire levels remain highest over California and the northern Great plains in the Dakotas.

"Fire Outlooks from Storm Prediction Center Days 1, 2, and 3"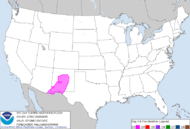 (Courtesy of NOAA)

"Gardening Outlook" (Updated 7/17)
Well were are entering in the heart of summer where plants need water almost every day to the oppressive heat. Very dry conditions will persist through Sunday morning other than an isolated thunderstorm in the northern parts of the state. Watering will be necessary almost every day as the heat will be quite intense with very few clouds in the sky to create any sort of cloud cover. This period of time though is good to get in any of the fall vegetable crops such as spinach, lettuce, scallions, radishes, etc. The other day I was helping my neighbor expand their vegetable garden by tripling their size and they planted some seeds with the crops listed above. I also plan on planting some seeds in preparation for a fall crop. As for current, my pea plants are probably getting their last harvest as the plant is starting to wilt. My zucchini plants are amazing and produce almost every morning. Cucumber plants are starting to get cucumbers on the vine. My pepper plants show no significant growth what-so-ever and I am very dissapointed. My watermelon plants I decided to dig out after very poor growth. The bean plants are producing like wild with already 3 large batches I have picked. The carrots are getting larger. My spinach seeds are beginning to come up in the raised dirt roads. The tomatoes are still green, but potentially after this heat wave could start to ripen. All of the blueberries were eaten by birds unfortunately. The herbs are doing great and are almost too large. Overall I am very pleased with my garden except for a few things. Anyway continue to water your plants this week and think about options for Fall vegetable gardening.

"Soil Moisture Anomalies and 5-day Precipitation Amounts from Hydro Prediction Center"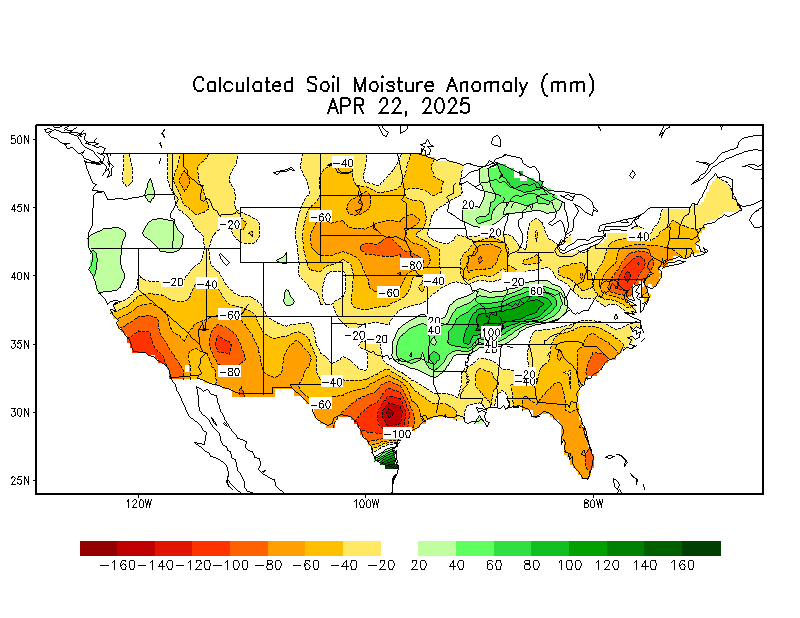 (Courtesy of NOAA)

"Severe Weather Outlook" (Updated 7/21)
Well my forecast yesterday seemed to pan out very well. There were many severe weather reports in western Pennsylvania including a measured wind gust of 71mph three miles east of the Pittsburgh downtown area. Also as the storms moved east they still produced isolated severe weather in eastern Pennsylvania. Today that short wave is now up in New England. A stationary boundary again is located near the PA/NY border and will help to spark thunderstorm. Isolated storms could be severe as winds aloft are around 30knots for the mid levels. Wind damage looks to be the main threat. Freezing levels are high once again near 15,000ft but that will be lowering as the cold poor aloft moves down from Canada over the region. A MCS complex over western Ohio will be fastly moving eastward throughout this afternoon. Moderate shear levels near 40knots will alow bow segments to form on the outflow boundaries of the dying MCS. As the storms move into unstable air where CAPEs near 2000 j/kg and LI indices near -4 thunderstorms will turn severe. The SPC has issued a 15% slight risk of severe weather from western Pennsylvania into central Pennsylvania. This seems about right. I do not again have time to issue my own severe weather map today. As the sharp trough approaches the region the lapse rates will increase helping to aide the development of numerous thunderstorms. I do expect some type of linear bowing segment to move into western Pennsylvania and traverse into the mountains. The setup is relatively similar to yesterday except there are some timing differences. The MCS should weaken across central Pennsylvania and may just move into western parts of the eastern third of Pennsylvania. An isolated severe wind gust cannot be ruled out during this time. PWATs today are relatively low compared to what they have been. Still they are a few deviations above normal so heavy rain is still a threat, but flash flooding with training thunderstorms should not be much of a problem. Also high chrystal growth will lead to intense lighting today. Overall wind damage is the primary threat today across southwestern and western Pennsylvania. Stay tuned to the NWS for more updates throughout the day.

"Severe Weather Outlooks from Storm Prediction Center Days 1, 2, and 3"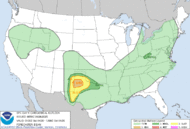 (Courtesy of NOAA)

"Monthly Outlook" (July)
Well back to my experimental monthly outlooks. July is now here and we are entering in to the heart of the Summer season. So this leaves many wondering well is it going to be hot and dry? But first let me recap the month of June statewide. Statewide the month averaged above normal in temperatures, but that is due to one reason... the intense heatwave that occured in the beginning of the month. Temperatures were in the upper 90s when they were supposed to be in the upper 70s. Low temperatures were also very mild and sometimes in the 70s. Excluding the heatwave the month was below normal temperature wise thanks to the deep eastern trough that hung over the region keep cool air and moist air over the region for much of the end of the month. Overall the summer has not been that hot and I have only received a measly five 90degree days, which is fine with me. Below now is my July outlook...

Temperature- Looking at temperatures the beginning of the month will be seasonable to slightly below average temperature wise as an eastern trough remains parked over the region. But by early mid month the Bermuda high should become parked in a favorable position for some hotter more seasonable air. Overall for the month I expect temperatures right around normal by the time the month is over. A heat wave or two may occur, but nothing overally significant. This keeps in tune also with my summer outlook of average to below average temperatures.

Precipitation- The month of July is never a favorable one for widespread rains, but more of spotty convective rains making it difficult to say a forecast for rainfall. I do not see though any really dry period. Thunderstorms should be common and basically be occuring in the same positions they have occured since late June with a favorable track along the mountain ranges. So this does not sound like much of a forecast, but some places may be wetter than normal, and other places may be drier than normal.

"Temperature and Precipitation Outlooks from Climate Prediction Center for next 30 days"


(Courtesy of NOAA)

"Tropical Update" (Updated 7/20)
Well here is a quick update on what is going on in the tropics. Bertha has now weakened back to tropical storm status, but it still contains winds of 70mph sustained. Bertha is the longest lived tropical system ever recorded in July and still it is heading across the north Atlantic in some very cold waters. Though it is undergoing extratropical transition as it changes from a warm cored system to a cold cored system. Bertha eventually looks headed towards Iceland with some heavy rain and gusty winds. Other than that Bertha will be history. Closer to home we have Tropical Storm Cristobal which has winds sustained at 50mph and a pressure of 1007mb. Cristobal will continue to throw spiral rain bands across the Outerbanks interrupting many people's vacation plans. Rainfall amounts of 1-2inches may occur with up to 5inches in locallized areas. As Cristobal moves away from land and out to sea it will gradually strengthen, but should not pose any threat to land. Potentiall Cape Cod could be scraped with a rain shower or two from some of it's outerbands. The Canadian Maritimes near Nova Scotia should monitor this storm. Last we have newly formed Tropical Storm Dolly with winds of 40mph moving near the Yucatan of Mexico as a tropical storm. Tropical Storm Warnings have been issued for much of the Mexican coastline. Dolly will cross the Yucatan and move back into the Gulf under very warm waters. It is very possible for Dolly to turn into a hurricane once in the Gulf. As for where next it appears the north Mexican coastline northward to the Texan Coastline needs to be alert for potential landfall. The details will be sorted out as time progresses. Also one thing to add is a very impressive tropical wave is moving off the African coastline and which global models then show some development with this system also. All I have to say is what a busy July it has been in the Atlantic.

"Latest Tropical Systems including Sea Surface Temperatures"



"Regional Forecasts" (Updated 7/21) (Monday)
1. Eastern- (Allentown, Southern Poconos)-
Partly cloudy skies with hazy visibilities near 5-8miles. Warm and humid. Slight chance of an afternoon or evening thunderstorm. High 88-91.

2. South Central (Harrisburg, York, Lancaster)(my home)-
Partly cloudy skies. Slight chance of a thunderstorm with increasing chances towards evening. An isolated storm could be strong to severe capable of gusty winds. Hot and humid. High 88-91.

3. Southern- (Philadelphia)-
Mostly sunny skies with thick afternoon haze (5-8mile vis.). Poor air qualities. Hot and humid. Heat indices near 100. High 90-93.

4. Central- (State College)-
Patchy morning fog. Mostly sunny skies with a slight increase in clouds later in the day. A few thunderstorms possible towards evening. A few storms may be severe capable of gusty winds, small hail, and heavy rain. Humid and warm. High 87-90.

5. Northern- (Erie, Bradford, Williamsport)-
Morning light valley fog (2-3mile vis.). Partly cloudy skies, especially in the afternoon. Chance of scattered thunderstorms in the afternoon and evening. A few storms may be strong to severe capable of gusty winds, large hail, and heavy rain. Warm. High 85-88.

6. Western- (Pittsburgh)-
Morning dense valley fog (.5-1.5mile vis.). Partly sunny skies with increasing clouds. Numerous thunderstorms in the afternoon. Storms may be severe capable of highly damaging winds, large hail, and extreme lightning. Rainfall amounts locally to 1inch. Humid with dewpoints in the upper 60s. Hot. High 88-91.

7. Johnstown, Altoona-
Morning dense valley fog (.25-1mile vis.). Partly cloudy skies in the afternoon. Late day thunderstorms are possible. Some storms may be severe capable of damaging winds, frequent lightning, and heavy rain. Humid with dewpoints in the low 70s falling into the mid 60s. Warm. High 86-88.

***Note on regional map, the number equals which region in Pennsylvania. I chose regions with similar climates, geography, and elevation to make my overall forecast for the region.



"Here north of Harrisburg 2008 statistics"
(Severe Weather Stats...)
Severe Thunderstorm Watches- 5
Severe Thunderstorm Warnings- 2
Tornado Watches- 1
Tornado Warnings- 0
Total Thunderstorms- 23

(Precipitation Stats...)
Flood Watches- 4
Flood Warnings- 5
Monthly Precipitation- 2.44inches
Yearly Precipitation- 26.82inches

(Temperature Stats...)
Heat Advisories- 4
Excessive Heat Warnings- 0
90degree days- 10
The views of the author are his/her own and do not necessarily represent the position of The Weather Company or its parent, IBM.
Reader Comments
Comments will take a few seconds to appear.
The Northeast Weather Blog...
Recent Posts
Local Weather
43 °F

Overcast
Previous Entries for 2017
Personal Weather Stations