Wednesday Regional Forecasts...
"Afternoon Thoughts" (Updated 7/7)
Well good Monday afternoon!!! It sure is muggy outside today as light easterly winds pull in deep atlantic moisture. The edge of the incredibly high PWATs is located near the western edge of the Alleghany Plateau and that is sparking widespread thunderstorms. The thunderstorms are developing along that sort of natural boundary. Elsewhere across the state orographic lift is giving way to compact areas of pulse thunderstorms. Due to low high-level winds the storms will be very slow moving and capable of heavy rain. Flash flooding is likely a major threat. Already today several areas have produced flashflooding. Looking at the radar across the state showers and thunderstorms are surely widespread making it sort of looking like a Florida afternoon. Showers and thunderstorms are highly diurnal based and should begin to dissapate as dusk approaches. For tomorrow the highest instibility will exit the region along with the very weak shortwave so tomorrow should be mostly dry except for some showers and thunderstorms in western Pennsylvania ahead of the next cold front. An isolated storm could be severe in western Pennsylvania as shear levels begin to increase slightly along the cold front. Also in case you have missed some of my comments I am heading to Mt. Washington, NH this coming Thursday and Friday. Mt. Washington is also known as the capital of the world's worst weather. The world record for wind gusts was recorded there with a gust of 231mph in the month of April. Now the mountain is covered in fog for 60% of the year, but still the forecast for Thursday and Friday shows partly sunny skies behind the exiting cold front Wednesday night. High pressure moves in. Now to the northeast of the region will be a strengthening low pressure heading up through the Canadian Maritimes which may cause some higher wind gusts on the summit. I will be sure to take lots of pictures and be back to write a blog about my experience at the summit. For now though I will enjoy the warmth as up at the summit temperatures are in the 40s and 50s. There is also some areas of snow cover on some of the nearby ravines. Have a great Monday and expect a updated tropical discussion this evening!!!

"Regional Radar"


(Courtesy of NOAA)

"Regional Satellite"


(Courtesy of Penn State Meteo.)

"Regional Advisories"


(Courtesy of NOAA)

"Short Term Forecast" (Updated 7/6) (Monday through Tuesday night)
The stationary front located around the Mason-Dixon line will lift northward on the day Monday. High PWATs nearing 2inches will move in from the south across the state of Pennsylvania. Dewpoints in the upper 60s to low 70s combined with temperatures nearing the mid to upper 80s will lead to scattered showers and thunderstorms on the days Monday and Tuesday. The front will be in a dissapating stage leading to not a very strong triggering mechanism. Orographic enhancement will lead also to the development of pulse thunderstorms. Shear levels aloft are very light less than 20knots and CAPE values not overally high around 1500 j/kg will lead to just typical thunderstorms. An isolated storm may become severe with wet microbursts being the primary threat. Due to weak winds aloft showers and thunderstorms will be very slow moving causing the potential for flash flooding. Training thunderstorms will also lead to an enhanced threat. Beware of rapidly changing conditions on the days Monday and Tuesday with Monday being the more widespread day for convective development. Surface winds will be relatively light from the southwest. Morning fog will also be a problem for Monday and Tuesday morning with visibilities potentially as low as 1/2mile in areas that had clearing skies after a recent rainfall. Fog should not be widespread though. Skies will be variable with more clouds than sunshine. As the afternoon progresses haze will also be a problem and so will be unhealthy air qualities. For Tuesday night showers and thunderstorms will be diminishing and skies will become clearer. Late night fog could be a problem. Lows Tuesday night will be very mild in the mid to upper 60s. For Wednesday a front will be approaching the region.

"Current Surface Map and Weekly History of Jet Stream Position"


(Courtesy of Weather Underground)

"Long Term Forecast" (Updated 7/6)
Looking ahead at the weather pattern for mid to late week it appears to be a relatively zonal jet streamal flow. A weak trough will be over the region for Wednesday night through Friday night with high pressure parked over the region. The trough should not be too significant, and just keep temperatures at seasonal levels. High pressure then departs along with the trough for Saturday. Still though which needs monitoring is Bertha in this time period as there is a very slight chance it could impact our weather, but at this point it appears to be located far enough out to sea to not cause any problems here along the east coast. Also come next weekend will be the return of warmer temperatures as heights rise along with a southwest flow. This will also most likely mean the increase of surface moisture bring daily chances of showers and thunderstorms. Overall the long term pattern is very typical of summer like weather.

"Wildfire Outlook" (Updated 7/6)
Fire hazards are quite low through the upcoming week as the weather across Pennsylvania remains humid with many chances of showers and thunderstorms. Morning fog turning to haze in the afternoon will also be widespread. Winds remain mostly calm coming from the southwest in the southern portions of the region and the northwest in the far north. All variables are against the development of wildfires for the next seven days in Pennsylvania. Across the USA the highest threat areas of wildfires remain over the west in California.

"Fire Outlooks from Storm Prediction Center Days 1, 2, and 3"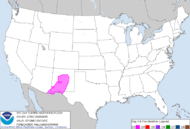 (Courtesy of NOAA)

"Gardening Outlook" (Updated 7/6)
It really has been quite a great year for gardening here in Pennsylvania with plenty of rain and limited extreme hot weather. Here is a little update on my garden first. Yesterday I noticed my first cucumbers growing, the plant had been transplanted earlier in the year so it took it a while to grow. My herbs are doing great including the parsley and basil plants which are growing like wild each day. My string beans are also doing great with plenty of new bean growth each day. I have already picked about 30 beans with many more to pick in a few days. My pea plant in the older vegetable garden began to die so I picked the last of the peas and then ripped the plant out. The next day I planted spinach seeds in little dirt rows where the peas had been before. My other pea plant is doing amazing with it seems tons of new flower blooms on the plant. I have already picked 4 meals full of snow peas. My zucchini plants are getting larger and larger and pretty much taking over. The zucchini are getting larger and larger each day, and I picked my first one on July 4. One thing though unusual the zucchinis though is that some of them are rotting. My carrots are very healthy and getting larger and larger each day. So far I have had no rabit problems even without a fense. My watermelon plants are not doing so well do to the lack of summer heat we have had this year. I am not expecting them really to do much this year. My pepper plants are slowly getting larger with one pepper already evident. To note I did plant my pepper plants very late in the season. My roma tomato plants are also getting larger also and hopefully by mid month they will be ready for picking. And last my sad blueberry bushes. They are very healthy, but the birds get every berry as soon as it ripens. Looking ahead for this week in gardening it appears as there will be spotty thunderstorms early in the week. By late week though things get dry. It appears to be a pretty typical summer like week with average temperatures around in the mid to upper 80s.

"Soil Moisture Anomalies and 5-day Precipitation Amounts from Hydro Prediction Center"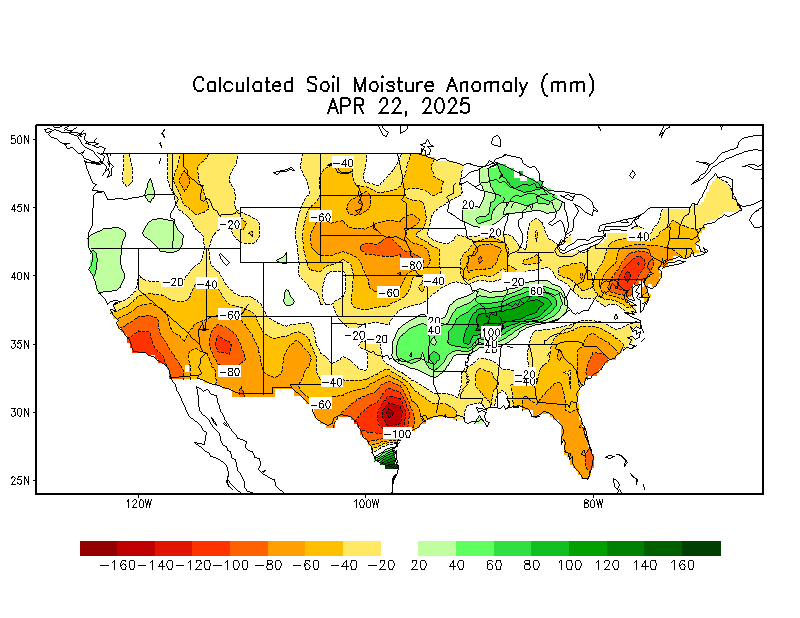 (Courtesy of NOAA)

"Severe Weather Outlook" (Updated 7/8)
A few chances of isolated severe weather coming for this Tuesday afternoon through Wednesday evening. The stationary boundary over the mason-dixon line has now completely dissapated. Meanwhile a cold front is moving across Ohio right now ahead of the next weak trough. A bow echo of thunderstorms has formed in western Ohio and moving east at a relatively fast pace. Ahead of the bow echo is disorganized thunderstorms that are occasionally severe and they are located in eastern Ohio. Now in Pennsylvania in the eastern portions of the state are a few weak pulse thunderstorms producing some periods of heavy rain. Yesterday's storm reports in Lancaster County reported nearly 2-7inches of rain along with some flash flooding. For the rest of this afternoon a few thunderstorms will move into western Pennsylvania. Some of them could be severe. A MCS may form also overnight and track over northern Pennsylvania leaving in its wake some clouds for Wednesday. Still though with slightly higher shear levels ahead of the next cold front some isolated severe weather could occur. The SPC outlooks eastern Pennsylvania in a slight risk. I think this is a little to much of a risk zone. A 5% "see text" risk sounds a little better in my opinion. Wind damage and heavy rain are the primary threats Wednesday afternoon. Convection should be pretty widespread Wednesday. Looking ahead quiet weather persits through the early part of the weekend, until late in the weekend when another strong trough approaches the region. Sunday will need to be monitored for maybe some severe weather ahead of the next cold front. Again overall nothing in terms of organized, widespread severe weather looks likely in the next five days.

"Severe Weather Outlooks from Storm Prediction Center Days 1, 2, and 3"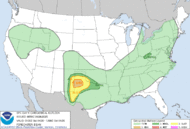 (Courtesy of NOAA)

"Monthly Outlook" (July)
Well back to my experimental monthly outlooks. July is now here and we are entering in to the heart of the Summer season. So this leaves many wondering well is it going to be hot and dry? But first let me recap the month of June statewide. Statewide the month averaged above normal in temperatures, but that is due to one reason... the intense heatwave that occured in the beginning of the month. Temperatures were in the upper 90s when they were supposed to be in the upper 70s. Low temperatures were also very mild and sometimes in the 70s. Excluding the heatwave the month was below normal temperature wise thanks to the deep eastern trough that hung over the region keep cool air and moist air over the region for much of the end of the month. Overall the summer has not been that hot and I have only received a measly five 90degree days, which is fine with me. Below now is my July outlook...

Temperature- Looking at temperatures the beginning of the month will be seasonable to slightly below average temperature wise as an eastern trough remains parked over the region. But by early mid month the Bermuda high should become parked in a favorable position for some hotter more seasonable air. Overall for the month I expect temperatures right around normal by the time the month is over. A heat wave or two may occur, but nothing overally significant. This keeps in tune also with my summer outlook of average to below average temperatures.

Precipitation- The month of July is never a favorable one for widespread rains, but more of spotty convective rains making it difficult to say a forecast for rainfall. I do not see though any really dry period. Thunderstorms should be common and basically be occuring in the same positions they have occured since late June with a favorable track along the mountain ranges. So this does not sound like much of a forecast, but some places may be wetter than normal, and other places may be drier than normal.

"Temperature and Precipitation Outlooks from Climate Prediction Center for next 30 days"


(Courtesy of NOAA)

"Tropical Update" (Updated 7/8)
Well after Bertha's rapid intensification to a category 3 hurricane with winds of near 120mph sustained and a pressure as low as 948mb making it the 6th strongest July hurricane on record; Bertha is now weakening and shearing apart fast. Bertha is now a category 2 hurricane with winds of 105mph sustained. From satellite appearance it is very visible that Bertha is being sheared apart and quickly losing symmetrical appearance. High winds aloft and slightly cooler water temperatures are responsible for the relatively quick weakening. This will continue slightly and probably put Bertha as a weak, minimal hurricane by tomorrow. Looking at steering currents it appears as if Bertha will now turn more quickly to the north that originally expected now tracking to the east of Bermuda. This is a very typical storm track for July for Cape Verde storms. The ridge of the western Atlantic was not strong enough, therefore a western trough was a replacement which is steering the storm to the north. But the western trough will be relatively week and eventually dissapate. The central Atlantic therefore will have little steering currents allowing Bertha to meander across the sea. Therefore those with interests should still monitor the track of Bertha as slight wobbles could potentially put the island in harms way. In the distant future it appears the US will have no impacts from the storm, but the Canadian Maritimes may eventually see a weakened extropical Bertha impact the region. Sea surface temperatures are still very cool in the north Atlantic. Elsewhere across the Atlantic the disturbance southeast of Texas in the Gulf of Mexico has weakened and fissled out now just producing heavy rain over Mexico and southern Texas. And last another wave is coming off of Africa which shows signs of some organization and areas of convection. This system may need monitored, though the waters that it will be moving into will be cooler thanks to the recent passing of Bertha. No update is expected again until tomorrow.

"Latest Tropical Systems including Sea Surface Temperatures"



"Regional Forecasts" (Updated 7/8) (Wednesday)
1. Eastern- (Allentown, Southern Poconos)-
Patchy morning fog with partly cloudy skies becoming mostly cloudy. Showers and thunderstorms on the increase throughout the day. Some storms may be severe capable of heavy rain, damaging winds, and frequent lightning. Rainfall around .25inches, locally more. High 82-84

2. South Central (Harrisburg, York, Lancaster)(my home)-
Areas of morning valley fog (1-3mile vis.). Increasing clouds with numerous showers and thunderstorms in the afternoon. A few storms may be severe capable of heavy rain and damaging winds. Flash flooding is a potential threat. Rain amounts from .1inch to locally 1inch. High 82-85.

3. Southern- (Philadelphia)-
Partly cloudy becoming cloudy. Increasing chance of showers and thunderstorms. Some storms may be severe capable of heavy rain, damaging winds, and frequent lightning. Flash flooding is a slight threat. Muggy with afternoon haze. High 84-86.

4. Central- (State College)-
Cloudy with scattered showers and thunderstorms throughout the day. Some storms may produce heavy rain. Rainfall between .25-.5inches. High 79-81.

5. Northern- (Erie, Bradford, Williamsport)-
Mostly cloudy to cloudy throughout the entire day. Showers and thunderstorms likely. Some storms may be capable of heavy rain. Minor areas of flooding is a possibility. Dense fog on some ridge tops due to low cloud ceilings. An isolated severe storm could occur in the far eastern sections. Damaging winds is a slight threat. Rainfall between .4-.8inches.

6. Western- (Pittsburgh)-
Thick, low clouds with numerous showers. An embedded thunderstorm is also possible. Storms may produce heavy rain. Rainfall around 1inch. High 77-80.

7. Johnstown, Altoona-
Cloudy throughout the day with numerous showers and thunderstorms. Storms are highly capable of very heavy rain. Flash flooding is a slight threat. Rainfall around 1inch. Low clouds could also cause dense fog on some of the surrounding ridgetops. High 77-79.

***Note on regional map, the number equals which region in Pennsylvania. I chose regions with similar climates, geography, and elevation to make my overall forecast for the region.



"Here north of Harrisburg 2008 statistics"
(Severe Weather Stats...)
Severe Thunderstorm Watches- 5
Severe Thunderstorm Warnings- 2
Tornado Watches- 1
Tornado Warnings- 0
Total Thunderstorms- 21

(Precipitation Stats...)
Flood Watches- 4
Flood Warnings- 5
Monthly Precipitation- 1.00inches
Yearly Precipitation- 25.38inches

(Temperature Stats...)
Heat Advisories- 4
Excessive Heat Warnings- 0
90degree days- 5
The views of the author are his/her own and do not necessarily represent the position of The Weather Company or its parent, IBM.
Reader Comments
Comments will take a few seconds to appear.
The Northeast Weather Blog...
Recent Posts
Local Weather
58 °F

Clear
Previous Entries for 2017
Personal Weather Stations