Severe Weather June 21-23...
"Thoughts on Severe Weather Outbreak of June 21-23"
Good Saturday evening!!! Today I was up in northern Pennsylvania in Lycoming County. I was a little surprised to see all the severe weather warnings in Ohio and western Pennsylvania. And I was even more surprised to see a tornado warning in Crawford County with a tornado actually being reported by trained spotters in the southwest parts of the county. Things seem to be weakening this evening as I figured. Also today there were some pulse thunderstorms across the north and a wind damage report was reported in Susquehanna County with a 60mph gust recorded. Also in western Pennsylvania in Mercer County three reports of damage came in with trees and power lines down. The complex of thunderstorms will continue to move east across the state. It appears the majority of the severe threat has ended along with the expired severe thunderstorm watch. But again cannot rule out an isolated cell within the disorganized line. It will be interesting to watch the progression of the complex to see if it will develop into a nocturnal MCS which can be typical during the summer months. At this point I sort of doubt it though as this is drier air in central and eastern Pennsylvania along with not as strong upper atmosphere dynamics. The primary threat for the rest of Saturday night is heavy rain. Now for Sunday and Monday central and eastern Pennsylvania are under the risk for severe thunderstorms. Alot of questions remain though with this setup as a lot depends on what happens overnight tonight. So since I had a busy day and a questionable forecast, I will wait until tomorrow to update the other sections and come up with severe weather risk maps. Have a wonderful and safe Saturday night!!! Keep your NOAA weather radio on overnight tonight in case of any rogue thunderstorm.

"Current Weather Setup"
Yesterday organized convection formed across southern Michigan down through Ohio and back into Indiana. Severe weather reports were pretty widespread. Embedded in the line of storms were some bow echos, one very strong that moved into western Pennsylvania later in the evening yesterday. It also spawned a tornado in Crawford County. Trained spotters reported the tornado so I am not sure why it is not in the official storm reports. Today yet again severe weather will form, but parameters at not all that terribly high. The SPC though has a pretty heavy worded outlook, so they must be seeing things that us the general public is not authorized to see. Though I must take in note the SPC has a horrible track record this year. The NWS State College is not overally excited about the event. But the surrounding NWS's are talking about the event a little more heavily. I think there will be some forecast busts today. For instince in the Mt. Holly discussion it is already apologizing if they make a bad forecast today. Confidence is very low. But in any case I will try to make the best forecast for what I feel is going to happen. I just checked the 11z analysis across the northeast and some CIN which acts as a CAP is present over southeast Pennsylvania. Yet some 1000 j/kg is present over the same region. So once the CAP is broken storms could begin to fire up in this region. Tornadoes are a threat today and this system has a history of producing tornadoes so remain alert today for any more updates. The SPC has highlighted eastcentral Pennsylvania in a rare 5% risk of tornadoes today. Stay tuned for more updates throughout the day!

"Current Advisories"



"Current Satellite"


(Courtesy of Penn State Meteorology.)

"Current Surface Map and Weekly History of Jet Stream Position"



"Radar for Western Pennsylvania"


"Radar for Central Pennsylvania"


"Radar for Eastern Pennsylvania"



"Forecasts from Storm Prediction Center"
DAY 1 CONVECTIVE OUTLOOK
NWS STORM PREDICTION CENTER NORMAN OK
0738 AM CDT SUN JUN 22 2008

...MID MS RIVER VALLEY INTO WRN NEW ENGLAND/MIDDLE ATLANTIC...
IMPULSES ROUNDING THE BASE OF BROAD UPPER TROUGH OVER THE GREAT
LAKES WILL LIKELY SUPPORT SEVERAL ROUNDS OF STRONG/SEVERE
THUNDERSTORMS TODAY FROM THE OH VALLEY INTO THE MID ATLANTIC/NEW
ENGLAND. DEEP SWLY WIND FIELDS AND EFFECTIVE BULK SHEAR OF 25-40 KT
SUGGEST STORMS SHOULD ORGANIZE INTO SEVERAL CLUSTERS/LINE SEGMENTS
WITH A FEW SUPERCELLS POSSIBLE.

ONGOING CONVECTION MOVING INTO ERN NY ATTENDANT TO ASCENT WITH A
LEAD SHORTWAVE TROUGH FORECAST MOVING INTO QUEBEC WILL DELAY
HEATING/DESTABILIZATION IN ITS WAKE EARLY TODAY. HOWEVER...AIR MASS
IS EXPECTED TO DESTABILIZE SUFFICIENTLY AHEAD OF THE ONGOING
ACTIVITY AND SHOULD SUPPORT AN INTENSIFICATION OF TSTMS AS THEY
TRACK ACROSS PARTS OF ERN NY/WRN NEW ENGLAND.

ADDITIONAL DEVELOPMENT IS EXPECTED THROUGH THE DAY ALONG A SURFACE
TROUGH WHICH WILL MOVE S/SEWD TODAY AND SHOULD EXTEND FROM LOWER
MI/THE LOWER GREAT LAKES SWWD TOWARDS THE MID MS RIVER VALLEY THIS
AFTERNOON. DESPITE RELATIVELY WEAK LOW LEVEL WINDS...MODERATE TO
STRONG MID LEVEL FLOW WILL RESULT IN 30-40 KT OF EFFECTIVE SHEAR
SUPPORTING ORGANIZED STORMS INCLUDING LINES AND POSSIBLY A FEW
SUPERCELLS.

LATER THIS AFTERNOON...HEATING AND INFLUX OF GREATER LOW LEVEL
MOISTURE NWD FROM THE MID ATLANTIC REGION WILL ALLOW AXIS OF
MODERATE INSTABILITY TO DEVELOP IN WAKE OF EARLY DAY STORMS INTO
CENTRAL/ERN NY. THIS SHOULD SUPPORT WIDESPREAD THUNDERSTORM
DEVELOPMENT AHEAD OF BROAD UPPER TROUGH AS ASSOCIATED SURFACE
FRONT/TROUGH MOVES EWD INTO THE REGION. LOW LEVEL SHEAR IS EXPECTED
TO BE STRONGER NEAR SURFACE COLD FRONT/TROUGH AND ATTENDANT WEAK
AREAS OF LOW PRESSURE FROM THE MASON-DIXON LINE/CENTRAL PA INTO ERN
NY LATER THIS AFTERNOON...INCREASING THE POTENTIAL FOR SUPERCELLS
AND PERHAPS A TORNADO OR TWO OVER THIS REGION. OTHERWISE...STORMS
WILL ORGANIZE INTO LINES/CLUSTERS WITH THREATS OF LARGE HAIL AND
DAMAGING WINDS INTO THE MID EVENING.

"Tornado Risks"


"Hail Risks"


"Wind Risks"



DAY 2 CONVECTIVE OUTLOOK
NWS STORM PREDICTION CENTER NORMAN OK
1254 AM CDT SUN JUN 22 2008

...NORTHEAST STATES/MID ATLANTIC COAST...
UPPER TROUGH/SURFACE COLD FRONT WILL CONTINUE TO SHIFT EASTWARD FROM
THE OHIO VALLEY TO THE NORTHEAST STATES/MID ATLANTIC COAST ON
MONDAY. WHILE SOME SCATTERED SHOWERS/TSTMS MAY BE ONGOING IN THE
MORNING...CLOUD BREAKS/DIURNAL HEATING WILL LIKELY LEAD TO SURFACE
BASED DESTABILIZATION AHEAD OF THE COLD FRONT BY LATE MORNING/EARLY
AFTERNOON. WITH 60S F DEWPOINTS AHEAD OF THE FRONT...POTENTIAL WILL
EXIST FOR WEAK TO MODERATE INSTABILITY WITH CORRIDORS OF 1000-1500
J/KG MLCAPE POSSIBLE. BENEATH 40-45 KT SOUTHWESTERLY FLOW IN THE MID
LEVELS...MODERATELY STRONG/LARGELY UNIDIRECTIONAL WIND PROFILES WILL
FAVOR WELL-ORGANIZED MULTICELLS CAPABLE OF SMALL BOWS/DAMAGING
WINDS...WITH COOL TEMPERATURES ALOFT/STEEP LAPSE RATES ALSO FAVORING
A SEVERE HAIL THREAT.

"Day 2 SPC Severe Weather Risks"



"Model Analysis"
Sunday morning model initiation was very poor. The NMM model has a very poor hold on this entire system and I will not be using it for any support. The SREF model seems to have a pretty good grab on this complex situation. Later today it develops CAPEs near 1500 j/kg in eastcentral Pennsylvania and elsewhere CAPEs around 1000 j/kg. The values are marginal at best. Dewpoints today are pretty low but slowly rising thanks to last night's moisture from the thunderstorm line. Currently dewpoints are in the low 60s and possibly they could rise to the upper 60s. Temperatures are going to be higher than originally expected due to full sunshine statewide this morning. But with a weak southwest flow and an incoming trough temperatures should stay in the low 80s to possibly mid 80s. Shear values are modest at best with high winds aloft at 80knots and winds in the low level jet of only 30knots. I have a feeling today could be quite a bust day. The local NWS have been sticking to the models nonstop and this morning they forecasted the whole region to be thick in clouds, which obviously we are not. The EURO model also predicted a coastal low affecting us, which currently we see that it will not affect us. Helicity values are not impressive today along with EHI values at 1 or below. The SWEAT index is around 250 which yet again is not overally impressive. The highest of severe weather parameters are found along the surface cold front that will extend from central Pennsylvania through eastern NY. Also riding along with be weak low pressure systems. But the front will be relatively weak and will not really act as a focus point for organized convection, but it still should aid in isolated convection which has the potential for supercellular development. Tornadoes are a potential threat today from central Pennsylvania on eastward. Across western Pennsylvania orographic lift will give way to ridgetop pulse thunderstorms under the upper-level trough and deep cold pool aloft. Hail is the primary threat under 8kft freezing levels. Collapsing thunderstorm cores could also potentially lead to strong straightline winds, but this threat should be isolated at best. Overall I am not looking at an impressive outbreak. For Monday's severe weather threat I will have another discussion on Monday morning.

"3z SREF Model Forecast Max Cape Index"


(Sunday afternoon)

"12z NAM Model Forecast SWEAT, Helicity, and CAPE indices"


(Sunday afternoon)

"3z SREF Model Forecast Max Cape Index"


(Monday afternoon)

"12z NAM Model Forecast SWEAT, Helicity, and CAPE indices"


(Monday afternoon)

"My Forecast for Severe Weather"
So you may be asking since I do not think the outbreak will be too impressive, then why do I have a moderate risk of severe weather outlooked for eastern Pennsylvania. Well remember my maps do not cooridinate for definitions of SPC outlooks. My moderate risk was upgraded from a slight risk due to the tornado threat. Tornadoes are uncommon in Pennsylvania, so I decided to issue a moderate risk due to the uncommon threat faced in PA. I issued a slight risk for western Pennsylvania with a 5% risk of severe thunderstorms in northwestern Pennsylvania. Currently low clouds and fog are inhibiting high instibility. My forecast today does have a higher than usual bust potential due to many uncertainties with today's forecast. Stay tuned for more updates or if the maps needs a modification with my 1:00pm update.

"My Severe Weather Risk Map"


(Sunday)

"Conclusions on Severe Weather Outbreak"
Again I am not looking at an impressive event at all. The triggers for severe weather are just not anywhere to be found other than orographic lift which is found mainly in western Pennsylvania. The SPC is hyping this event a little more than I am talking about organized supercells and bow echos capable of widespread wind damage and a few tornadoes. For Monday the severe weather threat is not overally high once again and should be most organized in the east but still isolated to scattered in the west as the upper level trough continues to move through. And as we have seen with the last trough, they can easily produce strong to severe thunderstorms during the heat of the day. Stay tuned to your NOAA weather radio and updates from the NWS throughout the day. I will try to provide updates throughout the day on the impending situation. Have a wonderful Sunday!!!

"Storm Reports"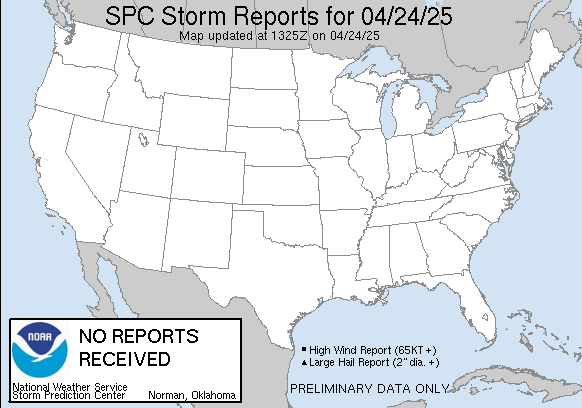 "Here north of Harrisburg 2008 statistics"
(Severe Weather Stats...)
Severe Thunderstorm Watches- 2
Severe Thunderstorm Warnings- 1
Tornado Watches- 1
Tornado Warnings- 0
Total Thunderstorms- 13

(Precipitation Stats...)
Flood Watches- 4
Flood Warnings- 3
Monthly Precipitation- 2.97inches
Yearly Precipitation- 21.04inches

(Temperature Stats...)
Heat Advisories- 4
Excessive Heat Warnings- 0
90degree days- 5
The views of the author are his/her own and do not necessarily represent the position of The Weather Company or its parent, IBM.
Reader Comments
The Northeast Weather Blog...
Previous Entries for 2017