Florida weather pictures...
"Thoughts on Severe Weather Outbreak of June 16"
Well Hello!!! I am back from my wonderful trip to central Florida. Instead of listing my latest thoughts on the next severe weather outbreak, I will recap some of my afternoon points. I will leave the sections below for forecasting the severe weather outbreak. Again thanks for all of the daily weather observations, and it seems like I missed a busy weather week across the state. Though my area seemed to get spared all of the significant weather and left with only .11inches of rain. My vegetable garden looks amazing though and really grew while I was gone. I have almost two handfulls of small zuchinni still growing. I picked the rest of my radishes this morning and moved my cucumber plants where the radishes were because the cucumber plants were overcrowded in their original spots. It appears as if blueberries are developing along my blueberry bushes, and my pea and bean plants have many flowers soon to become vegetables. Also my herb plants are doing great. And my watermelon seeds have come up and are about 3-4inches tall. I have decided to put in two pepper plants where the lettuce plants were, as the lettuce plants did not withstand the heat and I decided to dig them out. I sure got quite alot of lettuce though over the spring, so they were definitely worthwile. My tomato plants have tons of small tomatoes that are now growing larger. Now onto weather news of my trip. Two reasons I love the weather is that it is always changing and there is always something new to learn. I saw some very interesting weather events, including a rotating severe thunderstorm. It was about evening and I was tired from the afternoon and decided to sit on the hotel balcony. I heard loud thunder in the distance along with interesting gust front cloud formations. I decided to head inside and turned on the local central Florida news to see what was going on. At that point only a severe thunderstorm warning was out for my area. Then I went back outside and watched the storm with some of the loudest thunder I have ever heard. Also the rain came down in tropical downpoors and even the brand new hotel I was in began to see water filter in under the doors in the six story lobby, which I was shocked to see. But anyway as the storm came to an end I noticed interesting clouds off in the distance to my south. The storm moved from northwest to southeast. I snapped a picture and then another. Upon further examination I noticed a possible funnel cloud off in the distance. Quickly I went back inside to see if there were any updates on the news, and just at that moment a tornado warning was issued for my area, and further south. I will post the pictures maybe later today. Also on my flight trip down to Florida I got some great cumulus and cirrus cloud pictures with the morning sunrise. Then on the flight home we hit the cold front coming through with some thunderstorms nearby. I saw a great lightning show from the plane window, but got no pictures. Our plane flew higher up than normal to avoid the convection. Other than some minor turbulence and some babies crying the flight went fine. There were some interesting notes about Florida though. It is a beautiful state, I have been there several times before, but what I noticed is the build up of so many single homes and condos. Many area forests were now contruction zones, which really bothered me. If any one was curious gas prizes are pretty much the same as they area here in Pennsylvania. So overall my trip was great, but I am happy to be home. I see there was a tornado in Venango County along with severe weather reports in almost every region of Pennsylvania. My county though reported no thunderstorms the entire week. Hopefully today I will have more sections updated, but for now I have some yardwork to do. Have a great Sunday!!!

"Current Weather Setup"
We have quite an interesting setup for severe weather. An upper level low riding along a weakly defined cold front moving south through the Great Lakes region. Meanwhile ahead of the cold front is a lee trough sitting in central Pennsylvania. Two areas of development look to be expected with storm development along the cold front in northwest Pennsylvania, and storm development along the lee trough. Currently this morning two weak complexes of rapidly weakening MCS are moving north and south of the state of Pennsylvania. Cloud cover is pretty sporadic across Pennsylvania. Sunshine is now out for about all regions. Dewpoint levels are rising, but yet not ideal for severe weather. But the upper levels are pretty moist this morning with PWATs near 1.1inches and slowly rising across central Pennsylvania and on eastward. Currently this morning there is also some CAP across the region with some higher CIN being indicated, but that should be diminishing as the day progresses. CAPE max values today I am not overly impressed with as values max out around 2000 j/kg in southeastern Pennsylvania. But here is what I am thinking. The models greatly overestimated cloud cover this morning with would intern inhibit high instibility. But since the sun is out for almost all regions except the Poconos, this would lead me to believe CAPE values to be higher than originally progged by the computer models. I expect CAPEs to possibly reach 2500 j/kg in the Lower Susquehanna and Delaware Valleys. The LI index is pretty low at around -8 near the Delaware Coastal Plain near Philadelphia. Freezing levels are very impressive for Mid June standards with them between 8000-10,000ft. Microbursts will be quite capable of large hail across Pennsylvania. Shear levels are very high as winds from the surface and aloft do not contain the same directions. Winds in this type of situation are frequent to contain gusts up to 70mph+ in the strongest of downdrafts. The lifting mechanism is also there today as the temperature contrasts between the two fronts is quite remarkable. Helicity and EHI values are relatively low today so I am not going to really mention the tornado threat all to much. There just not seem to be enough natural spin in the atmosphere. But as always tornadoes cannot be ruled out. Finally the combined severe weather index, SWEAT, is at over 350 in southcentral Pennsylvania. Typically when the SWEAT is over 300, supercellular development is possible. Along the lee trough is where bow echos and supercells can be expected. Back along the cold front looks to be more of a squall line. Stay tuned for more updates as the latest atmospheric soundings come in throughout the day.

"Current Advisories"



"Current Satellite"


(Courtesy of Penn State Meteorology.)

"Current Surface Map and Weekly History of Jet Stream Position"



"Radar for Western Pennsylvania"


"Radar for Central Pennsylvania"


"Radar for Eastern Pennsylvania"



"Forecasts from Storm Prediction Center"
DAY 1 CONVECTIVE OUTLOOK
NWS STORM PREDICTION CENTER NORMAN OK
0743 AM CDT MON JUN 16 2008

...OH VLY INTO MID ATLANTIC STATES/NEW ENGLAND...
60+ KT MID LVL SPEED MAX AND ASSOCIATED LOBE OF ASCENT NOW OVER THE
MID/UPR MS VLY SHOULD REACH IND/OH THIS AFTN...BEFORE CONTINUING
E/SE TO THE DELMARVA REGION TONIGHT.

MODERATE LOW LVL MOISTURE WILL CONTINUE TO SPREAD NEWD AHEAD OF
AFOREMENTIONED COLD FRONT TODAY...WHILE CLOSER TO THE CST...
SOMEWHAT GREATER MOISTURE EXPECTED TO CONTINUE SPREADING N AHEAD OF
LEE TROUGH. AT THE SAME TIME...UNSEASONABLY COOL TEMPS WILL PREVAIL
AT MID LVLS...WITH 500 MB READINGS AOB MINUS 12C AS FAR S AS THE
VA/NC BORDER. WITH THIS SETUP...SFC HEATING SHOULD YIELD MODERATE
INSTABILITY FROM SRN OH/KY/WV E/NE INTO SRN NEW ENGLAND...WITH
SBCAPE AOA 1500 J/KG.

COMBINATION OF INCREASING INSTABILITY WITH DEEP...LARGELY
UNIDIRECTIONAL CYCLONIC FLOW...AND INCREASING UVV WITH APPROACHING
JET STREAK WILL CREATE ENVIRONMENT FAVORABLE FOR NUMEROUS STRONG TO
SVR STORMS BY EARLY AFTN. THESE LIKELY WILL ORGANIZE INTO SEVERAL
CLUSTERS AND BANDS ALONG AND AHEAD OF COLD FRONT AND LEE TROUGH.
EMBEDDED SUPERCELLS AND ASSOCIATED BOWING SEGMENTS LIKELY WILL
PRODUCE FAIRLY LONG SWATHS OF DMGG WIND GIVEN SIZABLE BOUNDARY LYR
TEMP-DEWPOINT SPREADS/STEEP LOW LVL LAPSE RATES...AND STRENGTH OF
MEAN FLOW.

THE STRONGEST STORMS LIKELY WILL HAVE MOVED OFFSHORE AND/OR WEAKENED
BY MID TO LATE EVENING.

"Tornado Risks"


"Hail Risks"


"Wind Risks"



"Model Analysis"
Models are in pretty good agreement with the playout of this event. But there are some strange features they are showing. For example the NMM simulated radar shows no storm development along the lee trough, but yet on the main cold front. Then it has the storms die out before they get east of the mountains. I do not think that will be our scenerio. In terms of severe weather indices they are in pretty good agreement, though I think they are underestimating the amount of surface CAPE that can be expected. Already values at 12z were reported near 1500 j/kg in the southern parts of Pennsylvania. Below are model runs for several severe weather indices from the morning 0z and 9z runs. Stay tuned for more updates on atmospheric soundings throughout the rest of the afternoon.

"9z SREF Model Forecast Max Cape Index"


(Monday afternoon)

"0z NMM Model Forecast Simulated Future Radar"


(Monday afternoon)

"12z NAM Model Forecast SWEAT, Helicity, and CAPE indices"


(Monday afternoon)

"My Forecast for Severe Weather"
So far I am pleased with my severe weather map. As usual after the severe weather event I will post a verification map. My map is in similar correspondance and agreement with the Storm Prediction Center in Norman, Oklahoma's outlook which has a moderate risk out for central and eastern Pennsylvania, with a slight risk for the western third of Pennsylvania. Hail and damaging winds appear to be the primary threats, but an isolated tornado cannot be ruled out due to the high shear levels across the region. Hail parameters show max levels near 2inches in the strongest of updrafts and keep in mind freezing levels in the atmosphere are near 9,000ft and as low as 8,000ft in the northern parts of Pennsylvania. Also keep in mind the winds at the surface are relatively light, but fast aloft so flash flooding could be a threat in the thunderstorms that develop ahead of the front. I think the area most at threat for severe weather is in the Lower Susquehanna Valley corridor up through the Upper Susquehanna Valley corridor. Stay tuned for more nowcast updates throughout the day.

"My Severe Weather Risk Map"



"Conclusions on Severe Weather Outbreak"
This could be a pretty widespread severe weather outbreak across Pennsylvania. What appears to be lacking is the low instibility due to potential cloud cover and the lower than adequate for severe weather, dewpoint levels. But I do think due to the convection not really forming in Ohio this evening, that cloud cover will not be as widespread as originally thought. From what I see wind damage could be pretty widespread. The SPC even has central Pennsylvania in a hatched area which means there is an additional 10% risk of significant severe weather within 25miles of any point. That was the forecast from the SPC from their day 2 12z outlook. I expect a moderate risk to be issued for central and eastern Pennsylvania from the SPC day 1 forecast that comes out early Monday morning. I will get all the updates out during Monday morning for the forecast for the day and I will monitor radar trends to provide short term updates. Also my severe weather outlook map will be issued Monday morning. Please stay alert to rapidly changing conditions tomorrow across all of the state of Pennsylvania. Keep your NOAA weather radio on and stay tuned to of course your NWS and my blog for continuing updates. Looking ahead to next week it looks as if temperatures significantly drop off to the low 70s and upper 60s for high temperatures as a steep trough moves in from the western United States. But by the weekend the trough appears to slowly move off allowing more normal temperatures to filter in. As for severe weather I believe June 16 is the last chance at an organized severe weather event for possibly a week or so. Stay tuned Monday for more updates. Have a great Sunday evening and happy father's day!!!

"Storm Reports"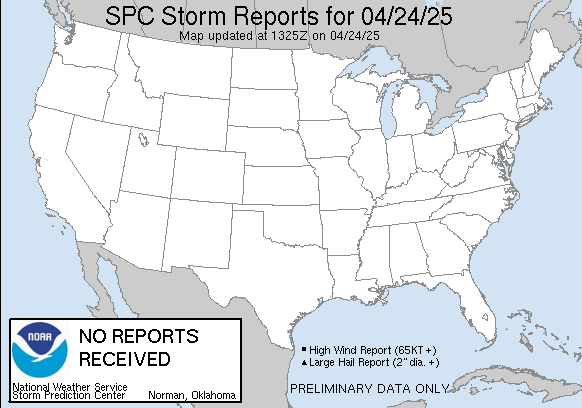 "Here north of Harrisburg 2008 statistics"
(Severe Weather Stats...)
Severe Thunderstorm Watches- 2
Severe Thunderstorm Warnings- 1
Tornado Watches- 1
Tornado Warnings- 0
Total Thunderstorms- 12

(Precipitation Stats...)
Flood Watches- 4
Flood Warnings- 3
Monthly Precipitation- 2.79inches
Yearly Precipitation- 20.86inches

(Temperature Stats...)
Heat Advisories- 4
Excessive Heat Warnings- 0
90degree days- 5
I took these pictures on my flight from Harrisburg, PA to Orlando, FL. I believe most of these cloud pictures came from over southern Pennsylvania and northern Maryland at an around 25,000ft altitude. Enjoy and use your imagination to think about what these clouds look like to you! I believe they look like an arctic landscape.
The views of the author are his/her own and do not necessarily represent the position of The Weather Company or its parent, IBM.
Reader Comments
Comments will take a few seconds to appear.
Post Your Comments
Please sign in to post comments.
Not only will you be able to leave comments on this blog, but you'll also have the ability to upload and share your photos in our Wunder Photos section.
The Northeast Weather Blog...
Recent Posts
Local Weather
51 °F

Overcast
Previous Entries for 2017
Personal Weather Stations