Spotty severe weather across Pennsylvania today...
"Thoughts on Severe Weather Outbreak of June 5"
Well we have been in such an active pattern of severe weather lately, but yet nothing has been too widespread. It is now time to recap the events again. For Tuesday there was a relatively high risk for severe weather in western Pennsylvania and even the Storm Prediction Center in Norman, Oklahoma out looked them in a moderate risk clipping extreme western Pennsylvania. I then issued a moderate risk for western Pennsylvania thinking like everyone else that a MCS will move through overnight. Well what happened is energy was stolen from western Pennsylvania and given back towards Ohio and Indiana where large areas of training super cells formed later tracking southward of Pennsylvania. So for Tuesday I was not too happy at all with my forecast. But for Wednesday my forecast turned out spot on. I issued a slight risk of severe weather for southern Pennsylvania, mostly the border counties. Later that day it turned out a tornado watch was issued for the border counties and even a few severe thunderstorms warnings were issued. But the worst of the weather like I thought moved south of the state hitting our nation's capital with damaging straight-line winds and nearby tornadoes. There was also a report of severe weather in Pennsylvania with .75inch hail being reported in Washington County in western Pennsylvania. Most of the worst of the severe weather stayed south of the state sparing us the worst of the powerful bow echo that moved across Maryland and Virginia with widespread damage. The bow echo was quite impressive. Later by Wednesday evening super cells formed again in the same area in Maryland and Virginia with more wind, hail, and tornadoes being reported. I must say it has been quite an active year for tornadoes across Maryland and Virginia this year. Here is my severe weather verification map for Wednesday June 4...



"Current Weather Setup"
The current weather setup is much simpler than it has been in the past for severe weather particularly this year. What we have is what most people call summer time thunderstorms. But to put that more in meteorological terms, the name of the thunderstorms is pulse thunderstorms. A pulse thunderstorm is a storm that moves at a slow pace that builds over the source of heat and lifts and then collapses as it moves away from the source. The sources typically are from bay breezes, lake breezes, orographic lift, and backdoor cold fronts. Pulse thunderstorms are known for flash flooding, wind damage, and hail. Very common throughout the summer orographic lift gives way to pulse thunderstorms in the Laural Highlands region. So anyway for tomorrow the warm front will have lifted north of Pennsylvania and already moved into New York State. Sunshine will be out along with rising temperatures with dew points in the 70s. High temperatures could approach 90degress in the typical hotspots of York County and Philadelphia County. A very weak backdoor cold front will be located across western Pennsylvania and may be just enough trigger for widespread pulse thunderstorms. Most of the state is under the threat for storms. PWATS will continue to be several deviations above normal so flash flooding will be a threat. Winds aloft are not too strong but yet again now too weak. Unsettled weather will continue with the threat of showers and thunderstorms across the Laural Highlands from Thursday through Monday. But Thursday will be the highest threat of severe weather and widespread storms. Helicity values are pretty minimal but just enough for some possible light rotation in a few convection cells. Freezing levels will be pretty high at around 14,000ft. But pulse thunderstorms can have some very high echo tops near 40,000ft so stronger updrafts may be capable of pulling down some hail. CAPE levels tomorrow are over 2500 j/kg in western Pennsylvania. But a CAP could be an inhibiting factor as warm aloft will be very prevalent. But I expect the CAP to be overcome by afternoon. Meanwhile across the Midwest a potentially very dangerous situation is headed that way with widespread tornadoes possible. Here in the east it is just more heat, humidity, and haze. Enjoy this early taste of the brutality of summer!!!

"Current Advisories"



"Current Satellite"


(Courtesy of Penn State Meteorology.)

"Current Surface Map and Weekly History of Jet Stream Position"



"Radar for Western Pennsylvania"


"Radar for Central Pennsylvania"


"Radar for Eastern Pennsylvania"



"Forecasts from Storm Prediction Center"
DAY 1 CONVECTIVE OUTLOOK
NWS STORM PREDICTION CENTER NORMAN OK
0759 AM CDT THU JUN 05 2008

...UPR OH VLY/NY/NRN PA...
SUSTAINED WAA AND BOUNDARY LAYER MOISTENING SHOULD SUPPORT THE
DEVELOPMENT OF SCTD PERIODIC STORM CLUSTERS INVOF DIFFUSE WARM FRONT
FROM PARTS OF ONTARIO E AND SE INTO UPSTATE NY/PA. ALTHOUGH LARGE
SCALE HEIGHT RISES WILL OCCUR ACROSS REGION ON NRN FRINGE OF SERN
STATES RIDGE...DAYTIME HEATING ALONG WITH TERRAIN INFLUENCES MAYS
SUFFICIENTLY BOOST INSTABILITY/UPLIFT TO POSE A RISK FOR A FEW
STRONG/SVR TSTMS WITH HAIL AND/OR LOCALLY DMGG WINDS.

"Tornado Risks"


"Hail Risks"


"Wind Risks"



"Model Analysis"
Models appear to be having a consensus on the forecast for Thursday. They all deliver some partial clearing statewide across Pennsylvania allowing for warmer temperatures and more instability to occur. CAPE values are very impressive and they are forecasted to be higher than any CAPEs so far this year in Pennsylvania. The SREF shows CAPEs at 2500 j/kg in western Pennsylvania near the backdoor cold front. But the NAM model shows CAPE over 3500 j/kg in central Pennsylvania. Helicity values for Thursday should be moderate levels, mainly over western and central Pennsylvania and should be just strong enough for strong to severe thunderstorms to form across the region with flash flooding being the primary threat. CAP levels are high preventing convection early in the day but that later weakens allowing storms to form. The only real big inhibiting factor is a triggering mechanism. From what I see a weak backdoor cold front will be in western Pennsylvania along with a weak shortwave traveling along it should be enough combined with daytime heating and orographic lift for pulse thunderstorms to form. Pennsylvania has a history of widespread severe weather with pulse thunderstorms. EHI values tomorrow are from 0-2 across the state of Pennsylvania with the highest in western Pennsylvania particularly near the Pittsburgh metro region. Super cellular indices are pretty high for parts of central Pennsylvania so organized pulse thunderstorms cannot be ruled out. Overall it looks like a pretty typical summertime pulse thunderstorm type of day. Stay tuned for model updates throughout the day!!!

"15z SREF Model Forecast Max Cape Index"


(Thursday afternoon)

"12z NMM Model Forecast Simulated Future Radar"


(Thursday afternoon)

"My Forecast for Severe Weather"
Below is my forecast severe weather map and as usual a verification map will be issued after the severe weather event. I think the entire state has at least a 5% risk of severe weather with a 10-15% risk of severe weather in central and western Pennsylvania in my slight risk region with is most of the state. I believe the primary threat will be flash flooding, but also hail, damaging winds, and an isolated weak tornado is possible too. Over the event does not look to be too widespread but CAPE values are pretty impressive so I can not rule out some widespread damage in a few counties that see the worst of the pulse thunderstorms. High temperatures should range from 82-90degree across Pennsylvania with dew points also ranging from 65-70degrees. Morning fog may be an issue, but that should dissipate shortly under the strong June sun inversion. For Thursday night showers and thunderstorms will fizzle out after dusk with mild lows in the 60s with more late night fog. For Friday another slight risk of thunderstorms, but high temperatures should be in the 90s. Warm air aloft will act as a CAP preventing widespread convection. For Saturday through Monday high temperatures will be in the low 90s to mid 90s across the state. An official heat wave is high temperatures over 90 for three days or more and that looks like that is what we are going to happen. So enjoy the heat and humidity. Pulse thunderstorms remain a threat over the weekend, but chances should be around 20% each day.

"My Severe Weather Risk Map"


(Thursday)

"Conclusions on Severe Weather Outbreak"
Well my travels take me down to Florida from June 8-15. I am going to post an observation blog for that week in which will be a blog full of automatically updating maps that will represent all the basic necessary meteorological maps all in one blog. I would appreciate while I am gone for people to leave daily weather reports on what happened that day so when I get back I can tell what happened over the past week. Feel free to comment throughout the week in the observation blog. By the way I am approaching my 50th blog in about 6 blogs, so I will have something special planned for that one. Also my winter recap blog part II, well; I have not even started on it yet. My deadline for that is the end of the month in June. Also if you had not heard May went down across Pennsylvania about 3-5degrees below normal on average for climate reporting stations across the entire state. Also my June outlook may not be coming out this month. Since the end of May through early June is the busiest time of the year for me and I have just not gotten around to working on gathering information for my prediction. But overall what it looks like is above normal precipitation and average to slightly above temperatures. I just also want to say that my May outlook was spot on with below normal temperatures that I predicted and above normal precipitation just like I predicted. Anyway, lol, this is my last written blog before my trip. So everyone have a wonderful upcoming week and enjoy the latest heat and humidity!!!

"Storm Reports"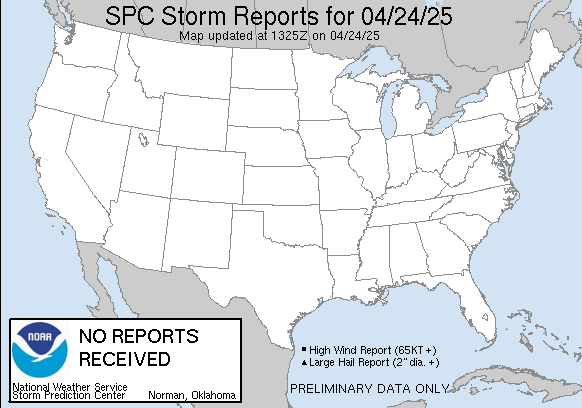 "Here north of Harrisburg 2008 statistics"
(Severe Weather Stats...)
Severe Thunderstorm Watches- 0
Severe Thunderstorm Warnings- 1
Tornado Watches- 1
Tornado Warnings- 0
Total Thunderstorms- 12

(Precipitation Stats...)
Flood Watches- 4
Flood Warnings- 3
Monthly Precipitation- 2.66inches
Yearly Precipitation- 20.73inches

(Temperature Stats...)
Heat Advisories- 0
Excessive Heat Warnings- 0
90degree days- 0
The views of the author are his/her own and do not necessarily represent the position of The Weather Company or its parent, IBM.
Reader Comments
The Northeast Weather Blog...
Previous Entries for 2017